Shadowbanning is one of the most elusive and frustrating things that can happen to your Instagram account — especially if you're trying to grow your following. And despite thousands of users claiming that they've fallen victim to this mysterious disciplinary measure, Instagram's team has never confirmed or denied the practice of limiting an account's ability to reach new followers through shadowbanning.
So what exactly is the Instagram shadowban, and how can you avoid it? In this guide, we'll cover everything from preventive practices and banned hashtags to tips for lifting a shadowban if you find yourself under one.
What is the Instagram shadowban?
In the most basic sense, a shadowban is when the Instagram Algorithm flags your account for violating its community guidelines and prevents your content from being seen. A shadowbanned account is practically invisible to new followers, specifically on the hashtag search results page.
How to know if you've been shadowbanned on Instagram
One of the things that make a shadowban so frustrating is that you probably won't know about it. Instagram doesn't notify you if you've been flagged, so it's up to you to find out what's going on.
There are many misconceptions about Instagram's shadowban, the main one being that a decrease in engagement must be due to a shadowban. While fewer likes and comments could be a byproduct of a shadowban, recent algorithm changes have resulted in a decreased engagement for accounts across the board.
A drop in likes doesn't necessarily mean a shadowban, but if you've noticed that only your current followers see your content — and you're actively trying to grow your audience and reach new users — you might want to use one of the following methods to see if you've been shadowbanned.
Method 1: Double-check your hashtags
One of the most common reasons for getting shadowbanned — which we'll dive into in more detail below — is using a broken or banned hashtag. Instagram has doubled down on its efforts to make the app a safe space for all. As a result, Instagram has flagged many hashtags for encouraging accounts to post inappropriate content that violates community guidelines.
To make sure your account isn't associated with a broken hashtag, check the search result pages of all the hashtags used on your last 10 to 15 posts. If you encounter an alert stating that posts using this hashtag are hidden for safety reasons, the hashtag is considered broken.
Method 2: Use an Instagram shadowban test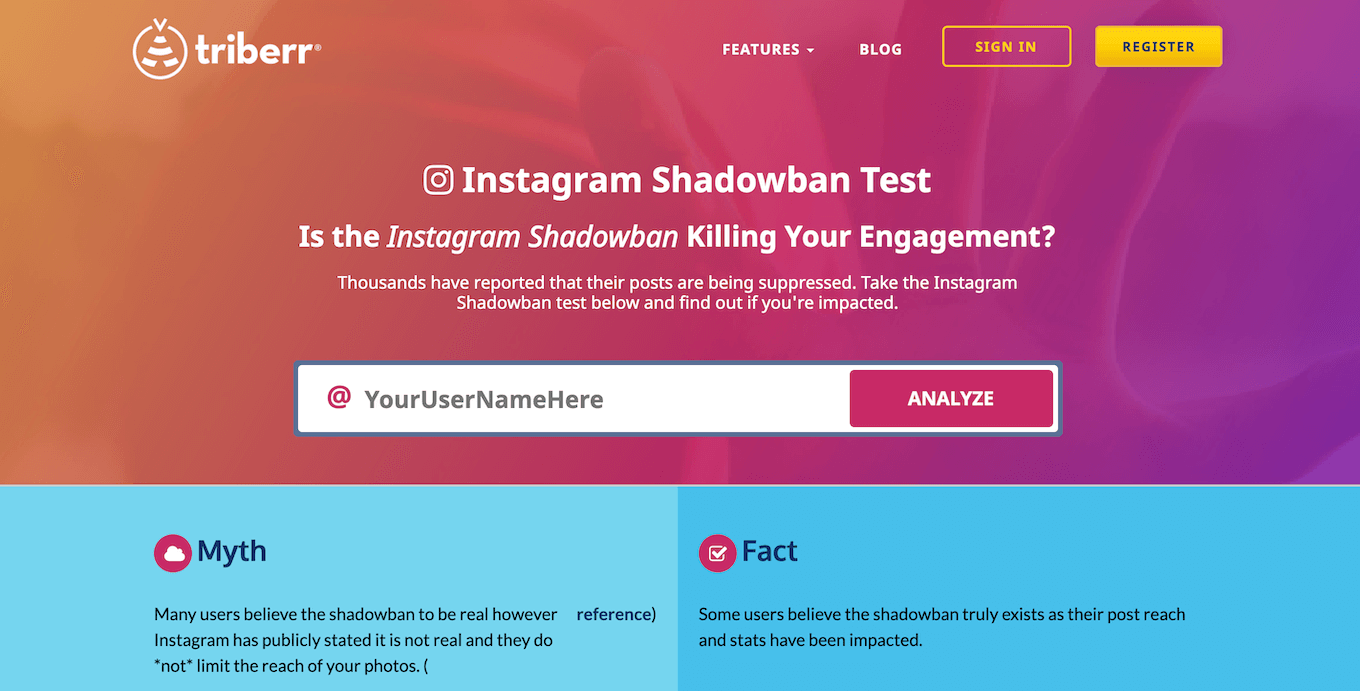 Following the rise of shadowbans in recent years, some companies now claim to be able to test to see if your account has been flagged or not. While the legitimacy of these tools is not recognized by Instagram itself, it could prove helpful to see what such services find.
Triberr is a tool that many users have utilized to check the status of their accounts. It's a free test that checks the hashtags on your last 10 posts to determine the likelihood that you have been shadowbanned. You will need to use your desktop computer to utilize this resource.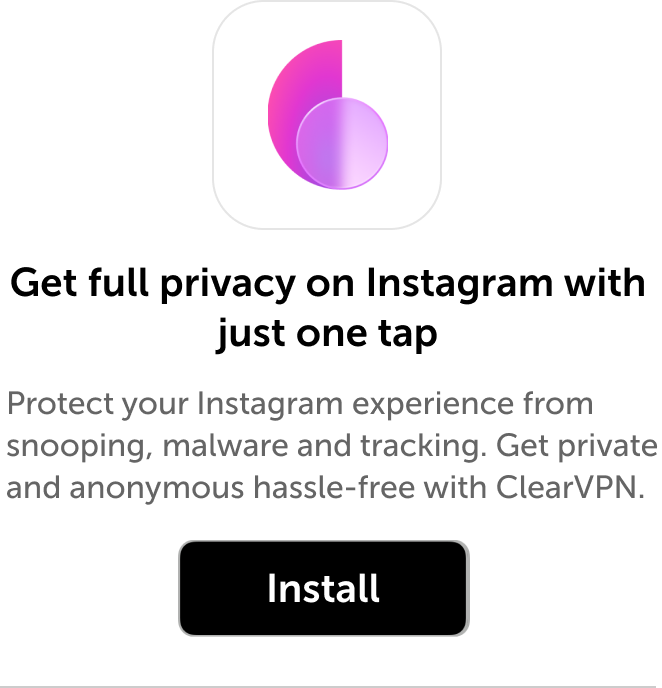 Method 3: Enlist the help of a follower
If you want to be 100% sure that your account is shadowbanned, you'll need to see how your content shows up from the perspective of a non-follower. To do so, ask one of your followers to either unfollow you or create a new account. Both options are fine; the important thing is that you don't follow your account.
Next, make a new post using the same hashtags you've been using. Then log into the non-follower's account and go to one of the hashtag pages used with your new photo and see if it appears under Recents. Choose a smaller hashtag that isn't updated constantly. (Choosing a hashtag with 1 million posts means you'll be less likely to see your post whether you've been shadowbanned or not.)
If you don't see your post, wait five minutes and check again. Ideally, you should try this method with at least 3 to 5 non-follower accounts. If your post fails to appear, it means you've been shadowbanned.
Why you may have gotten shadowbanned
The reasons why accounts are shadowbanned are as vague and difficult to confirm as the act itself. Over the years, social media experts have found a few common reasons why certain accounts get flagged, leading to a reduction in the visibility of their content.
Here are a few of the common causes of a shadowban:
You violated one of Instagram's Community Guidelines.
You're using banned or broken hashtags.
You're engaging in a way the algorithm determines to be spam, such as buying followers or using the same hashtags repeatedly.
You've reached Instagram's daily activity limit.
Your account is continually being reported.
How to get the shadowban on Instagram lifted
If you think your account has been shadowbanned, there are a few things you can do to get back in Instagram's good graces.
Remove broken hashtags
Review the hashtags you typically use on your posts. Are you using any broken or banned hashtags? If so, remove them from all of your posts, and be sure not to use them again in the future.
Even if the hashtag appears in a comment under the post, it still needs to be removed.
Take a break
Instagram only allows up to 500 actions a day. Actions including following, unfollowing, and liking a post. Attempting to perform over 500 could alert the algorithm, flagging your high-volume activity as suspected spam. There are also other limits for more specific actions, such as:
You can only follow up to 13 new accounts every hour or 150 new accounts every day.
You can only like up to 400 posts from the accounts you follow every day.
You can only leave up to 5 comments per hour or up to 30 comments per day.
You can only send up to 10 direct messages per hour.
All of these limits are meant to stop spambots and automated Instagram activity. So if you suspect you've been hitting the like button a little too frequently, take a 48-hour break and come back.
It goes without saying, but if you have been paying for likes or using any other form of automated Instagram engagement, putting a stop to this will help remove a shadowban from your account.
Report a problem to Instagram
If you don't see any evidence as to why you've been shadowbanned, your best bet is to reach out to Instagram directly by reporting a problem.
Here's how to do that:
Open the Instagram app.
Navigate to your profile by pressing the profile pic icon at the bottom-right of your screen.
Press the three horizontal lines at the top-right of the screen.
Navigate to Settings > Help > Report a Problem.
Select Something Isn't Working.
Type a brief message explaining what you're experiencing.
Press Send.
It may take a while for Instagram to reply, so don't be afraid to send out multiple messages.
How to prevent the Instagram shadowban
Whether you've been a victim of Instagram's shadowban or not, it's wise to adopt a few preventive practices to keep your account visible.
Avoid any shady practices
Instagram is actively trying to rid its platform of suspected spam accounts. To avoid falling into that category, you must not participate in any spammy social media behavior, such as:
Buying followers and likes.
Using spambots to like and comment on your photos.
Leaving the same comments on multiple posts. For example, "Awesome!"
Using an Instagram post scheduler or other automation tools.
Focus instead on authentic engagement. Only comment on photos you really enjoy or have something to say about. Follow new accounts that are posting content you're genuinely interested in. And, of course, post content that both you and your audience care about.
Switch to a personal account
Some social media experts believe that since Facebook acquired Instagram, they've intentionally limited the reach of business accounts to encourage them to buy ads. While this theory hasn't been confirmed, some accounts have reported that by simply switching from a business account to a personal account, their shadowban was lifted.
You can always switch back, but be aware that when you switch to a personal account, you lose your ability to run ads and check your Instagram Insights. Still, it might be worth it to try.
Until Instagram confirms or denies their shadowban tactics, it's up to account holders to make sure they're complying with the app's Community Guidelines. So long as your content is authentic and your engagement is genuine, you should be able to avoid a shadowban.
Getting shadowbanned by Instagram is no joke, but when someone blocked you on Instagram, it's equally frustrating. So check out our post and learn how to find out if you got blocked.