If you're looking for a way to free up some space on your iPhone, the most common answer would be to upload your photo library to iCloud. But what if you don't want to store your pics on the cloud or pay for more iCloud storage? Fortunately, you can now connect a flash drive to your iPhone and start moving your pictures and videos over to clear some room.
Keep reading to see what external drives you can use and decide which one will work best for you.
Before you move your photos to an external drive
Sure, moving photos off to an external hard drive will free up space on your phone. But you're still paying for that storage, so why not use it in a smarter way? Make sure you only move the photos and videos you want to keep, not useless clutter. You know, like that picture of the whiteboard in your office or 13 other photos you took to get the perfect angle and smile on your last weekend trip. All of those take up space, and if you don't need them anymore, you should get rid of them.
The good news is there's an app that can help you find photo clutter and get rid of it quickly. It's called Gemini Photos. Once you download Gemini Photos from the App Store and scan your phone, it will show you all the pictures you probably don't want to keep anymore:
Duplicate photos
Multiple similar shots
Blurry photos
Old screenshots
Photos of text
It's important to keep in mind that Gemini Photos doesn't immediately remove those pictures from your phone. So, if you accidentally deleted a picture you want to keep, you can find it in the Recently Deleted album for the next 30 days. But if you do want to free up this space immediately, just open the Photos app and then tap Albums, Recently Deleted > Select > Delete All.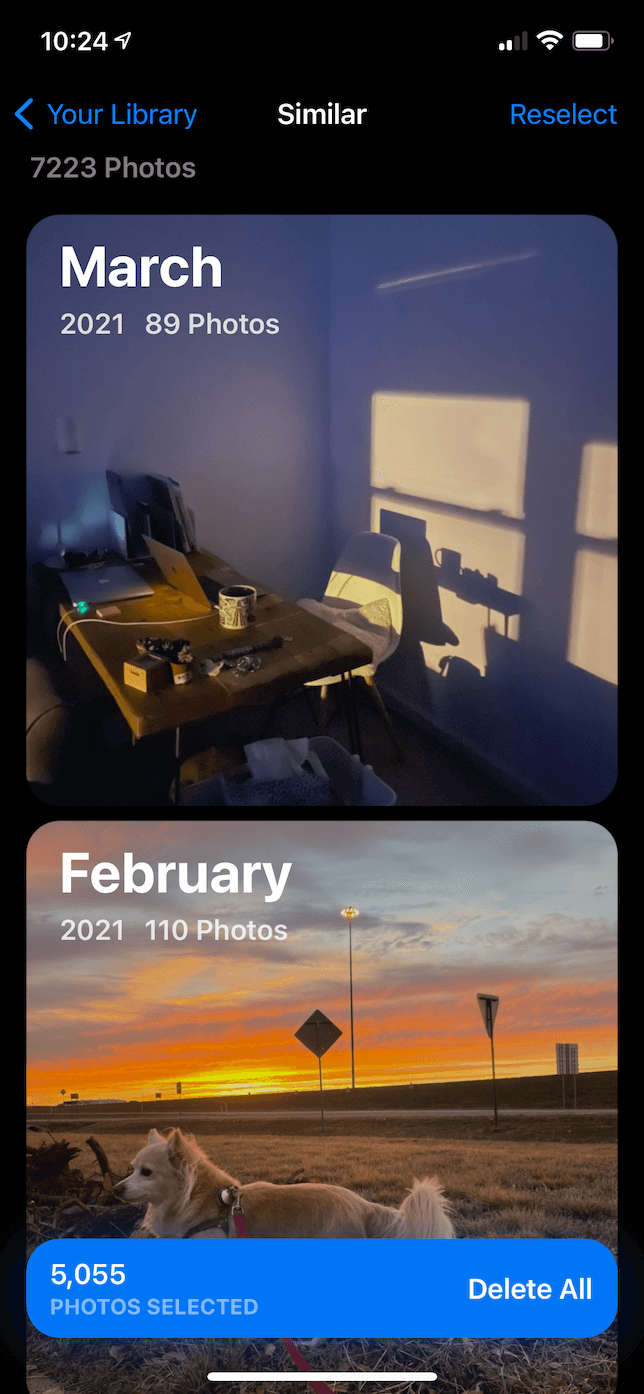 The best external storage options for your iPhone photos
When you run out of space on your iPhone, it's understandable that you would want to make sure your pictures and videos are backed up so you don't lose them. And sure, you could save your photo library online, but there's something nice about having them on a physical drive that you can hold in your hand. Here are a couple of the best external storage options to use with your iPhone.
Picture Keeper Connect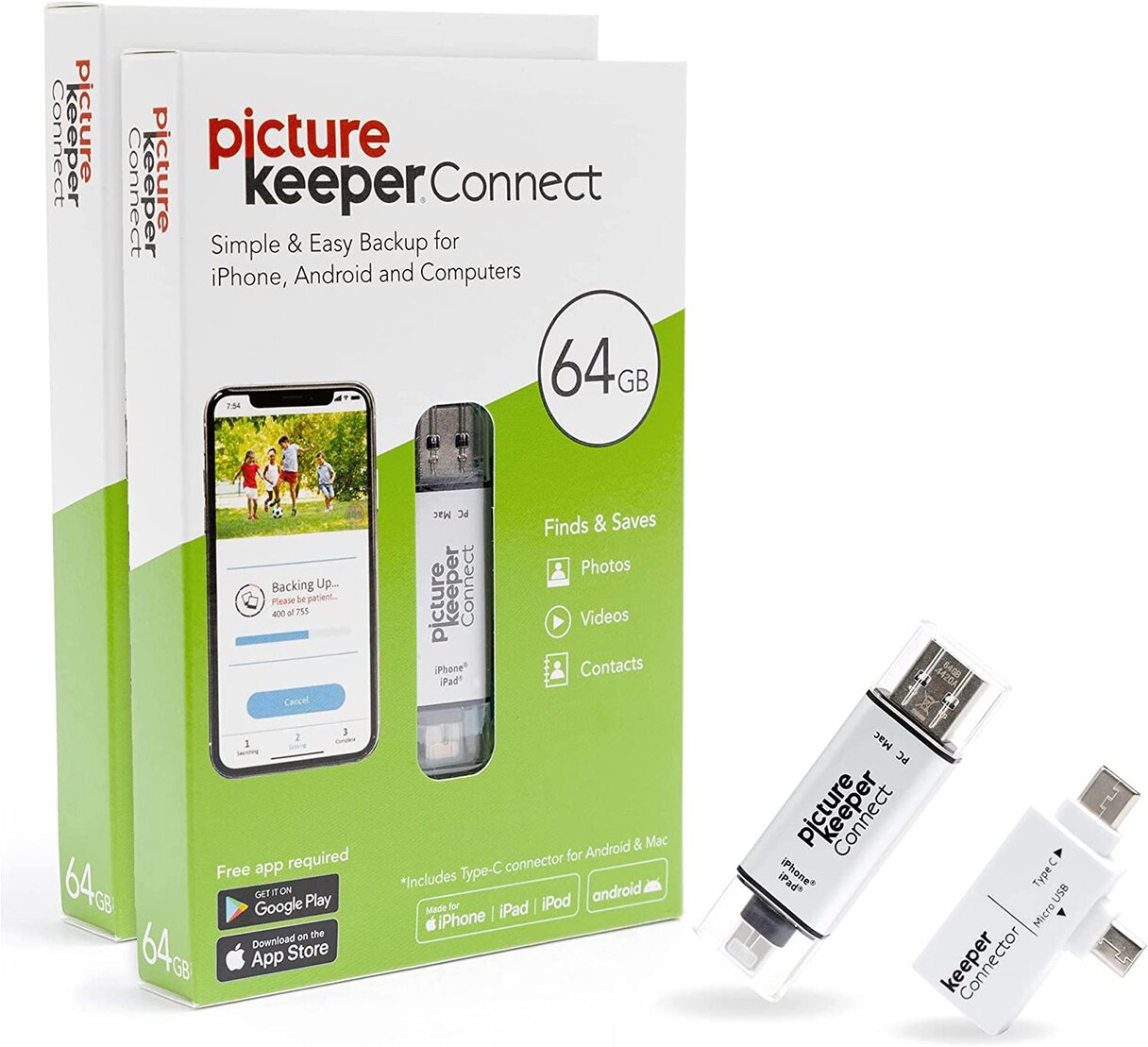 One of the best things about the Picture Keeper flash drive is that you can use it with different devices, meaning that you can connect it to an iPhone, Android devices, and a computer. It comes with both USB-C and USB-A connectors, along with micro-USB and Lightning adaptors.
Specifications
Brand: Picture Keeper
Capacity: 32GB
Connection: USB-C, USB-A, Lightning, and micro-USB
Picture Keeper Connect on Amazon
iDiskk MFI Certified Photo Storage for iPhone: 4-in-1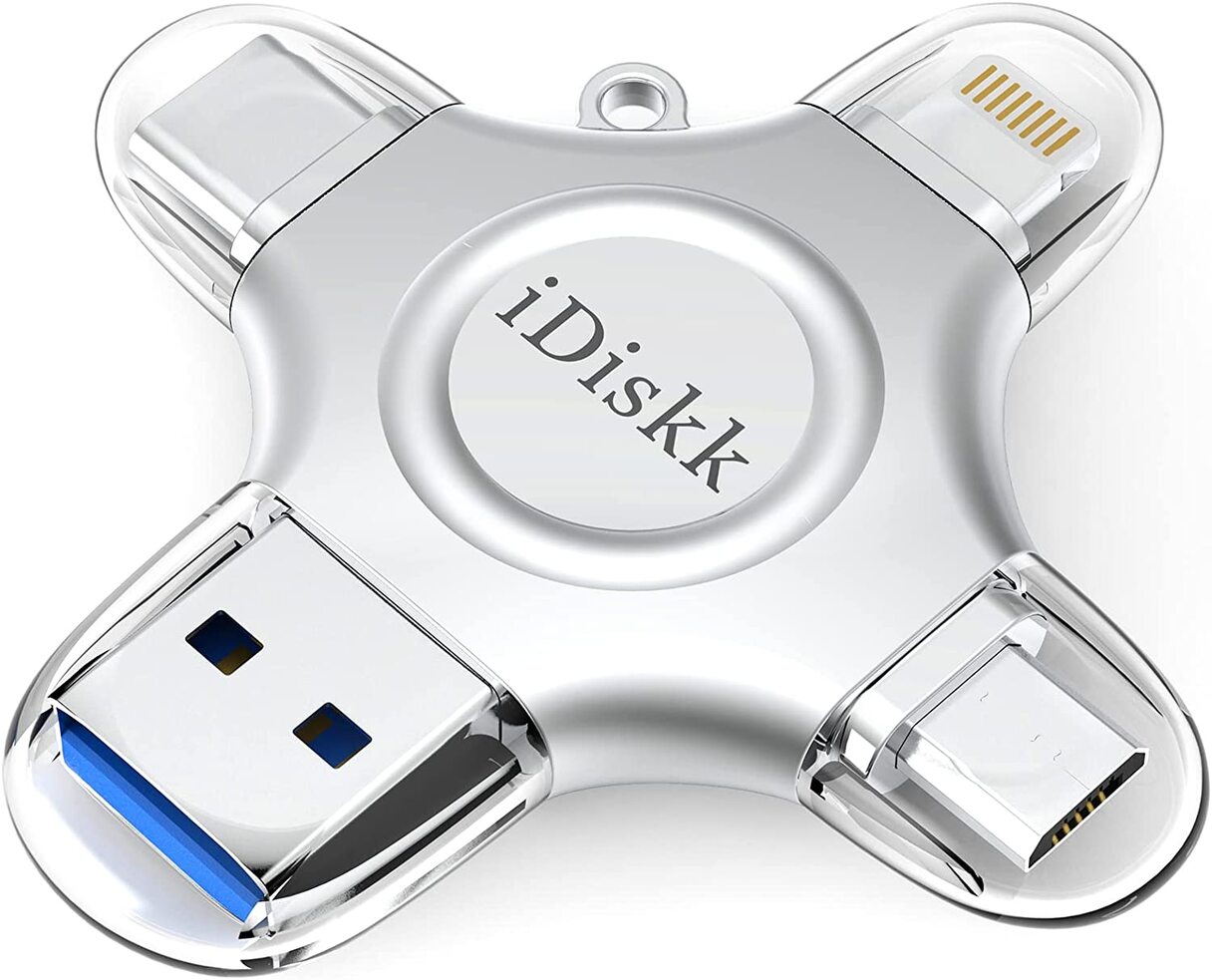 The great thing about the iDiskk MFI drive is its versatility and 4-in-1 functionality. It has lightning and standard USB connectors that can be used with an iPhone and a computer, along with a Micro USB and a USB-C connector. With this USB drive, you're prepared for whatever device you need to connect it to, so you can back up your photo library.
Specifications
Brand: iDiskk
Capacity: 512GB
Connection: USB-C, USB-A, Lightning, and micro-USB
iDiskk MFI Certified Photo Storage on Amazon
SanDisk iXpand: Flash drive for iPhone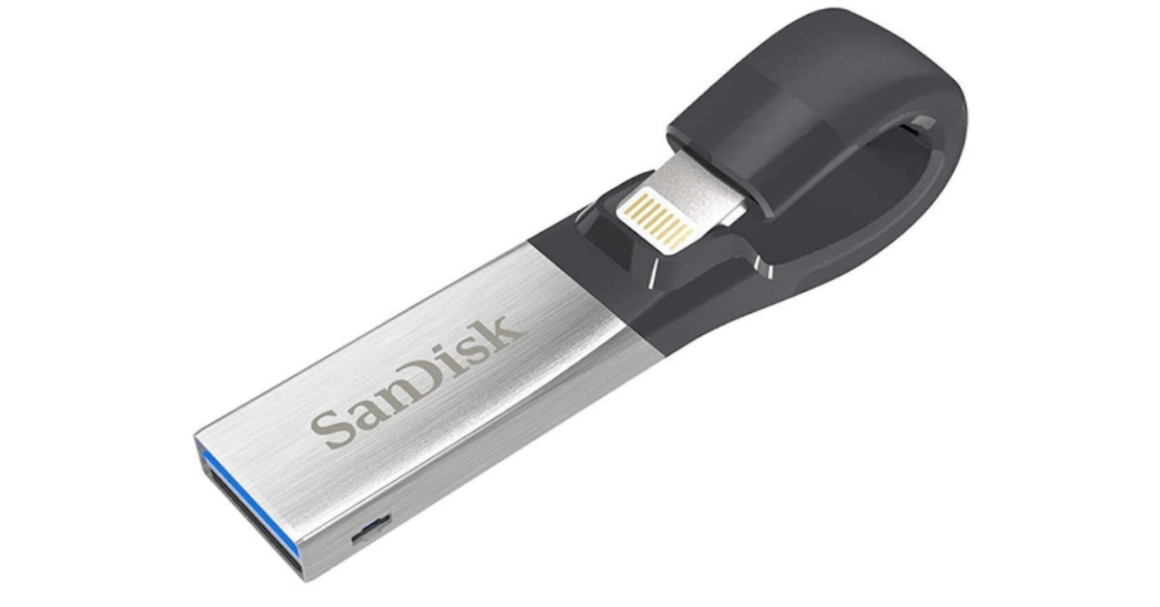 One of the best things about the SanDisk iXpand flash drive is the iOS app you can use with the drive. It automatically transfers over your photo library, so all you have to do is open the app and plug in the drive.
Specifications
Brand: SanDisk
Capacity: 32GB
Connection: USB-A and Lightning
EATOP Flash Drive: The most storage for the lowest price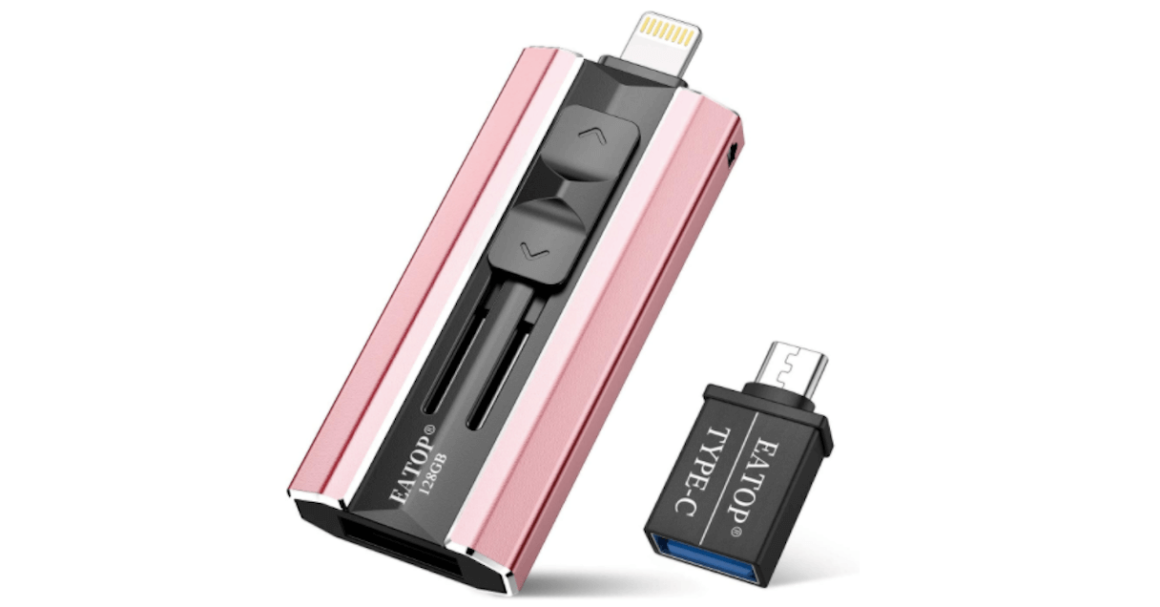 Like other drives on this list, the EATOP Flash Drive has multiple connectors so you can connect it directly to your iPhone and your computer. But where it really sets itself apart is how much space you get for the price. On Amazon, you can get 1 TB for under $40.
Specifications
Brand: EATOP
Capacity: 1TB
Connection: USB-C, USB-A, Lightning, and micro-USB
Leef iBridge 3: Thumb drive for iPhone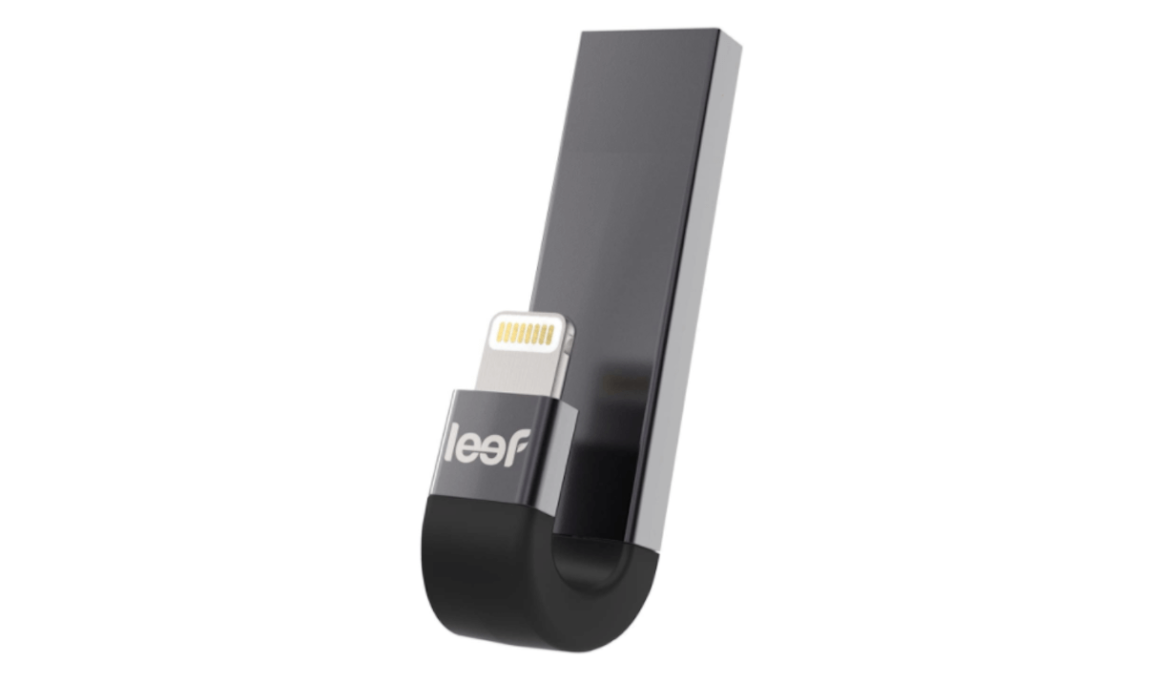 The Leef iBridge 3 is probably the most traditional thumb drive on this list. It's designed so that when you plug it into your phone, you don't have a massive dongle sticking out like you would with a lot of other drives. Instead, this thumb drive wraps around to the back, making it more convenient to continue using your phone while connected. This is great because you can use Leef's iOS app to take pictures and videos while saving them directly to the USB storage, so you don't have to worry about transferring them later to free up storage space.
Specifications
Brand: Leef
Capacity: 128GB
Connection: USB-A and Lightning
iDiskk: iPhone photo stick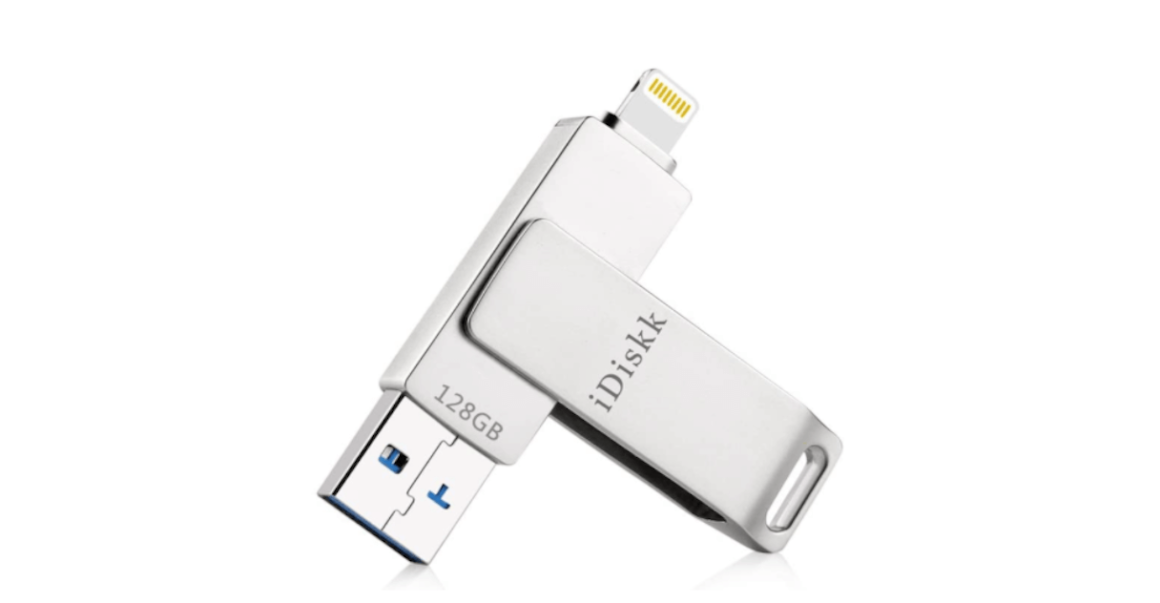 If you're looking for a drive that you can take with you everywhere you take your iPhone, then iDiskk Photo Stick is the drive you need. It's made with an aluminum casing that helps protect it from falls without adding any unnecessary weight. This makes it an easy and convenient drive to go wherever you go.
Specifications
Brand: iDiskk
Capacity: 128GB
Connection: USB-A and Lightning
LIY7: Pendrive for iPhone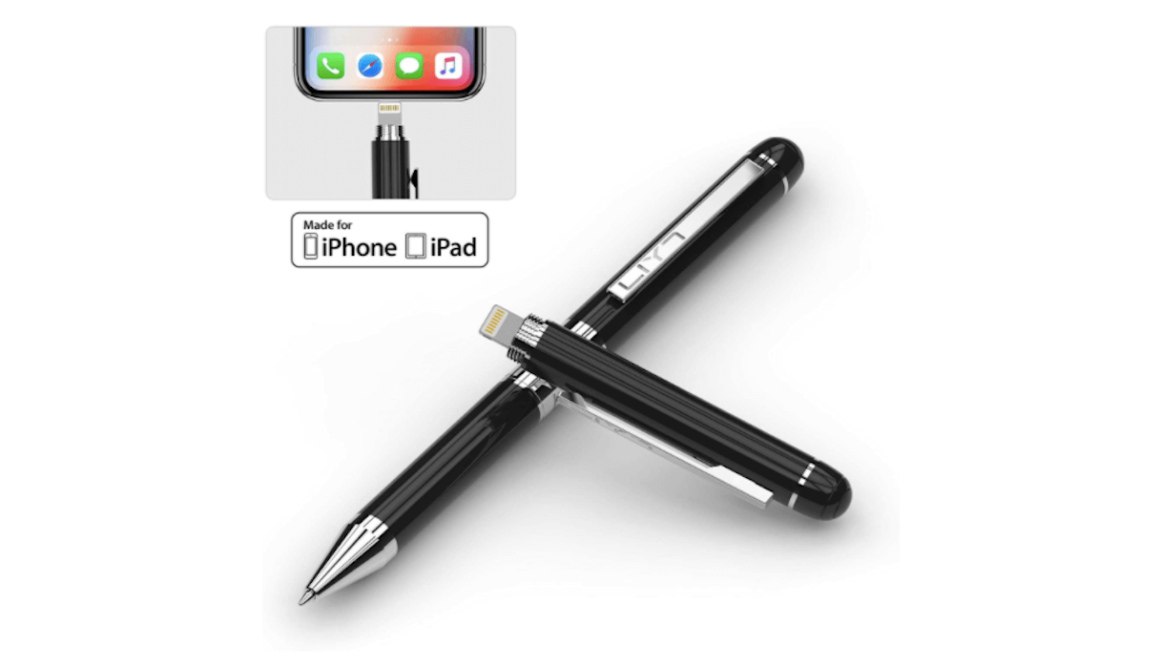 Just as its name implies, the LIY7 is not only a convenient flash drive that you can use with your iPhone, but it's also a pen you can write with. Its versatility makes it easy to slip into your bag or even your pocket to carry with you. And that way, you always have a pen with you, as well as extra storage for your iPhone when you need it most.
Specifications
Brand: LIY7
Capacity: 16GB
Connection: Lightning
LIY7 iPhone Pendrive on Amazon
LaCie Rugged Mini: External hard drive for iPhone
Maybe you were hoping for something with a little more storage to store your entire photo library. In that case, you're going to want an external hard drive like the LaCie Rugged. Rugged Mini hard drives start at 1 TB and are currently available up to 5 TB, which should satiate even the largest of libraries.
Specifications
Brand: LaCie
Capacity: 2TB
Connection: USB-A
LaCie Rugged Mini Drive on Amazon
As you can see, there are a ton of options when you're looking for external storage for your iPhone. It all just depends on your specific needs and how you want to use that storage. Hopefully, reading this article has helped you figure out which options will work best for you. And for more storage options, check out the online photo storage sites and apps we covered earlier.