Instagram has rolled out plenty of new tools over the years, allowing you to customize your feed and increase engagement. Stories, IGTV, and Reels should all have a spot in your Instagram workflow, but one of the easiest tools to use to increase engagement is the Instagram carousel feature. This article will cover everything you need to know about using a photo carousel to create more engaging content on Instagram.
What is an Instagram carousel?
An Instagram carousel is a series of images that are grouped together in a single post. These posts are useful for telling stories that might require more than one image. For example, you could create an Instagram carousel to show before/after shots of a DIY project, an outfit, or a room. You could post a recipe with process shots, or you could highlight different aspects of a recent vacation.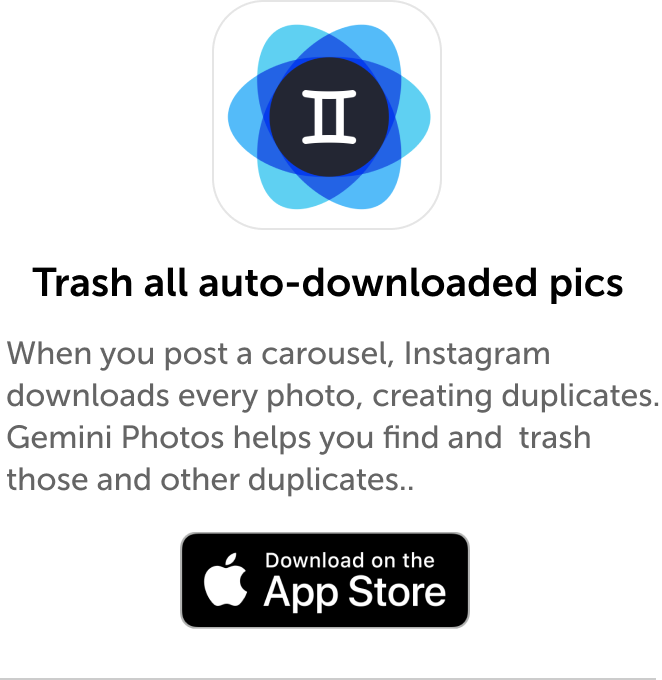 Do Instagram carousels increase engagement?
This is a complicated answer because we don't know exactly how the Instagram algorithm works, and the engagement rate depends a lot on the size of your following, the content you post, and the genre you post about the most. According to Social Insider, photo carousel posts outperform video posts by a large margin, at almost 5.13% engagement for smaller accounts.
Do hashtags work on a carousel post?
Instagram users often report that their carousel posts generate very little engagement from hashtags, making the rest of us ask whether hashtags even work on carousel posts. While we can't speak for every Instagram user out there, we can confirm that even the most popular carousel posts on Instagram receive virtually zero engagement from hashtags. Does that mean that you should forgo using hashtags altogether? Definitely not. Hashtags will not harm your reach or your engagement, so keep using them for now.
Can you promote an Instagram carousel post?
You can definitely promote your Instagram carousel posts. But before you decide to spend money on Instagram, decide what your ultimate goal is. Do you want to increase your profile visits, website visits, or DMs? If you just want more overall engagement, you might be better off going the organic route. If you do decide to promote your Instagram carousel, here's how to do it:
Tap on the carousel post that you want to promote.
Choose your goal from the menu and tap Next.
Define your audience using the menu options. The easiest method is to have Instagram target your audience, but you can certainly do it manually.
Tap Next.
Choose your budget and tap Next.
Tap Create Promotion.
How to create an engaging Instagram carousel
When it comes to creating an engaging Instagram carousel, the last thing you want to do is just choose a bunch of photos and call it a day. For the best results, you have to think about the story you're trying to tell, how the photos go together, and your caption. Here are some tips for making a photo carousel that really stands out.
Instagram carousel specs for photos and videos
Instagram allows 2 to 10 individual photos or videos for each carousel post. Photos can be any size, but the resolution should be at least 1080 by 1080. Sizes for all photos must be the same, so if you choose a landscape photo for your first photo, all the rest must be cropped to landscape orientation. You can upload photos in either JPEG or PNG format as long as they are under 30 MB in size.
Videos can also be uploaded to an Instagram carousel post. They should be in the MP4 format with a maximum size of 4 GB. Carousel videos can't be more than 60 seconds long.
How to create an Instagram carousel post
Instagram carousel posts are so much easier to create than videos. Here's our step-by-step guide to creating your first carousel post.
Open Instagram on your iPhone.
Tap + and choose Post.
Choose your first photo for your Instagram carousel.
Your photo will appear on the screen in the traditional square format, but you can use your fingers to zoom out to whatever size you want. Just remember that once you choose a size for your first photo, the rest will have to be in the same aspect ratio.
Hold your finger down on the small photo that you've chosen until the number 1 appears in the upper-right corner of the photo.
Scroll through your photos and videos to choose the ones you want to complete your carousel.
Select Next.
Tap on each individual photo or video to add filters or manually edit them.
Once you are finished, tap Done.
A new screen will appear where you can add your caption, tags, locations, etc.
When you are finished, tap Share to add your carousel to your Instagram feed.
How to split photos for a carousel using Canva
There are some situations where you may want to split a single panoramic image into multiple images so that your viewers can swipe through them in a carousel post. This type of post isn't as simple as a regular carousel post, but it's far easier to do if you have the Canva app on your phone. Here's how to split a photo in three for a carousel post using Canva:
Install Canva and open it on your iPhone.
Tap + at the bottom right of your screen and choose Custom Size.
Choose 900 for the width and 1200 for the height.
Choose Create new design.
Tap Uploads and choose the photo you want to split.
Drag your photo to the upper-left corner of the outline and crop it so that only the first third of the photo is contained within.
Tap the add page icon at the bottom right to add a new page and tap the + to add the same photo to this page.
Double-tap each image and choose Crop.
Drag the images to crop them so that the edges from one line up with the next.
Tap the save icon to download all three photos to your photo library.
Now you can upload the photos in order as an Instagram carousel. Be sure to ask your viewers to swipe through to see the full image.
How to use an Instagram carousel template
If you've already downloaded Canva to practice splitting photos for your carousel, you'll be excited to learn that they also have some ready-to-go, easy-to-customize templates that you can use for your Instagram carousel posts. The easiest way to find them is to open Canva and use the search bar at the top to search for "Instagram carousel." You will see a whole collection of templates that you can use to tell your story. Once you've chosen a template to use for your photo carousel, you can edit everything about it right in Canva. Choose new fonts, new photos, new colors — the options really are endless.
When you have finished designing your template in Canva, it will be saved in the My Designs section of the app. Now you can use it to create new Instagram carousel posts whenever you want.
How to schedule a carousel post on Instagram
Did you know you can schedule carousel posts on Instagram using Facebook's Creator Studio? You can use Creator Studio on a computer to schedule carousel posts. There's a mobile app too. But unfortunately, it can only be used to schedule posts to Facebook at present.
The biggest caveat to using Creator Studio is that you have to manage both a Facebook page and an Instagram business account. If you fit into this category, read on to learn how to schedule your first Instagram carousel:
Go to Facebook Creator Studio on your Mac.
Click on Settings and choose Page Settings.
Choose Instagram on the left sidebar to connect your Facebook and Instagram accounts.
To create a post, click on the Instagram icon at the top of the screen.
Choose Create Post and then choose Instagram Feed and the account you want to post to.
Click Add Content, then From File Upload to choose photos from your computer.
Use the command key to click on multiple images to add to your carousel post or just keep using the Add Content button to add more than one image.
Once you have chosen your images, you can add your caption, location, and tags.
Click the area next to the Publish button and choose Schedule.
Select the date and time you want your post to be published and click the blue Publish button. Your carousel will be posted at the specified time.
Using Instagram carousel posts is an easy way to provide your followers with fresh content while increasing engagement on the platform. Once you start creating carousels, you'll find that it isn't much more difficult than creating a single post. And if you're looking for other ways to feature multiple photos on your Instagram, try Instagram Guides — the latest trick on the platform.