TikTok truly puts the "social" in "social platform." Unlike other social media apps, namely Instagram and Facebook, the content you post on TikTok is best when it can be used in collaboration with other users. And the only way to have a truly successful collaboration is to have engaged followers. But don't worry. Whether you're brand new to TikTok or you haven't really been focused on gaining followers, you are in the right place. This article will walk you through some tips and tricks to help you quickly gain more followers.
How to get 1,000 followers on TikTok with a new account
If you've ever built a profile from the ground up on any other social media platform, you'll probably notice a lot of similarities with building one on TikTok. The main difference is that the search and discovery algorithm on TikTok is much better, meaning you'll actually see better results — and faster — if you can stick with these seven tips.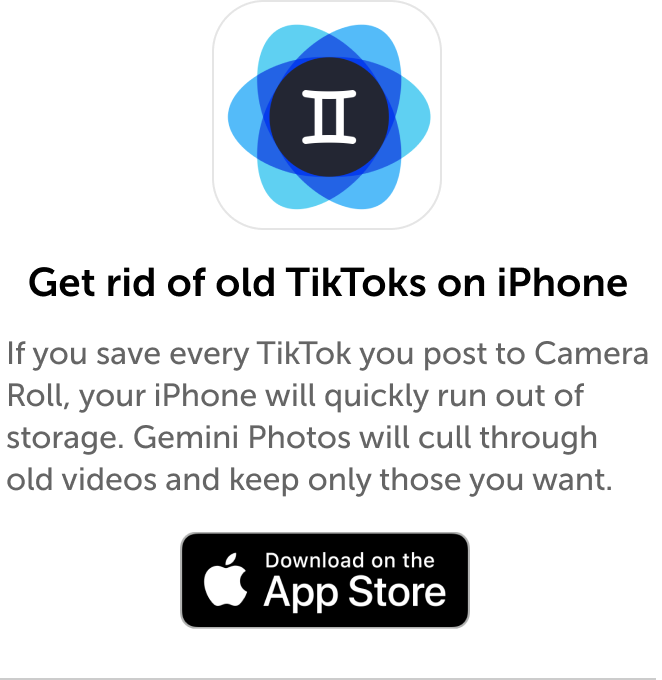 1. Be consistent
Figure out a posting cadence that works for you and stick with it. Whether it's once a day or just a couple of times a week, we guarantee that the more reliable your schedule is with new content, the better performance it will have.
2. Create content for your target audience
It's easy to lose sight of your audience in favor of creating videos that will appeal to everybody. But the problem with doing that is that very few of your videos will actually be successful. You will create the best content and get the best results when you make videos for a specific audience.
3. Respond to comments
It's called social media for a reason. It's all about having a conversation with your viewers. Obviously, your focus should primarily be on creating great content. But you also can't lose sight of the one-on-one connections you can gain in the comments section.
4. Comment on other videos on the For You page
Continuing the last point, comment on other people's videos, too! Better yet, comment on the popular ones. We get it — you don't want your comment to get lost on a video with thousands of other comments. But the For You page is a great place to find quality videos before they blow up or go viral. And typically, if you're one of the first to comment, you're more likely to get the attention of the video's creator and start a conversation.
5. Include keywords in your captions
When you're writing your caption, keep in mind how people tend to search for videos. If you can build keywords into your captions, it will make your video that much easier to find.
6. Use hashtags strategically
The key word in this tip is "strategically." A lot of people try to throw in a hashtag soup at the end of their caption in the hopes that the more hashtags they include, the more discoverable it will be. But TikTok's algorithm actually works against videos that way. The best thing to do is use them sparingly. Include a couple of popular hashtags paired with unique or lesser-used ones.
7. Choose a cover image with a text title
Make sure your cover image has a clear and easy-to-read text title in it. That will help people see what your video is about in a thumbnail and create more engagement. Ultimately, this will help convert that engagement and those views into followers.
How to gain followers on TikTok: The fastest ways
Once you get your first 1,000 followers and you've used the tips above, you'll have a pretty solid grasp of the TikTok basics. Here are a few more tips to keep your page growing and not staying stagnant.
8. Leverage TikTok trends
Trends are a great way to get new eyeballs on your content. When people search for new trending topics, they're more likely to come across your video and engage with you.
9. Provide value for your followers
While there is no template for creating engaging content on TikTok, one of the things that will help take your videos to the next level is asking yourself, "What value are these videos providing for my audience?" Whether they realize it or not, people watch videos to get something out of them. That something could be as simple as the comedy in each video. Or maybe your audience is hoping to learn something new. Figuring out what value your videos provide will help guide the type of content you make.
10. Cross-promote your videos in the comments
This tip might make a few people uncomfortable, and we understand. But as the saying goes, "The squeaky wheel gets the oil." Sometimes, you have to just be very direct about what you want. And when it comes to TikTok, that means asking people to watch specific videos. One option is to leave a link in the comments of other people's videos to help draw attention to your own.
11. Engage with other TikTok creators
Again, of all of the social media platforms right now, TikTok is the most genuinely social. It's not enough to just drop a "Nice video!" in the comments. You've got to try and get on people's radars and have a little deeper conversation with them. Not only will this help build your network, but this way, other creators will also want to collaborate by Stitching or Dueting your videos.
12. Participate in TikTok challenges
Like trends, challenges are a great way to get discovered by a whole new audience. But the nice thing about challenges is that a lot of times, you can call out other specific accounts to take part. And if they respond, they'll likely give you exposure to some of their followers.
13. Encourage UGC
TikTok has many great features that allow other users to collaborate and borrow elements from your original video. This is another incredible way to introduce your page to a whole new set of followers. Encourage people watching to use the audio from your video or Duet or Stitch with you.
14. Include a call to action in your videos
It's helpful to give people a task to do. It gives them something to work toward versus just aimlessly scrolling through TikTok. At the end of your videos, encourage people to follow you or like the video. Or you can even include a call to action in your caption.
15. Post on TikTok at the right times
The more engagement you get in the hours right after posting a video, the better it will rank on TikTok's algorithm. So knowing when your audience is using the app is key. If you have fresh content ready to go when your followers open the app, your videos will ultimately reach further.
How to gain TikTok followers by getting on the FYP
A key feature that sets TikTok apart from other social platforms is its For You page, making it easy to discover and find new people to follow. Getting onto someone's For You page could literally be the deciding factor that determines the success of your video. Here are some tips that could help get your video to the top of that page.
16. Boost your user interactions
As you read in the last section, a video's engagement or interactions can significantly determine its success with the algorithm. Encourage your audience to interact with your videos in a straightforward and matter-of-a-fact way.
17. Use the right hashtags
Many people think hashtags like #fyp or #ForYouPage will help get your video on the FYP. But that has yet to be proven, and TikTok has not confirmed that. And as you read before, TikTok will filter out videos with too many hashtags. So use them sparingly and in a way that makes sense.
18. Create shorter videos
While TikTok lets you create videos up to a minute long, it doesn't mean you should use the full 60 seconds. A video is more likely to be shown to other users if it is re-watchable, with initial viewers racking up repeat views. And if your videos have a lower time commitment, people will be more willing to watch them.
19. Write engaging captions
The key to a good caption is keeping things brief and saying precisely what you need to say. And then, just be done with it. But you should also do it in an intriguing way that leaves people curious so they want to watch.
20. Improve the quality of your videos
This one might sound like a no-brainer, but it's worth mentioning. Grainy and blurry videos are not going to end up on the For You Page. But higher-quality content has a better chance of being watched by strangers.
21. Add sounds and music
Audio is another great way people can discover videos on TikTok, as users can search for videos using specific audio — whether it's a voiceover, sound effect, or music.
The biggest thing about gaining followers on TikTok is to just keep posting content. As they say, "If you build it, they will come." If you continue to post, eventually, you'll improve your quality, get into a rhythm, and figure out what value your audience can get from your content. Until then, keep experimenting to discover what works best for you.