Instagram has more than a billion users, and its audience is growing larger every day. With so many users on the platform, it can be difficult to cut through the noise and find your community. Growing a following on Instagram is more competitive than ever, but it's not impossible to increase your Instagram followers if you're willing to roll up your sleeves and put in some work.
Whether you're just starting your Instagram account or trying to revitalize a stagnant growth pattern, we've got lots of tips to help you kick it up a notch.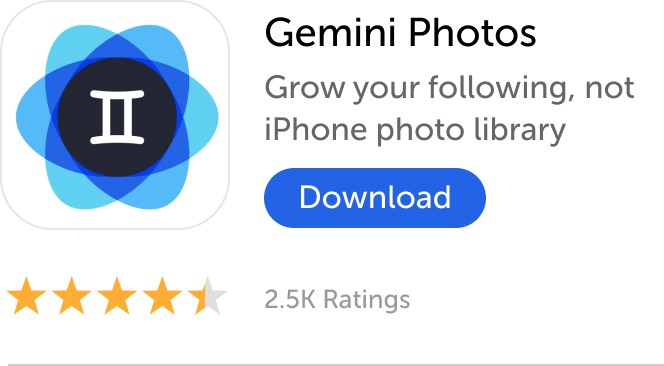 Our best tips for gaining followers on Instagram
When it comes to growing your audience, the secret is to get real Instagram followers. Anyone can buy followers for quick Instagram growth, but this will only hurt your Instagram account in the long run. If you want to know how to grow your Instagram followers organically, keep reading! Here are our best tips for cultivating an authentic, engaged Instagram following.

Tip 1: Optimize your Instagram profile for organic growth
Think of your Instagram profile as an overview of who you are and what you represent. You want to portray a clear message to potential followers. Your profile includes your username, name, profile photo, bio, and link, and it can tell potential Instagram followers a lot about you and what you represent.
Use the space within your profile to help followers find you and stick around after they've discovered you. Here's how to optimize your profile to increase Instagram followers.
Use your real name. When you create your profile, you will see a spot for your name. This is different from your username. Using your real name helps build trust with your followers. If there's room, you can also add a few keywords here, but you are limited to 30 characters for your name on Instagram.
Your Instagram bio can be up to 150 characters. Use it to sell yourself and your feed to get IG followers. Not only should your bio tell your viewers what your feed is about, but it should also convey a bit of personality to keep your followers interested.
Choose a crisp, bright photo of yourself. A photo of yourself lets your readers know that you're a real person behind your phone and really helps increase Instagram followers. Feel free to use props to help tell your story — hold your cat, your camera, or your rolling pin to get your point across.
Choose your link wisely. Instagram allows one link within your profile. Use it to promote your work, whether it's an Etsy shop, an online portfolio, your blog, or a YouTube channel. This helps you get followers not only on Instagram but on your other platforms as well.
Tip 2: Post consistently for Instagram growth
In order to get more followers on Instagram, you have to be consistent. Does that mean posting every day? Not necessarily, but it does mean creating a content calendar and sticking to it.
Check your analytics on Instagram by going to your profile page and tapping on the menu in the upper right. Now tap Insights > Your Audience and scroll down to Most Active Times'. This will tell you when your audience is on Instagram.
You can use this information to your advantage by posting during the days and times when your audience is most active. This is a great way to build rapport with your Instagram followers and grow your account.
Tip 3: Write authentic long-form captions to get IG followers
You've likely been told over and over again to post great photos for the best engagement and Instagram growth, but that's only half the story. You also need to write meaningful captions that will engage your Instagram audience.
Your Instagram followers want to get to know you, and every time you open up with authentic captions, you will find that your viewers respond. The more engagement you get on your posts, the more people Instagram will show them to. And the more people that see your content, the quicker your Instagram account will grow.
Once you've captured your readers' attention with a good story in your caption, end things with a question so that they feel compelled to respond. This is a great way to get more comments on your posts and to grow Instagram followers organically.
Tip 4: Tag locations and accounts that feature photos within your niche
Wondering how to grow Instagram followers without spending all day on your account? Start researching your target audience and tagging accounts and locations to help get your photos and videos in front of more eyeballs.
When you geotag a post, it will show up whenever someone searches for photos from that area. This is awesome for travel content or any photos where the location is important. You can also tag the larger accounts in hopes that those accounts will feature your work. If your photos and videos are unique, then being featured by a larger account is a sure-fire way to get more followers on Instagram.
There are thousands of accounts that will feature photographers who tag them, but finding them can be a chore. The Explore page on Instagram is a great place to start because it usually features the biggest accounts with the best content. If you click through some of those accounts, it's easy to see if they feature smaller photographers. Once you've found an account you want to target, start tagging them and interacting with the content they post.
Tip 5: Cross-post your Instagram content on other social channels
Are you active on other social media platforms like Facebook, Twitter, or YouTube? In order to cross-populate these channels, you should periodically promote your Instagram account on your other platforms. You can also set up your Instagram account to automatically post to some of your other channels. Here's how to cross-promote your account to get more followers on Instagram:
From your Instagram profile, tap the menu in the upper-right corner.
Navigate to Settings > Account > Linked Accounts.
Tap the account that you want to link to your Instagram and add your login credentials.
Now, when you create a post, you will be asked whether you want to post to any of your other accounts before posting to Instagram.
Tip 6: Research and use relevant hashtags to increase Instagram followers
We could write a whole book about using hashtags on Instagram to increase followers. The purpose of hashtags is to connect relevant content based on a single theme or niche. Brands use hashtags to promote themselves, and there are hashtags to promote everything you can imagine, from #truelove to #dogsonadventures.
There are thousands upon thousands of hashtags to choose from, but you are limited to 30 per post. Before using a hashtag in your posts, do a quick search on Instagram to see if the content using it matches your niche and the feel of your post.
Make a list of the 30 hashtags that best suit your content and use them in your post. Aim for a mix of general and specific hashtags, as well as brand-specific hashtags, location-specific hashtags, and hashtags that don't have a lot of content.
You can follow and engage with hashtags too. To do this, simply type the hashtag into the search bar on Instagram and tap the Follow button at the top of the screen. This makes it easier to engage with relevant hashtags, which is a good way to get more followers on Instagram.
Time-saving tip: You can copy hashtags from related posts on Instagram while on a computer and paste them into the comment field on your Instagram post. If you use similar hashtags in all of your posts, save them in the Notes app on your iPhone so you can reuse them.
Tip 7: Spend time and engage with your real Instagram followers
Engaging with your audience is one of the most critical aspects of growing your Instagram followers. It's also very time-consuming. And unfortunately, when it comes to engagement, there are no shortcuts. The more time you have to invest in this part of your strategy, the more quickly you will grow your Instagram followers.
To keep on-task, we recommend setting a timer on your phone each day (or even several times a day) for whatever amount of time you can spare to engage with your Instagram community — 15 to 30 minutes is a good place to start.
Comment on Instagram posts within your niche, follow Instagrammers you admire, like your favorite photos, and respond to every comment on your posts. Keep it authentic and watch your Instagram followers grow organically.
Tip 8: Create Stories, Lives, Reels, and IGTV videos for quick growth
When you're just starting out on Instagram, it's okay to focus on posting to your feed, but as you grow, you will want to branch out and start posting more Stories, Lives, Reels, and IGTV videos. Once you start using these other tools, Instagram will begin to reward you by showing your content to more people.
Start with Instagram Stories. This will help you get the hang of posting videos and more personal content with your followers. Stories can be photos or videos under 15 seconds, but you can certainly post longer videos that have been cut into segments. To start, try shooting some behind-the-scenes videos showing your viewers how you create your Instagram posts. This can be a video of the setup behind your beautiful flat lays, a video of you packing your camera bag, or a series of photos describing how you edit your photos before posting.
Stories don't always have to be videos. You can also use the Layout feature in Stories to create a collage of your best photos.
Instagram Reels are the new kid on the block, but they are taking off in a big way! These are short video clips that are usually but not always set to catchy music. You can stitch several videos together right inside Instagram to create a Reel and then share them on your main Instagram profile.
Once you've figured out Stories and Reels, try doing an Instagram Live. It's really no different than Stories, except that you only get one take! Instagram Lives are awesome because they are the first Stories that show up on your followers' home screens. Use Instagram Lives to show your community your camera gear, your home office, or your favorite spot to take photos.
When you create a Live video, the top of the screen will show you how many of your followers you will be able to reach with your video. The more people you can reach with your Live, the better!
Finally, when you're ready to get creative and put in the work, try out the IGTV feature. IGTV videos are longer than Instagram Stories — up to 10 minutes, in most cases. Your IGTV videos need not be perfectly polished, but they should be engaging. Use Instagram's search function to explore what other IGTV creators are doing in your niche before you get started.
Posting a variety of different types of content is one of the best ways to get more followers on Instagram.
Tip 9: Use insights to grow your Instagram following
If you have an Instagram Creator or Business account, you will also have access to Instagram analytics. You can access this feature through your account menu under Insights. Creator accounts are available to everyone and are recommended for public figures, content producers, artists, and influencers.
Wondering how to get more Instagram followers using Insights? Your Instagram analytics will tell you exactly where your engagement is coming from (your profile, hashtags, geotags, or the Explore page), so you can start creating more content using the tools that are most effective. Instagram Insights will also tell you when your audience is most engaged, where they are from, their age, and their gender. Together, all of this information will paint a picture of your current Instagram followers so you can plan your content around your ideal audience.
Tip 10: Develop a cohesive Instagram theme to get more followers on Instagram
Giving your Instagram feed a cohesive "look" that is uniquely you will help you stand out from the crowd. It's also a great way to brand yourself so that your followers know your look when they are scrolling through content.
Before developing an Instagram theme, take a look at the accounts of content creators you admire. This will help you develop your own personal style so that you can create content that fits within the look you're going for. An easy way to develop a cohesive theme on Instagram is to use a collection of filters or presets over your photos. Instagram filters are a great place to start, but you can also use your favorite photo editing apps to find filters that match your style.
Tip 11: Collaborate with others to increase Instagram followers
Once you've gathered an engaged following of your own on Instagram, you can start collaborating with others to get your content in front of new eyes and grow your following organically. There are several ways to collaborate with others on Instagram, depending on your niche and your goals.
One of the easiest ways to collaborate is to do Instagram Story takeovers, where you create content for a friend's Stories and they create content for yours. Another idea is to create a challenge that you can promote with multiple accounts to share with your followers. The challenge you create will be based on your niche, but ideas include a fashion challenge, photography challenge, or a DIY project challenge. You can also promote user-generated content from people who decided to take on the challenge by sharing that content within your Stories or Reels.
Just as you appreciate when large accounts feature your posts, smaller accounts will be grateful if you share their content so that they can grow too. This is a win-win for everyone, and it's also a great way to build your Instagram community.
Tip 12: Never buy Instagram followers
Attracting real Instagram followers is a lot of work, and by now, you may be wondering why you can't just buy followers to quickly grow your Instagram account. First of all, buying followers is frowned upon by Instagram and may result in your account being permanently suspended. Plus, buying followers will only inflate your numbers; you will get very little engagement on your posts, and they won't show up on the Explore page or on the feeds of your real followers. While it may be tempting to play the numbers game on Instagram, we promise that you will do much better with real, organic growth.
Growing your Instagram account organically allows you to build a real community that engages with your content and helps you grow as a creator. Yes, growing Instagram followers requires real effort. But if you are willing to put in the work, you will find that your Instagram followers grow consistently day after day, month after month.
If the goal is to share your photography with the world and make authentic connections, then you should focus on attracting people who are genuinely interested in the content you produce.
Remember the reason you hopped on Instagram in the first place? You loved the platform and wanted to connect with people. Growing your Instagram following may not be easy, but with great content and a solid strategy, it's totally possible.