With nearly a billion people actively posting, sharing, and tagging each other, Instagram has risen to the top of the social media game. If you've been a user since the app's conception in 2010, then you've seen firsthand how it's grown from a simple online community to a powerful tool that can influence everything from social standings to running a profitable business.
The number of accounts keeps growing as new features continue to roll out. And now, standing out on Instagram is more challenging than ever before.
Thankfully, there are several third-party apps dedicated to making your Instagram posts and Stories shine. Whether you need some editing help or tools to increase your engagement, these best Instagram apps will take your account to the next level.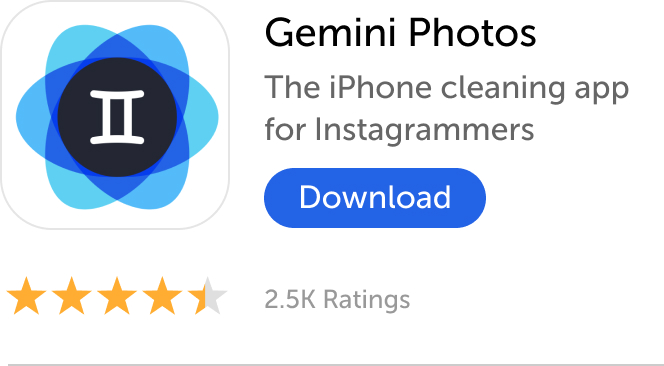 The best Instagram-related apps for iPhone
When it comes to Instagram, there's an app for everything.
Looking for unique filters for your photos? Want to add some creativity to your Stories? Need something to help you schedule future posts? There's an app for that — and we've rounded up the best ones.
1. VSCO: The most popular photo and video editor
When it comes to high-quality editing apps, VSCO reigns supreme. The app's free version includes ten aesthetically pleasing presets, as well as access to editing tools like contrast, grain, and fade. You can even create and save custom recipes so that every one of your Instagram photos and videos stays on brand.
The VSCO Membership comes with over 200 presents and the app's Video Montage feature. You can enjoy a free, 7-day trial when downloading the app.
2. Gemini Photos: A photo gallery cleaner for avid Instagrammers
It's no surprise that being active on Instagram requires a lot of photo-taking. So if you've ever fallen victim to the dreaded "iPhone Storage Full" alert, prepare to meet your next hero: Gemini Photos.
With the push of a button, this app scans your Camera Roll and tracks down every duplicate picture, screenshot, and blurry photo that's taking up space on your iPhone. Then you can choose to delete them, making manual photo removal a thing of the past.
Gemini Photos on the App Store
3. A Color Story: A photo and video editor with Instagram feed planning
Easily one of the best new editing apps available, A Color Story features over 400 filters created by top photographers, as well as movable effects, advanced editing tools, and the ability to save your editing steps as custom filters.
While its editing tools are top-notch, one of the app's most popular features is Instagram Grid Preview, which allows you to lay out your current and future grid for a cohesive look.
Some of the features and filters are included in the app's free version, while unlimited access is only available for a yearly membership fee of $24.99.
A Color Story on the App Store
4. A Design Kit: Photo design, brushes, and text
If you're looking to add a little pizazz to your Instagram posts and Stories, A Design Kit is your next favorite app. With unique tools like realistic brushes, modern fonts, and tons of fun stickers to choose from, your feed will easily stand out from the rest.
Some features are available in the app's free version, but all are unlocked when you sign up for a year-long membership at $23.99.
5. Boomerang from Instagram: Create captivating mini videos
If you're a big fan of the Boomerang feature in Instagram Stories, then having the Boomerang from Instagram app is a must. Rather than using the Instagram Stories camera, you can use the camera with the Boomerang app to stitch together a mini video in seconds.
Found for free within the app store, Boomerang for Instagram also lets you share directly to Instagram or Facebook.
Boomerang from Instagram on the App Store
6. LifeLapse: One of the best Instagram apps for stop motion
Love stop-motion videos but have no idea how to make them? LifeLapse makes creating these eye-catching videos seamless and straightforward, whether you're a first-timer or a seasoned pro.
Not only does this free app include all the tools you need to create a high-quality stop-motion video, but it also features customization options such as sound effects, royalty-free music (in the PRO Plan), and filters. In-app purchases include the PRO Plan, which comes with watermark-free videos and additional features.
7. InShot: An Instagram video editor
Since Instagram extended the length of videos allowed on the platform and released IGTV, videos have become a significant part of a strong social media presence. Thanks to its voice-over features, filter options, and simple editing tools, InShot is one of the best apps for creating Insta-worthy videos.
Most of the app's features are available with the free version, but InShot Pro Unlimited includes stickers, watermark-free videos, and other additional tools.
8. Clipomatic: Text on videos
The only problem with creating videos for Instagram is that so often, people don't have their sound turned up, and they miss out on the video's audio. Clipomatic solves that pesky problem by using its smart editing feature to turn everything you say on a video into live captions.
For a one-time download fee of $4.99, all you have to do is press record, and your words will grace your videos in a stylish font of your choosing.
9. Later: Schedule posts for Instagram
If you've ever lain awake at night wishing for a way to schedule your Instagram posts in advance, then Later has got you covered.
Free for download in the App Store, this marketing app lets you upload and schedule your posts without that annoying push notification. You can plan out your Instagram feed with the drag-and-drop option and even tag users and locations in your posts ahead of time.
10. Unfold: One of the best Instagram apps for Story templates
While curating gorgeous Instagram posts is definitely worth your time, you can't ignore your Stories. Thanks to its 200-plus Instagram Story templates, advanced font tools, and editing features, Unfold is easily one of the top Story apps.
Download it for free in the App Store or upgrade to Unfold+ to access all of the app's features and templates.
Whether you're posting to your feed just for fun or you're serious about growing your following, using a third-party app can help you elevate your Instagram game in a way the social media platform never could.