Do you love creating those short, snappy videos but aren't a fan of TikTok? Whether you're concerned about TikTok's security issues, don't enjoy the interface, or just would prefer something a little different, you're in luck! TikTok isn't the only game in town. Here are a few apps like TikTok that are decidedly not TikTok.
10 TikTok alternatives for your iPhone videos
Below, we'll share out top 10 TikTok alternatives, some of which you may already be familiar with. Regardless, these are some great social platforms you might want to get behind for your next video.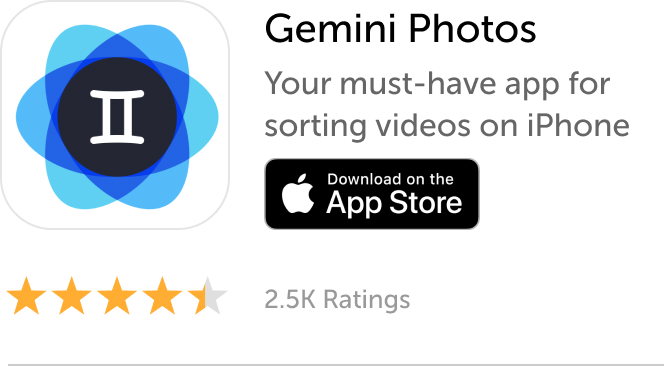 1. Instagram Reels: A TikTok alternative for the masses
When TikTok started making waves as a popular video app, Instagram was quick to release its own version as part of its platform. Instagram introduced Reels in 2020 as a new way for users to create and discover short, fun videos. And because so many people already use Instagram, this is a great way for people to experiment with creating videos.
The interface couldn't be easier. Features include a robust music library, an array of cool effects to make your videos stand out, and the ability to change the speed of all or part of your Reel. Once you've created your Reel, you can choose to share it on your main feed, in your Stories, or only in the Reels tab of your account.
2. Firework: A TikTok alternative for business owners
On the surface, Firework is very similar to TikTok, as it gives you the ability to create and share short videos with followers and fans. Creators produce videos across all genres, including the arts, fashion, beauty, lifestyle, and comedy. You can also create horizontal and vertical videos alike and loop them together for a more immersive experience.
What sets Firework apart from its competitors is the ability to embed all of your video clips onto your website with a specially designed web player. In other words, website visitors can interact directly with your Firework videos instead of being redirected to a separate platform, which is great if you're hoping to produce share-worthy content while keeping traffic on your website.
3. Lomotif: Music video creator
Join 50 million users who love creating custom music videos with Lomotif. Not only does Lomotif have a huge selection of music clips that you can use for your projects, but it also includes the ability to add any song to your videos, use still photos to create slideshows, and choose from trending music genres to attract more followers.
With Lomotif, you can choose to share your videos on other platforms like Instagram, Facebook, or TikTok, or you can take advantage of the Lomotif community and build your following there. You can even create your own channels on Lomotif to connect with others around a specific topic.
4. Byte: An app like TikTok from the creators of Vine
Byte is a free video creation app that is quite similar to TikTok. Like TikTok, Byte sorts videos into genres to help you discover content based on what you like. Categories include comedy, anime, weird things, pets, magic, and fashion. Videos on the platform are called Bytes, and you can easily make your own Byte by tapping the circle at the bottom of the screen.
Unlike other video-sharing platforms, Bytes can only be 6.5 seconds long, which means you have to make every second count. You won't find substantial special effects on the Byte platform, either, which you may find refreshing. Or annoying. Either way, we still think Byte is worth checking out.
5. Chingari: The best India-based social app for videos
Chingari is being touted as a new "Indian alternative" to TikTok. Like TikTok, Chingari is free to download and allows users to view or upload short videos on the platform. One benefit is that Chingari is available in multiple languages, including English, Hindi, Bangla, Gujarati, Marathi, Kannada, Punjabi, Malayalam, Tamil, and Telugu. Chingari offers many of the same features as TikTok, with the added ability to play games, with the news, and chat with friends.
6. Dubsmash: A TikTok alternative that promotes diversity
Dubsmash was created by Reddit and aims to be the best free app for making videos. By empowering all creators and communities to thrive on the platform, Dubsmash hopes to celebrate the unique traits and talents of all creators. The algorithm is designed to promote diversity, and unlike many video apps, Dubsmash doesn't track your GPS location or collect usage data to sell to third parties.
Features allow you to record or upload any video, add effects like filters, stickers, text, etc., and share your creations with the Dubsmash community. You can also share your Dubsmash videos on other platforms like Instagram, YouTube, TikTok, Facebook, and more.
7. Likee: A great app like TikTok for superior special effects
Likee's special effects are as robust as they come, so if post-production is something you enjoy experimenting with, you'll love this app. With thousands of stickers and filters, it's easy to make your ideas come to life.
The SuperMix feature allows you to create blockbuster videos in seconds. Plus, the app includes a great selection of music, so you can star in your own music videos. Finally, check out the AI face swap feature FaceMagic, which allows you to star in your favorite movie roles — no acting skills required. Step into the shoes of any super you like, instantly! With Likee, you'll find special effects that aren't available anywhere else.
8. Triller: An AI-powered video editor
Triller is similar to TikTok in many ways, with a few key differences. While both are very music-centric, TikTok only allows for 15 seconds of any given song. With Triller, however, you can access an entire song to use in your videos. You can also use your own Apple Music or Spotify library when choosing tracks for your Triller videos, which give you a lot more options.
The AI component in Triller also allows you to edit videos remarkably quickly, because the app pretty much does it for you. Triller even analyzes your movements and adapts them to the beat of whatever music you choose.
9. Funimate: TikTok alternative with special effects
While TikTok and Funimate share many of the same features, Funimate is marketed as a way for young people to edit and share music videos. The app is full of advanced effects, filters, and transitions to make your music video unique. You can also merge clips and create your own special effects. The Funimate community inspires users to shoot videos for weekly challenges, which makes for some great inspiration. And with Funimate, you can share your creations on other platforms, too. While Funimate is free to download, it does include in-app purchases.
10. Jumprope: TikTok alternative for how-to videos
You don't need any editing experience to use Jumprope. Not only will this app help you create professional and engaging recipes, beauty tutorials, and fitness routines, but you can also share your videos across multiple platforms, including the up-and-coming social platform on Jumprope.
The Jumprope interface doesn't include a lot of advanced special effects, but the platform is easy to use and allows you to create and share videos of all different sizes in seconds.
Whether you stick with TikTok as your go-to video creation app (perhaps even trying to get verified on TikTok?) or make the switch is to a TikTok alternative is entirely up to you. Regardless, it's nice to know that there are plenty of options out there.