Have you been bit by the travel photography bug? Looking back on your favorite travel photos is the next best thing to actually being there. The good news is that you don't need a fancy camera to take amazing photos. You can use your iPhone or whatever phone you carry with you. So if you're ready to elevate your travel photos, follow these creative tips and ideas.
What can make your travel photos more interesting?
Great travel photos transport the viewer to a different time and place. Stunning landscapes of beautiful nature and famous sights are just the beginning. What makes a travel photo interesting is capturing the essence of a place with creative compositions, angles, and details that not everyone gets to see. The most interesting travel photos feature:
A sense of scale and grandeur
Details of everyday life
Behind-the-scenes views of famous places
Local cultures, food, and clothing
Sweeping views of places that aren't tourist destinations
Creative compositions of popular locations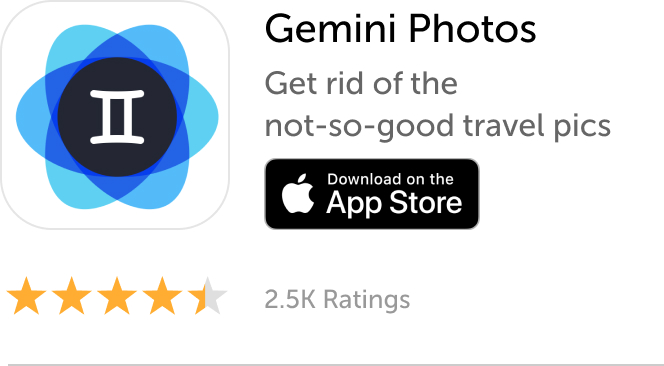 Our top tips for creative travel photography
Whether exploring road trip photography, snapping travel landscapes, or capturing urban street scenes, your travel photos should showcase the unique aspects of your trip that can't be captured by anyone else. Here are our top tips and ideas for amazing travel photography.
1. Create a sense of scale in your travel photos
Many photo-worthy landscapes feature larger-than-life scenes that leave you in awe of the immense grandeur and beauty. But when you snap a picture, it just doesn't always do the scene justice. Instead of simply capturing the scene as you see it in a travel landscape photo, try to evoke a sense of scale within your scene. The easiest way to do this is by placing a person in your shot so that the true enormity of the landscape is captured in your photo. Photographing animals, vehicles, buildings, and trees will also help to add scale to your travel photos.
2. Don't center the horizon line in your travel photography landscapes
Using a centered horizon line in your travel landscapes may feel like the right thing to do, but in reality, it often just cuts your scene in half and makes your photo less interesting. Instead of centering the horizon, take a good look at your scene and give more space to the part that you find more interesting.
If, for example, you're looking at a gorgeous sunset with interesting colors and clouds, leave more room for the sky in your photo. If the foreground features cool plants, rocks, and buildings but the sky is cloudless and blue, emphasize the more interesting landscape. Can't decide between the two? Split the difference and create two photos with the horizon placed differently in each one, then decide which option works best.
3. Use leading lines for your road trip photos
Road-tripping is a special kind of travel and, as such, requires a special kind of photography. The road itself is an integral part of the journey, so it's worth the added effort to capture it in a way that ensures you'll always remember where you're going and where you've been. The concept of "leading lines" simply refers to a real or imaginary line that leads the viewer's eye toward the main focal point of your photo. In the example above, the road takes you right to the center peak, creating a memorable impact. If you're traveling with a friend, it can also be fun to include your road trip vehicle in a few shots.
4. Capture an interesting foreground in your travel photography
Here's a quick way to add interest to your travel landscapes: Instead of focusing solely on that distant mountain or waterfall, look for a way to include the foreground in your photo, whether it's a patch of wildflowers or a cluster of small rocks. Not only does this create a more impactful image, but it's also a great exercise to help you learn to "see" the photo when composing your shots. You may have to put in some extra legwork to explore the landscape more fully, but it's worth the effort.
5. Shoot during the blue hour or golden hour
Photography is all about capturing the light as it interacts with the scene in front of you, but not all light is created equal. When shooting travel photos, you will find that both the golden hour and blue hour are ideal for providing amazing light that will transfer to your photos. The golden hour is the hour just after sunrise and just before sunset when the tones are warm and bright. And the blue hour is the hour before sunrise and the hour after sunset when the warmth of the sun is absent and the world is bathed in subdued light with cool overtones.
6. Fill the frame with your subject