Light is a crucial element in photography, and finding the "perfect" natural light for a photo is something that all photographers work toward. Shadows are a product of light, formed when an object or person blocks that light from reaching the surface. Without shadows, photos can feel flat and lifeless. Shadow photography works to emphasize shadows and the light that casts them.
What is shadows photography?
Shadow photography puts equal emphasis on light and the shadows that it creates. Because the shape of a shadow changes based on how it interacts with the light, you will find never-ending possibilities for focusing on shadows in photography.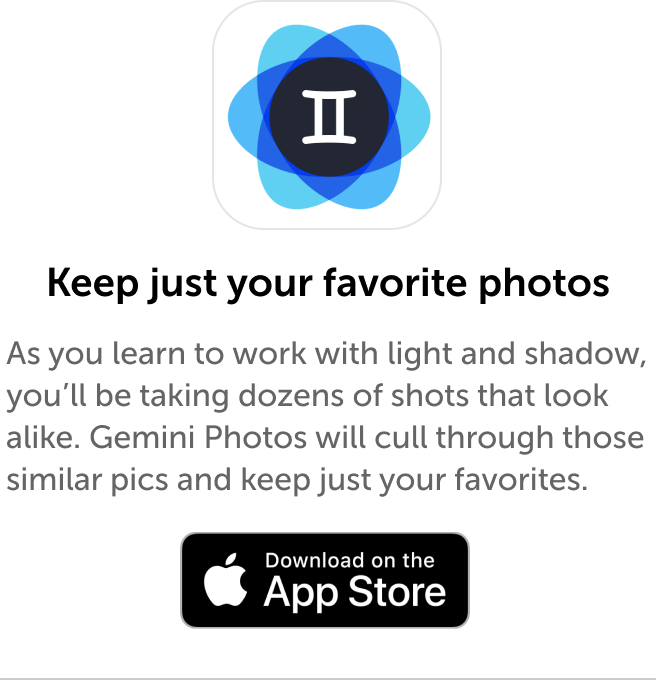 When photographing shadows, be sure to take into consideration the angle, distance, and brightness of your light source so that you capture the most interesting shadows in your image.
What are the two types of shadow in photography?
There are actually two types of shadows that you'll be working with when creating images: the umbra and the penumbra. The umbra is the darkest part of the shadow, which is cast by strong light shining directly at an object. The penumbra is a larger shadow that fades outward, created by a softer light source.
How to use light and shadow in photography
When it comes to capturing light in your photos, there are many things to consider – direction, intensity, whether it's warm or cool. The type of light you use in your photos will also affect the shadows in the image. You can choose lighting that will create deep, dark shadows, or you can modify the light so that the shadows are soft or practically nonexistent.
Here are some tips for using light and shadow to create stunning images with your iPhone.
How to create a soft shadow in a picture
Soft shadows are created by soft lighting and are great for portraits. To create soft, flattering shadows, you have to consider the distance and the quality of light. Here's how to create softer shadows in your photos:
Look for light that is naturally diffused. If you can shoot on an overcast day, your shadows will be softer than on a day with bright sunlight.
Use diffusers or reflectors to adjust the light to your specifications. A diffuser can be used on sunny days — simply position the diffuser between the light source and the object you are photographing to soften the shadows. A softbox uses diffusion in its design to soften shadows as well. A reflector can be used to create fill light and bounce the light onto the opposite side of the object you are photographing to help reduce shadows.
Get closer to the light. If you are using an artificial light source, move it closer to your subject for softer shadows. The large and closer your subject is to the light, the softer your shadows will become.
How to create a dark shadow in a photo
Dark, high-contrast shadows add lots of dramatic interest to photos. If drama is what you're looking for with shadow photography, here's how to create it:
Look for bright, direct light. When shooting in natural light, early morning and late evening will cast longer shadows, but they might not be as sharp as midday shadows.
Use a small, bright light source for dark shadows.
Make your photo black and white. For dark, dramatic shadows, you can't beat black and white. Add a filter in post-processing, or use the Saturation slider to remove all color from your image.
Edit for dark shadows. Using your favorite photo editing app, you can use the Contrast slider and the Shadows slider, which will both make the shadows darker and more prominent in your photos.
How to get rid of shadows in portraits
The best way to get rid of shadows in portraits is to use a reflector, which will bounce light back onto your subject to minimize harsh, unflattering shadows. When you are using a single light for your portrait, either from the sun or from an artificial source, a reflector will balance the light so that it appears to be coming from both sides.
The easiest way to use a reflector when shooting portraits is to use an extra person so that you have both hands free for using your camera. Ask your assistant to stand on the opposite side of your subject from where the light is coming from and direct the light back onto the subject's face.
Shadow photography ideas for more interesting shadows
When you practice shadow photography, you are putting emphasis on how your subject interacts with shadows in the scene you are capturing. Here are some ideas for capturing shadows in photography.
1. Capture shadows during the golden hour
The golden hour is the hour just after sunrise or just after sunset when the sun's lower position in the sky creates a warm glow in the atmosphere. This is a great time to capture long, deep shadows as they morph and change.
2. Find unique camera angles
When taking photos of shadows, you must look beyond commonplace eye-level views. One of the best angles for shadow photography is from up high, shooting down toward the ground. If you can shoot from the top of a staircase, a second-floor window, or a balcony, you will likely find all kinds of opportunities for taking shadow photos.
3. Try abstract shadow photography
Abstract photography is a lot of fun, probably because the very nature of shadows makes them abstract. Try zooming in on shadows to capture their unique shape, photographing shadows without the object that casts them, or capturing shadow patterns that catch your eye.
4. Take a shadow selfie
Most photographers hesitate to get in front of the camera, but shadow selfies can be a fun way to practice self-portraits without actually taking photos of yourself. Shadow selfies are less about taking photos of yourself and more about finding the perfect light and composition to express yourself as a photographer. This is a great way to practice shadow photography and improve your skills.
5. Experiment with artificial light sources
Artificial light is actually great for shadow photography because you can move your light source around until you find a composition that you like. Any type of light will work, but these tabletop photography lights are dimmable and come mounted on tripods, perfect indoor shadow photography projects.
Not only is shadow photography a great way to improve your photography skills, but it also changes the way you see the world. The next time you find yourself in a photography rut, look for compositions where shadow and light interact the create scenes that draw you in.