iPhones are arguably the most popular devices on the market. It really shouldn't be a surprise that hackers and scammers would try to target them. While Apple has done a pretty good job locking down iOS, it's still not infallible. In fact, many of the methods used to track iPhone activity are done by exploiting perfectly legitimate apps.
So, what are the steps for how to find spyware on an iPhone? Well, you've found the right article. You'll learn everything you need to know to check and remove spyware from your iPhone. As a bonus, we'll explain how to prevent getting infected with spyware. So, keep reading!
What is spyware?
First, a quick primer if you're not sure what spyware – or stalkerware – means. It's software that monitors your iPhone's data and activity and sends this information to another person without your knowledge. Typically, it's parents who want to keep an eye on what their kids are doing that will turn to these types of apps. But in the wrong hands, it can be a major violation of your privacy.
How to tell your iPhone has spyware
The hard part about identifying if there's spyware on your iPhone is that a lot of these signs can be symptomatic of other problems. But if you're experiencing more than one of these issues on a regular basis, then it might be time to check your iPhone for spyware:
Mystery messages. We all get spam texts on our phones, but with spyware, the hackers that created it will start trying to send code that will run in the background via text. So, the strange messages you might be receiving should look more like gibberish.
Random apps appearing. It's common for spyware to look like any other iOS app. If someone is trying to track your iPhone, then you may see a new app you don't remember downloading from the App Store pop up.
Slow performance. Since spyware is constantly running in the background, it will eat up resources your other apps need.
More data usage. The entire point of spyware is to track your data and usage, then report it back to someone else. This means your iPhone would be using way more cellular data than normal.
Fast battery drain. Spyware can be a major battery suck. Obviously, keep in mind that as your battery ages, it won't hold a charge for as long, either.
Who could install spyware on your iPhone?
If you suspect there's spyware on your iPhone, it's helpful to know where it came from. Figuring out where you picked up the malicious software and who put it on your phone is a great first step.
Spyware on iPhones is usually installed by these three groups of people:
A stranger or a hacker. This is typically only the case if you've jailbroken your iPhone. Since iOS is so locked down and only apps from the App Store can be installed. This helps keep your iPhone much more secure.
Someone you know. You read earlier that it's common for parents to install monitoring apps on their kids' devices to keep tabs on them. But, in reality, these apps can be installed by anyone you'd give physical access to your iPhone and who might know your passwords.
Yourself. You're probably scratching your head on this one. However, scammers will try to trick you and make apps seem harmless or not fully disclose all their tracking features. Apple tries to check and prevent apps like this on the App Store, but hackers get crafty at figuring out workarounds.
How to detect spyware on iPhone
As much as I wish I could tell you a few simple steps for how to detect spyware on an iPhone, it's just not that easy. However, there are a handful of things that, when combined, can help you spot the signs of spyware faster.
Antivirus apps
As security continues to be a growing concern on iOS devices, antivirus apps – just like the ones on your computer – can help monitor your phone for any suspicious activity. But with new threats popping up every day, it can be hard for even the best apps to stay current with every threat out there.
Tip: Do you need to check your Mac for spyware?
When was the last time you checked your Mac for malware? Just like an iPhone, your Mac can get infected with spyware. So, it's a good habit to scan your computer once in a while. CleanMyMac X is an app that's designed to help optimize your computer's performance. One way it does that is by checking for and removing spyware and other malware. It's notarized by Apple, so the app is absolutely safe to install and use.
iOS privacy icons
Whenever there's potential for your iPhone to share sensitive data with an app, there are a handful of default icons that are displayed at the top of the screen. For instance, you'll see an orange dot if your microphone is active or a blue arrow when your location is being tracked.
Cydia and other mystery apps
Cydia is like the App Store for jailbroken iPhones. That means it can be used to install non-vetted third-party apps. If you randomly see Cydia or any other apps you didn't download, then it's time to restore your iPhone as a safety precaution.
How to remove spyware from iPhone
Chances are, if there's spyware on your iPhone, then it's in the framework of iOS. Unlike your computer, where you can just delete the malware, you'll need to update or reinstall your iOS software.
One of the primary reasons for software updates is to patch up any security holes that could be exploited by hackers. So, before you just wipe your iPhone entirely, here's how to clean your iPhone from spyware with a software update:
Open the Settings app.
Tap General > Software Update > Download and Install.
Continue to the prompts to proceed with the update.
Once your phone reboots, tap Settings > General > About to confirm the iOS version.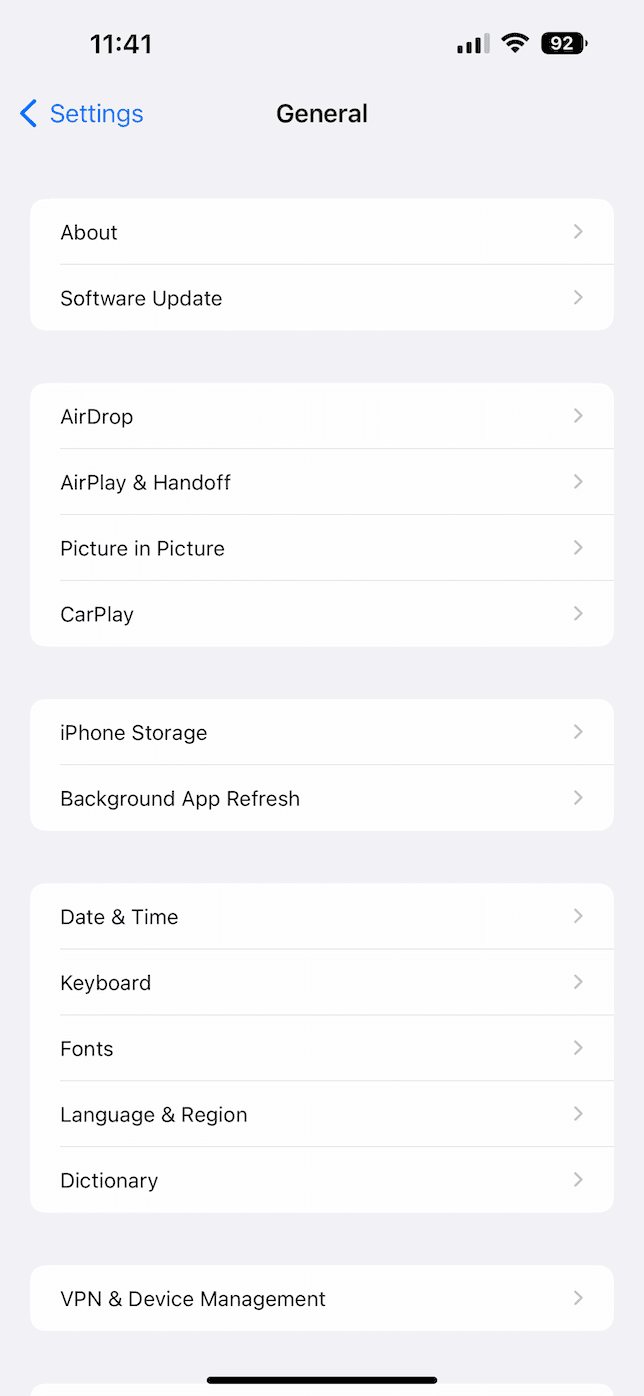 If, after you do the software update, you're still noticing the same symptoms that made you believe you have spyware on your iPhone, then you may need to wipe the phone entirely.
Know that when you do this, all of your information will be erased. And while you can restore from a backup, it might not be advised because the backup may also contain the spyware you're trying to remove.
Connect your iPhone to power and make sure you have a strong network connection, then follow these steps for how to remove spyware from your iPhone:
Go into Settings.
Tap General > Transfer or Reset iPhone > Erase All Content and Settings.
Follow the prompts to continue erasing your phone.
When the erase is finished, go through the setup process on your phone.
How to prevent getting spyware on iPhone
At this point in the article, you'll probably notice some themes for how to find spyware on iPhone and how to remove spyware from iPhone too. When it comes to preventing spyware, there are a few best practices you should just keep in mind:
Do not jailbreak your iPhone. iOS is made to maximize security, and jailbreaking or tampering with that only weakens that security.
Do use antivirus apps. While they're not always flawless, antivirus apps can protect your iPhone from other malicious software.
Avoid downloading suspicious files and apps. Only download things on your iPhone from trusted sources.
Learn about the apps you install. Even if an app is on the App Store, it still may be storing your sensitive data on the cloud or tracking your activity. Go to the developer's website and read about an app's capabilities if there's a reason to believe your privacy may be compromised.
Be on the lookout for phishing attempts. Phishing is when a scammer designs a website or an app to look like one from a trusted company and then prompts you to log in. However, when you log in, it secretly stores your username and password.
Only let people you trust use your phone. This should go without saying, but if you let someone use your phone, you'll never know what they do to it when you're not within eyesight of them and the device.
Spyware on any device can be a nightmare. It's a complete invasion of your privacy. But it can reach a new level of scary when it's on a mobile device that you carry with you everywhere. Not only can hackers see what you're doing and who you're talking to, but they can also see where you physically are.
After reading this article, though, you should know how to check an iPhone for spyware and how to get rid of it if you find any.