Macro photography is an exciting way to explore and capture some of the minute details in the world around you. As a macro photographer, you'll be producing larger-than-life images of tiny things that most of us often overlook. Sound intriguing? It gets better! With an external macro lens, you can easily get started with macro photography on your iPhone. Let's take a look at the macro lenses that are available for iPhone photography and how to use them.
Understanding lenses for macro photography
Think of a macro lens as a magnifying glass for your iPhone, opening up a whole new world of creative photography ideas. With it, you gain access to an otherwise impossible level of detail. Here's an overview of macro lens for iPhones.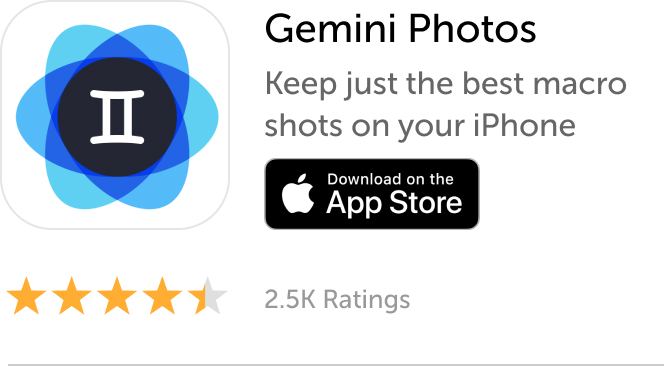 Do iPhones have a macro lens?
Current iPhone models do not have built-in macro lenses. That's not to say that they don't take decent close-ups. But the lenses that come standard with your iPhone aren't capable of providing the magnification required to shoot true macro photography.
What does a macro lens for iPhone do?
With a macro lens equipped on your iPhone, you'll be able to capture small objects in stunning detail. These external devices simply attach to your built-in iPhone lens to add magnification and make small objects appear larger.
How to choose a macro lens for mobile
There are dozens of macro lenses available for your iPhone, all with different specifications, attachment methods, and price points. So how do you decide which macro lens is right for your phone? First, read the tips below. Then consider our top picks available on Amazon.
Compatibility: First things first. There are macro lenses that are designed to work with all smartphones, and there are macro lenses that are created to be compatible with specific phone models. Find out if the lens you want is compatible with your particular iPhone model before doing any further research.
Magnification: The greater the magnification on your iPhone macro lens, the more detail you'll be able to capture, and the larger the object will appear in your photo. Macro lenses come in varying levels of magnification, but 15x is standard for an iPhone macro lens.
Quality: Ideally, you want a macro lens that is made from optical-grade glass with an attachment that will remain securely in place over your iPhone lens. If the listing doesn't specify what type of material the lens is made from, you can bet that it's a cheap plastic lens.
Attachment method: A clip-on lens is nice because you can attach it quickly, snap your photo, and then take the lens off and put it away. Some lenses screw into a case that you have to buy for your phone, and still others won't even work unless you use them without a case. Decide on your preferred attachment method before making your decision.
Price point: How much money are you willing to spend on a good macro lens for your iPhone? The cheapest lenses are made of plastic and don't take great photos, so they're probably not even worth the few dollars you're going to spend on them. At the other end of the spectrum, you can drop hundreds of dollars on a single lens of superior quality. It's all up to you.
How to shoot on iPhone with a macro lens
Macro lenses open up a whole new world of iPhone photography. Shooting with a macro lens isn't much different than shooting with your iPhone camera, but you do have to find the sweet spot when it comes to the distance between your camera lens and your subject. Get too close, and your subject won't be in focus. But if you're too far away, some of the details will be lost.
Once you have a decent focus, press and hold over the subject on your screen. This locks the focus and exposure so you can take your photo. Hold your phone very steady, and tap the shutter button. Also, keep the following tips in mind:
Lighting is key. Macro photography doesn't work well in low-light settings. Be sure to have an abundance of natural light or a good source of artificial light before shooting.
Keep your phone and subject steady. Even the slightest movement will introduce blur into your macro photos, so be sure to hold your phone steady or use a tripod when shooting. If you're taking macro photos outside, watch out for wind. A strong breeze will be your worst enemy, especially when shooting plants, flowers, or insects.
Get creative with your angles. Because macro images are already fairly abstract, it can be fun to approach your subject from unique angles. Try shooting from underneath your favorite flower or plant, across the surface of a basketball, or from inside your glass of water. Exploring with your macro lens is so much fun!
The 5 best macro lenses for iPhone
Now let's dive deep into the world of external macro lenses for your iPhone. The lenses in this section are high-quality lenses made with optical-grade glass. Using a cheap plastic lens isn't recommended, so if you can't afford a lens right now, stick with practicing close-ups with your built-in lens while you save your pennies.
1. Moment macro lens: The best macro lens for iPhone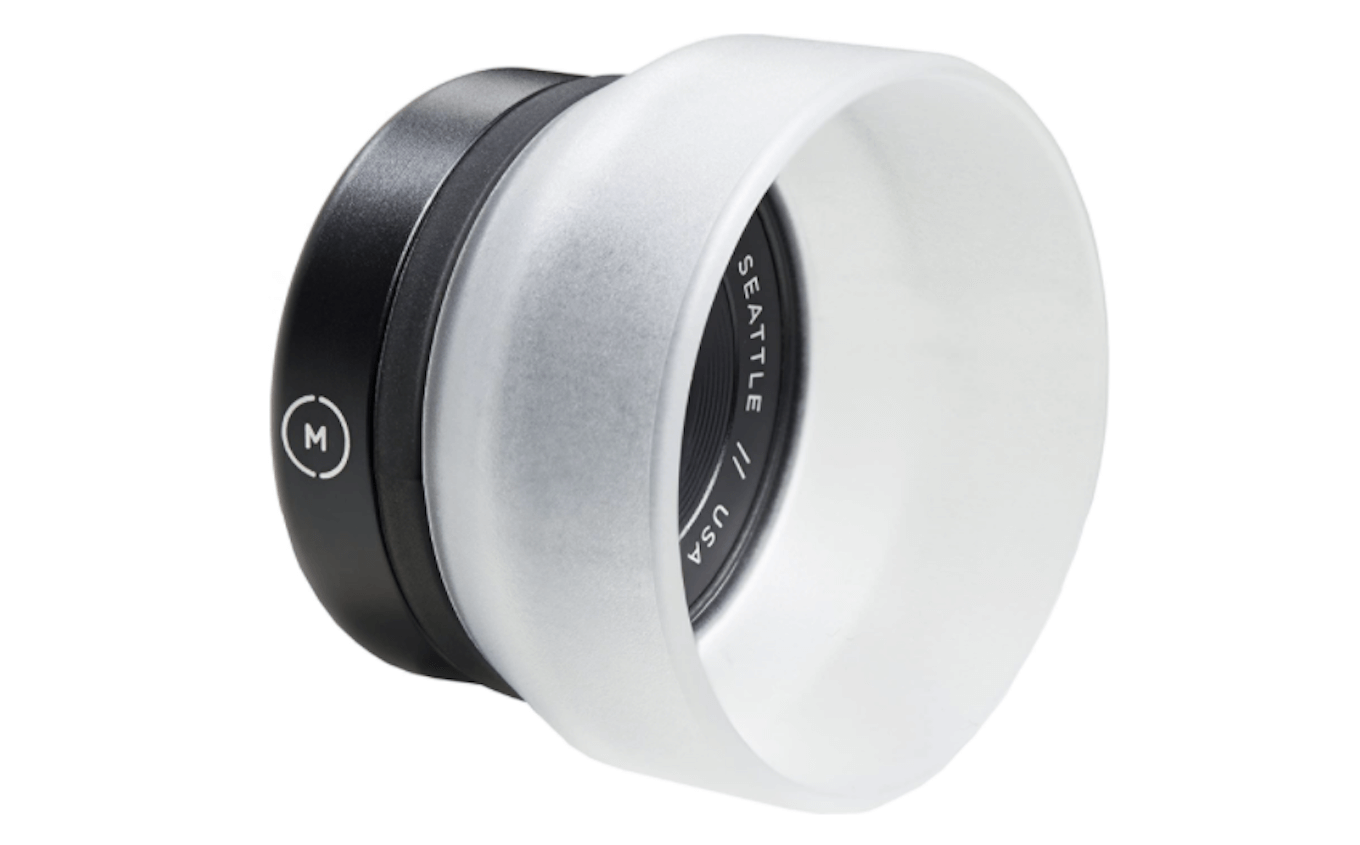 Moment creates award-winning lenses for phones, cameras, and drones, but they got their start creating high-quality lenses for iPhones. The Moment Macro Lens is crafted from multi-element glass for edge-to-edge clarity and no distortion. It works with iPhone and Android phone cameras, as well as iPads and other tablets. The Moment macro lens attaches to your phone with a Moment case that you have to buy separately. That said, if you buy the case, you can use it to attach different Moment lenses. While this is the priciest macro lens on our list, it comes with a removable light diffuser and a lifetime warranty.
2. Xenvo Pro Lens Kit for iPhone: High-quality budget-friendly option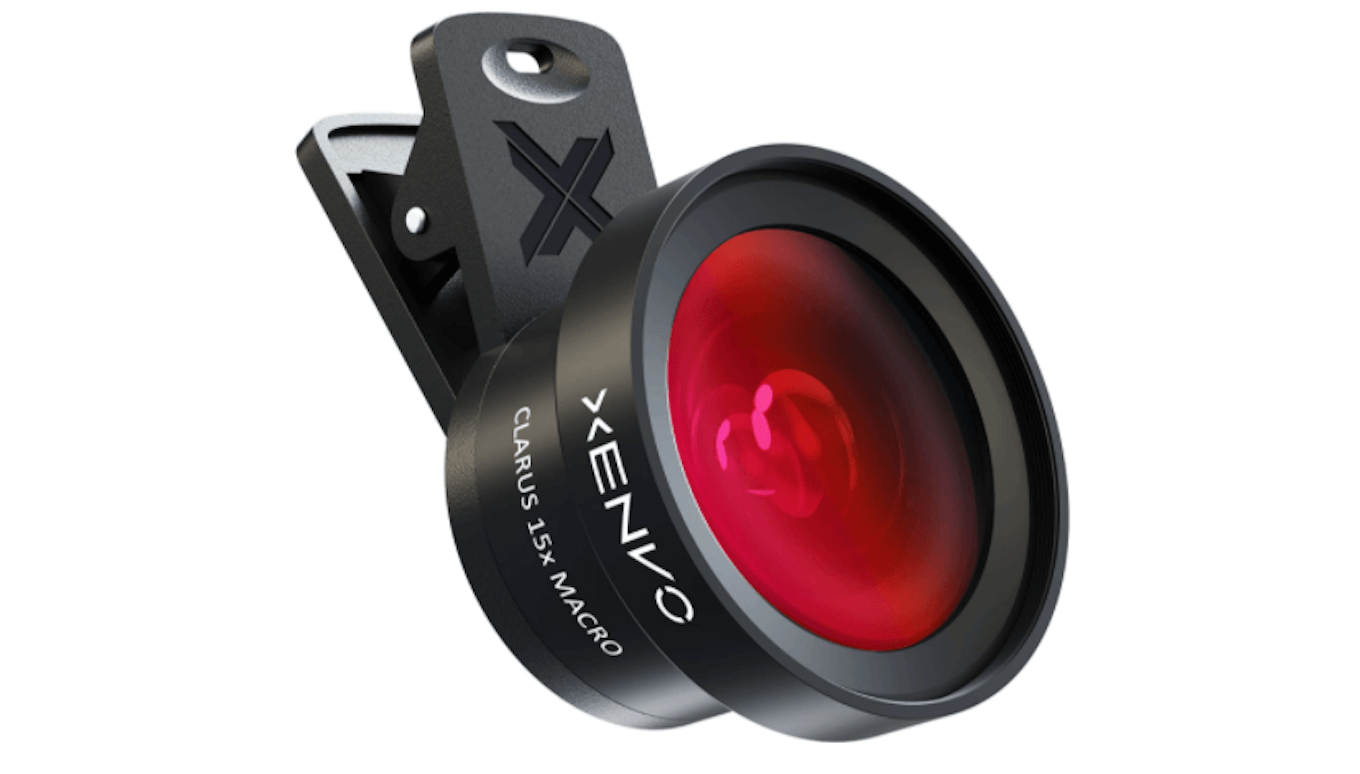 The Xenvo Pro Lens Kit comes with two lenses — a 15x macro lens and a 0.45x wide-angle lens — plus a clip-on LED light and a carrying case. Both lenses are made from optical-quality glass for crisp shots without darkness around the edges. The lenses attach over your built-in iPhone lens and can be used with all but the thickest iPhone cases. The Xenvo lens kit comes with a lifetime warranty, and the price is under $50, making this quality lens a good, budget-friendly option.
3. AOMAIS Pro Camera Lens Kit: Macro lens for single- and dual-camera phones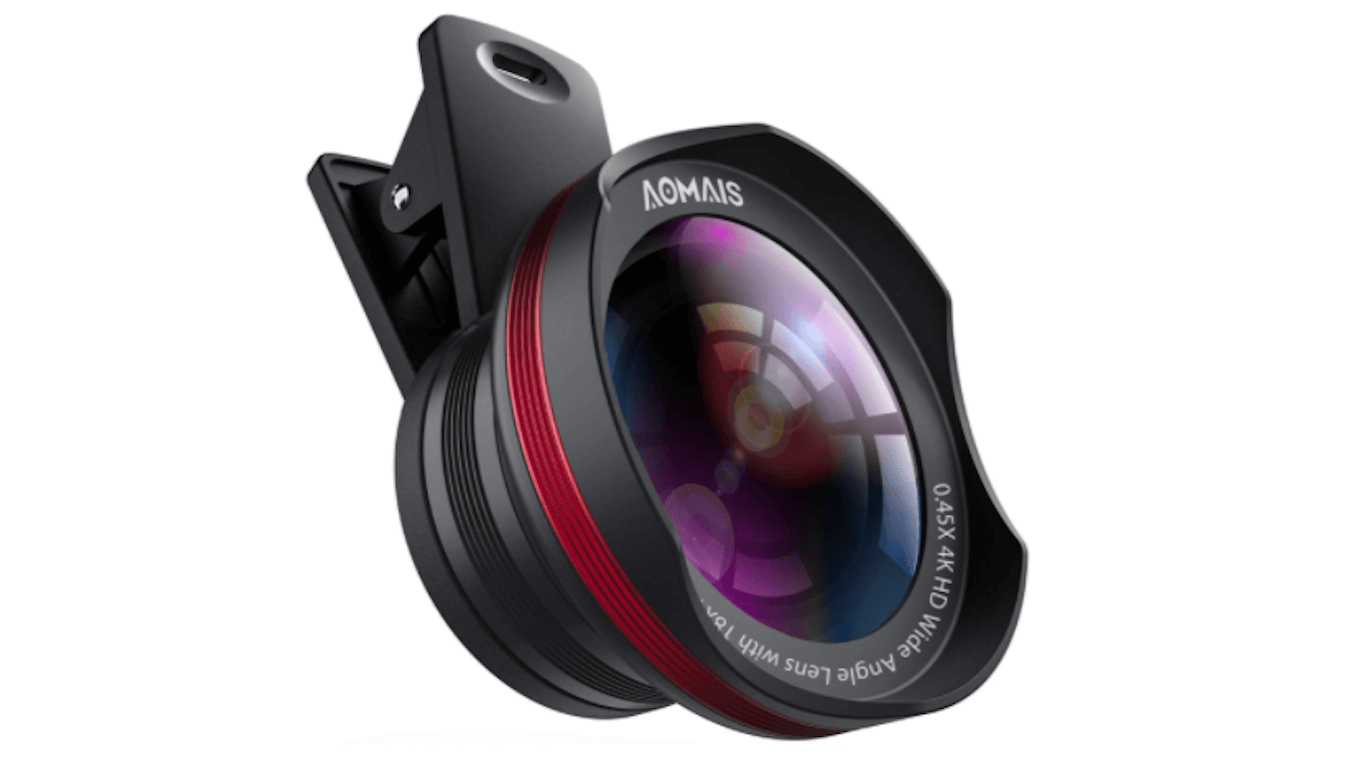 This pro camera lens kit is compatible with most phones and features an 18x macro lens and a 0.45x wide-angle lens. The professional-quality glass eliminates imperfections, including ghosting, reflections, and lens flares. Like the Xenvo model mentioned above, the AOMAIS lenses clip on right over your built-in lens, and they come with a lifetime warranty against manufacturer defects. And at 18x magnification, this macro lens offers more magnification than other macro lenses at this price point.
AOMAIS Pro Camera Lens Kit on Amazon
4. USKEYVISION Macro Lens: HD macro lens for 10x magnification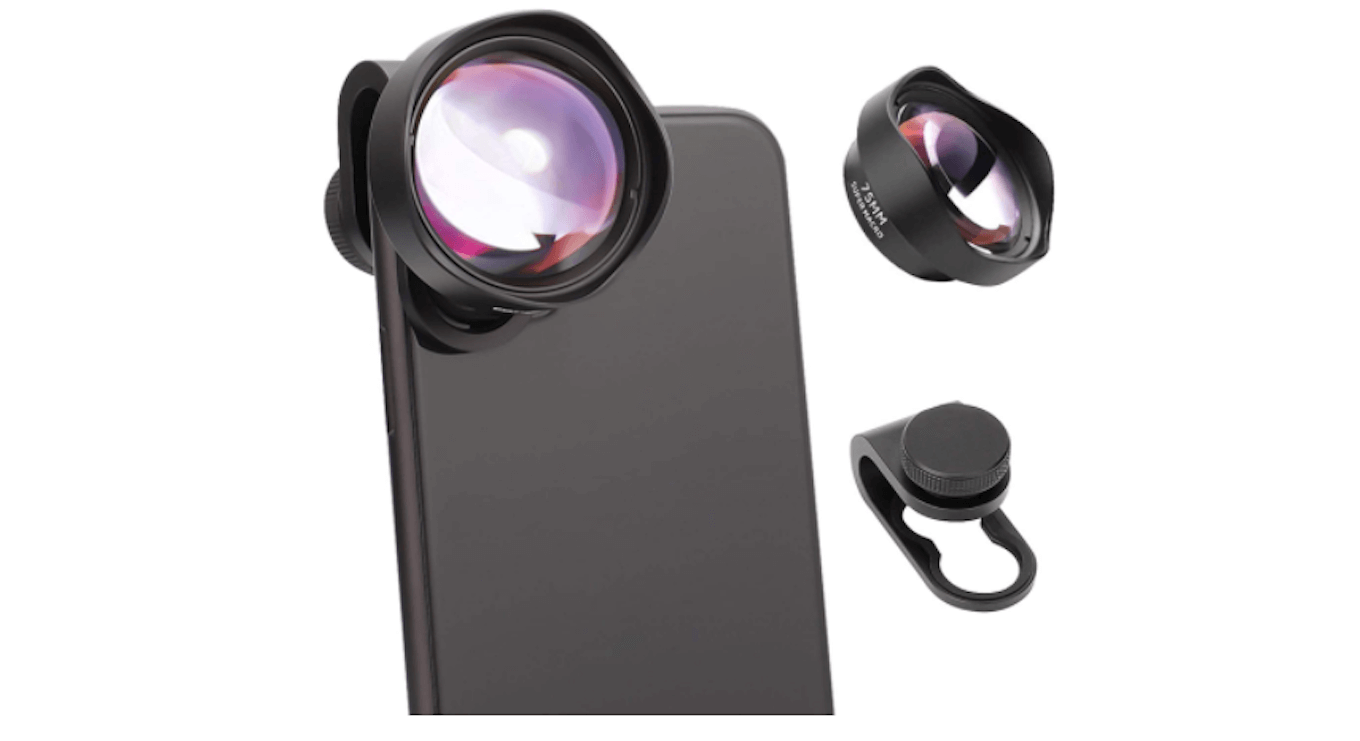 The USKEYVISION macro lens is another great option for iPhone photographers, especially if you're looking for an affordable single lens instead of a kit. This model is made of durable aluminum construction for longevity and multi-element coated glass to reduce ghosting caused by reflections. No distortions are evident around the edges, and the background is blurry for a nice depth of field. The lens fits over single- and dual-camera phones without a case, or over a case with a very slim profile.
USKEYVISION Macro Lens on Amazon
5. CoPedvic Lens Kit: Four lenses in one affordable kit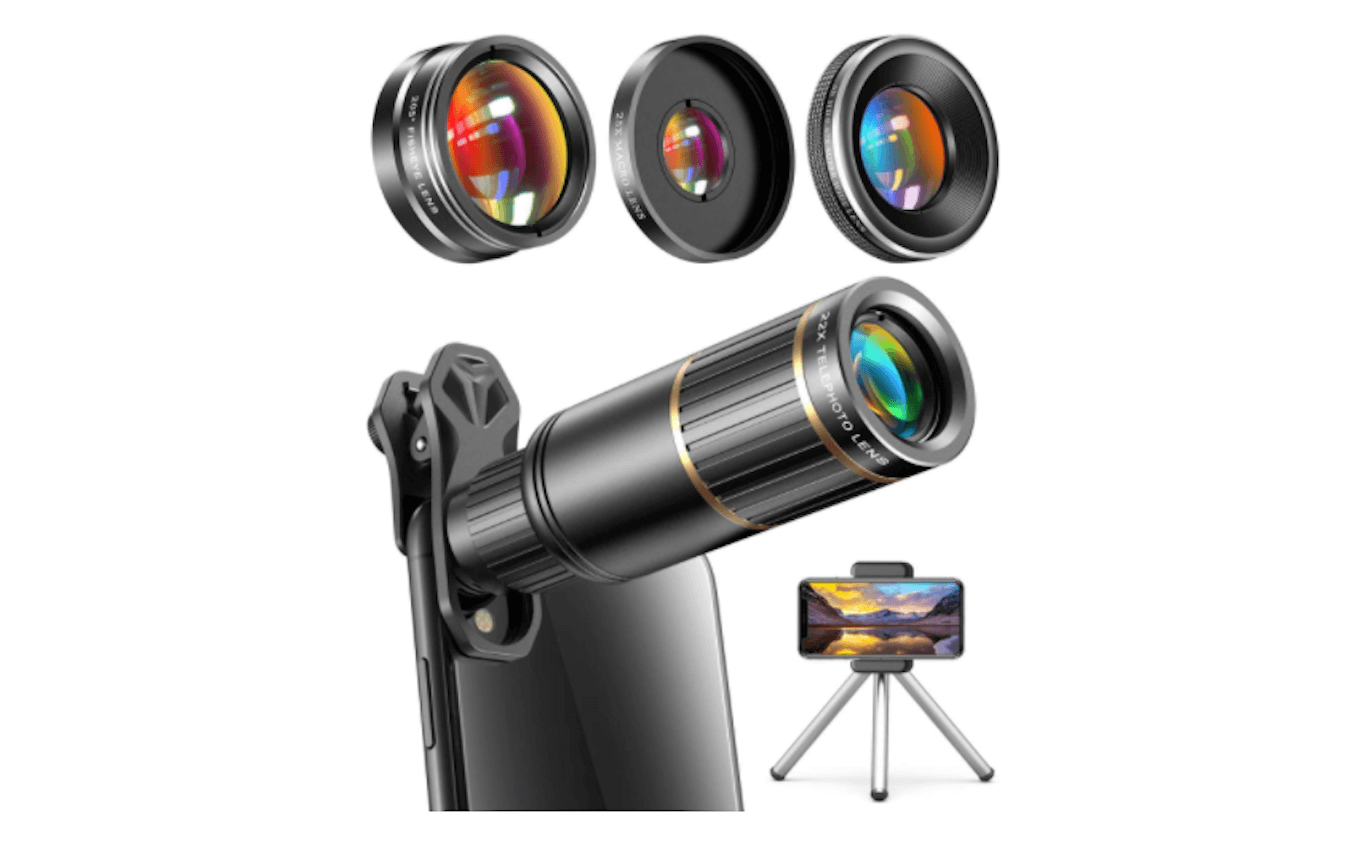 Not only does the CoPedvic Lens Kit come with the highest magnification of any macro lens on our list at 25x, but you also get a telephoto, wide-angle, and fisheye lens, all made of high-quality optical glass that is dust-free and scratch-resistant. Extra advanced coating minimizes ghosting and flaring. Lenses clip over your iPhone's built-in camera and are compatible with all models, plus many Android phones. A tripod is also included in the kit. And all four lenses are available as a kit for under $50, making this the most affordable option on our list.
A macro lens is really the only tool you need to start creating stunning macro photos with your iPhone. Give your iPhone a photographic boost and start exploring the world of macro photography.