Macro photography is an exciting way to get up-close and personal with the world around you, focusing on the minute details of your surroundings to create stunning compositions. But can you take macro photos with your iPhone? Let's dig a little deeper into the fascinating world of macro photography using only an iPhone.
Understanding macro photography
Ready to make small details look larger-than-life in your photos? Then macro photography is for you! Experimenting with macro photography is a great way to explore the details of the world around you. Here's what you need to know.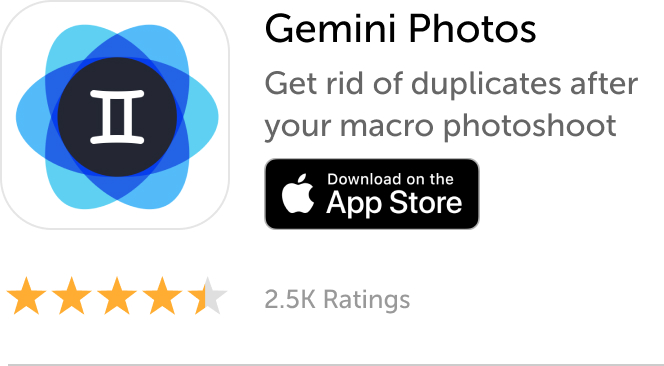 What is macro photography?
Macro photography is the process of taking photos of small details in a way that makes them look larger than they are. True macro photos are taken with a lens that has the ability to add magnification, capturing small details that you might miss with the naked eye.

Macro vs. close-up photography
Close-up photography is very similar to macro photography. In both cases, you are capturing small details and making them look larger. The main difference is that close-up photography can be done with a standard lens at close range, while macro photos must be taken with a lens that magnifies the subject. So although close-up photography also aims to make small objects look large, it's done by photographing objects at a very close range with a standard, non-macro lens.
How to shoot macro photography with an iPhone
Shooting macro photography on an iPhone requires some creativity and a few extras, but if you're interested in experimenting, you'll find that it takes very little time or expense to set yourself up.
Can an iPhone take macro photos?
Referring back to the definitions mentioned above, you'll see that your iPhone is capable of taking lovely close-up photos. But they aren't true macro images. That's because iPhones don't come with a dedicated macro lens to magnify the image. An external macro lens can, however, be used to take true macro photos with an iPhone, and it's 100% worth the investment if macro photography interests you.
How to make your iPhone focus up close
Before you invest in a macro lens for your iPhone, let's talk about shooting close-up images with your iPhone. These won't feature the level of detail that a macro lens can capture, but they still make for some nice photos.
To take a crisp close-up, you will have to force your iPhone to focus on the subject at close range. It will take some experimenting to ensure high-quality results, but here are some helpful instructions for getting your focus right:
Open your iPhone Camera app and choose your composition.
Hold your phone steady about 5 to 6 inches (12 to 15 centimeters) from your subject.
Tap and hold your finger on the screen to lock focus and exposure.
Pinch your fingers to zoom in slightly. Zooming in too much will reduce the quality of your photo.
Tap the shutter button or one of the volume buttons to take a photo.
How to use a lens for macro on your iPhone
For true macro photos, you will need an external macro lens for your iPhone. This Xenvo lens kit is a high-quality, affordable option for all iPhones. The kit includes a 15x macro lens and a wide-angle lens. It also includes a clip-on LED light to provide extra illumination for those tiny subjects in your photos.
While some lenses made for iPhones require you to remove your case beforehand or use a dedicated case made by the lens manufacturer, the Xenvo lens just clips on top of your iPhone's built-in lens. You can use it with most slim-profile cases, so all you have to do is clip it on and snap your photo like you normally would.
Tips for creative macro photography on iPhone
Even without a dedicated macro lens, you can start honing your macro photography skills by practicing with close-up images on your iPhone. Here are some tips and ideas for jump-starting your creativity and taking stunning close-ups and macros on iPhone with or without a lens.
Try shooting water droplet close-ups
Water refracts and reflects light, resulting in all kinds of cool effects. So if you're shooting macro photos outdoors, try capturing water droplets on flowers, leaves, grass, or insects. Early morning is the perfect time for flower photography and capturing dewy subjects in general. Alternatively, try heading outside after a nice rain. You don't even have to wait for the weather to work in your favor; bring a spray bottle and make your own water droplets.
Capture unusual angles in your macro shots
When focusing on the smallest details, shooting your subject from new and unusual angles can add an even greater impact to your photo. Shooting from down low looking up, for example, will allow you to use the sky as a neutral background in your photos. So instead of photographing the interior of a flower from above, try getting down low and capturing it from the underside. Looking for unusual angles gives you the opportunity to find new ways to shoot everyday items, which will challenge you in a creative sense and add interest to your macro photos.
Play with your food — and your macro lens
Food items are great for practicing macro photography because there are so many different textures and colors to play with. Find a good source of indirect light and position items on a neutral backdrop to start experimenting. Try photographing fruits and vegetables, desserts, or the fizzy bubbles inside your drink. Once you start playing with your food and capturing it with your camera, you won't ever want to stop.
Look for abstract patterns to photograph
Have you ever taken a macro photo that was so ultra-close that the subject was impossible to determine? Abstract macro photos are fun to create and beautiful to look at. Something that appears dull and lifeless on first inspection may conceal a hidden beauty that only you can uncover. Look for abstract patterns in nature, textiles, furniture, and food. It's a whole new way to look at the world!
Use light to your advantage
If you are practicing macro photography outdoors, it's best to do it in the early morning or the late afternoon when the sun is low and the light is warm. This will allow you to capture the intricate details of your subject without the harsh shadows that bright sunlight can sometimes create. You can also diffuse the light at any time of day by holding a piece of white cloth or paper between the sun and the subject you are trying to photograph. A diffuser will create a softer contrast between areas of light and dark, resulting in a more surreal effect.
Macro photography is a fun way to reveal never-before-seen perspectives on the world around you. By thinking small, you can find thousands of interesting compositions without ever leaving your home turf.