Have you ever used a lightbox for photography? If you practice photographing food, products, or extreme close-ups, then lightbox photography is an easy way to improve your shots without a major expense. This guide will help you understand lightbox photography, give you lightbox suggestions when you're ready to make a purchase, and show you how to make your own lightbox.
What is a lightbox in photography?
A lightbox is an extremely useful piece of equipment for photographers who take pictures of small objects like electronics, jewelry, and food. It is essentially a box with translucent sides and a white backdrop. This allows the scene to be completely illuminated to eliminate distracting shadows in your photos. Think of a lightbox as a mini studio where you can control every aspect of your shot.
How does a lightbox work for photography?
Using a lightbox for photography is easy. You simply position your product inside the photography lightbox, turn on the lights so your object is illuminated, and take your photo. Using a lightbox allows you to capture all the details of your subject without any distracting shadows or backgrounds.
Best uses for a photography lightbox
A photography lightbox works best for taking photos of small items that will fit inside the box. Here are the best uses for a lightbox:
Product photography: For anyone who needs detailed photos of items for sale, such as crafts, jewelry, or electronics.
Food photography: While you may not use a lightbox while you're cooking, it's very useful for photographing completed dishes.
Flower photography: If you often bring in objects from nature like flowers and plants to practice photography, a lightbox may be perfect for you.
Macro photography: For extreme close-up images, lighting and proper exposure are very important. A lightbox will help bring out the details in macro shots of just about anything.
Still-life photography: Set up small still-life arrangements inside your lightbox to create artistic (and well-lit) photos that capture your work.
How to make a lightbox for photography
If you're not sure how useful buying a photography lightbox will be, start with this DIY project and create your own. Here's how to make one using items you've already got at home.
Supplies for your photography lightbox:
Cardboard box larger than most of the items you'll be photographing
Sheer white fabric, parchment paper, or tissue paper
Large piece of white poster board
Scissors
Craft knife or box cutter
Packing tape
1 to 3 light sources (desk lamps, clamp lights, or photography lights)
Instructions:
Cut the flaps off of a cardboard box.
Cut large "windows" on 3 sides of your box. You want them to be large enough to let in plenty of light but not so large that your box becomes unstable.
Use the cardboard inserts that you cut out of the box to cut slightly larger rectangles of white fabric or parchment paper.
Tape your white windows to the outside of the box, covering up the holes you've cut. With the box lying on its side, the windows should be positioned on two sides and the top of your box.
Cut a piece of poster board to the same width as the box and twice as long as the sides. This will be the background for your photography.
Tape one edge of the poster board over the back of the box. Let the poster board naturally curve down the back of the box and out the front. Try to avoid creasing the poster board.
When you are ready to take your photo, position lights near the two side windows and another shining down from the top (optional).
Frame your shot and enjoy the beautiful lighting and exceptional details that your lightbox provides.
What's the best lightbox for photography? Our 5 favorites for home use
If you've tried the DIY lightbox and enjoyed how much better your photos are, you may be ready to invest in a more professional photography lightbox. Here are our current favorites available on Amazon.
1. Neewer professional studio lightbox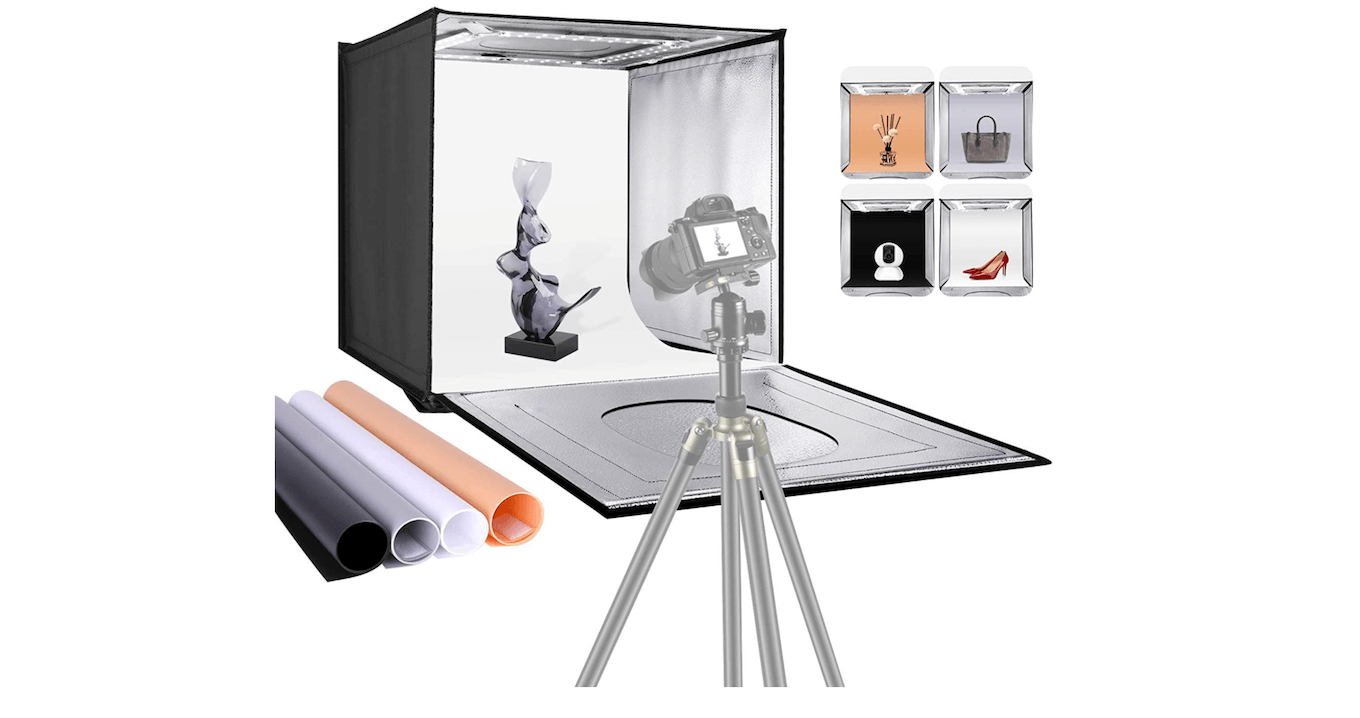 This 16-inch professional lightbox from Neewer provides a bright white light that can be easily adjusted to showcase your products. A reflective interior diffusion cloth will help to reduce shadows and hot spots for a clean background and even illumination without distracting glare. This photography lightbox comes with four backdrops: black, white, gray, and orange. And for ease of use, it folds flat and can be set up using hook-and-loop fasteners.
2. Zecti folding lightbox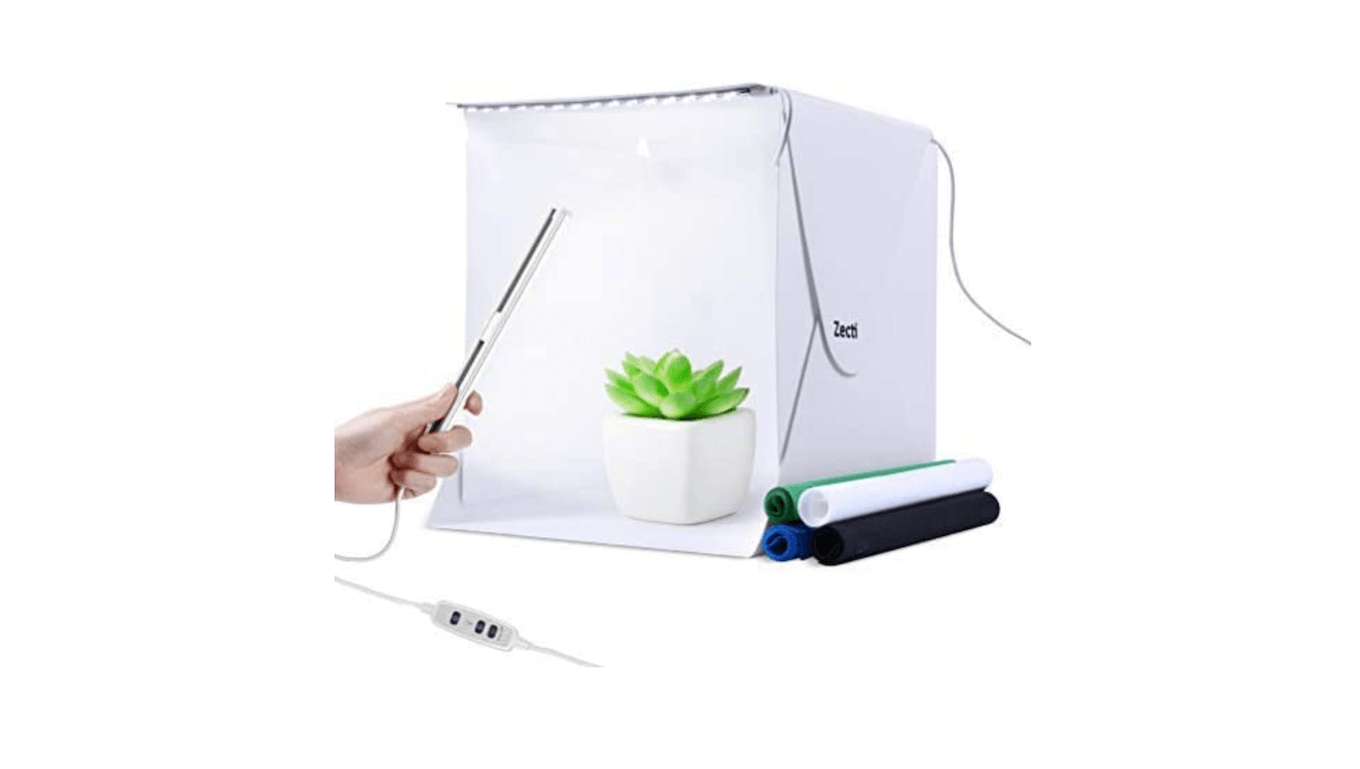 This portable photography lightbox comes in three different sizes, so you can choose the one that works best for all of your products. And it comes with two powerful 6500K LED strip lights, so you can be sure that whatever you're shooting will be properly illuminated. The Zecti lightbox folds flat to save space, and the LED lights are removable too. Plus, you'll get four different background colors made of non-woven fabric so they are free of scratches and wrinkles and provide flawless backgrounds for professional pictures.
3. SLOW DOLPHIN studio lightbox with 6 backdrops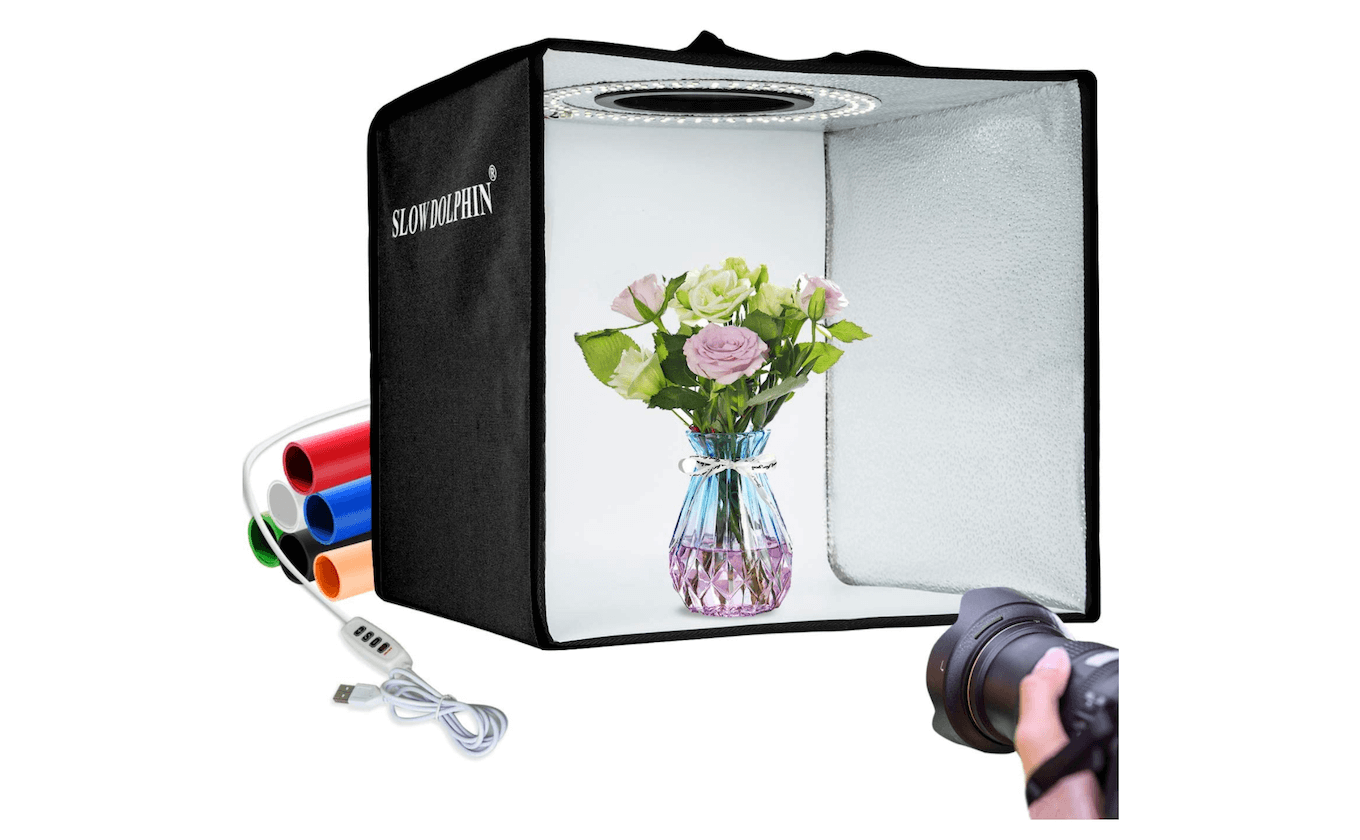 This portable photography lightbox from SLOW DOLPHIN was designed for artists and online sellers. It features an adjustable LED light ring with 3 color temperature settings, a portable design for easy transport, and 6 PVC backdrops in white, black, red, yellow, green, and blue. An opening in the top makes it easy to shoot flat lays or other top-down compositions, and reflective fabric evenly diffuses light so you can capture more details without glare.
SLOW DOLPHIN studio lightbox on Amazon
4. Finnhomy large professional lightbox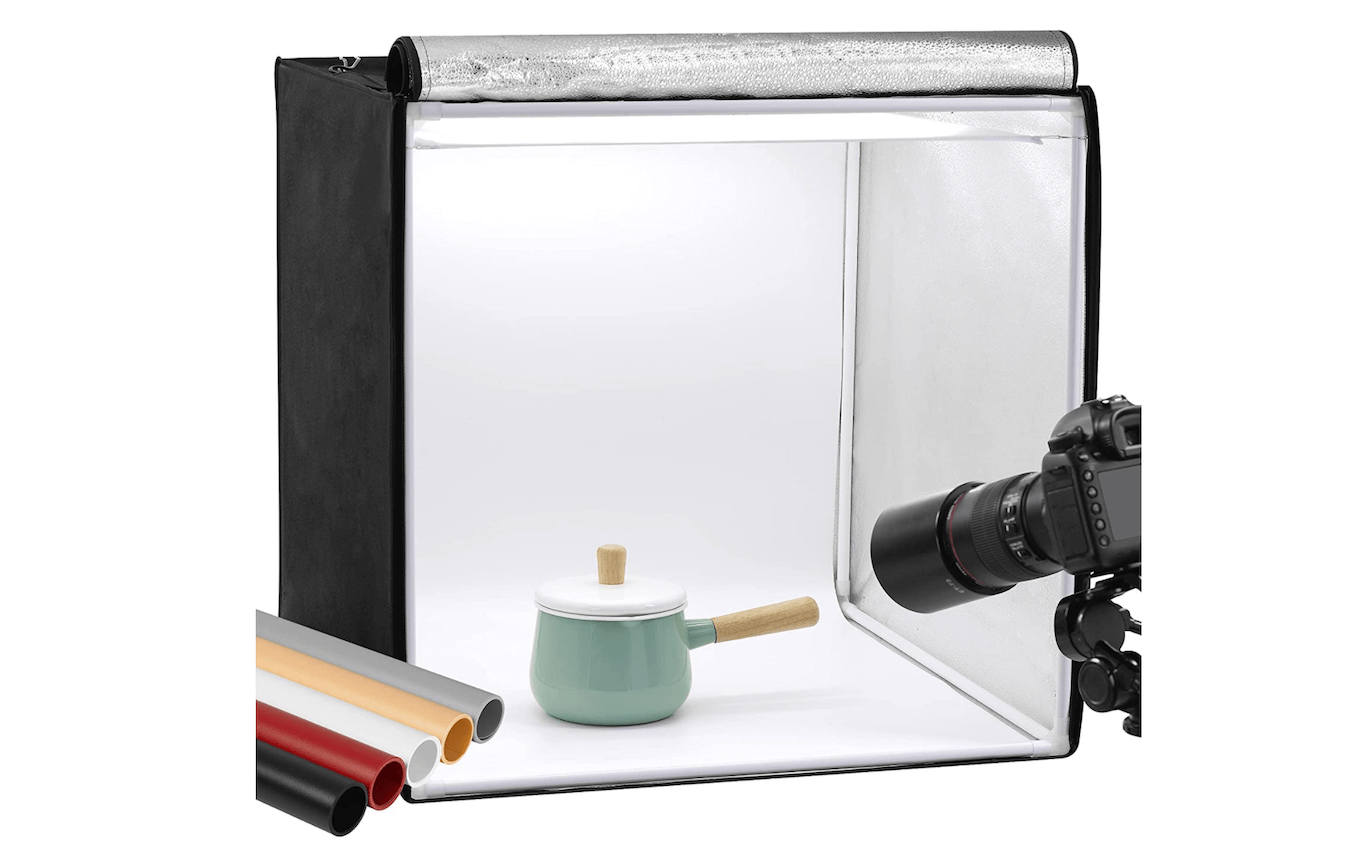 The Finnhomy photography lighthouse is 24 inches by 24 inches, making it suitable for photographing larger items. Despite its larger size, it's still extremely portable and comes with two adjustable LED light bands and three PVC backdrops in white, black, and tan. Openings in both the front and the top allow for different shooting angles, and everything folds up to fit into an included carrying case for portability.
Finnhomy professional lightbox
5. DUCLUS small, portable photography lightbox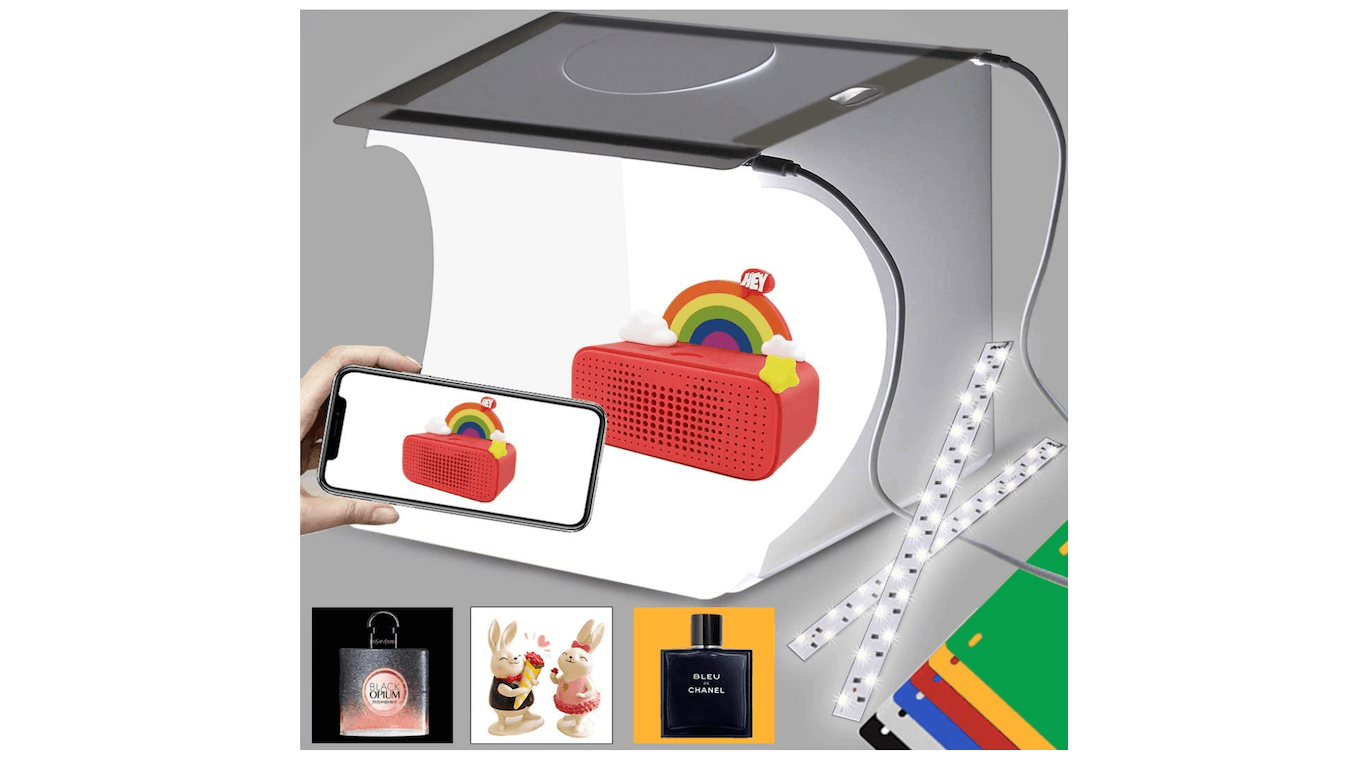 If your goal is to capture small items like jewelry, toys, or electronics as an online seller or creator, you may want to check out this small studio lightbox from DUCLUS. This mini photography lightbox comes in 4 sizes, with the smallest being about 8 inches by 8 inches. Six different PVC backdrops are included — white, black, red, green, blue, and yellow. And the device comes with 2 LED light bars that can be charged quickly with a USB charging cable. This small, affordable lightbox is great for beginners.
DUCLUS photography lightbox on Amazon
Lightbox photography is a useful skill for use in the studio and is essential for anyone who takes photos of products for blogging or online sales. If you find yourself working on a small scale with your camera, a portable photography lightbox is a great investment.