The natural world provides plenty of inspiration for photographers, which is why landscape photography is such a popular genre. Plus, it's a great place to get started on your journey as a photographer. With landscape photography, you are capturing a stationary scene. The lighting and weather patterns may change, but you don't have to worry about people, animals, or other moving objects as you compose your shot. But can you take stunning landscape photos with just an iPhone?
The answer is yes! With a few adjustments to your settings and a solid understanding of light and composition, you can take amazing landscape pictures with any phone or camera, including the one in your pocket right now. In this article, we'll discuss the basics of landscape photography. We'll also share some expert tips to help you create amazing landscape photos with your iPhone.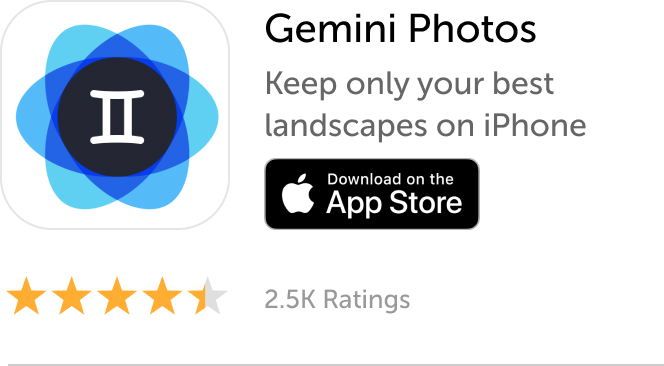 What is considered landscape photography?
The definition of landscape photography varies depending on who you're asking. But, simply put, a landscape photo is an image in which an outdoor scene is the main subject. While you can certainly feature a person or animal within a landscape, the main focus is always the landscape itself. Buildings, boats, and vehicles may be included, but the natural features within the image are meant to be the main attraction.
The 3 types of landscape photography
There are 3 main categories of landscape photography: representational, impressionistic, and abstract.
A representational photograph realistically captures the scene in front of you. Impressionistic landscape photography, on the other hand, focuses more on the feeling a scene evokes and often has a more surreal effect. And abstract landscape photos take the most basic visual elements of a scene and turn them into images that showcase different perspectives and themes.
Here are some other types of landscape photography, all of which can fall into the three main categories above:
Nature landscape photography: Natural elements like mountains, lakes, and forests are the main attraction.
Architectural landscape photography: Buildings and cityscapes are incorporated into the image.
Astrophotography: These landscape photos feature a strong emphasis on the night sky.
Aerial landscape photography: Scenes are captured from high above the surrounding landscape, perhaps from an airplane, a tall building, or a mountaintop.
What's the difference between nature and landscape photography?
In some cases, landscape photography fits within the more general category of nature photography. But nature photography can also include close-ups of plants and animals, wildlife, and portraits taken in nature.
What makes a good landscape picture?
Beauty is always in the eye of the beholder. That said, your definition of what makes a stunning landscape photo may vary from that of someone else. There are, however, certain qualities of amazing landscape photos that will consistently make them stand out from the rest.
These key components will elevate a good landscape photo into a great one:
A unique composition: The best landscape photos aren't the same old scenes you can find in every calendar you come across. Instead, they're those that capture unique angles or rarely seen vantage points that make a composition more interesting.
A strong sense of place: Capturing the essence of a place — whether it's the dark, mystical feeling in an ancient forest or the bright, carefree vibe on a tropical beach — really makes a photo stand out.
A focal point: Whether you're trying to photograph a mountain sunset or crashing waves on the beach, your goal should always be to draw your viewer's attention into the scene. One way to do this is to find a strong focal point to add to the image. This can be a collection of flowers, a striking rock formation, or even a person hiking along a trail.
How to shoot remarkable landscape photos
Hopefully, you now have a good sense of what makes a striking landscape photo and the types of landscape photography you can experiment with. But now, let's dig a little deeper. Here are the tools you can use to take amazing landscape photos with your iPhone.
iPhone Camera settings for scenery photography
iPhone cameras improve in every new model, and while they may not outperform a fancy DSLR, they are super convenient and easy to use. Here are a few settings to experiment with when taking landscape photos with your iPhone:
Grid: Using the grid tool (which, when enabled, overlays your LCD screen) will help you get a straight horizon line. It's also great practice for utilizing the rule of thirds. Turn it on in the Settings app under Camera.
Night mode: If you have Night mode on your iPhone (iPhone 11 and later), you should definitely be using it. Night mode is perfect for landscapes after dark, including astrophotography.
Panorama: Capturing a scene that just won't quit? Add some length to your composition by shooting in Panorama mode. Panoramas are ideal for mountain ranges and other scenes that seem to go on forever.
Live Photos: Did you know you can turn a Live Photo into a long-exposure image? Since a Live Photo is actually a short video, you can easily convert it to a long-exposure shot in the Photos app. Simply swipe up on any image and navigate to the Effects menu, then scroll to Long Exposure. This feature will turn waterfalls and ocean waves into dreamy, professional-quality images.
Nature landscape photography tips
Ready to start experimenting with landscape photography? Grab your iPhone and head outside for a road trip or walk, and follow these tips for stunning captures of the natural world:
Shoot during the golden hour or the blue hour: Sunset photos are probably the most popular type of landscape image, but you don't have to shoot the sun to take advantage of that beautiful lighting. The golden hour is the period just after sunset and immediately after sunrise, which will provide warm light for all your shots. For cooler tones, shoot during the blue hour, which is the period just before sunrise and immediately after sunset.
Use AE/AF lock to keep your image sharp: When framing your landscape photo, hold your finger on the focal point on your screen so that the main part of your image is sharp and properly exposed.
Keep your phone still when shooting: You don't necessarily need a tripod for shooting landscapes, but you will want to reduce camera shake to prevent blurry photos. For hand-held shooting, just prop your elbow on something sturdy to keep your phone steady.
Find interest in the foreground: To add interest to your natural landscape photos, find an interesting bit of foreground to focus on. This can be a cool rock, a patch of flowers, or something else — get creative!