The features that were introduced with the iPhone 11 lineup offered something new and exciting for iPhone photographers. All three models received some pretty impressive and much-buzzed-about camera upgrades, like the new Ultra Wide lens and Night mode. So, if you're looking for a new phone, this is a great place to start — especially if you're hoping to step up your iPhone photography.
This article compares iPhone 11, iPhone 11 Pro, and iPhone 11 Pro Max. You'll read about how each model stacks up against the others and, more importantly, which features are exclusive to each iPhone.
Before you update to iPhone 11 or iPhone 11 Pro
First things first: Regardless of whether you upgrade to iPhone 11 or iPhone 11 Pro, the last thing you want to do is fill up all of your storage with duplicate photos and blurry pictures. Since pictures and videos can eat up substantial storage space, it's wise to clean up your photo library before transferring everything to your new phone. The good news is that you can use an app like Gemini Photos to help you quickly and easily tidy things up.
You can download Gemini Photos from the App Store. It scans your photo library and sorts your pictures into categories like Similar, Duplicates, Blurred, Screenshots, Notes, etc. Just follow these steps to start cleaning up your pics:
Open Gemini Photos on your iPhone.
Select a category like Similar.
Tap on a date or event. Similar pictures are then grouped together.
Choose the ones you want to remove and tap Move [x] to Trash.
Tap Empty Trash at the bottom.
When you're done, tap Your Library at the top to choose another category and repeat.
Once you've cleaned up your entire library with Gemini Photos, you might notice that while your pictures are gone from your photo library, they're still taking up storage space. To eliminate them from your phone once and for all, open the Photos app and navigate to Album > Recently Deleted > Select > Delete All.
iPhone 11 lineup
Let's get the basics out of the way. There are three models in the iPhone 11 lineup: iPhone 11, iPhone 11 Pro, and iPhone 11 Pro Max. Prior to this generation of phones, the naming convention was a bit confusing. For example, the previous lineup included iPhone XR, iPhone XS, and iPhone XS Max.
Despite the connection implied by its name, iPhone 11 is not the direct successor of iPhone XS (we've highlighted all the differences between these two in our iPhone XS vs 11 comparison). In fact, it's more of a follow-up to iPhone XR. This is helpful to keep in mind, especially if you're upgrading from iPhone XS or iPhone XS Max. You don't want to feel like you got a downgraded model after making your decision.
Features only available on iPhone 11 Pro and iPhone 11 Pro Max
For the most part, these three models are nearly identical when it comes to their technical specs. But there is a shortlist of features that are exclusive to iPhone 11 Pro and iPhone 11 Pro Max:
Triple-lens back camera, including Wide, Ultra Wide, and Telephoto lenses
5.8-inch and 6.5-inch OLED screens
Super Retina XDR display
Is iPhone 11 Pro really better than iPhone 11?
As you read earlier, if you're looking purely at the performance numbers, you're not going to notice a huge difference between iPhone 11 and iPhone 11 Pro. They both have the same A13 Bionic chip, wireless speeds, and storage capacities.
Where the two models really differ is in their back cameras. Both phones received an additional lens, giving iPhone 11 a dual-camera system and iPhone 11 Pro a triple-camera system. But more on that later.
iPhone 11 Pro vs iPhone 11 Pro Max: What's the difference?
The two Pro models are identical in every way except for their size. Both have an OLED display with insanely high resolution, which Apple has dubbed Super Retina XDR. However, as its name suggests, iPhone 11 Pro Max is the bigger of the two options. Here's how they break down in terms of size and resolution:
iPhone 11 Pro: 5.8 inches and 2436 by 1125
iPhone 11 Pro Max: 6.5 inches and 2688 by 1242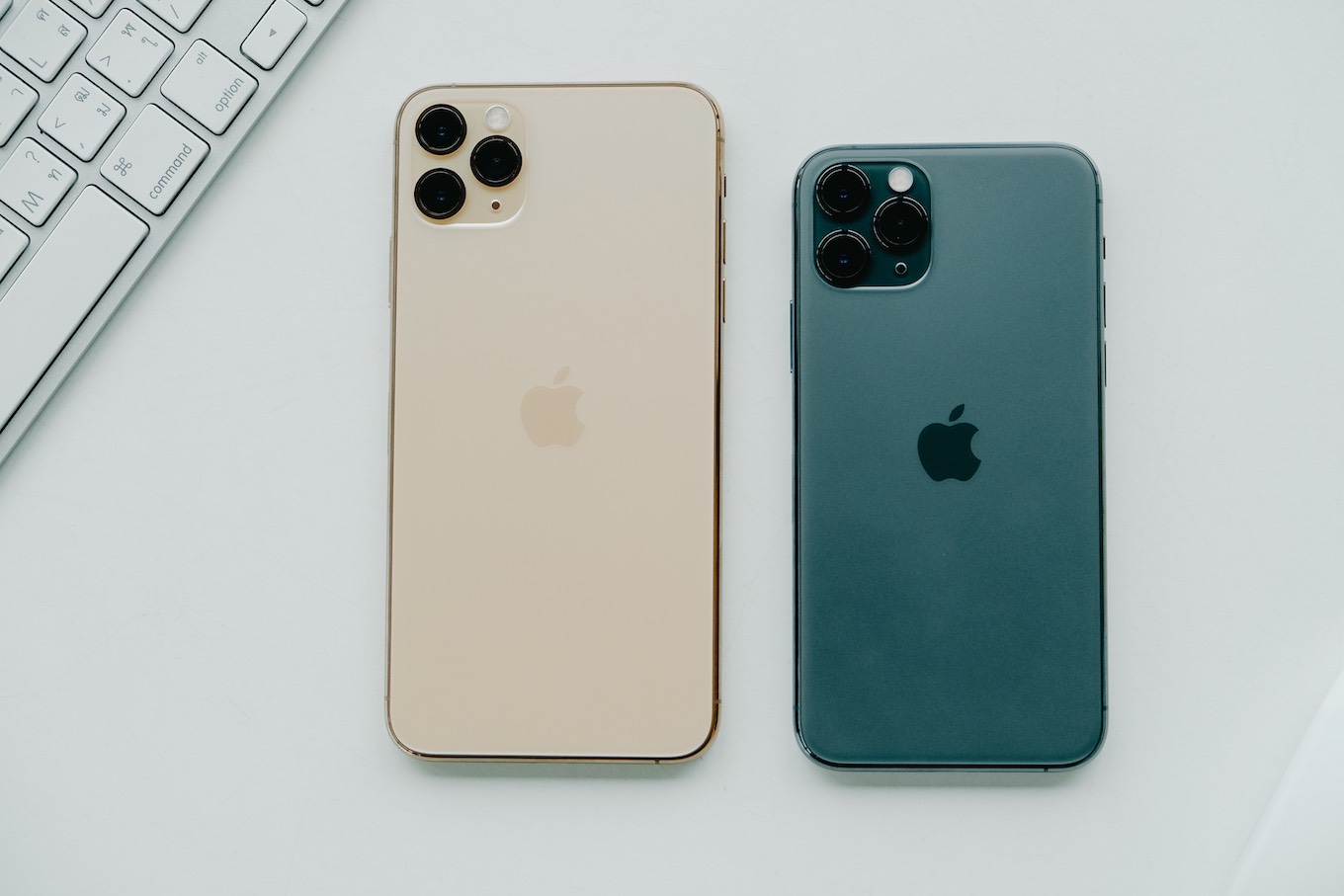 A photographer-friendly iPhone 11 comparison
When you start looking at different iPhone models and trying to compare them, it's easy to get lost in the weeds. So, to keep things simple and be the most helpful to you, here are some comparisons of the features that will impact your photos and videos the most.
iPhone 11 vs. iPhone 11 Pro vs. iPhone 11 Pro Max: The camera
The camera is obviously a vital consideration when discussing iPhone photography. Fortunately, all three of these phones have a couple of great new features, including:
Ultra Wide Lens: Allows you to get a wider (or zoomed-out) image without moving back
Night mode: Enhances the pictures you take in really low-light conditions
Next-Gen Smart HDR: Improved HDR (when you have it enabled)
The most significant difference between iPhone 11 Pro and iPhone Pro Max has got to be the Pro Max model's Telephoto lens. This is basically the opposite of the Ultra Wide lens, in that it allows you to get a zoomed-in image without physically moving closer to your object.
Sure, the iPhone 11 camera also lets you zoom in, but that's actually a digital zoom, in which the camera is taking a standard, wide-angle photo and scaling it up, potentially causing the image to look grainy or distorted. Having a Telephoto lens, on the other hand, means you're actually capturing a closer image of your subject, guaranteeing a better picture.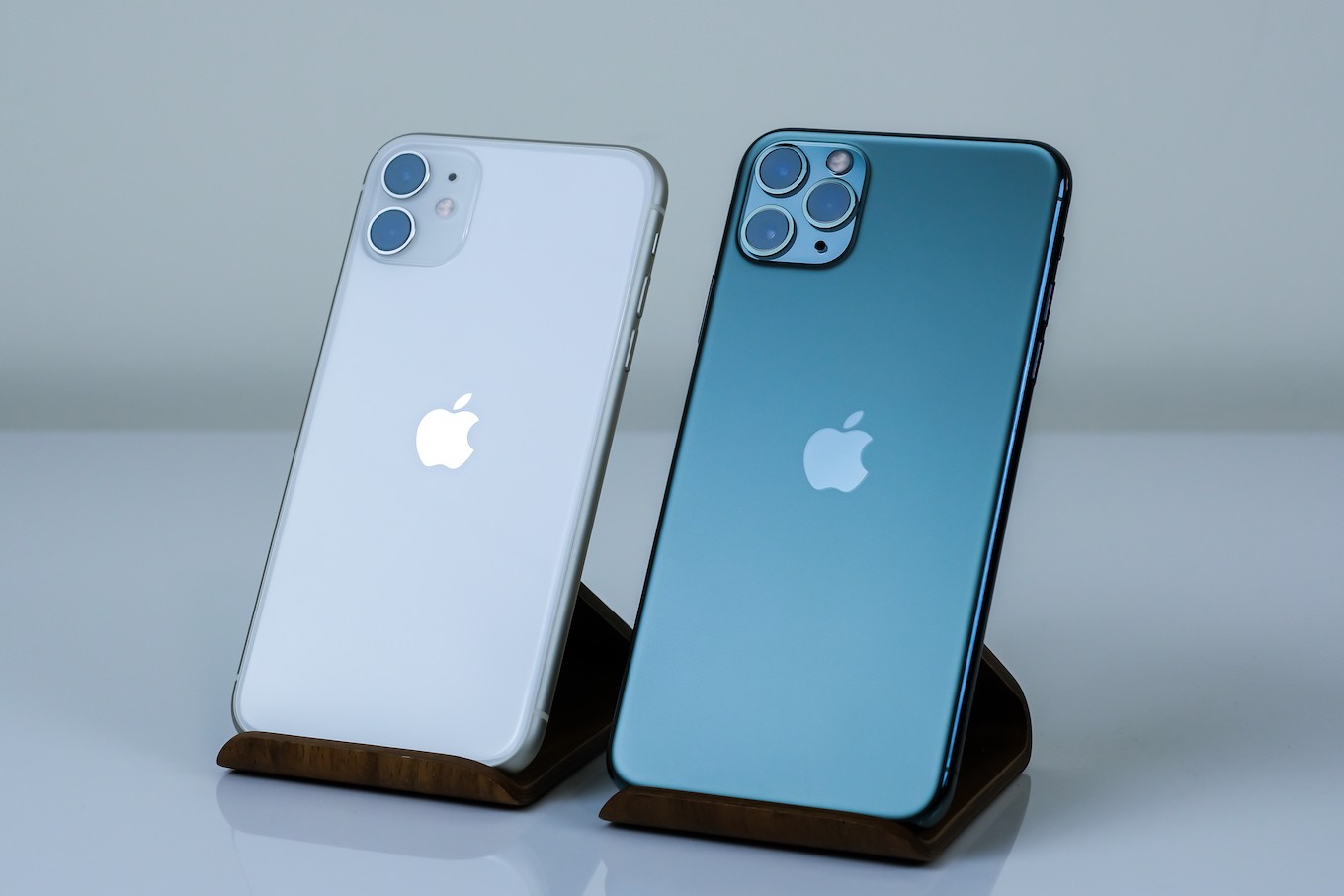 iPhone 11 display
When it comes to the displays on these phones, the Pro-level model once again comes out on top.
As you read earlier, iPhone 11 Pro and iPhone 11 Pro Max both have a Super Retina XDR display in their respective sizes. On the other end of the lineup, iPhone 11 has a Liquid Retina HD Display, which may not be as silky smooth as the OLED screens on the Pro models but is still quite impressive. And, short of a side-by-side comparison, you'd be hard-pressed to notice the difference. The display itself is a 6.1-inch LCD, which is the same as its predecessor, iPhone XR.
iPhone 11 battery life
Something that doesn't get talked about often with iPhone photography is the battery life of a phone. When you're out snapping a bunch of pictures or filming videos, the last thing you want to worry about is your phone dying.
All three iPhone 11 models have incredible battery lives and can be charged wirelessly or with a fast charger. Here's a quick glance at each model's battery life, but keep in mind that your own battery performance will vary based on how you're using your iPhone:
iPhone 11: 17 hours of video playback
iPhone 11 Pro: 18 hours of video playback
iPhone 11 Pro Max: 20 hours of video playback
So which iPhone 11 is best for photography?
If you're looking for the phone with the best camera, the best display, and the best battery life, then iPhone 11 Pro Max is a no-brainer. It has a Telephoto lens and that gorgeous display to view all of your photos and videos on.
That being said, the Telephoto lens might not be essential for you, depending on your needs. If that's the case, iPhone 11 might actually be a better choice. Before you make your decision, go back through your photo library and see how many close-ups or zoomed-in pictures you have. That might help you decide if you really need that third lens or not.
The entire iPhone 11 lineup has so much to offer. And any one of these models is going to help you step up your photography game — it's just a matter of how much. Will you take full advantage of all three lenses on iPhone 11 Pro and iPhone 11 Pro Max's rear camera? Or are the Wide and Ultra Wide lenses on iPhone 11 enough for you? Whatever your answer may be, hopefully this article has helped make it a little easier for you to come to your decision.