Engagement is the name of the game when it comes to Instagram growth. And whether you want to find new followers or interact more with your current audience, giveaways are a great way to drum up some social media action.
In this guide, we'll cover everything from how to host a giveaway on Instagram to picking a winner, along with some ideas for your next giveaway.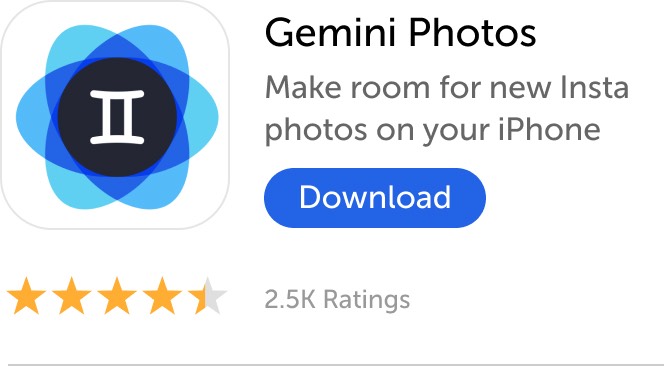 How an Instagram giveaway works
Basically, an Instagram giveaway is a post or Story that highlights a limited-time promotion for a free product or service. The user typically asks followers to engage with their account in some way — like tagging a friend or sharing a post with a specific hashtag — and after a short period of time, a random winner is selected and announced.

How long should an Instagram giveaway last?
While an Instagram giveaway can last as short or as long as you want, 3 to 7 days is a good rule of thumb. You want to give your followers enough time to see and interact with the giveaway, but you don't want it to go on for so long that they forget about it.
The Instagram giveaway rules
Like all good things on Instagram, there are a few rules and regulations you need to follow when you host a giveaway.
Do you have to pay taxes on giveaways?
If the value of your prize is $600 or more, the prize winner will have to pay taxes on it if they're subject to U.S. taxes. Most accounts avoid this by giving away items or services that have a much lower value.
How old do you have to be to enter a giveaway?
For most giveaways, you have to be at least 13 years old to enter unless the prize is meant for someone 18 and older. It's best to check state laws before you post your giveaway and clearly state the age requirement in the giveaway rules.
Is it illegal to require a purchase to enter a giveaway?
Yes. All giveaways and random chance sweepstakes must adhere to the U.S.'s "no purchase necessary" law.
How to plan and run a giveaway on Instagram
Ready to run your first Instagram giveaway? Follow the guidelines below to increase your engagement, decide on your prize, and attract more followers from your giveaway.
Step 1: Choose a prize
Before you do anything, you'll want to decide on exactly what it is you're giving away. Some businesses give out a free product or service surrounding a new launch. Other accounts will partner with another brand to give away one of its services or products. You could also award a unique experience, like a chance to work with you one on one.
Step 2: Choose the criteria for entry
What will your followers have to do to enter the giveaway? Below are the most common entry options:
Tag a certain amount of friends (usually 3 to 5).
Share the post to their Stories.
Comment on the post.
Create their own post or Story using a specific hashtag.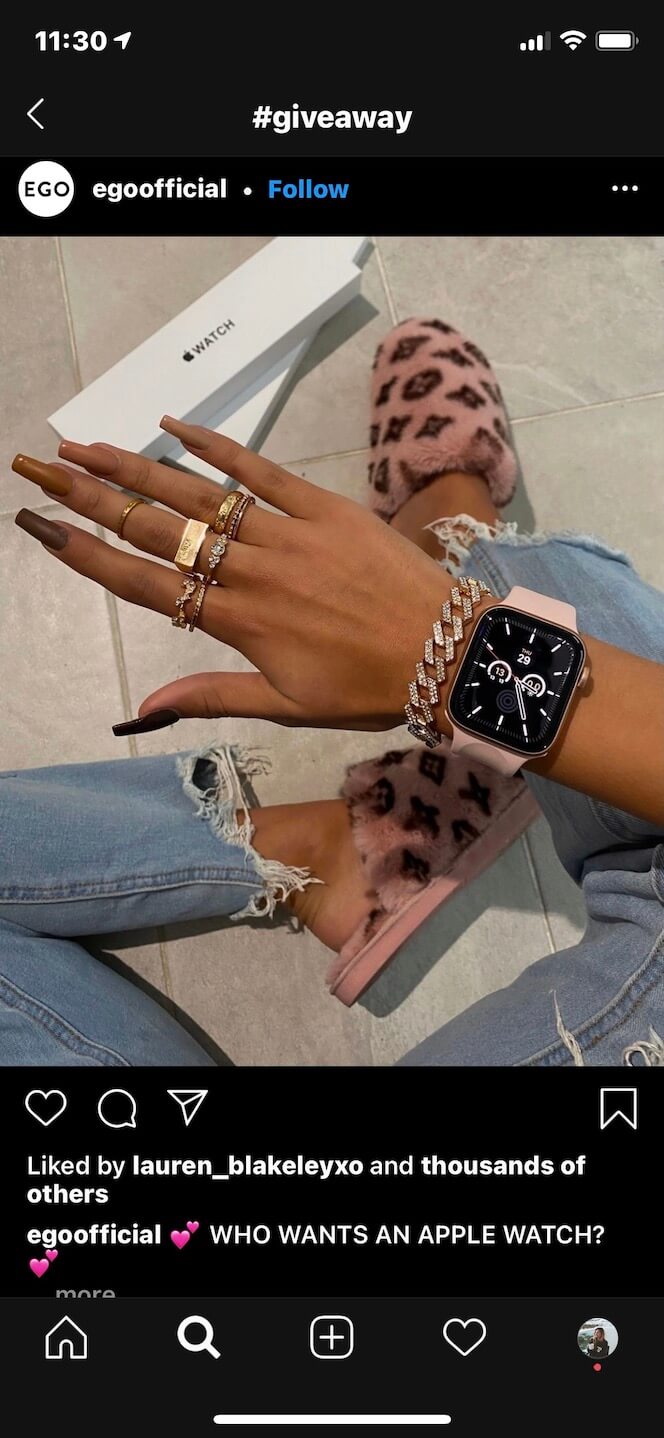 Step 3: Select your time limit
Next, decide how long you want to run the giveaway. When you post your criteria for entry and rules, make sure to include the giveaway end date. You also want to include the date when you'll announce the winner and how you will do so.
Step 4: Create your giveaway post
Now that all of your details are in place, it's time to create your post. While you can promote your giveaway in your Stories and other social media platforms, it's wise to have a single post for people to interact with. This will make it easier for you to track how many people have entered and record their names.
Create a photo or video to post to your feed and lay out the rules and criteria in the caption. You also might consider promoting the post as an Instagram ad for the duration of your giveaway.
Step 5: Select your winner
Most accounts use a random number generator like Google's Random Number Generator to help them easily select a winner. After your contest closes, assign a number to each person who entered. The fairest method is to assign numbers according to the order in which the entries arrived.
Then, set your maximum number and click the generate button. The number selected is the number of the winner.

Step 6: Announce your winner
Once you have your winner, it's time to tell them the good news. Either create a new post announcing the winner or share a new Story. Just make sure you tag them so they can see it and give you their information to send them their prize.
After your winner is announced, go back and edit your caption to state that the giveaway is now closed so that nobody new will attempt to enter.
Helpful Instagram giveaway apps and tools
In addition to using a random number generator, there are a few tools and apps that can help you create awesome Instagram giveaways. Here are a few of our favorites:
Canva is a great free app and desktop tool for designing promotional posts with words and graphics.
Woobox is an all-in-one giveaway platform that helps you manage your posts, schedule your campaign, and even pick a winner.
Giveaway Expert is a giveaway app designed specifically for Instagram users.
Instagram giveaway ideas for your iPhone photography account
Now that you have all the basics down, let's go over a few creative ideas you can use for your next photography giveaway.
Offer a free mini-session
A full photoshoot might surpass the $600 limit for taxes, but hosting a giveaway for one of your lower-priced services might not. Many photographers offer short, hour-long sessions or condensed packages as a way to boost their engagement and get more people interested in their work.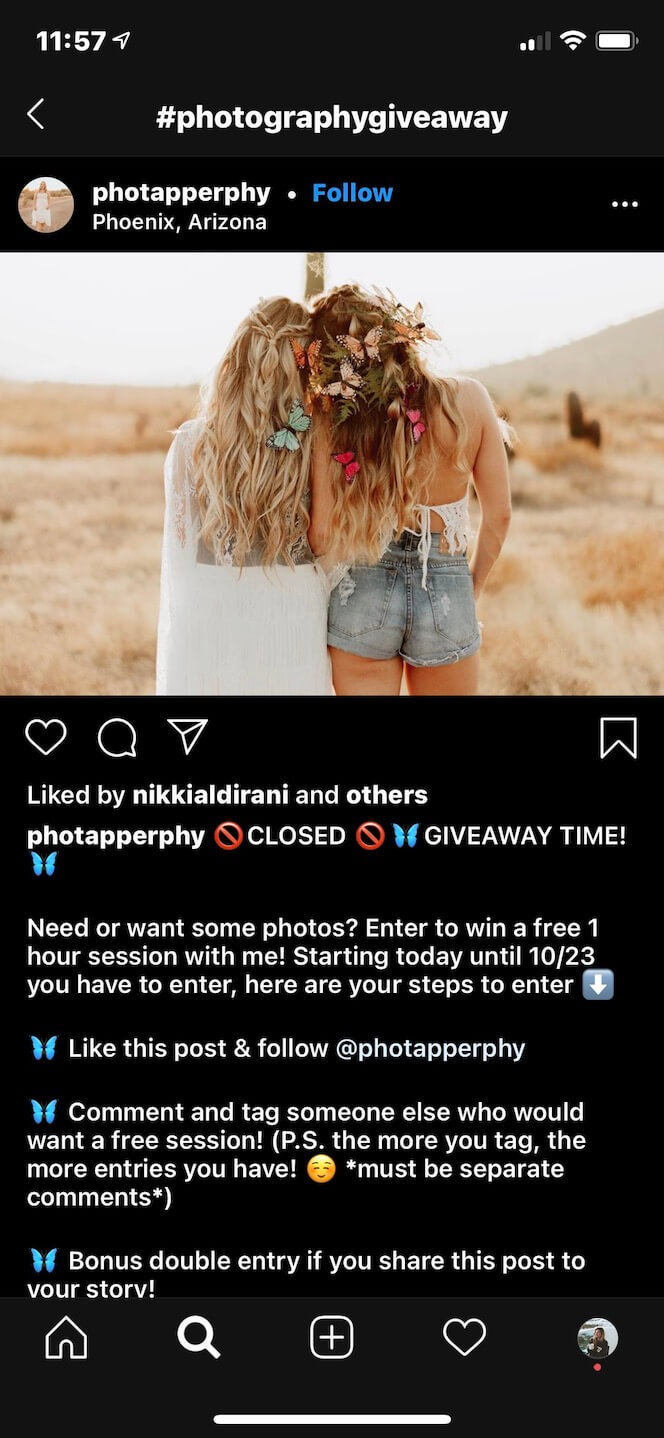 Give away a gift card
Everyone loves some free cash. You could give away a $25 Amazon or Visa gift card in exchange for contestants following your account.
Win a personalized package
If you want to promote a higher-priced service, you could offer a personalized package for portraits, couples photos, or whatever niche you're in. Be sure to clearly state the value of the prize so people are more enticed to enter.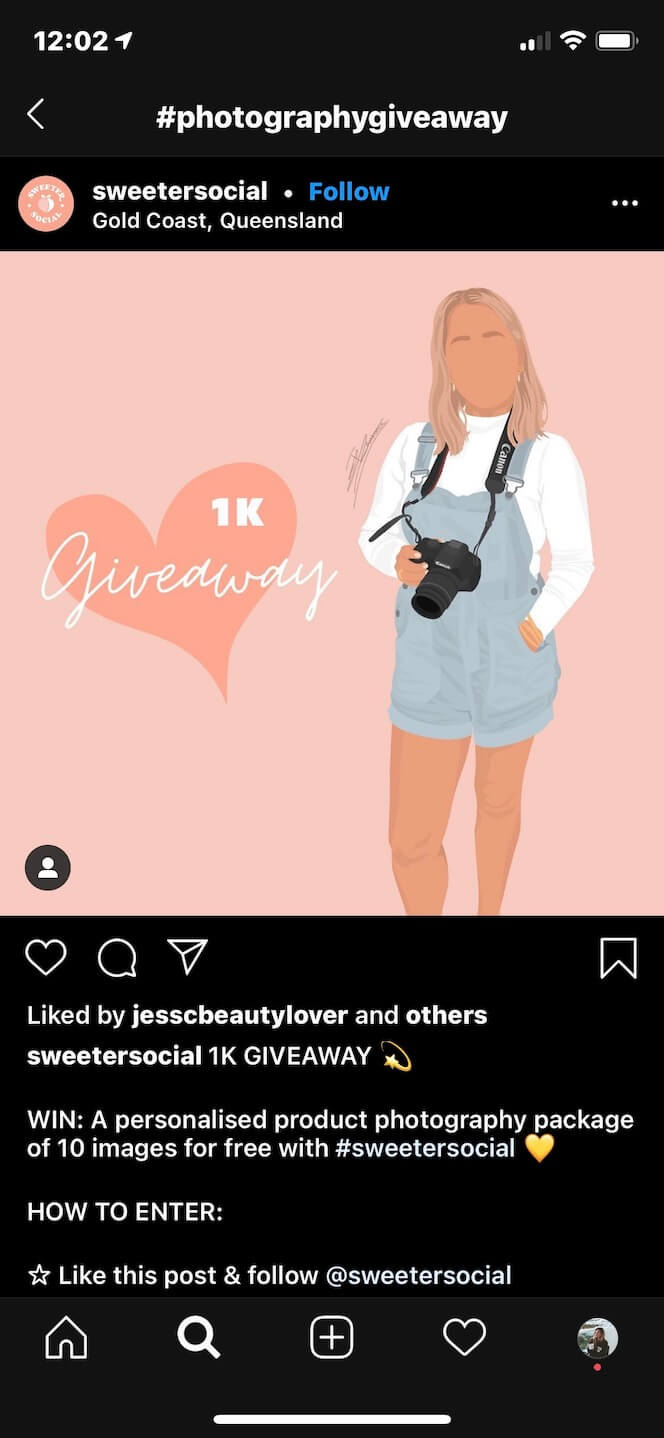 Offer a mentorship
Do a lot of fellow photographers follow your account? Offer an hour-long mentorship session where you can give them advice and direction in their photography career.
Give away your favorite presets
If you have a certain preset for your photos or a special set of edits that you use with most of your photos, package them up into an offer. The winning can enjoy beautifully edited photos like yours — without the cost of hiring a photographer. Make sure you clearly state how they will receive the presents, as well as the app that they can use them with.
Giveaways aren't just for businesses promoting products. These sweepstakes are a great way to increase your engagement, interact with your followers, and expand your reach to a wider audience.