Firework displays are magical events with their bright, festive colors and unpredictable starbursts. They are awesome to watch and a fun challenge to photograph. The challenges include low light, fast action, and unpredictable timing, but that's also what makes shooting fireworks such a great learning opportunity. If you're wondering how to photograph fireworks using only an iPhone, we have all the tips you need to start practicing and perfecting your fireworks photography.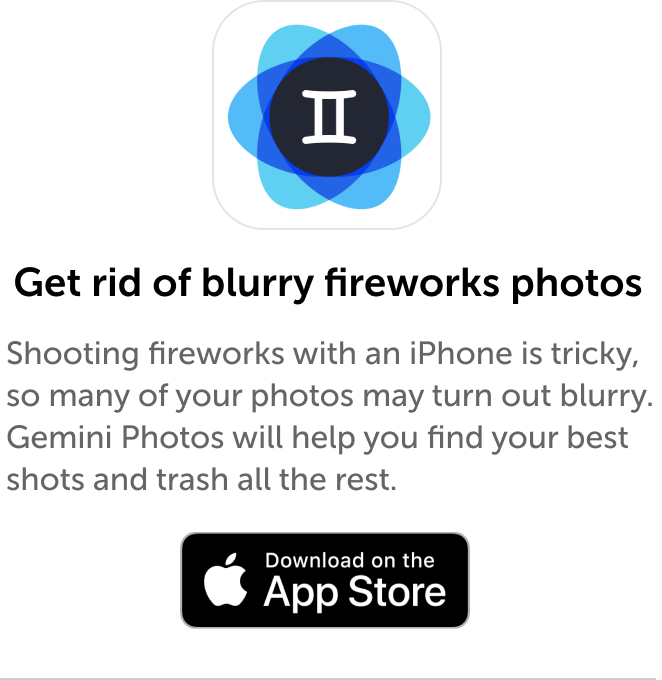 Settings to use for a great fireworks photo
Yes, great fireworks photos require practice, but the iPhone really does make it easy if you know which settings to use. Here are the best fireworks photo settings to try out during your next photoshoot. Since the lighting conditions for fireworks can be tricky, remember to experiment with these settings as you go for the best results.
Night mode
If you have an iPhone 11 or a newer model, you can use Night mode for your fireworks photography. Night mode turns on automatically when you take photos with your iPhone in low light. You will know that it is activated when you see the small yellow moon symbol in the upper-left corner of your screen.
Night mode helps your iPhone capture brighter photos in dark scenes. While this typically involves taking several shots and combining them to use all of the available light, iPhone's software also does some color-correcting and removes artifacts that have been introduced because of camera shake. The results are often surprisingly sharp, especially if you have a steady hand or are using a tripod.
Burst photos
Burst mode on iPhone allows you to take multiple photos of a scene quickly so that you can choose the best of the bunch later. Because Burst mode implements a very fast shutter speed, your photos will be sharp but may also be darker than photos taken in Night mode.
How you access Burst mode will depend on which iPhone model you are using. If you have an iPhone X or an older model, you can use Burst mode simply by holding your finger down on the shutter button. If you have a newer model, you must hold down the shutter button while sliding it to the left.
AE/AF Lock
It may sound counterintuitive to use your AE/AF Lock feature for fireworks photography, but as long as it isn't too dark, this is a great way to ensure your fireworks are in focus. If it's extremely dark, you will find that your camera has trouble focusing on any one part of the scene.
To use your AE/AF Lock feature, simply choose a location within the frame where you expect the fireworks to burst. You can also use the slider on the screen to adjust the exposure as necessary.
Top 5 tips for shooting fireworks better
Now that you've got your settings dialed in, the next step is to get out there and practice. And since firework displays don't happen every night, you can use sparklers as a substitute to ensure that you're ready for the real thing. Then use the settings above and the tips below to take your fireworks photography to the next level.
Tip 1: Start early to avoid a smoky sky
With every rocket burst, smoke will fill the air. And as the night wears on, you can expect the sky to become increasingly hazy. The amount of smoke you have to deal with will depend on the weather and how far you are from the display, but to keep the odds in your favor, plan on getting to your photo location early. Another benefit of shooting early during a fireworks display is that you will have some lingering daylight to work with.
Tip 2: Make sure your flash is turned off
There's no better way to ruin a fireworks photo than with flash photography. Make sure that your flash is turned off on your phone so you get a dark sky, colorful bursts of light, and nothing else. Your neighbors will appreciate it as well.
Tip 3: Use a telephoto lens if you have one, but not the digital zoom
Most photographers use a wide-angle lens to capture fireworks so they can include landmarks within their shots. A telephoto lens is great for shooting unique angles and capturing more details in the fireworks themselves. And if you are fortunate enough to have an iPhone model with a telephoto lens (iPhone 11 Pro, iPhone 11 Pro Max, iPhone 12 Pro, or iPhone 12 Max), try using it to get close-ups of the action without being in the middle of it. But avoid using your iPhone's digital zoom, which will give your photo a pixelated look.
Tip 4: Use a tripod for sharper images
If you want to guarantee that your photos are crisp and clear no matter how dark the sky is, then a tripod is a must. Fortunately, you can find small, affordable tripods that will work on any surface. The Joby GripTight tripod works will all iPhone models and will even wrap itself around a tree limb securely so you can take unique shots that otherwise would be impossible. You can further reduce camera shake by setting using a