The old cliche is true: All good things must come to an end. It can even be true when it comes to your TikTok account. Deleting your account isn't much of an oddity. There are plenty of great reasons you might consider it — whether it's because you're worried that you spend too much time on the app or you have some new privacy concerns. Whatever your reason may be, you're in the right place. This article will walk you through how to delete your account and answer any questions you might have before doing so.
What happens when you delete a TikTok account?
Every social media platform handles its accounts differently. Some allow you to freeze or suspend your account so you can go back to it later, while others just outright delete everything. Below, you'll read in more detail what happens to everything in your TikTok account when you delete it.
Will deleting TikTok delete my videos?
Yes. When your TikTok account is deleted, so are your videos. Which is great because this means you don't need to go through and delete your videos one at a time.
Does deleting TikTok delete messages?
The same is true for any private communication you've had with other users. When you delete your account, you will lose your messages as well.
Does your TikTok account delete when you delete the app?
Thankfully, if you're just trying to take a little break from TikTok, you can delete the app from your iPhone without deleting your entire account.
How long does it take TikTok to delete an account?
If you experience deleter's remorse, good news! Technically, TikTok only deactivates your account for 30 days before deleting it entirely. That means you can reactivate your account with everything still intact while you're within that time window. But after 30 days, you will lose your account and everything associated with it.
How to delete a TikTok account
There are a few different ways to delete your TikTok account, depending on what device you're using. We'll show you how to do it using your iPhone and your computer.
How to delete TikTok on your iPhone
When you're ready to delete your TikTok account on your iPhone, just follow these steps:
Open TikTok.
Tap the Me tab.
Navigate to the three horizontal lines > Manage account > Delete account.
Tap the Delete Account button again to confirm.
That's all there is to it. And, just as a reminder, while your account will be removed from the public for 30 days, you'll be able to reactivate it if you change your mind.
How to delete a TikTok account on your computer
Maybe you've already deleted the app from your iPhone and don't want to have to re-download it just to deactivate your account. Luckily, you can use your computer instead. As long as you know your username and password, logging in to your TikTok is a breeze. Just follow these instructions to delete your account:
Open your browser and go to TikTok.com.
Sign in.
Click on your profile photo and choose Settings.
Then click the Delete option next to the label Delete Account.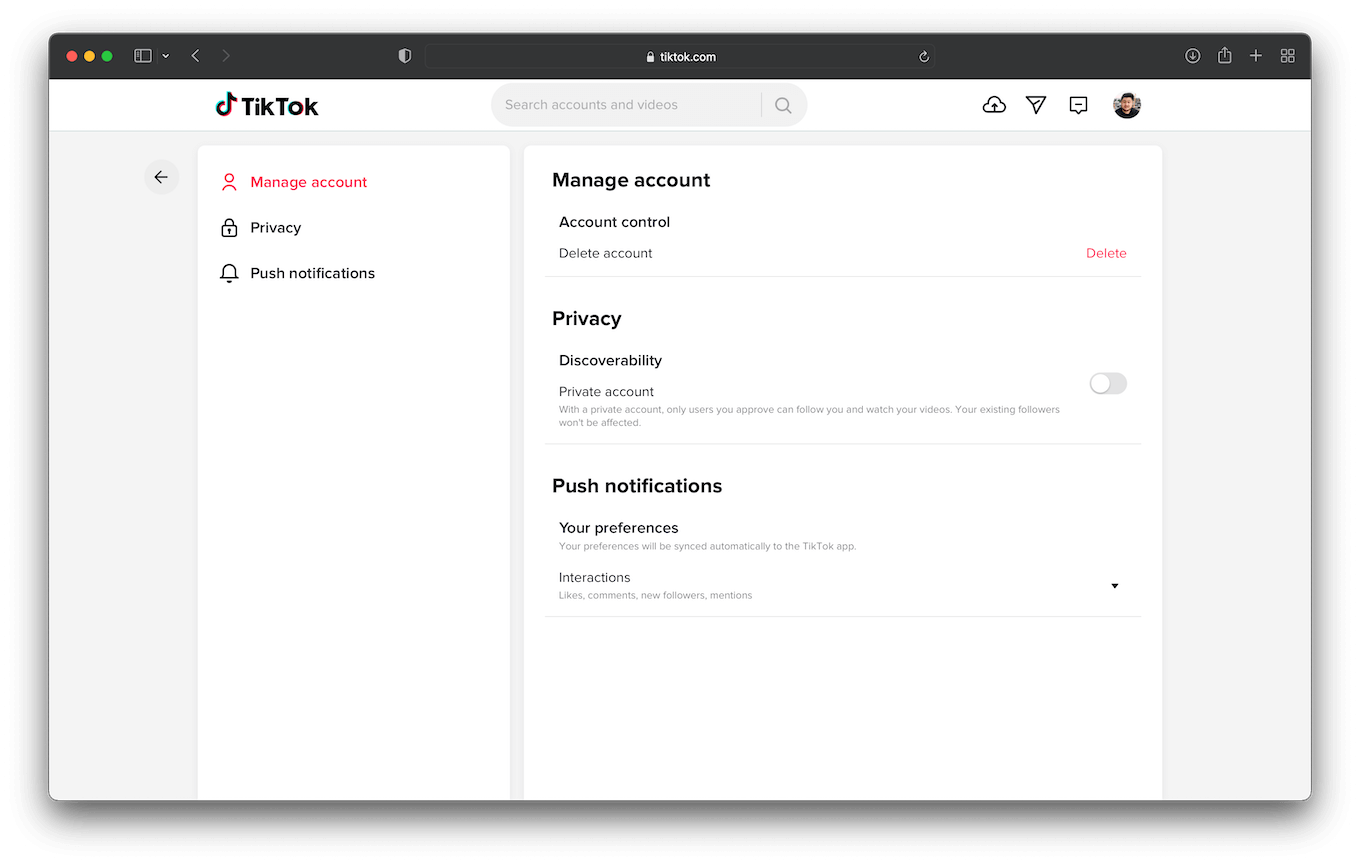 How to permanently delete your TikTok
There is an upside and a downside to the 30-day waiting period to delete your account. The upside is that you have the chance to undo the process, and there's nothing extra you need to do during that time to delete your TikTok account permanently. You just have to wait 30 days for it to complete the process. The downside is that there's no way to expedite that 30-day process or purge your account. You have to simply just wait.
Why can't I delete my TikTok?
There are actually a couple of fairly common reasons why TikTok won't let you delete your account. And don't worry — they're all reasonable and pretty easy to fix.
No contact info. To delete your account, you have to have an email address or a phone number associated with the account. Adding either of those will let you delete the account.
Force quit the app. Sometimes there might be a bug in the app that just needs to be restarted to let you delete the app.
Whatever your reason may be for wanting to delete your TikTok account, the good news is that it's relatively straightforward. And the even better news is that if you change your mind, you have 30 days to reactivate your account. Hopefully, you found this article helpful and are now able to deactivate your TikTok successfully. But if you do continue using TikTok, you might find this tutorial on removing the TikTok watermark useful.