When you think of fashion photography, you may not think of your iPhone as the best camera option. But the truth is that your iPhone has a versatile, high-quality camera that is perfect for casual fashion shoots. Whether you're capturing a new look for Instagram, shooting outfits for your small business, or just having fun, the best camera is the one you have on you! Here are our best tips for using your iPhone for fashion photography.
What is fashion photography?
Fashion photography is a genre of photography designed to highlight clothing or accessories. This genre is most often used by magazines and clothing companies, but fashion photography is also being used by Instagrammers, models, and small businesses. And while Vogue may not be using iPhones for professional photoshoots, smartphone photography is perfectly acceptable for most fashion shoots.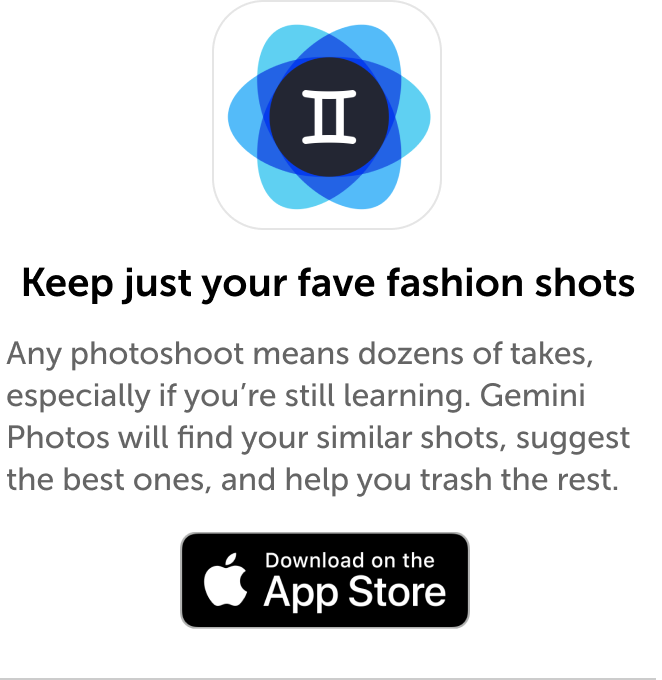 The 4 types of fashion photos
So, you're ready to delve into the world of fashion photography with your iPhone but don't quite know where to begin. You may find it helpful to learn about the various types of fashion photography and choose one that fits your personal style. Here's a description of the four main types of fashion photography.
Catalog photography: Catalog photography is a type of product photography. The main purpose of this kind of fashion shoot is to sell clothing or accessories. Yes, you use a model for catalog photography, but the clothing is emphasized more than the person wearing it.
High fashion photography: If planning a glamorous fashion shoot sounds appealing to you, consider the world of high fashion photography, where every aspect of the shoot is controlled and styled. Because high fashion photography includes carefully curated models, hairstyles, clothing, makeup, and locations, it isn't often used by iPhone photographers. If you are going to spend the time and money to prepare for a high fashion shoot, you'll likely want a high-quality camera to go with it.
Street fashion photography: Street photography and fashion photography work extremely well together, especially for the casual iPhone photographer. Street fashion shoots will often focus on regular people wearing regular clothing. As such, you don't have to worry as much about fancy hair or makeup preparation. This is also a common genre of photography for influencers on Instagram.
Editorial fashion photography: Want to tell a story with your fashion photography? Editorial fashion shoots are usually created as part of an overall theme. While clothes and accessories are important, the main focus is the person wearing them and what they are doing. Instagram influencers use editorial fashion photography to emphasize the story behind the person or brand they are highlighting. For example, if you are focusing on a pair of hiking boots, you would plan your fashion shoot on a hiking trail in the mountains.
Fashion photography tips for a home shoot
If you want to control every element of your fashion shoot, you should probably start by creating a setup that you can easily use at home. At-home fashion shoots are great for catalog photography, in which capturing clothing in good light is more important than the setting.
You can use any room in your house as the backdrop for your fashion shoot. Or you can set up a studio in your home that you can customize with the appropriate backdrop and lighting. How you choose to create your at-home setting will depend on your photography style and the look you are going for. Here are some fashion photography ideas for the at-home photographer.
Tip 1: Invest in portable lighting to use at home
Lighting is crucial when shooting fashion photography. And if you want to capture sharp images that stand out, you will have to use an artificial light setup. We recommend starting with a mono light, which can be used as a high-powered flash or a lamp, depending on the look you're after. A single light source should work well for most fashion shoots. This Neewer Professional Studio Flash Monolight can be mounted on a light stand, with or without an umbrella to help direct the light.
Tip 2: Buy or create neutral backdrops to reduce clutter in your photos
Unless you are using an empty room with plain walls, your backdrop will be the most important piece of equipment you use to stage your fashion shoots. You can buy backdrops that are meant for studio photography. Or you can get creative and use large pieces of fabric to craft your backdrop. A 12-foot long backdrop is suitable for most full-body fashion shoots, with about 4 extra feet to drape on the floor. You can easily hang different backdrops by using wall hooks in your studio. This is far easier than trying to set up your backdrop on a stand.
Tip 3: Use a tripod and a remote shutter for sharp photos
With fashion photography, your photos must be sharp and in focus. The best way to ensure that your photos aren't blurry is to set your iPhone up on a tripod and use a remote shutter. Small tripods like this one from Joby can be used on a counter or a table, making them both portable and versatile. To further reduce the risk of out-of-focus photos, use a remote shutter. You won't have to touch your screen at all after you've framed your shot.
Tip 4: Use unconventional camera angles
Here's the little tip that's going to set your fashion photography apart from the rest. Find a unique camera angle that highlights your subject and the clothes you are trying to highlight. Most photos are shot from eye level, the angle we all look at the world through every single day. That means you can easily shake things up by getting down low or up high to capture your subject from an unconventional place. Even shooting from the hip will offer a slightly different and more interesting view, we promise.
Tip 5: Create movement in your photos
Capturing photos of clothing is fun because the fabric can drape, flow, and rustle when your model moves. Capturing that movement will make the viewer feel like they are part of the scene. Start by asking your model to move slowly and purposefully based on how the clothes they are wearing make them feel. Long, flowing dresses and skirts will show more movement than a pair of skinny jeans. But the goal is to capture the clothing in action. You can also add a bit of a breeze with a small fan so your model's clothing and hair moves naturally.
How to shoot outdoor fashion photography with an iPhone
Outdoor fashion shoots are great for all types of fashion photography, provided you take the time to find a good location and plan ahead for an abundance of natural light. Here are some fashion photography ideas for outdoor photoshoots.
Tip 1: Scout locations for your fashion shoot ahead of time
One of the best parts of outdoor fashion shoots is how creative you can get with your locations. From grungy graffiti walls to mountain vistas, choosing the right location for your shoot is half the fun! Choose your location to fit the clothing and accessories you are capturing. Or go rogue and mix things up by shooting evening attire on the edge of a river or a swimsuit on a high-rise balcony. Keep a running list of your favorite locations on your phone. That way, you'll never run out of cool spots for your fashion shoots.
Tip 2: Get out early or stay out late
There are numerous benefits to planning for early-morning or late-evening photoshoots. If you get out early enough, you can minimize the distractions of having too many people around while you're taking photos. Urban fashion photography is great at sunrise. You'll capture that golden glow from the sun, as well as a fresh street scene that is quiet and controlled.
Another option is to head out after sunset for unique night shots using lights from the city. If your iPhone has the Night mode feature, you'll find that it does a great job of capturing your subject in low light. For night photos, be sure to use a tripod and ask your model to keep movement to a minimum.
Tip 3: Use a reflector to direct sunlight
Natural sunlight is one of the best ways to show off the clothing that you're photographing. A reflector will help you direct that sunlight exactly where you need it most. There are several different ways to position your model in relation to the sun and a reflector:
Position your model with the sun behind them. Then use the reflector to bounce the light back onto them.
Position the reflector underneath your subject so that the light bounces upward to eliminate deep shadows.
If you find yourself in dappled shade, you can use a reflector to even out the light source. Simply place the reflector in front or partially in front of the sun so that the light is blocked.
Tip 4: Use Portrait mode for a softer background
One of the best parts about shooting with a DSLR is being able to adjust the aperture for a shallow depth of field. In layman's terms, this simply means narrowing the area that is in focus so that the background is soft while the main subject is sharp. Portrait mode helps you achieve this effect on your iPhone. And it is a great way to soften a busy background during your fashion shoot.
Tip 5: Bring along props to make your fashion photography more interesting
During your fashion photoshoot, you will likely have one or more outfits or accessories that you want to capture. And while those chosen pieces should be the highlight of your fashion photography, some additional props will help tell your story or add interest to your photograph. Bring along a selection of hats, umbrellas, and scarves. Brainstorm some objects that your models can hold during your shoot, and see how to integrate props in your photo.
Fashion photography is easy to learn but difficult to master. To improve your skills as a fashion photographer, you need to take lots of photos, experiment with different camera angles, and immerse yourself in the world of fashion.