If you're looking for ways to up your selfie game, you may want to look at your lighting. The lighting you use for your selfies can dramatically improve your photos, and one of the best investments you can make is in a selfie ring light for your iPhone. But do selfie ring lights really make for better photos, and which one should you buy? Here's an overview of how to use a ring light, plus the 10 best selfie ring lights available right now.
How to take better selfies with a selfie ring light
A selfie ring light is a circular light that fits around your iPhone camera lens to help create evenly lit images in all types of lighting conditions.
What does a selfie ring light do?
Selfie ring lights are small, portable devices that come in handy for all types of photography but are mostly used for selfies. They provide warm, even light that is designed to be flattering for selfies. Not only do selfie lights provide flattering light, but they also work to reduce noise and blur in your photos.
Are selfie ring lights worth it?
Whether or not selfie rings are worth the investment depends on how often you take selfies and whether you are concerned about the quality of your photos. If you enjoy taking selfies and are committed to taking high-quality photos, then selfie rings are absolutely worth the money. The selfie ring lights mentioned below come in at varying price points, but many of them are quite affordable.
How to use a selfie ring light
Most selfie ring lights are designed to fit around your iPhone's camera lens. Some come attached to an iPhone case, some clip onto your phone, and others are mounted on a stand or tripod. Using a ring light is easy. Here are step-by-step instructions for using a selfie ring light with a tripod:
Mount your iPhone to a tripod or stand and attach the selfie ring light, following the manufacturer's directions.
Adjust the height of your stand or tripod according to your needs.
Position your phone inside the selfie ring light using either landscape or portrait orientation.
Open your Camera app and adjust the camera as necessary.
Turn on your ring light and adjust the brightness if your light has that feature.
When everything looks good, tap the shutter.
What's the best selfie ring light for iPhone?
When it comes to choosing the best selfie ring light for iPhone, you've got hundreds of choices. Finding the perfect light can be overwhelming, so we've narrowed it down to our top 10. The first 5 are portable selfie ring lights that can be clipped onto your iPhone or come as part of a case. The last 5 come with a tripod for hands-free selfies, conference calls, and vlogging.
1. QIAYA Clip-on selfie ring light
This compact and lightweight clip-on selfie ring light is affordable and portable, making it the best LED selfie ring light for everyday use. It includes a built-in rechargeable battery that can be easily charged with a USB cord. Three-level light settings make it easy to adjust the ring light for different lighting situations. Clip it onto your iPhone for flattering selfies, your computer for conference calls, or above your bathroom mirror for applying make-up.
QIAYA Clip-on selfie ring light on Amazon
2. Clip-on selfie ring light with three light modes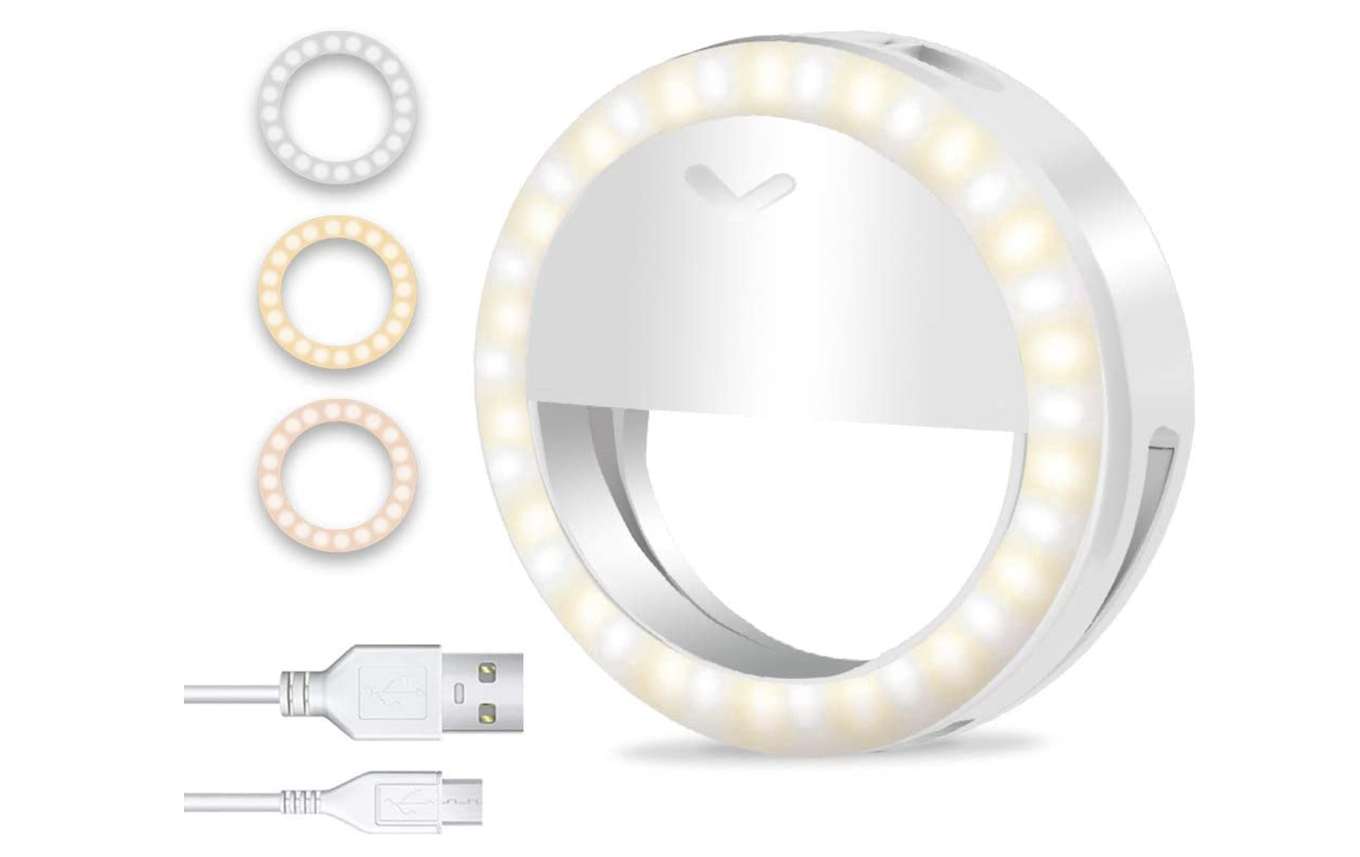 Here's another easy-to-use ring light that can be clipped onto your iPhone to surround the camera lens. The ring includes three lighting tones — warm light, white light, or warm white light — that can be adjusted from 1% to 100% intensity. The rechargeable battery can be recharged with an included USB cable. Create beautiful selfies anywhere with this compact selfie ring light for iPhone.
3. Vanjunn selfie light-up case: For iPhone X and Xs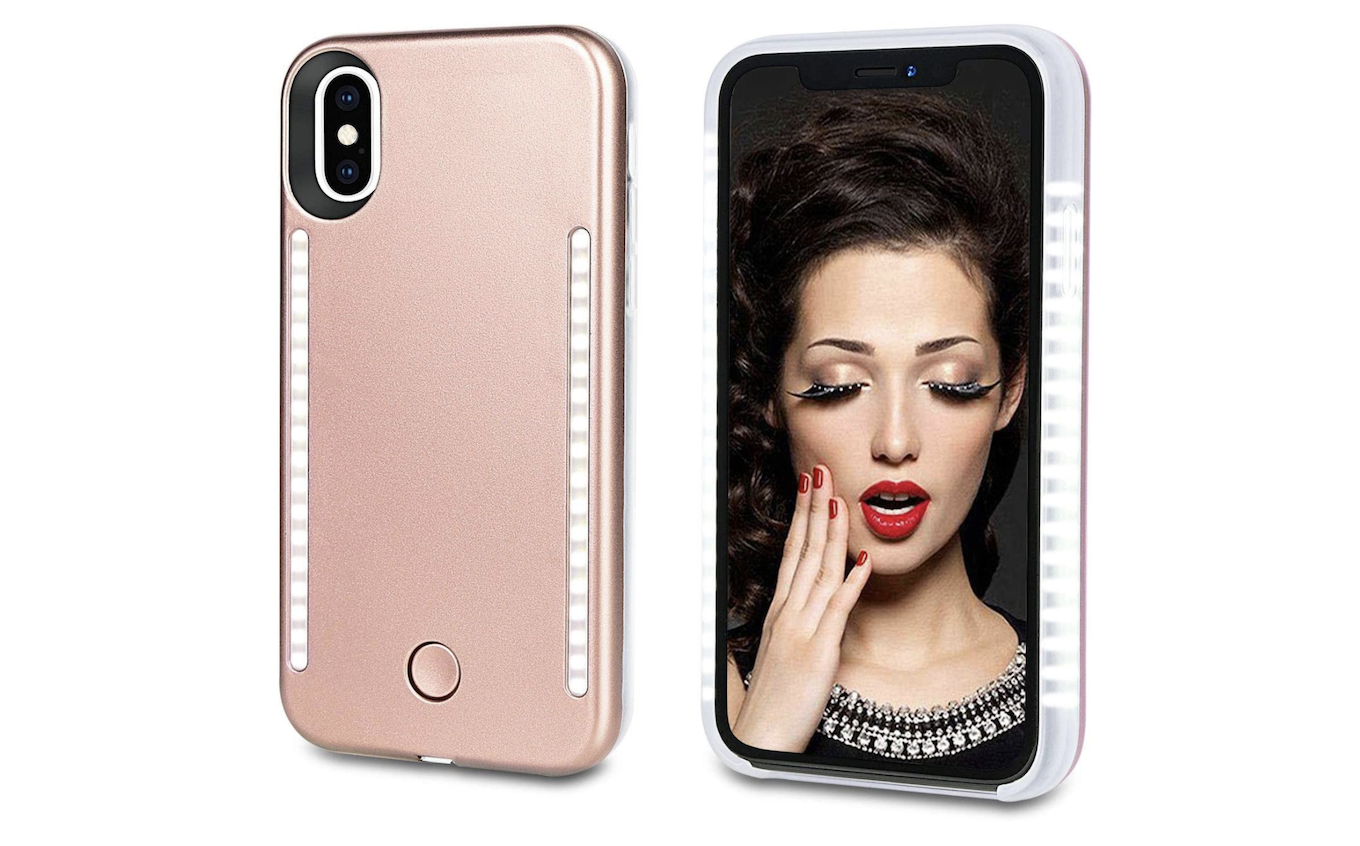 While not technically a ring light, this light-up selfie case works the same way as a traditional ring light. And because it's built right into your iPhone case, you can be sure that it will always be with you. Not only is the LED light perfect for selfies, but it will also be useful for conference calls, Snapchat, and vlogging. The case is made from impact-resistant plastic to keep your phone safe, and the battery is easily charged with a micro USB cord. This model is specifically for the iPhone X or Xs, but Vanjunn makes models for newer iPhone models as well.
Vanjunn selfie light-up case on Amazon
4. Luumix 60-LED selfie ring light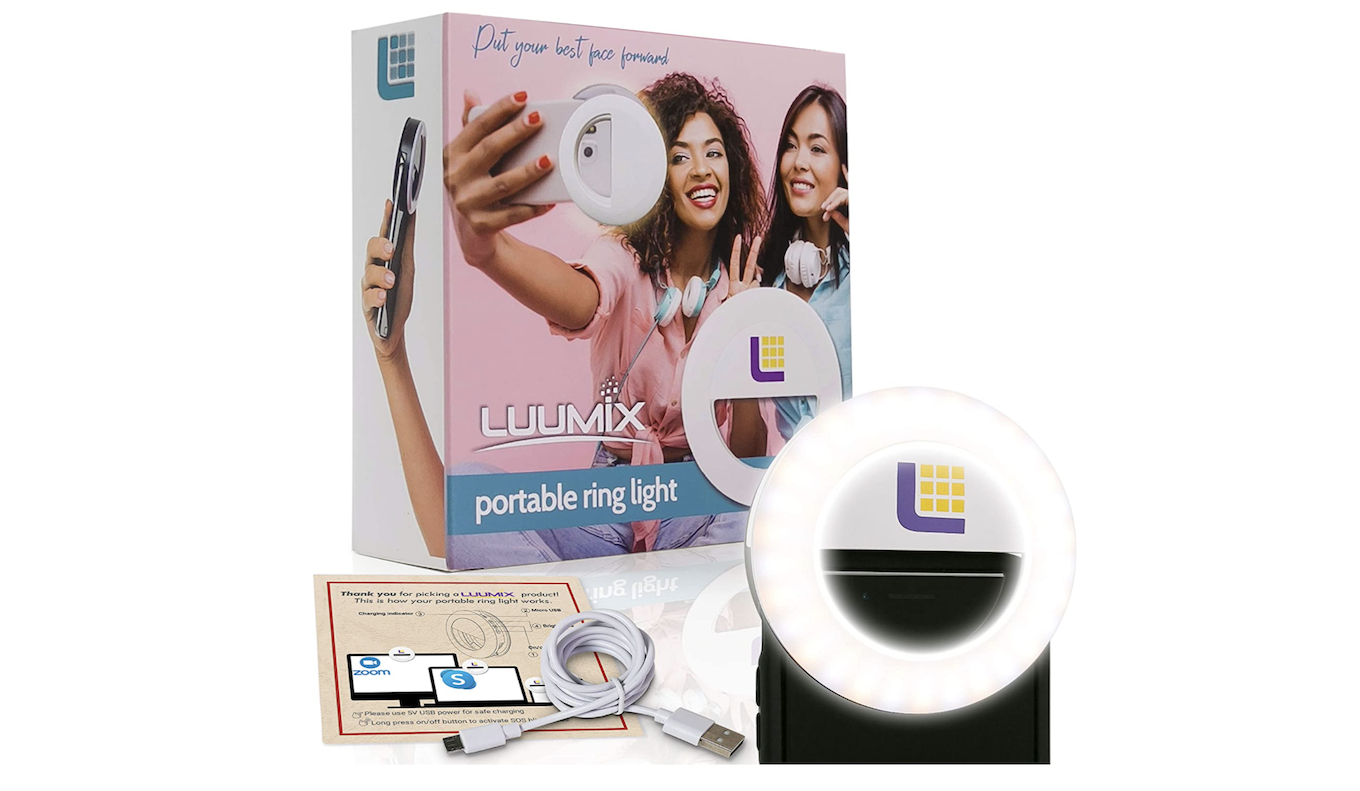 Flawless iPhone selfies can be yours with the 60-LED selfie ring light by Luumix. The light is 3.5 inches, making it extremely portable and easy to use. You can adjust the warmth of the tone and the intensity and clip it onto your iPhone, tablet, or computer. The rechargeable battery lasts about 2 hours and can be recharged with a USB cable.
Luumix selfie ring light on Amazon
5. iPhone selfie stick with ring light and remote shutter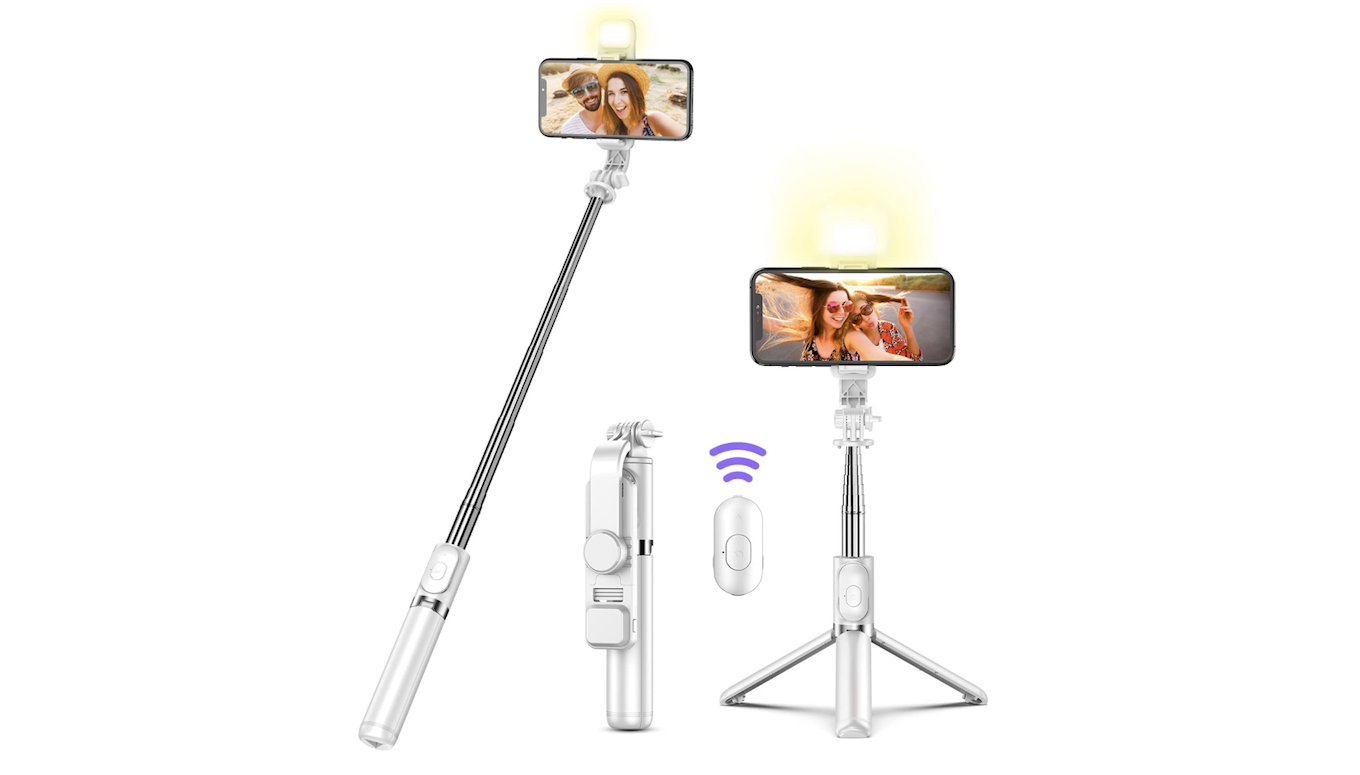 This portable selfie stick and tripod includes a remote shutter and a camera mount with a built-in selfie ring light, making it perfect for travelers. The adjustable selfie stick has a rotating head for shooting different angles and extends to 28 inches. Three light modes provide flattering light for most situations, and the whole thing weighs 4.8 ounces and folds down to 7.6 inches.
Selfie stick with ring light on Amazon
Top 5 selfie ring lights with a tripod
Looking for an all-in-one solution for taking selfies, vlogging, or hopping on conference calls with perfect lighting every time? The following ring lights include a selfie ring light stand or tripod for professional photo and video work.
6. UBeesize 12-inch ring light with tripod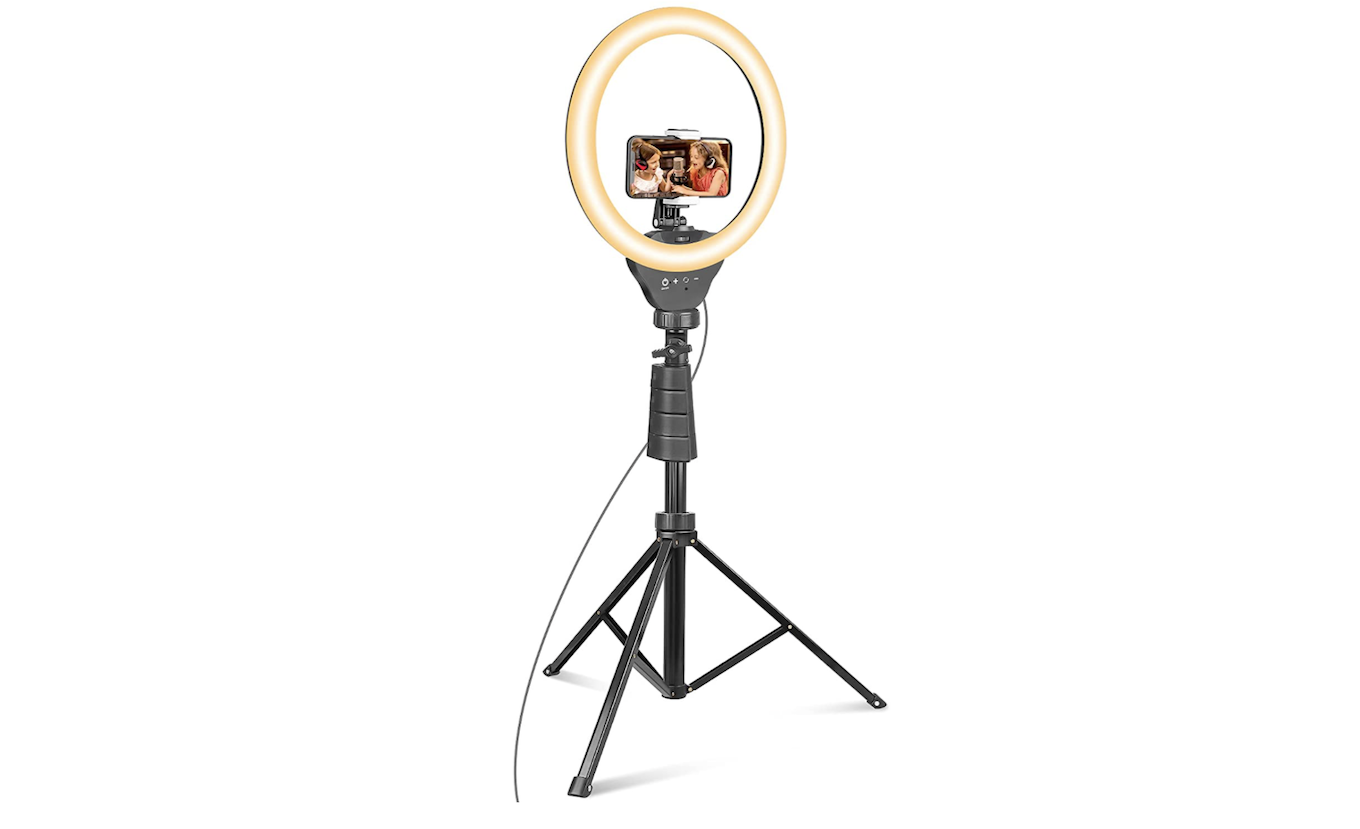 This UBeesize selfie ring light includes everything you need to take flattering selfies right out of the box. This rugged 12-inch ring light with 20 watts of power from 240 LEDs is larger than your average clip-on-light and bright enough for portraits in low-light situations. The light includes five color temperatures and 10 brightness levels ranging from 10% to 100%. The tripod doubles as a 67-inch selfie stick and works in landscape or portrait mode.
UBeesize 12″ ring light on Amazon
7. Yesker 10-inch selfie ring light with stand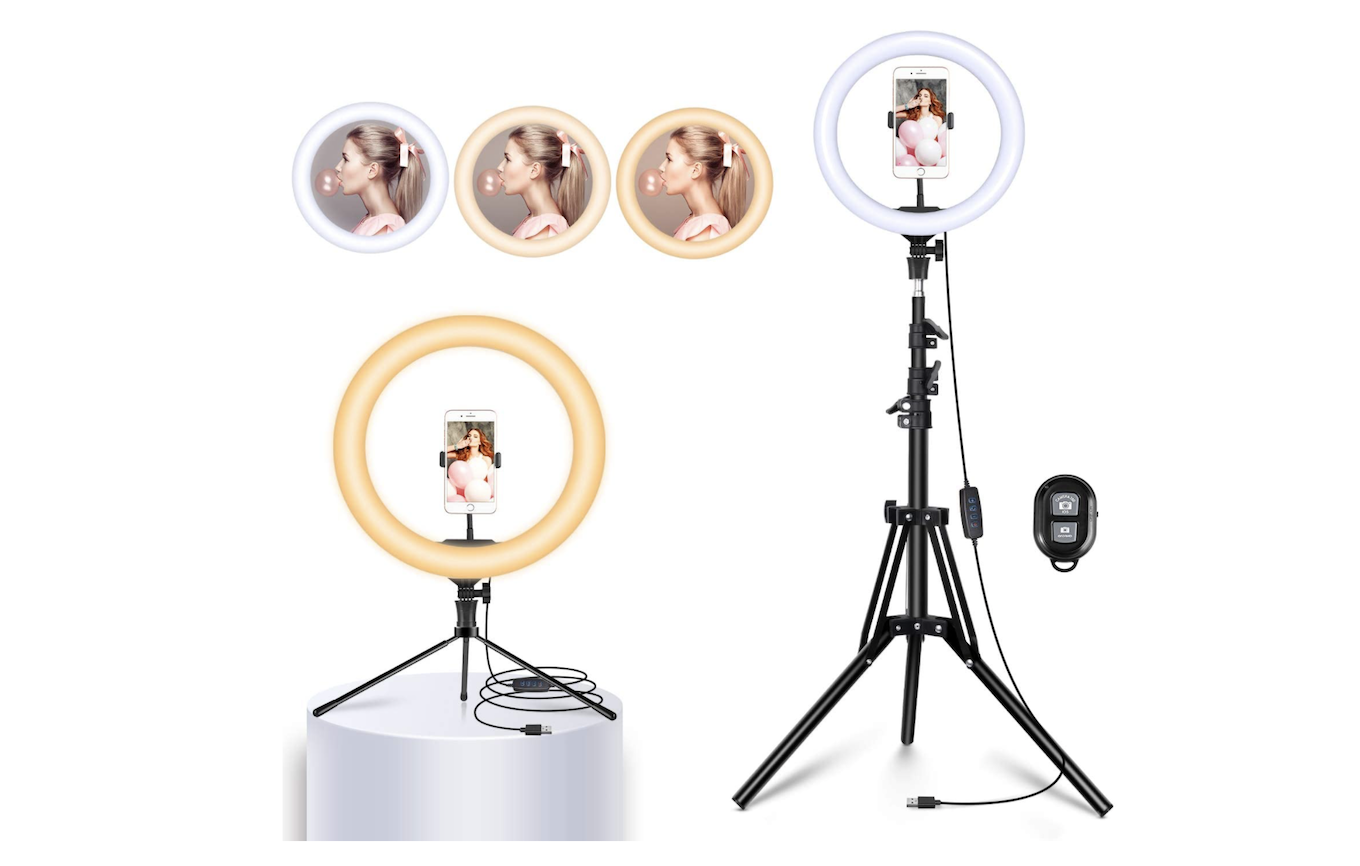 This 10-inch Yesker selfie ring comes with two stands — a small tripod for tabletop work and a floor stand that is adjustable from 22.8 inches to 51 inches. You can even use both stands at once if you need multiple camera angles for your photography or video projects. The ring light can be adjusted for different color tones and brightness levels with 3 light modes, and a remote shutter is included for hands-free shooting.
Yesker selfie ring light with two stands on Amazon
8. 13-inch selfie ring light with 48 RGB colors modes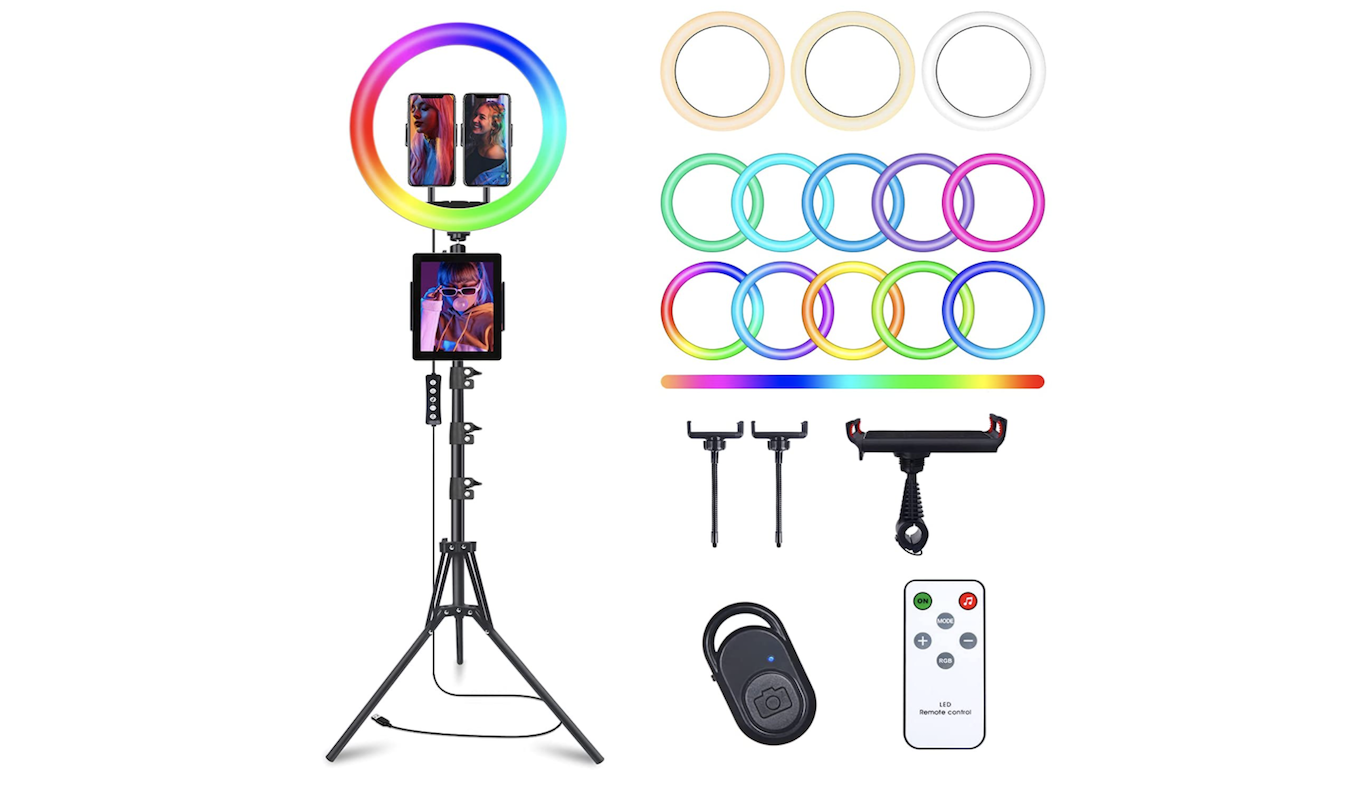 This 13-inch ring light with stand has some fun features that you won't find on other models. Not only does it feature traditional light settings — warm, cool, and bright white — but it also implements every color of the rainbow for cool photography effects. Lights can be set to pulse in time to music, and the tripod extends from 15.7 inches to 63 inches for versatile shooting. A remote shutter is included, as well as a separate remote for using different modes on the ring light.
Colored selfie ring light on Amazon
9. Neewer ring light kit: 18-inch dimmable LED ring light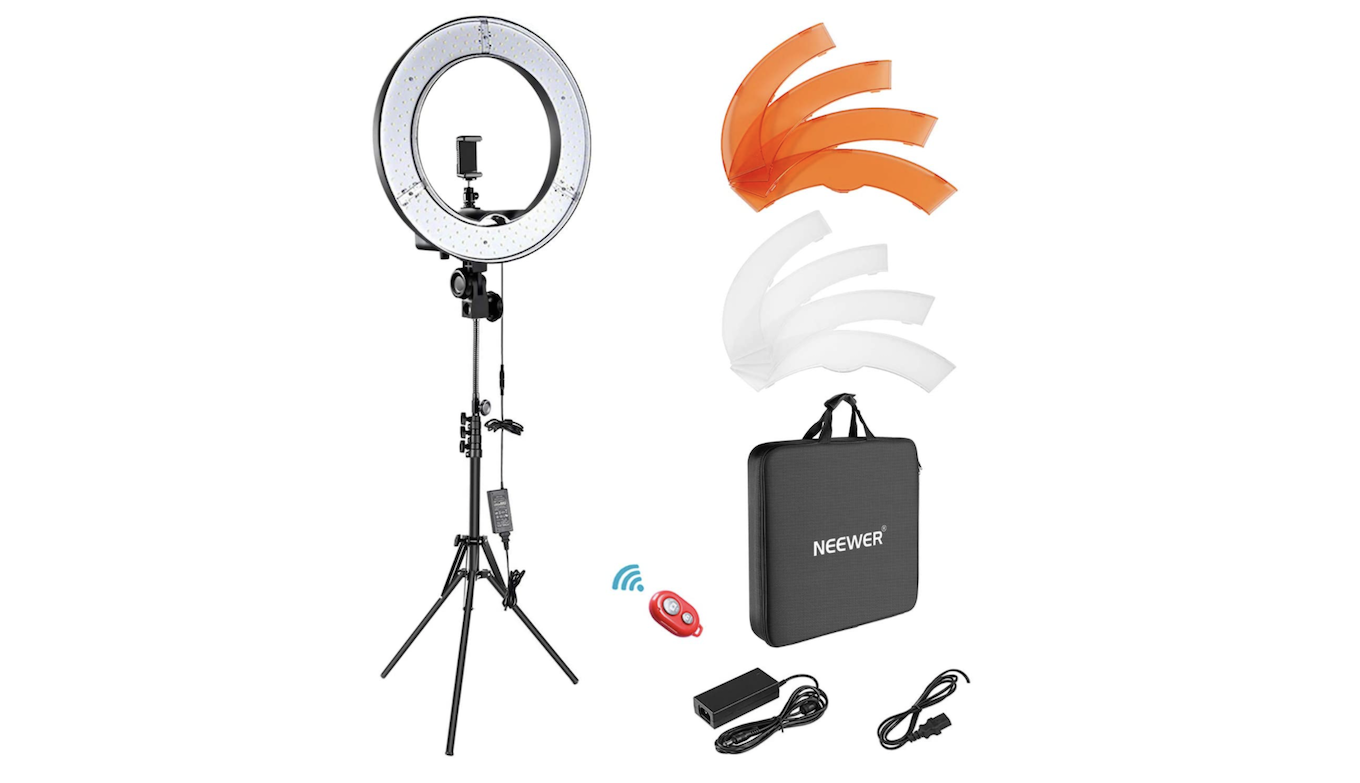 Neewer is a trusted name in photography equipment, and this quality selfie ring light is 18 inches in diameter and comes equipped with 240 dimmable LEDs. The tripod is made with aluminum alloy for durability and can be extended to 61 inches. The kit also comes with an orange and white color filter, a universal power adapter, and a mount for your phone. Everything fits compactly into a carrying case for travel. The Neewer selfie ring light kit is ideal for professional photographers.
Neewer selfie ring light on Amazon
10. Dual selfie ring lights and phone stand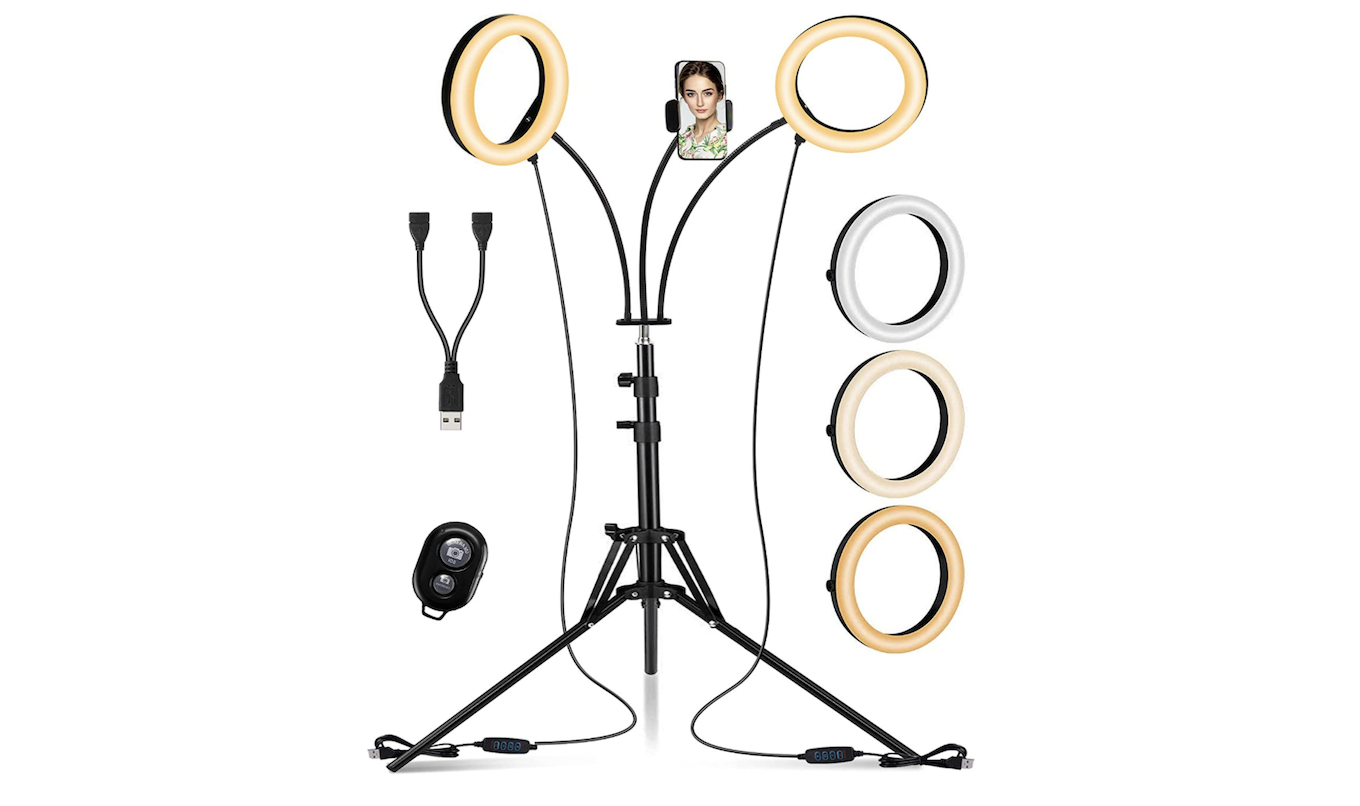 Our final recommendation features dual selfie ring lights mounted on a single stand — perfect for make-up tutorials, product photography, and, yes, selfies. Dual 8-inch ring lights are mounted on flexible gooseneck arms and feature 3 color-lighting modes. A third flexible arm in the middle includes a mount for your iPhone. The whole setup is attached to a six-foot extendable tripod, and a remote shutter is included.
Dual selfie ring lights on Amazon
If you're looking for an easy way to take better selfies, try adding a selfie ring light to your photography tool kit. The investment is small, but the payoff of having perfect lighting every time is huge. And if you're also shooting product photography and other small object, try using a lightbox for the same effect.