When was the last time you took a photo with your iPhone? We're betting it was yesterday or today — maybe just hours or even minutes ago. Here's another question. When was the last time you printed photos from your phone? For many iPhone users, the answer might be "never!"
Digital iPhone photography is as simple as tapping your screen whenever the mood strikes, but what good is taking all those photos if you're the only one who ever sees them? Use the humble photo printing app, which allows you to order and print high-quality photos from your iPhone and have them delivered to your door.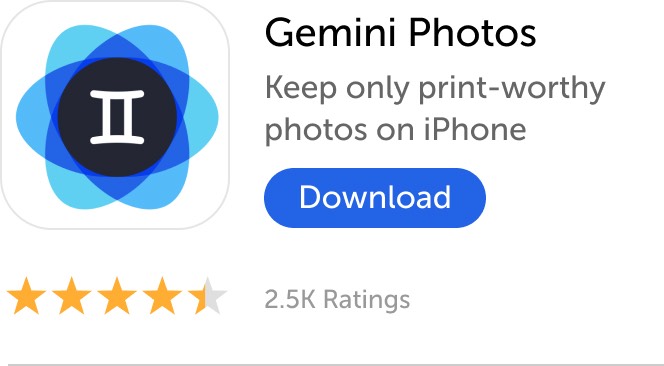 8 apps to print high-quality photos from iPhone
Ready to take the next step and have your favorite photos printed from your iPhone? These are the best photo printing apps available right now for iPhone:
Shutterfly
Snapfish
FreePrints
Mixtiles
Print Studio
Printastic
Walgreens
Nations Photo Lab
1. Shutterfly: Best iPhone printer app for cards and gifts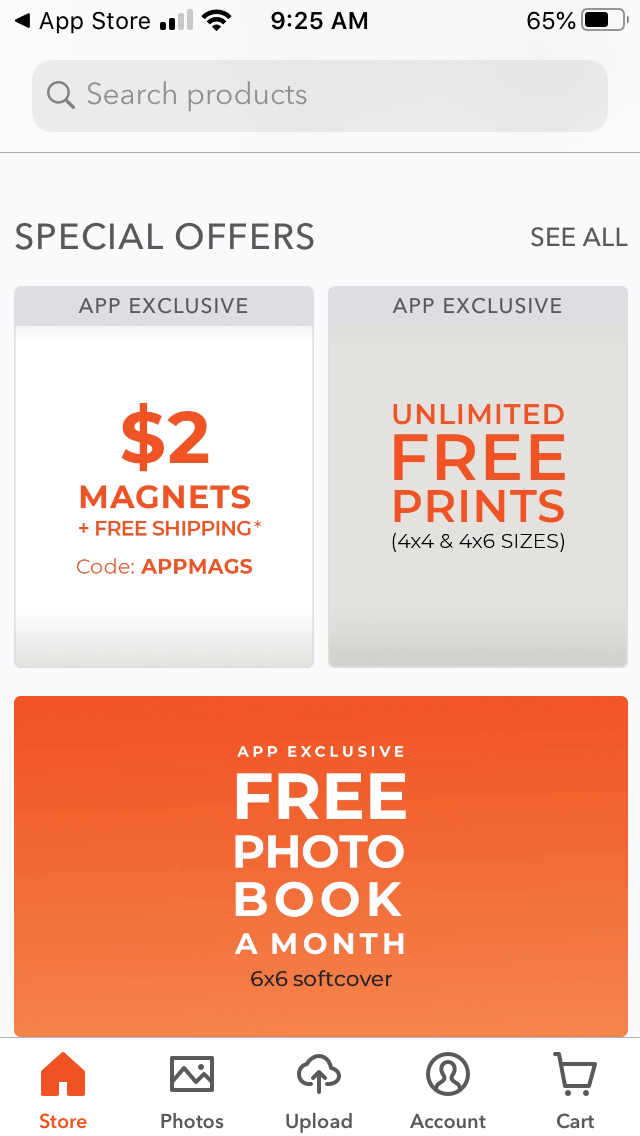 There are a lot of reasons to love the Shutterfly photo printing app. With the Shutterfly app, you can upload photos directly from your Camera Roll or from Facebook, Instagram, and Google Photos. Unique photo gifts include puzzles, magnets, fleece blankets, mugs, and more.
Once you create an account, you can take advantage of sales and discounts on prints, cards, gifts, and calendars. Promotional deals change throughout the seasons, but it's not uncommon to receive unlimited free prints, free photo books, and huge discounts on photo cards.
2. Snapfish: Best app to print photos from your iPhone
Snapfish is another reliable photo printing app that is very similar to Shutterfly, offering the ability to order prints from your iPhone, as well as a range of gift items, including blankets, pillows, mugs, puzzles, and playing cards. Print options are also quite extensive, allowing you to choose from a huge variety of sizes and finishes for a personalized touch. 
Like Shutterfly, Snapfish offers deals and promos all the time, as well as free shipping if you spend over $29.
3. FreePrints: Best free printer app for iPhone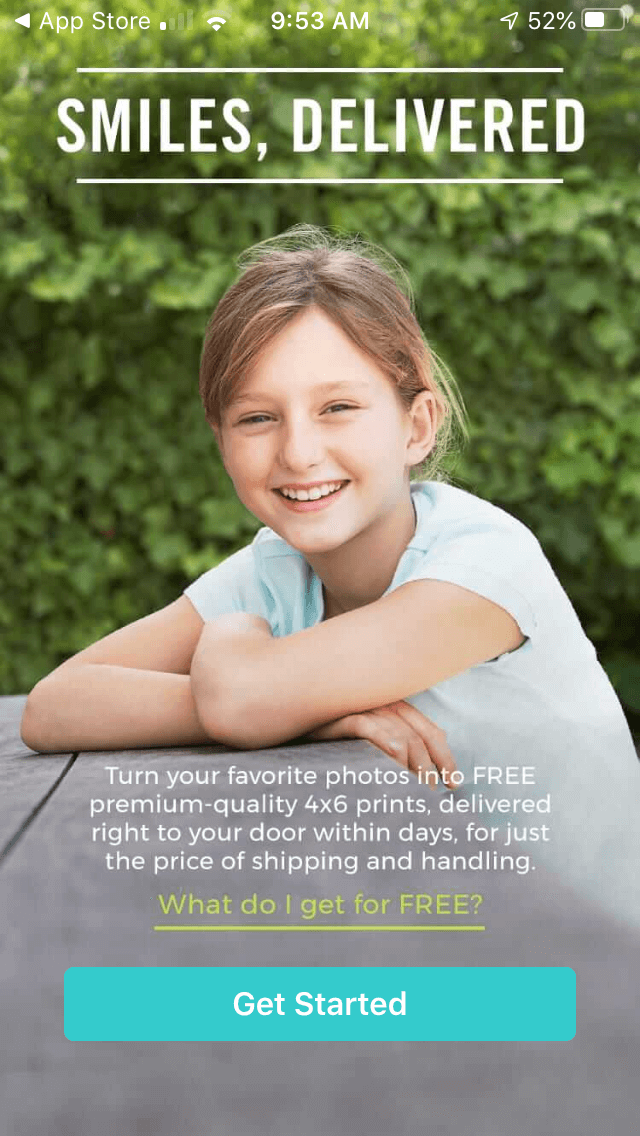 With FreePrints, you can quickly and easily turn your photos into premium 4×6 prints for just the price of shipping and handling. To get started, choose which app you want to print your photos from — your Photo library, Facebook, Instagram, Google Photos, and many other platforms are supported.
You can order up to 1,000 free prints every month, but large sizes will cost extra. Unlike many other apps, FreePrints does not have a huge line of photo gifts — just high-quality photo printing for an unbelievable price. It's the perfect no-fuss app for simple photo printing.
4. Mixtiles: Best photo printing app for Instagram users
If you are one of the millions of people using Instagram to document your days, you will love Mixtiles. Take those tiny squares that represent family, friends, and fun, and turn them into 8×8 tiles you can stick on your wall.
Mixtiles are removable, reusable, and leave no marks, so they're perfect for on-the-fly decorating of any space in your home or office. In fact, using Mixtiles is probably the easiest way to take your photos from your Instagram gallery directly to your at-home gallery. Choose from different frames and mat designs for a style that fits your unique space.
5. Print Studio: Best photo printing app for retro-style photo booth prints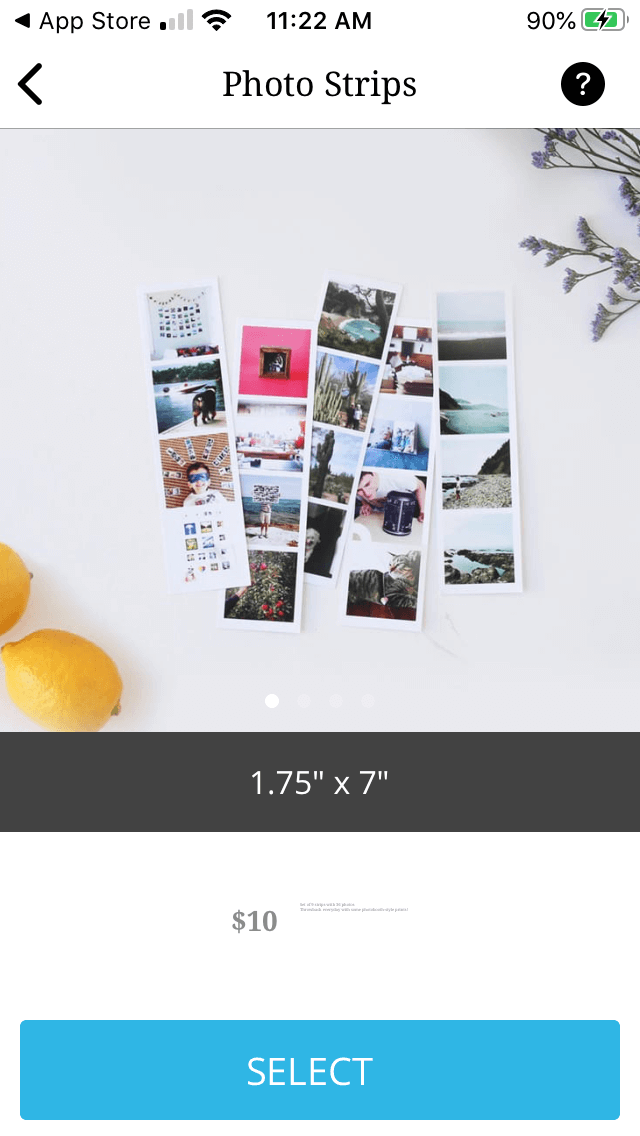 On the surface, Print Studio may seem like just another free app to print photos from iPhone, but some of the prints and photo gifts are one-of-a-kind. Retro photo booth prints are just one example.
With Print Studio, you can create fun film strips in various sizes that are perfect for sharing with friends and family. Other fun products include daily calendars, grid posters, and mini photo books. Of course, classic print sizes are also available, with an emphasis on high-quality, natural-looking photos that are suitable for framing.
6. Printastic: Best photo printing app for easy photo books
Printastic takes all the guesswork out of creating beautiful photo books from the photos on your iPhone. The Printastic app uses an algorithm to analyze your photos and find sets of related shots to create a photo book with a unique layout to maximize space. Photo prints, canvases, and magnets are also available.
Photos are printed on premium Kodak paper in glossy or matte finish. The app is intuitive and easy to use, and prices are affordable, making Printastic a great app for printing photos from your iPhone. 
7. Walgreens: Intuitive app for quick photo printing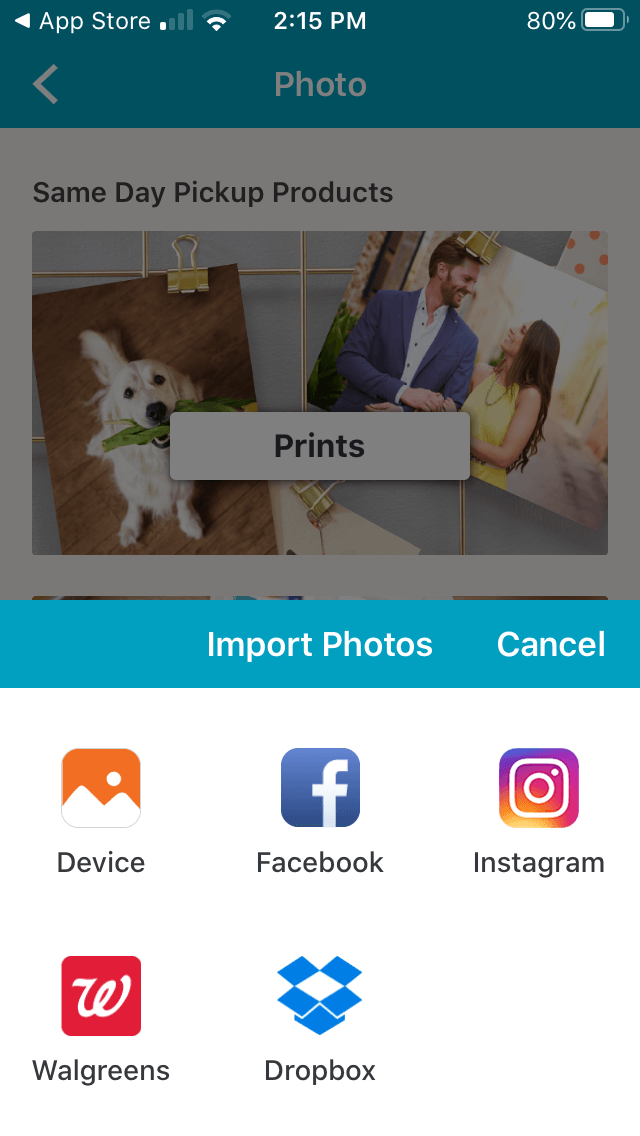 Need your high-quality photo prints quickly? If you live near Walgreens, you can download the Walgreens photo printing app and have your photos printed for same-day pickup. This is one of the most popular ways to print photos from your iPhone, and it is especially useful if you need them immediately. 
At Walgreens, you can purchase prints in a variety of sizes, as well as photo books, calendars, and cards. Promo codes and discounts are widely available, making easy photo printing quick and affordable.
8. Nations Photo Lab: Best photo printing app for high-quality prints
Nations Photo Lab is passionate about creating the highest-quality photo prints available. The company prides itself on excellent customer service, a full money-back guarantee, and a variety of creative print options for amateur and professional photographers alike. Print options include a variety of sizes, including large-format prints, as well as many different creative finishes. Choose from linen, metal, canvas, or acrylic prints that really stand out from the competition.
Nations Photo Lab on the App Store
With so many fabulous photo printing apps available for iPhone, printing photos is nearly as easy as not printing them. Photo prints are great for sharing, sending, gifting, and hanging. Give one of these apps a try to create memories that you can enjoy without looking at your phone.