There's no denying that the use of an iPhone tripod makes your photos better in so many ways. First of all, using a tripod reduces camera shake, producing sharper images. This is especially useful when shooting movement, including sports, running water, or wildlife, but it's also useful in low-light settings.
Using an iPhone tripod also allows you to put yourself in photos using the timer function on your phone. Simply set your phone on a tripod, set the timer, and tap the shutter.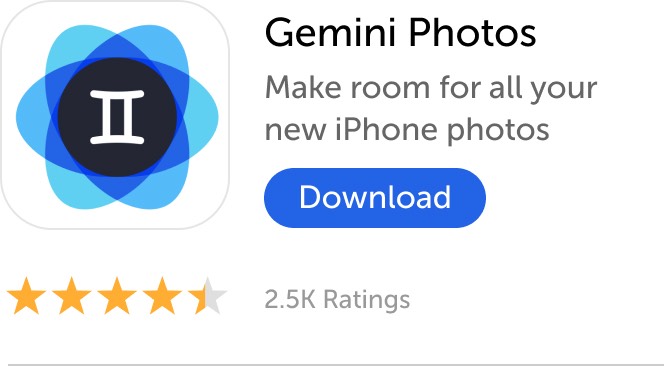 The iPhone tripods we recommend
There are many iPhone tripods available with different features and at different price points. So, we thought it would be helpful to recommend some tried-and-tested models. These are the best iPhone tripods for every type of shooting situation. 
UBeesize Phone Tripod
Kenu Stance
Fugetek Selfie Stick & Tripod
Joby GorillaPod Pro
Fotopro Tripod
UBeesize: Most affordable iPhone tripod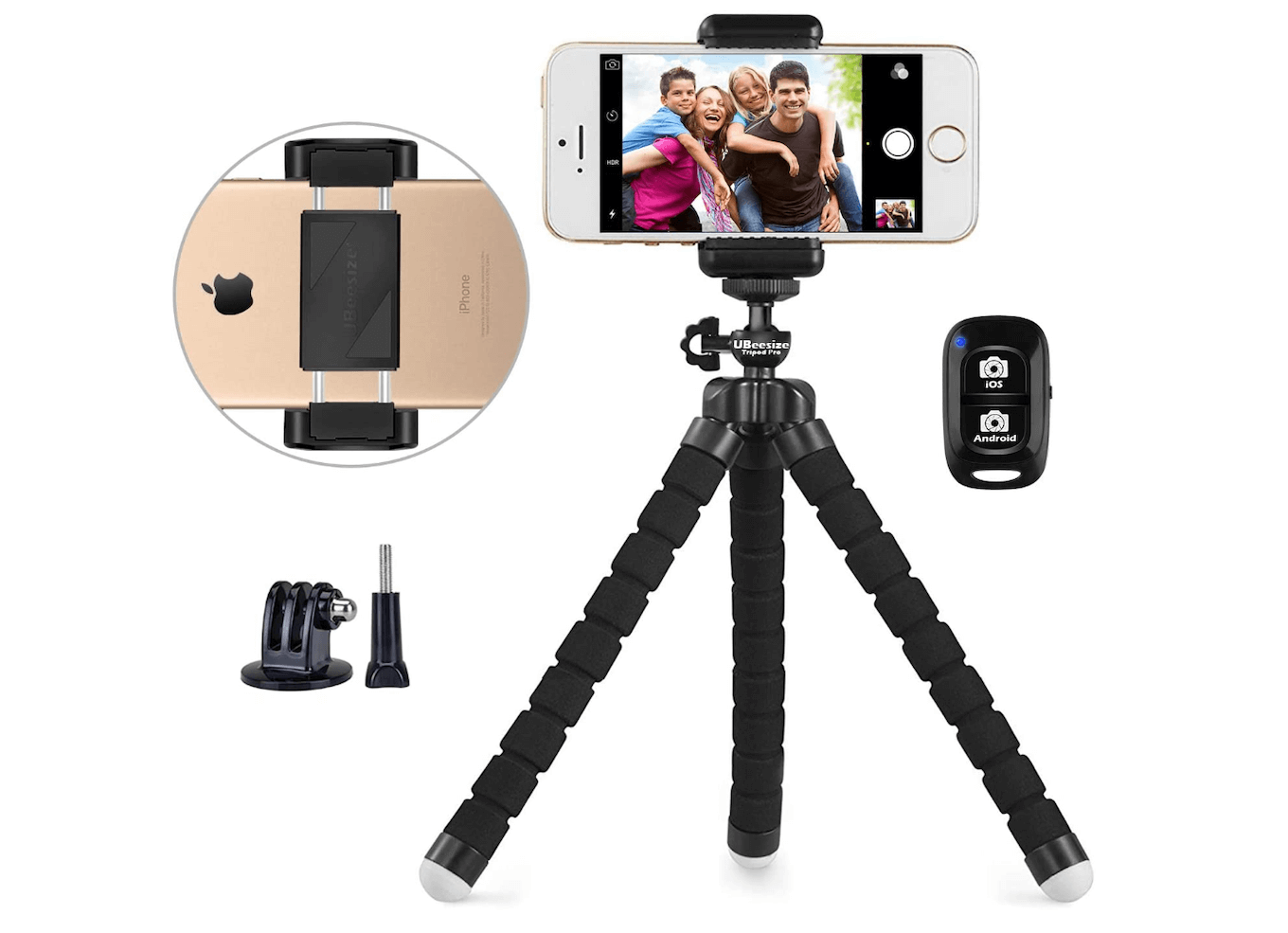 You don't need to spend a fortune to find a decent iPhone tripod that will keep your camera safe while taking photos. The UBeesize phone tripod is designed to be stable on any surface, with bendable legs and no-slip feet. As a bonus, the UBeesize tripod comes with a wireless remote. That allows you to snap photos from up to 30 feet away, which is great for group shots or wide-angle captures. Every UBeesize iPhone tripod comes with a lifetime service guarantee.
Kenu Stance iPhone tripod: Best lightweight iPhone tripod for travel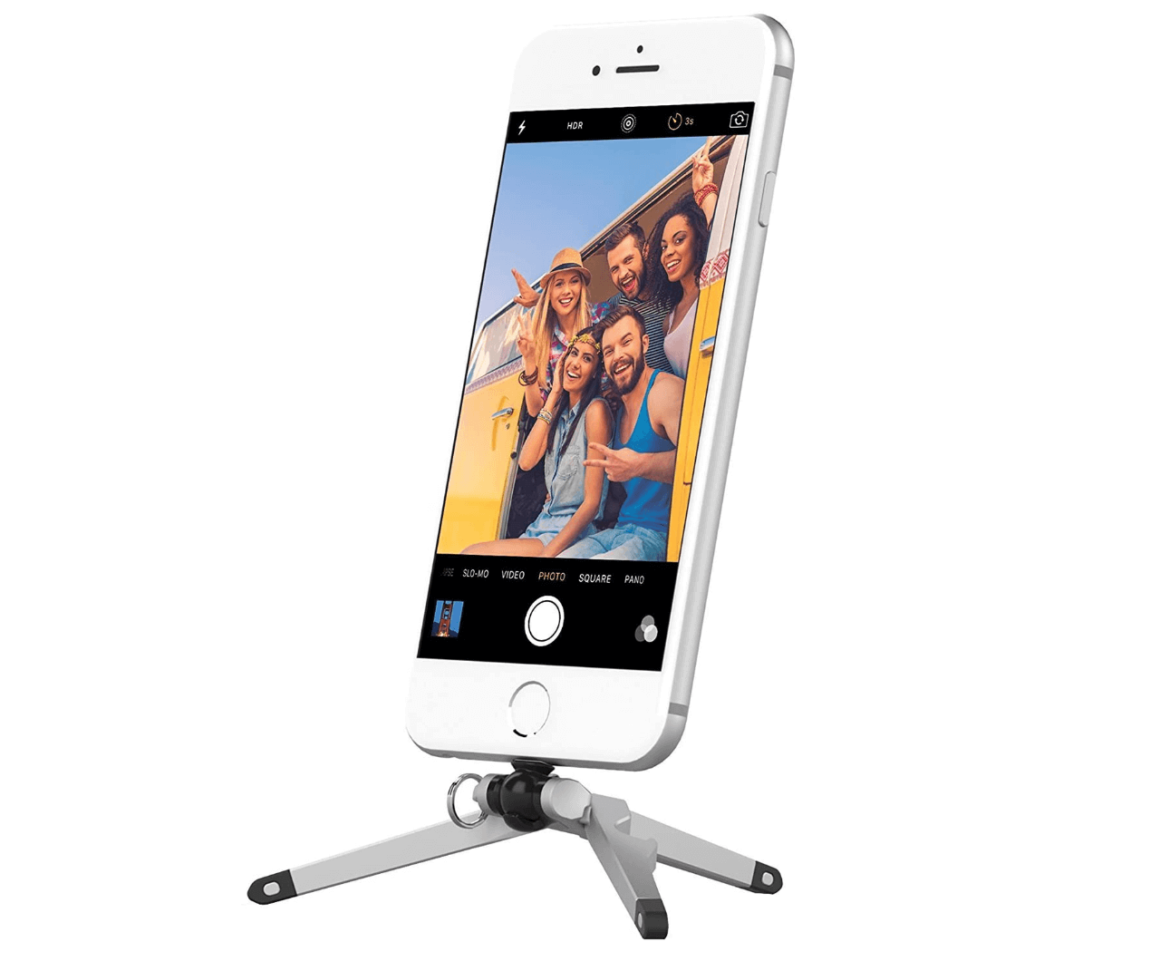 Weighing just 1.2 ounces, the Kenu Stance is a micro iPhone tripod that is perfect for times when you need something compact. This tiny tripod is smaller than a pack of gum and fits on your keyring, so it's always handy when you need it.
The Kenu Stance connects directly to your iPhone's lightning port. It can be tilted and rotated freely so you can find the perfect angle. Premium zinc-alloy construction and no-slip feet mean that your iPhone will remain secure and stable no matter where you take it.
Fugetek Selfie Stick & Tripod: Best tripod/selfie stick combo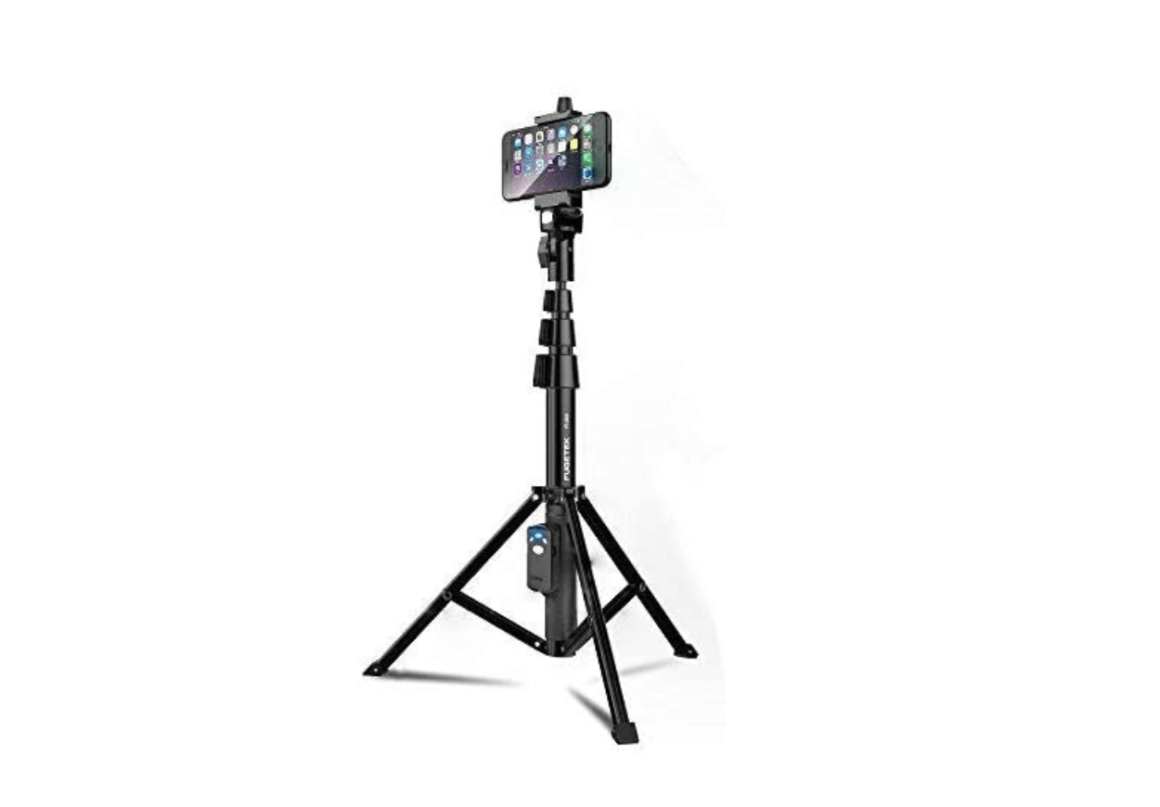 The Fugetek Selfie Stick & Tripod is made from heavy-duty aluminum. It includes a Bluetooth remote for Android devices and iPhones alike. As a selfie stick, the Fugetek extends 51 inches so you can find the best possible angle. A non-slip handle ensures a good grip in every situation. As a tripod, the Fugetek is stable and reliable, with non-skid feet. 
The Fugetek Selfie Stick & Tripod comes with a remote shutter, along with a rechargeable battery that lasts up to 300 hours on a single charge. It collapses down to 19 inches for easy storage.
Fugetek Selfie Stick & Tripod on Amazon
Joby GorillaPod Pro: Most rugged iPhone tripod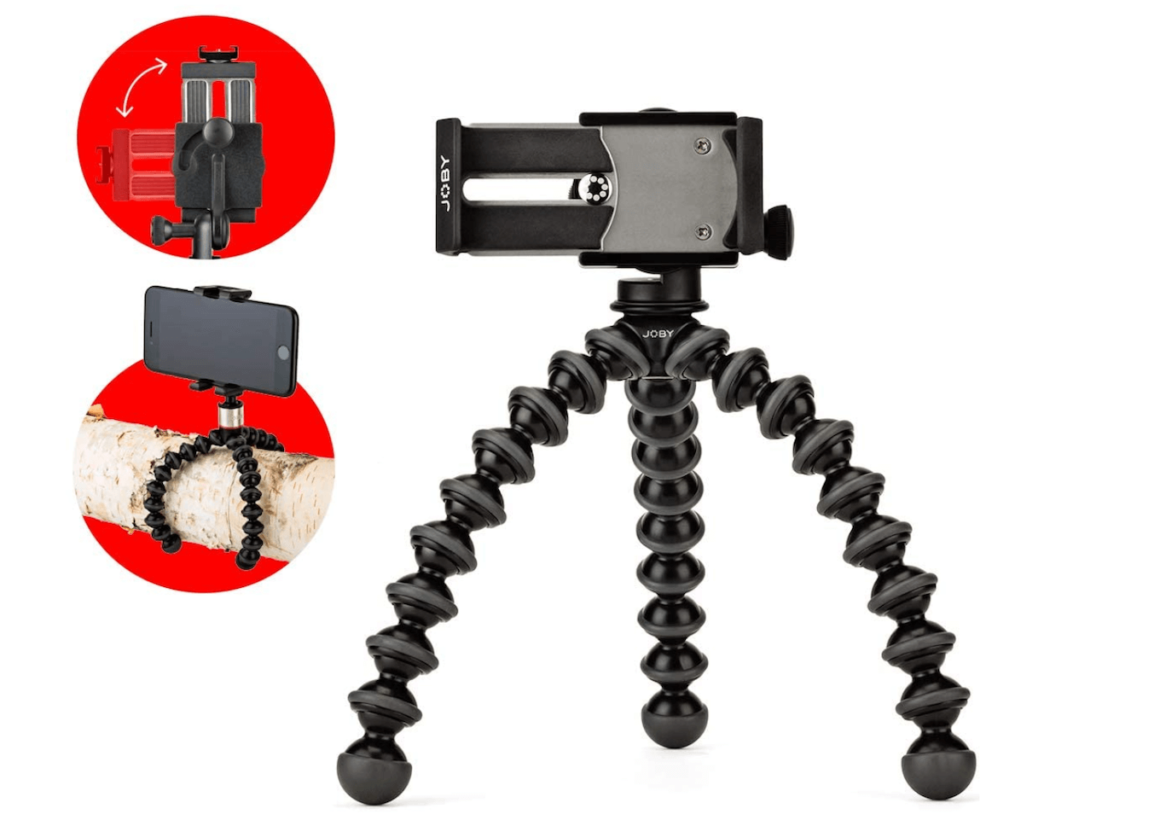 If you're looking for something rugged that will keep your iPhone safe in extreme situations, look no further than the Joby GorillaPod Pro. This small tripod fits all iPhone models with or without a case and is built with durable ABS plastic and TPE grip pads. Adjustable, bendable legs provide a secure hold from all kinds of positions, including wrapped around tree limbs or furniture. The Joby GorillaPod Pro is quite compact and suitable for travel, backpacking, and other adventures where space is at a premium.
Fotopro Tripod: Best iPhone tripod for shooting videos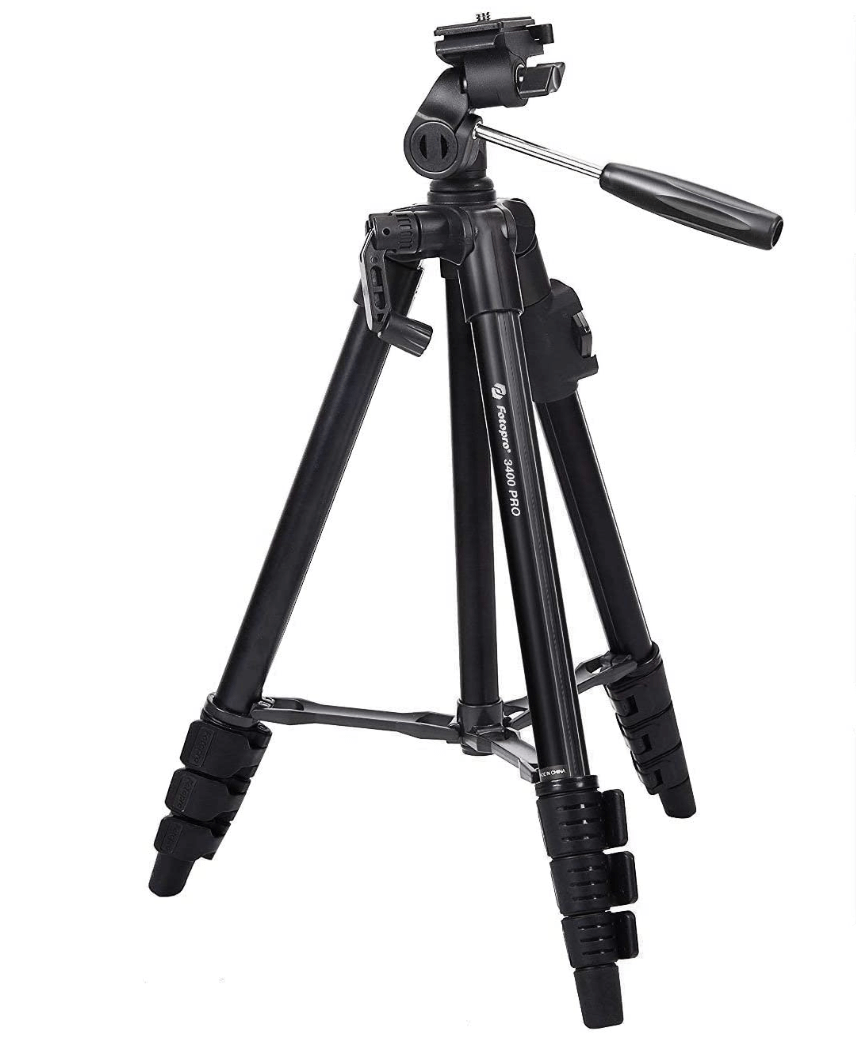 The 48-inch tall Fotopro Tripod works with your iPhone or your camera for incredible flexibility. The 360-degree smartphone tripod features a three-way pan head with an easily adjustable handle. Thanks to that, you can quickly follow your subject and change positions without introducing camera shake.
Height is adjustable from 15 inches to 47 inches. And non-slip rubber feet provide stability in a variety of shooting conditions. The Fotopro tripod comes with a quick-release plate for attaching a camera, as well as a phone mount and a Bluetooth remote shutter.
An iPhone tripod is a must-have accessory for every photographer, providing hands-free stability for many types of shooting situations. No matter what type of photography you practice, these iPhone camera stands are perfect for taking clear shots from every angle.