Backlighting is a photography technique that produces stunning results. Using creative backlighting, you can give your subject a subtle or dramatic glow that seems to radiate outward from the edges. In reality, backlighting techniques are difficult to master but 100% worth the effort.
Using natural or artificial background light in photography can be used to create a warm glow in portraits, animal shots, and even some landscapes. Backlighting can also be used to make dramatic silhouettes. Here's an overview of backlight photography and how you can use it to create stunning images.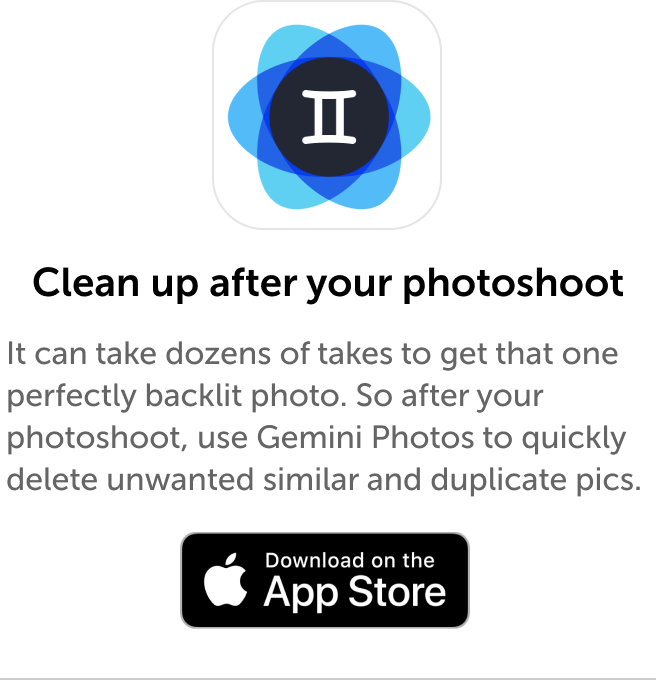 What is backlighting in photography?
Before we dig into how to get the perfect backlit image, let's define the term. What exactly is backlighting in photography? Essentially, it's a technique that is used, usually in portrait photography, where the main light source is placed directly behind the subject facing the camera. The subject diffuses the light so that it radiates outward from behind, creating a dramatic glow.

Why do photographers use backlighting?
Photographers use backlighting to add depth or drama to an image, to create silhouettes, or to help emphasize a sense of place within a photograph. Backlighting effects can be dramatic, but when used improperly, backlighting can cause overexposure and deep shadows.
How to shoot better backlight photography with your iPhone
The use of backlighting isn't effective in every situation, so the first thing you will have to decide is whether backlighting will work for the scene you're trying to capture. Fortunately, it's easy enough to experiment with your iPhone. In general, the stronger the light source, the better the backlight effect will be. Here are a few more tips for capturing a beautiful backlit photo.
Tip 1: Practice backlighting techniques during the golden hour
The golden hour happens twice a day, an hour after sunrise and an hour before sunset. During the golden hour, the sun is diffused by the earth's atmosphere, producing warm, soft light that is perfect for backlit photos. Because the sun is lower in the sky, it creates long, deep shadows with light that is more flattering for skin tones.
When the sun is higher in the sky, the light becomes cooler and more intense, making it more difficult to pull off backlighting within your image. While the one-hour timeframe isn't rigid, shooting just after sunrise or just before sunset will give you the best results.
Tip 2: Practice using your flash for fewer shadows
Using the flash on your iPhone can sometimes produce light that is too harsh, especially when shooting at night. If you are shooting during the golden hour, you can experiment with using your flash to reduce the dark shadows on your subject. In general, this works better when the light from the sun is bright enough to keep the flash from overpowering your image. Using your flash correctly requires some experimentation, and sometimes you will have to do some post-processing so that the artificial light isn't too strong. (We'll discuss how to edit a backlit photo below.)
Tip 3: Try silhouette backlighting
When you capture your subject by shooting directly into bright light, you will often obscure all the details so that your subject is completely dark. Place your subject within the scene and then expose for the sky by holding your finger down on the sky on your iPhone screen. Congratulations, you've created a silhouette! Using backlighting to create silhouettes is often easier than creating other types of backlit photos because you don't have to worry about preserving details.
You can use silhouette backlighting for a variety of subjects. All you need is bright sunlight. As with many of the techniques mentioned here, you may need to darken the shadows within your silhouette in a post-processing app on your iPhone.
Tips for better backlit portraits on iPhone
Backlit portraits are probably the most common form of backlight photography. The golden hues that can be achieved using backlighting for portraits are flattering to the subject, adding a dramatic touch with a soft, almost dream-like quality. Here are some tips for creating beautiful portraits with backlighting.
Tip 1: Use a reflector to fill in shadows on your subject's face
One of the challenges of backlight photography in a natural setting is that you never know exactly what the light will do. Clouds can easily diffuse natural light, making it softer. But without bright light, you may not be able to illuminate your subject properly. You can brighten areas on your subject's face and fill in shadows by using a reflector. Simply hold it up facing the sun and adjust the angle until natural light is reflected toward your subject's face and it is properly lit.
Tip 2: Avoid a middle horizon line behind your subject
It can be tempting to shoot your portrait at eye level as the sun heads toward the horizon, but a distinct horizon line often detracts from the subject of your portrait. Try to create a composition where the horizon line is small or not visible at all. You can do this by getting down low and shooting upward toward your s