Abstract photography is a fun way to add some creative flair to the process of snapping photos with your iPhone. One of the best things about abstract images is that they rarely follow the same composition rules that other types of photography seem to rely on. Instead, abstract photography expresses ideas and emotions without focusing on the usual representation of real objects. Any implied representation is left entirely up to the viewer, allowing the photographer to follow a creative path with lots of freedom.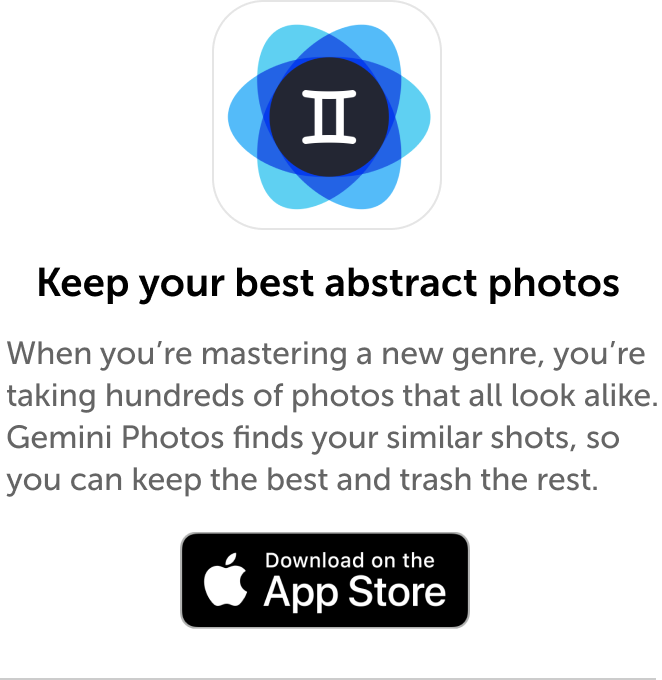 The key elements of abstract photos
While there are fewer photography rules to follow when creating abstract photos, there are still a few elements that you can incorporate into your images to create a more visually stunning composition. Try to incorporate one or more of these elements in your abstract photography to add interest and depth to your images.
1. Lines
Your viewer's eye will naturally follow lines within an abstract photo. Think of it like a tour guide directing the viewer around your image. Lines can be used to create patterns and textures, as well as add depth to your image. They can be thick or thin, curved or straight, gently flowing, or sharp and angular.
The direction a line is headed can totally change the feel of your photo. Diagonal lines may appear to be traveling to a predetermined destination, creating a sense of movement within. A leading diagonal line traveling into the photo will establish a sense of depth, even if there is no predetermined subject, and you'll often see it in abstract architecture photography. Add vertical lines to your composition to provide strength and stability. Alternatively, horizontal lines will add a feeling of calm and well-being. Zigzags are powerful lines that represent action and excitement. And finally, curves and circles build motion and represent organic forms.
2. Colors
Unless you are shooting strictly in black and white, color is the first thing that viewers are likely to notice when looking at your abstract photos. One of the most important aspects of color is its ability to evoke emotions, making it the strongest visual element for creating a sense of feeling in your image.
Colors are characterized as either warm or cool. Warm colors can evoke excitement, adventure, love, passion, or even danger. Cool colors have the opposite effect, representing peace, tranquility, and sometimes loneliness.
3. Shapes
Shapes are the building blocks of an abstract image. And multiple shapes used together have the power to inspire, intrigue, and change your viewer's perspective. As with lines and colors, shapes have a way of evoking certain emotions.
Rounded shapes represent continuous movement because there are no sharp corners or edges to distract the viewer. Squares and rectangles, meanwhile, create a feeling of strength and stability. Triangles are fun to add to your photo because they can lead the viewer's eye into the image or create a sense of imbalance and tension. Even more tension can be created by capturing irregular shapes with sharp lines and edges.
4. Negative/positive space
Positive space usually refers to compositional elements within a photograph, while negative space refers to the area around those elements. With abstract photography, it can be more difficult to distinguish between positive and negative space. Instead of using a subject to create positive space, you will have to create a balance between colors, lines, and shapes so that your viewers perceive space that is both positive and negative.
5. Patterns
Patterns are created by repeating certain elements in your abstract image. Once you start looking, you will see patterns everywhere. Try to find repeating lines, shapes, or colors that speak to you. Those patterns will create powerful images that are often striking in their simplicity.
6. Composition
Take some or all of the elements mentioned above and combine them to create a composition that provides drama, emotion, and balance within your photo. You can create your composition while framing your shot and then adjust it by cropping during the editing process.
There is no right or wrong way to create a composition in abstract photography. The more you experiment, the more you will be able to create works of art that resonate with your viewers.
Quick abstract photography tips for beginners
Ready to try your hand at abstract photography? All you need is your iPhone camera and a bit of creativity. Here are some easy abstract photography tips to help you get started.
Tip 1: Practice macro photography