Are you attending a wedding where you want to capture some of the special moments without lugging around a bulky DSLR? Wondering if it's possible to take great wedding photos with only an iPhone? iPhone cameras have come a long way in recent years, and you really can't beat the convenience of a pocket camera. This article will cover the best settings for iPhone wedding photography, as well as some fun ideas for taking wedding photos with your iPhone.
Can you take good wedding photos with your iPhone?
While iPhone photos can't take the place of wedding photos shot with a DSLR by professional photographers, there is certainly a place for iPhone wedding photography. One of the best aspects of the iPhone for wedding photos is that it enables you to capture candid moments with little fanfare. Hefty cameras have a tendency to put people on edge and/or inspire them to strike elaborate, unnatural poses. But the wedding party and guests will hardly notice someone snapping photos with an iPhone.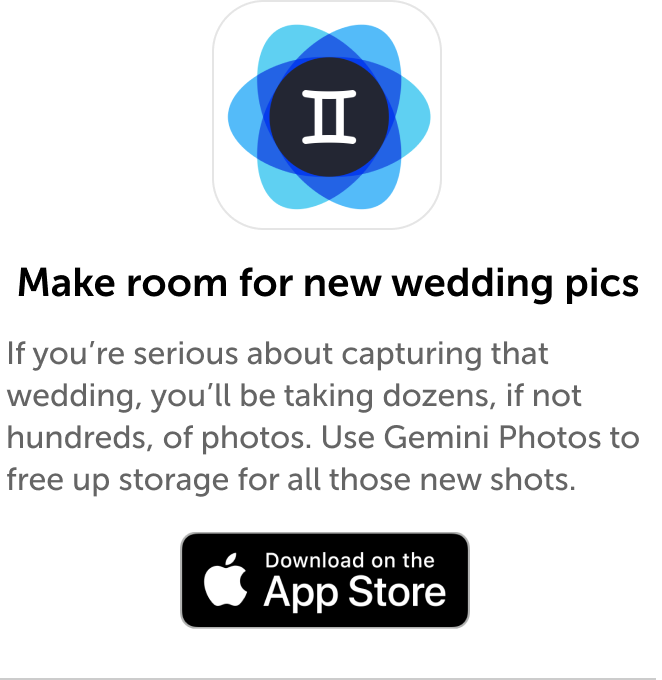 What settings should I use for wedding photography?
Most iPhone models include a variety of settings to make wedding photography easier. But before we dig into the camera settings, we recommend changing a few general device settings before heading out to the wedding with your iPhone camera.
iPhones excel at certain types of photography — images in bright light, portraits, and flat lays, for example. They sometimes struggle, however, to capture a shallow depth-of-field, especially if there are no people in the scene for the camera to focus on. Low-light photography can also be a challenge if people in the scene are moving around or dancing. Fortunately, these drawbacks can be overcome with the tips we've collected below.
Device settings for wedding photos
Put your iPhone in airplane mode while shooting. Minimize distractions that might interfere with your photography. You won't receive notifications, texts, or phone calls while in airplane mode.
Turn off face recognition/passcode. Temporarily disable the face recognition feature so you can lift your photo and shoot as the moment arises. This way, you don't miss any important shots.
Turn down the volume. Keep your iPhone silent while taking wedding photos.
Camera settings for wedding photos
Use Portrait mode. Portrait mode is great for capturing people with a shallow depth-of-field and a beautiful bokeh effect. You could shoot 80% of your wedding photos in Portrait mode and be pleased with the results. The downside to portrait mode is that it struggles to focus on details when there aren't people in the frame, so for detail shots of the ring, the cake, or decorations, switch back to regular photo mode.
Enable Burst mode. For shots that feature a lot of movement, like cutting the cake and dancing, switch over to Burst mode, which will take a series of photos in quick succession. You can choose your favorites when the festivities are over.
Turn on Night mode. Once the sun goes down, switch to Night mode. That said, don't expect fantastic wedding photos after dark. Without a tripod, your iPhone will struggle to focus on people that are moving around, but Night mode should work well for capturing the venue and details if there isn't much movement.
Try the telephoto lens. If you're shooting with the iPhone 11 Pro, iPhone 11 Pro Max, iPhone 12 Pro, or iPhone 12 Pro Max, you can and should use the telephoto lens to get close-up shots without being obtrusive.
Wedding photography tips for shooting on iPhone
Before heading to the wedding, make sure you can switch back and forth between different camera modes quickly so that you are ready for all the cool shots that come your way. And keep the following tips in mind for some stunning wedding photos.
Tip 1: Seek out areas with good lighting
The better the lighting, the better your iPhone camera will perform. Shooting an outdoor wedding in soft light is ideal. But since you didn't plan the wedding and can't predict the weather, look for photo opportunities with decent natural light, even if you are indoors. If that great light eludes you, do not under any circumstances use your flash. Not only will using the flash annoy the guests, but the resulting wedding photos won't be worth sharing.
Tip 2: Only zoom with your telephoto lens — or your feet
If you have a camera with a telephoto lens, that should be your first choice when trying to zoom in on details or special moments at the wedding. The second-best solution is to simply move closer to your subject. We don't recommend using your digital zoom because the quality of your photo will suffer dramatically.
Tip 3: Expose for the highlights in your photo
The highlights in your wedding photos are the objects that are brightest. If you are capturing photos of the bride wearing a white dress, it will likely be the brightest spot in your image. To ensure that the dress isn't overexposed, hold your finger down on your screen at the brightest spot in the scene. This will lock the exposure and the focus on that area. If you're shooting wedding images of the guests, lock the focus on a guest's face, whic