The iPhone camera just keeps getting better, and you probably already use it for several different types of photography. In fact, there are so many different ways you to experiment with your iPhone camera that we'd like to encourage you to try some new genres of photography to keep those creative juices flowing. In this article, we're sharing 23 types of photography that you can and should try out with your iPhone.
Popular types of photography that are easy to shoot with an iPhone
Ready to test the limits of your iPhone with some fun new photography ideas and techniques? The following types of photography styles are great when you are faced with a creative block, want to learn new photography skills, or simply feel like trying something new.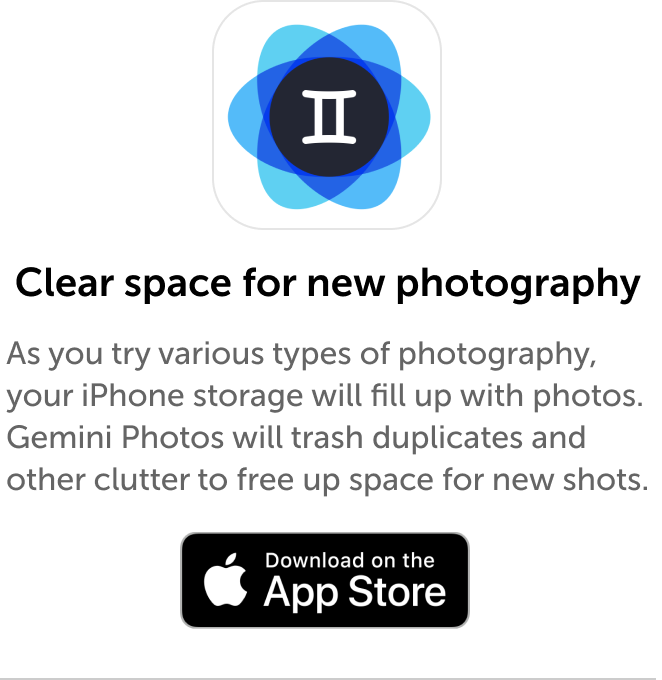 1. Portrait photography
Do you love taking photos of your family and friends? Then you've likely already experimented with portrait photography. This is one of the most popular genres of photography, and iPhones excel at taking beautiful portraits. But portrait photographs are more than just snapshots of people. They are designed to capture a person's essence and personality by utilizing specific poses, backgrounds, camera angles, and lighting techniques.
There are a few iPhone settings that are very useful for portrait photography. The first is Portrait mode, which became available with the introduction of the iPhone 7 Plus and later models. Portrait mode is great for gently blurring the background while bringing your subject into focus.
Another useful tool for portrait photographers is the telephoto lens, also available on iPhone 7 Plus and later models. With your telephoto lens, you can get crisp portrait shots without being right on top of your subject.

2. Landscape photography
Landscape photography is another genre that the iPhone camera excels at. That's because the iPhone's wide-angle lens does a great job of capturing most scenes, provided there is enough light.
When it comes to taking stunning landscape photos, the secret lies in the composition. Be sure to keep your horizon straight, find a unique camera angle to showcase the natural beauty of the scene, and use a tripod if you are shooting in low light. As far as settings go, you will find the iPhone camera grid extremely useful for ensuring your horizon is actually horizontal. To turn it on, navigate to Settings > Camera and toggle on the Grid feature.
If you are shooting with an iPhone 11 Pro, iPhone 11 Pro Max, iPhone 12 Pro, or iPhone 12 Pro Max, you can also try using the ultra-wide lens, which is useful for capturing vast landscapes where you want to highlight the grand scale of the scene.
3. Travel photography
Travel photography is very similar to landscape photography, but this genre encompasses more distinct image types. Your collection of travel photos from any given location will likely include architecture, food, and selfies, which can all be accomplished pretty easily with your iPhone.
If you want to immortalize yourself in your images, we recommend investing in a small portable tripod, as well as a remote shutter. That way, you can avoid the traditional selfie poses, and you won't have to stop strangers on the street and ask them to take your photo.
4. Food photography
Food photography is a fun genre to experiment with, but it does require a bit of practice. Not only do you have to create compositions that look good enough to eat, but you also have to capture them in a way that appeals to your viewers.
Lighting is key for food photography, but you don't want harsh light that bounces all over your food. Instead, use natural light from a sunny window or artificial lights from a softbox set up. Taking photos in a restaurant? Don't use your flash! Instead, set your iPhone to Night mode if you have it, and brighten up the shot in your favorite photo editing app.
5. Still life photography
Most casual photographers don't think to set up still life compositions, but this can be a great way to learn about lighting and editing techniques. A still life image is basically a photo of any inanimate object or collection of objects. Most often, still life photos are set up by the photographer in a way that is creative and pleasing to the eye.
A still life photo is meant to be an artistic rendition of a still life scene, so don't be afraid to experiment with your composition and your editing afterward. You really don't need any special equipment or settings for still life photography. You can use natural or artificial lighting in your scene. Just be sure to use a tripod if you are working in low-light situations.
6. Architecture photography
Architecture photography is used to capture interesting elements of buildings and other man-made structures both indoors and out. The goal is to convey a sense of scale and beauty in your image. So, as with many other photography genres, composition is everything. Try to find unique perspectives and camera angles that will really highlight the structure you are photographing. You can also try taking photos at different times of the day to see how different lighting affects the mood of your photos.