The iPhone camera just keeps getting better, and you probably already use it for several different types of photography. In fact, there are so many different ways you to experiment with your iPhone camera that we'd like to encourage you to try some new genres of photography to keep those creative juices flowing. In this article, we're sharing 23 types of photography that you can and should try out with your iPhone.
Popular types of photography that are easy to shoot with an iPhone
Ready to test the limits of your iPhone with some fun new photography ideas and techniques? The following types of photography styles are great when you are faced with a creative block, want to learn new photography skills, or simply feel like trying something new.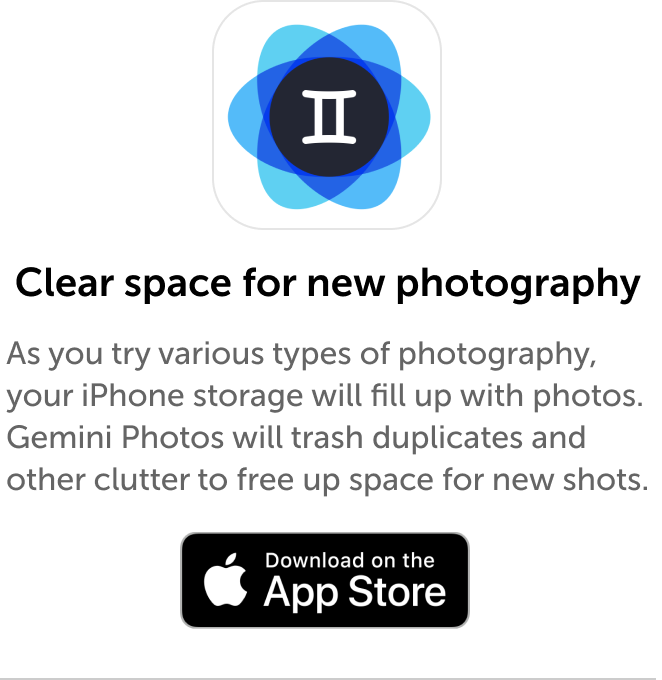 1. Portrait photography
Do you love taking photos of your family and friends? Then you've likely already experimented with portrait photography. This is one of the most popular genres of photography, and iPhones excel at taking beautiful portraits. But portrait photographs are more than just snapshots of people. They are designed to capture a person's essence and personality by utilizing specific poses, backgrounds, camera angles, and lighting techniques.
There are a few iPhone settings that are very useful for portrait photography. The first is Portrait mode, which became available with the introduction of the iPhone 7 Plus and later models. Portrait mode is great for gently blurring the background while bringing your subject into focus.
Another useful tool for portrait photographers is the telephoto lens, also available on iPhone 7 Plus and later models. With your telephoto lens, you can get crisp portrait shots without being right on top of your subject.

2. Landscape photography
Landscape photography is another genre that the iPhone camera excels at. That's because the iPhone's wide-angle lens does a great job of capturing most scenes, provided there is enough light.
When it comes to taking stunning landscape photos, the secret lies in the composition. Be sure to keep your horizon straight, find a unique camera angle to showcase the natural beauty of the scene, and use a tripod if you are shooting in low light. As far as settings go, you will find the iPhone camera grid extremely useful for ensuring your horizon is actually horizontal. To turn it on, navigate to Settings > Camera and toggle on the Grid feature.
If you are shooting with an iPhone 11 Pro, iPhone 11 Pro Max, iPhone 12 Pro, or iPhone 12 Pro Max, you can also try using the ultra-wide lens, which is useful for capturing vast landscapes where you want to highlight the grand scale of the scene.
3. Travel photography
Travel photography is very similar to landscape photography, but this genre encompasses more distinct image types. Your collection of travel photos from any given location will likely include architecture, food, and selfies, which can all be accomplished pretty easily with your iPhone.
If you want to immortalize yourself in your images, we recommend investing in a small portable tripod, as well as a remote shutter. That way, you can avoid the traditional selfie poses, and you won't have to stop strangers on the street and ask them to take your photo.
4. Food photography
Food photography is a fun genre to experiment with, but it does require a bit of practice. Not only do you have to create compositions that look good enough to eat, but you also have to capture them in a way that appeals to your viewers.
Lighting is key for food photography, but you don't want harsh light that bounces all over your food. Instead, use natural light from a sunny window or artificial lights from a softbox set up. Taking photos in a restaurant? Don't use your flash! Instead, set your iPhone to Night mode if you have it, and brighten up the shot in your favorite photo editing app.
5. Still life photography
Most casual photographers don't think to set up still life compositions, but this can be a great way to learn about lighting and editing techniques. A still life image is basically a photo of any inanimate object or collection of objects. Most often, still life photos are set up by the photographer in a way that is creative and pleasing to the eye.
A still life photo is meant to be an artistic rendition of a still life scene, so don't be afraid to experiment with your composition and your editing afterward. You really don't need any special equipment or settings for still life photography. You can use natural or artificial lighting in your scene. Just be sure to use a tripod if you are working in low-light situations.
6. Architecture photography
Architecture photography is used to capture interesting elements of buildings and other man-made structures both indoors and out. The goal is to convey a sense of scale and beauty in your image. So, as with many other photography genres, composition is everything. Try to find unique perspectives and camera angles that will really highlight the structure you are photographing. You can also try taking photos at different times of the day to see how different lighting affects the mood of your photos.
7. Pet photography
Pet photography is a lot like portrait photography, except that pets rarely have the same hang-ups about having their photos taken that people have. That means you can get up close to your pet with your camera without making them feel self-conscious or annoyed. A telephoto lens, if you have one, works great for pet photography. Instead of shooting down from a standing position, get on the same level as your pet so you can capture them from a more relatable angle.
Because pets are usually active, it's best to capture them with plenty of light. Otherwise, you risk a blurry photo. When you're just starting out, you can always wait until they're sleepy so they're easier to photograph.
8. Family photography
Want to practice portrait photography with your loved ones? Start with your family! Your family members can be great guinea pigs for all your photography experiments, and family photography lets you work on group shots, which can be really tricky!
Start with all the same techniques that you use for portrait photography. If you are photographing a single person, use Portrait mode, and be sure to use the AE/AF lock feature to tell your camera who your subject is. If you are taking a group shot, use your standard wide-angle lens and get as close as you can while still fitting everyone in the shot.
9. Product photography
Product photography is similar to still life photography, with the main difference being the intent of your image. With still life photography, the goal is to let your creativity shine. With product photos, you are highlighting an object with the intention of marketing it. Anytime you take photos of products for commercial use, you are using product photography.
Good lighting is crucial with product photos, so if you plan to do a lot of them, we highly recommend investing in a light box, especially if you are working with smaller objects that would usually fit on a tabletop. Be sure to use the Auto Exposure/Auto Focus feature by holding your finger down on the screen where you want to focus. This will ensure that your image is sharp.
10. Minimalist photography
Minimalist photography makes use of negative space to give the viewer a sense of tranquility. The composition is simple, with emphasis on a single subject and its shape within the overall scene. Focusing on the negative space around your main subject will help declutter your composition and make your subject stand out.
Composing great minimalistic shots requires knowledge and practice with different camera angles and perspectives, but you don't need any special equipment or iPhone settings to pull it off.
11. Lifestyle photography
Lifestyle photography is a huge genre that overlaps with many of the other photography styles on our list. These shots can feature people, although instead of posing, they are usually in the process of doing something. Lifestyle images can also feature products or objects that look as if they were captured during a frozen moment in time.
Bloggers and Instagram influencers use lifestyle photography to give viewers a glimpse into their own lives, and there are also similarities to photojournalism because lifestyle photos tell a story. You do not need special equipment or settings to practice lifestyle photography, just an eye for interesting or captivating scenes.
12. Flat-lay photography
Flat-lay photography is a mash-up of still life and product photography in which objects are laid out on a flat surface so as to appear more two-dimensional. These compositions are photographed from above to give the viewer a bird's-eye view of the scene. Whether you're capturing an elaborate meal, the books you are reading, or a favorite outfit, flat lays are a popular and artistic way to show them off.
To shoot flat lays without a lot of shadows, it's important to light the composition properly. Natural lighting works well, provided you can reflect the light back onto the composition. White foam boards can work as fill cards to help eliminate shadows. It's also useful to have a tripod with an extendable arm so that you can keep your camera steady while you adjust the objects in your composition.
13. Fashion photography
Fashion photography is similar to portrait photography, with the main difference being that you are usually focusing on a person's clothing and accessories as opposed to their face. If your iPhone has a telephoto lens, it will come in handy for fashion shoots, but it's not necessary. What is necessary is using your AE/AF lock so that your photos are tack-sharp.
Fashion shoots with an iPhone are best done with natural lighting in locations that provide added interest to your image. Whether you're doing an urban or rural photo shoot, look for interesting backgrounds that will compliment your subject without detracting from the fashion you are highlighting.
14. Flower photography
Flowers make great subjects for practicing all kinds of photography techniques, from macro shots to artificial lighting to editing. Flower photography is a forgiving art form, and for most images, you can use the wide-angle lens that is standard on every iPhone.
With flower photography, it's important to lock your focus so that the main part of your subject is sharp. If you want to get up close for a macro shot, think about investing in an external macro lens to capture more detail.
15. Silhouette photography
A silhouette photo captures only the outline of a subject so that it appears as a dark shape without a lot of detail. Usually, silhouettes are photographed against a bright background, creating dramatic contrast between light and dark. With silhouette photography, it's important to look for subjects that have interesting outlines. Human subjects make great silhouettes, provided they aren't standing straight with their arms folded.
If you are photographing a person for your silhouette, ask your subject to move around, dance, stretch out their arms, etc., so that you can find an interesting composition. Use Burst mode, which will take a bunch of photos in quick succession. You can choose your favorites later.
16. Reflections photography
Whenever you capture an image that is reflected off of a surface like a mirror, a lake, or a building, you're practicing reflection photography. Reflections are common in glass, metal, and water, and they make great subjects for creative photography.
Reflection photography focuses heavily on creative aspects of photography, like composition, camera angle, and perspective. Use a tripod and a remote shutter to ensure that your reflections shots are crisp. If you are shooting reflections in water, early morning and late evening will usually provide calmer water for better reflections.
17. Sunset photography
Everyone loves a good sunset photo, and you've got 365 opportunities to capture one every year. When thinking about your sunset composition, look for interesting aspects of the sky and landscape. Clouds add interest to the sky, and an interesting featuring in the foreground will help you anchor your shot.
Because sunset photography is also low-light photography, you'll find a tripod very useful for keeping your images sharp.
Types of photography that are more difficult to shoot on iPhone
We've talked about many photography ideas that your iPhone excels at. Now, let's look at some more challenging genres. The following types of photography will give your iPhone a run for its money — and they may try your patience, too. Still, they're fun to experiment with and worth trying at least once.
18. Macro photography
Macro photography captures small details in extreme close-up photos. Using your iPhone's standard lens, you can get within 3 to 4 inches of your subject before you lose focus entirely. That's fine for getting close, but not really for getting macro close.
If you decide that you want to experiment with extreme close-ups, invest in an external macro lens and attach it over your standard iPhone lens. Be sure that both lenses are clean, and use a steady hand to start practicing your macro photography.
19. Star photography
Star photography far exceeds what your iPhone can normally accomplish. Because stars are visible on very dark nights, your iPhone's sensor will struggle to capture those tiny pinpricks of light.
Still want to give it a go? You'll need a tripod and a remote shutter. You'll also need a third-party camera app that allows you to set your shutter speed. The NightCap Camera app is specifically designed for this purpose, and it's available for $2.99 on the App Store.
20. Underwater photography
Here's another fun photography style that can be done with an iPhone but is not without its challenges. Your iPhone is actually pretty water-resistant, but we would hesitate to call it waterproof. You should definitely utilize a waterproof case before submerging it.
The other challenge for underwater photographers is that your touch screen won't actually work underwater. That means you have to get everything ready above water and then use the volume button to snap the photo underwater. Not a deal-breaker, but definitely an added challenge.
21. Street photography
Street photography usually refers to candid photos of people going about their day-to-day business. A street photographer captures mundane moments as well as extraordinary ones. One benefit of using an iPhone for street photography is that you won't stand out from the crowd. The world is used to seeing people out and about with their phones, so you can create your art without making anyone uncomfortable.
For street photography, it can be useful to use a third-party camera app that will allow you to adjust your shutter speed and aperture quickly and easily. Be sure to use your AE/AF lock button to ensure proper focus and exposure.
22. Fine art photography
Fine art photography encompasses any shot that is considered frame-worthy, but it's not simply a digital rendition of a real-life scene. The photographer uses creative license to create an image that is beautifully dramatic, technically accurate, and thought-provoking. While anyone can practice fine art photography with any type of phone, the resolution will often be too low to blow up and frame.
Creative editing techniques are also used liberally with fine art photography, enabling the photographer to introduce elements into the scene that they weren't able to capture with the camera. Post-processing can introduce a whole new mood into a photo, making it a very important part of fine are photography.
23. Sports photography
Sports photography captures quick-moving subjects taking part in everything from running and swimming to football and basketball. Quick-moving subjects are tricky for iPhones to capture without a bit of blur, but sometimes, blur can be a good thing.
To really excel at sports photography, you should have a tripod, a telephoto lens, and a quick finger. Modern iPhones have built-in telephoto lenses to get you a bit closer to the action, but if you don't have one, consider investing in an external telephoto lens. When you're ready to shoot, use Burst mode to capture a quick succession of photos so you can choose your favorite poses and angles later.
If you are tired of taking the same types of photos over and over again, why not change things up a bit? Bookmark this post so you can look it over wherever you need some photographic inspiration.