Are you looking for ways to add depth to your creative images? Texture photography is a way to capture three-dimensional details and visually convey them in two dimensions. You can define texture in photography by capturing depth, contrast, and patterns to create unique and artistic photos with your iPhone.
Texture photography vs. texture in photography
Once you start looking for textures to photograph, you will see them everywhere. Texture is present in most scenes that you capture with your camera, but that doesn't necessarily classify those images as texture photography. Think of texture photography as the creation of images where texture is the most important element that stands out from all the other details you are capturing.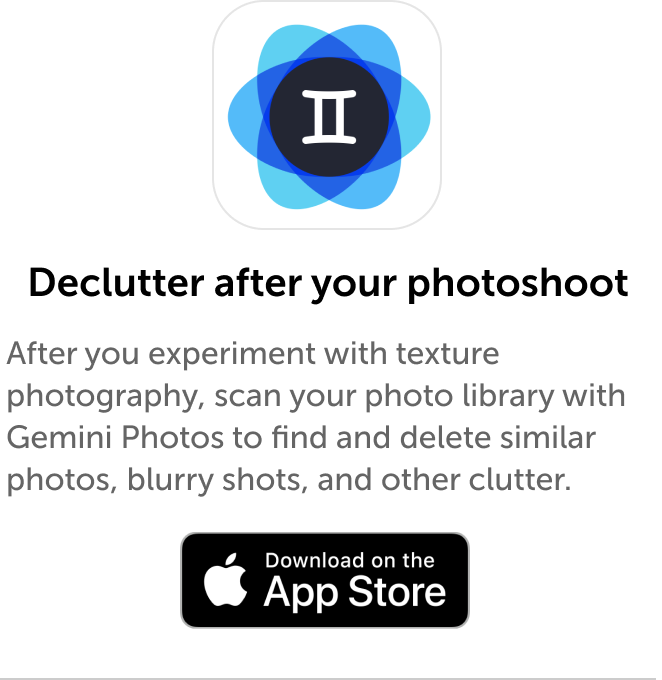 What is texture photography?
Texture photography is the visual depiction of different variations in the color, shape, and depth of surface of an object you're photographing. The secret to taking stunning photos that accentuate texture is using compositional tools, perspective, and post-processing techniques to highlight the textures in a scene.

What are the 3 main categories of texture photography?
Texture details: Use this technique when you want to zoom in on the details of an object to capture and accentuate its texture. The result may be an abstract rendering of the scene, but the details of the texture will shine.
Drama of textures: Textures often add to the drama of a scene, but they may not be the main attraction. For example, when you photograph a stunning sunset through large, ominous clouds, you are capturing the drama of the sunset first and foremost. The texture in the cloud simply elevates the effect.
Textures to convey information: In this kind of texture photography, the texture is used to give the viewer a better understanding of the scene. Jagged, slippery rocks captured during a storm, for example, give the viewer a sense of the danger posed by said storm. And capturing seashells and soft white sand up close can add dimension to your beach photography.
What is texture in photo editing?
In addition to the textures you capture with your camera, you can emphasize or even create texture in post-processing. In the Lightroom mobile app, there is a Texture slider you can use to adjust to increase or decrease the medium-size texture without compromising the fine details. The Texture slider in Lightroom is similar to the Clarity slider, but it doesn't increase the clarity as much.
How to take good texture photos with an iPhone
Ready to give texture photography a try? Here's how to capture stunning texture photos with your iPhone.
1. Try a macro lens for texture details
The best textures are often found in small details that aren't readily apparent to most viewers. Think about the intricacies of woven fabric, the patterns in the bark of a tree, or the peeling paint on an old piece of furniture. Capture the details of texture by using a macro lens to get closer than possible with the naked eye. The iPhone 13 can shoot stunning close-ups from just two centimeters, but if you haven't upgraded, you can also purchase an external iPhone lens specifically designed for macro photography.
2. Use the AF/AE focus to capture the best details
Because texture photography puts a lot of emphasis on the small details that create texture, it's important to ensure that your image is sharp and in focus. One way to do this is to lock the focus point by holding your finger down on the screen where you want the camera to focus. You will see a yellow box around the focal point. Hold your hand steady (or use a tripod) while tapping the shutter.
3. Experiment with different camera angles
Shooting from different angles will change your perspective as well as the way the light hits the textures in your photo. Don't be afraid to experiment with unusual angles. Try shooting across a horizontally textured surface, behind a three-dimensional object, or at ground level.
What light is best for shooting textures?
Great lighting is important in all types of photography, but this is particularly true for texture photography. Shooting in harsh sunlight might create too many shadows and add too much contrast to your photos. Shooting in low light will have the opposite effect, and you may not be able to capture enough detail for the textures to really shine in your photo. Between these two extremes, you will find great light. Look for bright light that hits your subject from an angle. The soft shadows will add depth to the textures that might otherwise be missed. You can use your iPhone flash to fill in deeper shadows, provided the area is already well lit.
Texture photography ideas you should try
Need some inspiration for your next texture photography shoot? Here are some ideas you should try!
1. Photograph texture details in the plants inside or outside your home
When it comes to texture photography, indoor and outdoor plants often steal the show. Photographing your local flora is a great way to practice texture photography while getting to know the natural world. Houseplants are a good place to start. Take a look at the intricate patterns you find in the leaves, the way the plant structure creates texture, or the inside of any flowers you find.
2. Look for two or more textures mixed together
The juxtaposition of different textures can often create stunning compositions. Think about textures that might be considered opposites and consider how you might combine them in a photo. Shiny and smooth next to coarse and rough, velvety soft next cold and hard. You will find contrasting textures all over the place, but you can also create them yourself if you're feeling stuck.
3. Find textures in abandoned places
When manmade structures or items are left to decompose on their own, all kinds of cool textures start to evolve. Consider photographing old buildings, cars, or junkyards where you'll find rusting metal, peeling paint, rotting wood, and crumbling bricks. These places are gold mines for texture photography.
4. Photograph textures in food
Food photography is an entire genre that requires its own set of skills, but photographing food is also a great way to practice texture photography — and become a better cook in the process! The next time you plan a meal, consider all the different textures of the ingredients and how you can combine them for a visually appealing presentation. Not only will you have fun cooking, but you'll be able to really focus on photographing different textures in food and how they work together.
5. Go on a texture scavenger hunt
Anytime you're in a photography rut, plan a scavenger hunt based on a specific photography element that you're working in. Head out with your camera with the sole intention of looking for textures in the world around you. You can do this in urban or rural environments using all the things you've learned about texture photography.
Before leaving home, make a list of different textures that you want to find on your scavenger hunt. Here are some examples:
Two contrasting textures next to each other
A close-up of something rusty
A macro texture
Interesting textiles
The bark of a tree with interesting texture
Textures constrained by lines and curves
Repeating patterns of texture
A smooth, shiny texture
A texture that looks like it doesn't belong
How to create texture in your photography
Now that you have an idea of what you want to photograph, let's look at how you can create more texture in your photos.
What 3 elements define texture in photography?
Contrast: You can use or create contrast in a photo to help textures stand out. The contrast can be between light and dark, different colors, or different types of contrast, such as a fluffy kitten sitting next to a brick wall.
Lines and curves: Lines and curves can be useful for containing textures and for leading the viewer's eye toward textures. Curves tend to soften an image and are useful for highlighting more severe textures. Straight lines provide contrast and drama, useful for emphasizing more organic textures.
Patterns: Patterns often create their own textures, and as a photographer, it's your job to turn those textured patterns into an interesting photo. You can do this by combining one or more patterns or by inserting a contrasting subject into your pattern. One example would be photographing a small plant growing in the middle of a brick walkway.
How to add texture in photo editing
Emphasizing texture within your images is often a matter of adding contrast, detail, and clarity in post-processing. We talked a little bit about the Texture slider in the Lightroom mobile app, but here are a few more ways to emphasize texture to your images with Lightroom.
Contrast: Using the Contrast slider to increase the contrast will help the textures pop.
Clarity: The Clarity slider increases the texture and the contrast at the same time.
Saturation: Decreasing the saturation can add emphasis to an item's texture. You could even use the Saturation slider to make your texture photo black and white so that the texture really stands out.
With texture photography, the ultimate goal is to make those three-dimension textures come to life in two dimensions. This is a great challenge that will improve your skill as a photographer.