Product photography is a type of commercial photography that is more useful than you might think. Using product photography can help you showcase items that you want to highlight or sell on social media. Selling your car on Facebook Marketplace? Great photos will help! Running a small business where you sell products? You absolutely need product photography skills! Showcasing your favorite clothes or accessories on Instagram? Product photography skills will make your photos stand out! Here are some product photography tips you can use to showcase and promote your products using only your iPhone.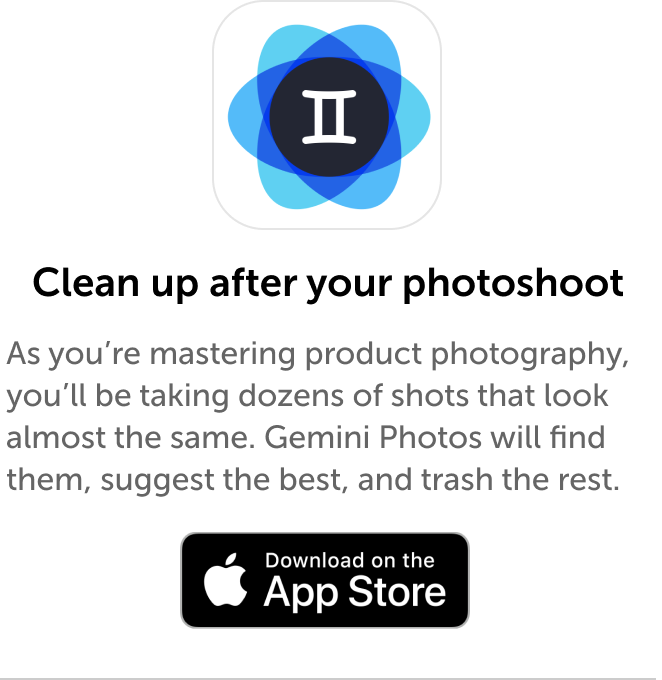 What is product photography?
Anytime you take photos of products for commercial use, you are using product photography. Product photography can include any type of product, including food, clothing, jewelry, or handmade items. Most products are small enough to photograph in a tiny home studio or on a tabletop, but product photography can also be captured outdoors in a more natural setting.

Types of product images
There are a few different types of product photos that you can use to showcase your product. Some are quite straightforward and simple to accomplish, while other types of product photos will require practice and experimentation to get right. We recommend trying them all out to see what works best for you.
Studio product photos: The main benefit of using a studio for your product photography is that you have 100% control over the environment and lighting. Your lighting will be different depending on the product you're shooting, and in a studio, you can quickly make the adjustments you need.
White background product photos: A white background is the number-one layout choice for product photography. You can use a lightbox for a bright shot with a white background or edit your photo using an app that is designed for this type of product photography.
Product group images and flat lays: Whether you want to showcase a line of products or create groupings so customers can compare and contrast products, there will be times when you want to group products together in a flat lay image.
Lifestyle product photos: Lifestyle photography will show your audience how the product you are showcasing works in the real world. Many lifestyle photoshoots include models using the product, but not always.
Close-up product photos: Close-up shots of products include tiny details that would otherwise go unnoticed.
Product photography lighting, lenses, and settings
To get started with product photography, you will need to invest in a few key pieces of equipment. You don't need to buy all of it at once. We'll list the things you'll need in order of importance.
What you'll need to take product photos at home
iPhone camera lenses and settings to use
Your iPhone's camera is perfectly capable of taking great product photos without additional lenses or settings — with a few exceptions. If you are shooting close-ups of products, a macro lens will enable you to capture small, intricate details. This is especially useful for shooting jewelry or other small items. The Xenvo clip-on lens kit comes with a macro and wide-angle lens, so you can take close-up product photos without sacrificing quality.
As for settings, you need to make sure you're set up to take single photos, so make sure all the additional features like Live photos, flash, and Night mode are disabled. If you are shooting without a remote shutter, the only setting that we would recommend using is the timer feature, which will allow you to take photos without touching the shutter.
To set the timer, open your camera and tap the up arrow at the top of your screen. Now tap the timer icon and choose 3 seconds. Frame your shot and tap the shutter when you're ready.
Product photography tips for better-quality photos
You want your product photos to be sharp, bright, and high-quality. It's also important that the photos provide an accurate representation of the product so they aren't misleading. Product photography isn't time for funky filters or creative editing. Here are some product photography tips for images that stand out.
Tip 1: Use the Auto Exposure/Auto Focus feature
The AE/AF lock feature on your iPhone camera will ensure that you get consistently sharp images that are properly exposed. To use it, compose your shot and hold your finger down on the screen where you want to focus. A yellow square will appear around the area in focus. You will also see a sun next to the box on your screen. Move the sun up to increase the exposure or down to decrease it. This is a crucial step for all of your product photos.
Tip 2: Light up your product from all sides
There are many ways to light up your product when taking photos. If you are shooting small items like jewelry, plates of food, or small craft items, it's probably easiest to use a lightbox. This will ensure that you get bright, even lighting on all sides of your product. For large items, or if you just want more control, you can set up your own lights. At the very least, set up two portable lights on either side of the product you're photographing. You may also want to set up a third light slightly behind and above your product. Once you find a lighting setup that works, you can make subtle adjustments by lowering the intensity and using reflectors to direct the light exactly where you need it.
Tip 3: Capture the product from every angle possible
You don't have to use every product photo you take, but to save yourself some time, be sure to capture your product from every angle. In addition to the following camera angles, be sure to adjust your product so that you capture each side accurately:
Eye level: This view shows the product as you would see it looking straight on. Set up your camera so that it is directly in line with the product.
High angle: Shows the product at an angle from slightly above.
Low angle: Shows the product from below.
Bird's eye: Great for flat lays. A bird's eye view shows the product from above, looking straight down.
Tip 4: Use a reflector to fill in the shadows
Whether you're doing your product shoot indoors or out, you can easily manipulate the light with a reflector. If you have a single, strong light source, like the sun, you can easily bounce the light back onto your subject with a reflector. This will even out the shadows and give your product a more balanced look.
Tip 5: Use simple editing techniques for a natural look
Save the fancy filters and editing techniques for your personal photos. When you're shooting products, you want to keep things simple and accurate. Here's how we recommend that you edit most product photos using your favorite mobile editing app:
Decrease highlights.
Decrease shadows.
Increase contrast.
Increase sharpness.
That's it! And if your photo is darker than you want, you can also increase the overall brightness/exposure too.
Creative product photography ideas
Now that we've covered the basics, here are some creative ideas you can use to make your product photos stand out.
Idea 1: Experiment with outdoor settings
Not all products are suitable for outdoor photography, but some actually look more natural and more beautiful outdoors. If you are capturing products that can be used outdoors like boots, tools, camping gear, etc., outdoor photography will add interest to the product you are capturing. A well-lit spot out of direct sunlight will help reduce harsh shadows, and you should also make sure that the natural backdrop doesn't take away from the product you're showcasing. Good backdrops for outdoor product shoots include rocks, greenery, and outdoor walls. Steer clear of colorful gardens or anything that feels too busy.
Idea 2: Practice lifestyle shots to give your products more dimension
Lifestyle shots require more practice than straight-up product shots because you're dealing with more variables — most notably, introducing models into your photographs. Although many of the techniques are the same for lifestyle shots, you will want to pay more attention to the setting, the lighting, and your camera. The goal is to capture your product in the "wild," showcasing how it looks when it's being used or worn. For example, if you want to create lifestyle product photos of a kitchen knife, you would set up your shots in a kitchen and ask someone to model using the knife. Although lifestyle shots are more time-consuming, they are a great way to sell or showcase a product. These photos are definitely worth the effort.
Idea 3: Experiment with creative flat lay product shots
Group product shots arranged as flat lay photographs have been trending on Instagram for the better part of a decade, and they show no sign of stopping. Flat lays are photographed from directly above a group of products creatively arranged with props for a unique and often artistic composition. Small objects can be arranged on a table with your camera and tripod set up on a step ladder nearby, while larger objects can be arranged on the floor in front of a backdrop and captured from above. If you are curious about using flat lays for your product photography, head over to Instagram and search for #flatlay.
Idea 4: Set up your products on a mirror or other reflective surface
Reflection shots are so much fun and work wonderfully for certain types of products like makeup, glass bottles, tools, kitchenware, and shoes. A mirror will produce a crisp reflection, but be sure to try out other surfaces like metal trays, plexiglass, or polished stone for softer reflections. Reflection images should be shot at an angle, not as a flat lay.
Idea 5: Use props for a more interesting shot
While straight-up product photos with a white or black background are important for giving your potential customers an accurate representation of your product, you can certainly include some photos that include props to add interest to your photo gallery and social media. Natural items like leaves, branches, and flowers make lovely props, but the items you use should fit with the overall theme of your product. Showcasing a candle? Why not include a nice book of matches and a beautiful candle snuffer in a few of your photos? Shooting a bottle of wine? Include a wine opener and a glass in your composition.
Don't be intimidated by product photography! This subcategory of photography isn't complicated and is easy to learn. And the close range means that your iPhone can handle it flawlessly.