Have you ever spent time photographing a beautiful low-light scene only to look back and find the photos grainy and unclear? Noise in photography is a common occurrence when shooting conditions are tricky, specifically in low-light situations. So, do you have to stick to sunny days to take photos with your iPhone? Fortunately, the answer is no. There are steps you can take to reduce noise in your photos before and after taking your picture.
What is noise in photography?
Noise is a photography term that means a visual distortion apparent in certain photographs. With iPhone photos, noise usually shows up as a grainy veil in your photo, obscuring details in your image. From a technical standpoint, noise can't be entirely avoided. It's in every single photo you take thanks to the unique properties of light and how your camera's sensor captures it. In low-light situations, noise simply becomes more obvious and harder to avoid.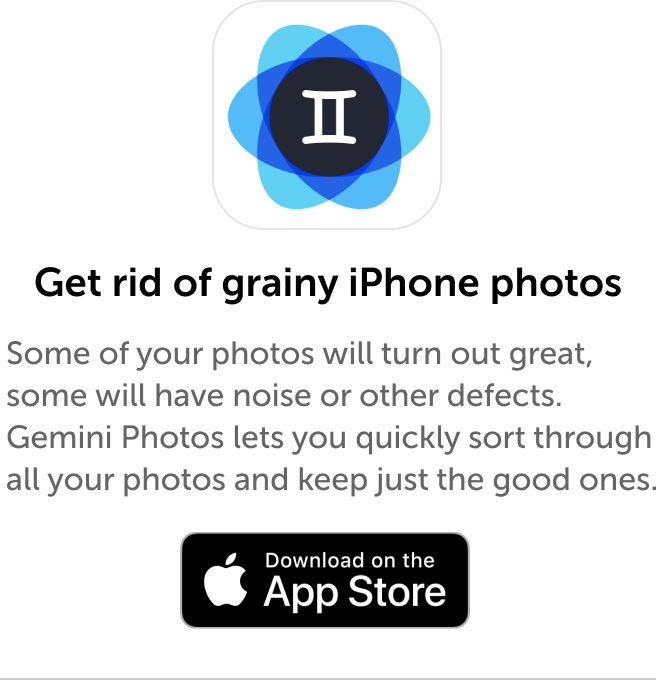 The difference between noise and grain
While noise and grain may appear similar in a photo, there are distinct differences. The biggest difference is the patterns that are visible with noise. Back when photos were shot using conventional film, grain was caused by actual grains of silver physically present in the film, which appeared in photos without a consistent pattern. Noise, by contrast, is a distortion caused by the camera's sensitivity to light. Because it is pixel-based, it often shows up in a distinct pattern that masks the detail in low-light photos.
In digital photos, grain has to be added as texture and is used to emulate the look of film photography. Noise, on the other hand, is thought of as a defect. Most photographers try to avoid it at all costs.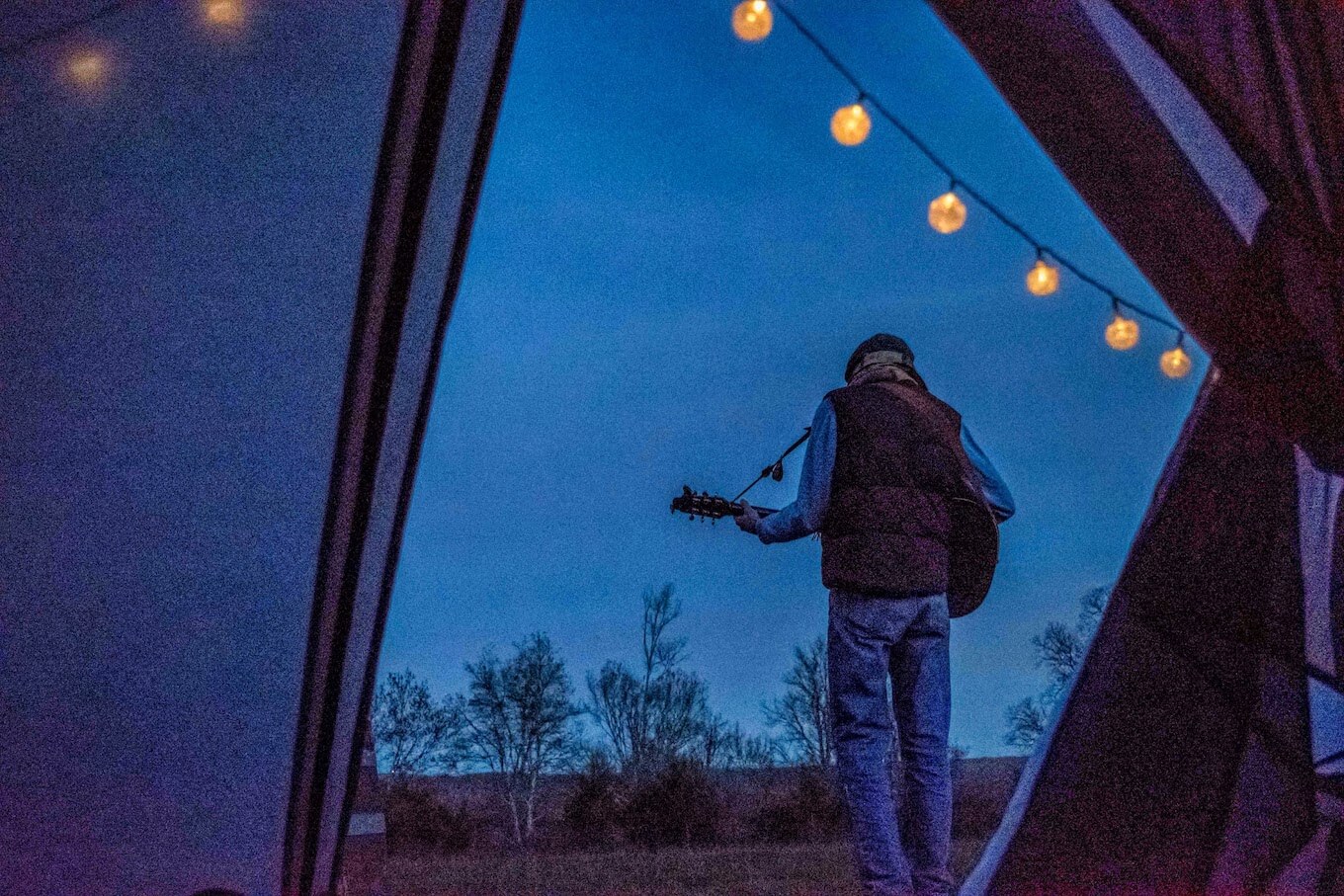 Is photo noise bad?
Noise is a distracting element that should be avoided, and while a certain amount of noise will be present in nearly every photo, in most situations, the viewer doesn't even notice it. Noise is usually a sign of a poor-quality photo stemming from lighting conditions that are beyond the capability of your camera's sensor. Most photographers try to avoid noise altogether or limit its appearance with careful editing techniques.
What causes noise in iPhone photos?
There are a few factors that can affect the level of noise in your iPhone photos. Here's an overview:
Low-light conditions: Noise is most likely to show up in images shot in low-light conditions. Noise is also more obvious in photos that are dark.
Small camera sensor: Smartphone cameras have notoriously small sensors, which are responsible for capturing light coming into the lens and turning it into an image. The larger the sensor on your camera, the less noise you will see in the final image.
Pixel size and density: Every camera has a specified megapixel count, which refers to the number of pixels found on the sensor. Small pixels on a small sensor mean a larger megapixel count, but they also mean more noise in your images.
High ISO: When shooting with the native Camera app, the ISO is set automatically. But if you use a third-party app to take photos with manual settings, you will have control over your ISO, which allows more light to hit your camera's setting to brighten up your night shots. Sometimes a higher ISO is necessary, but be aware that the higher the ISO, the more noise you'll have in low-light situations.
How to reduce noise in photography
When it comes to iPhone photography, you can only control some of the aspects that cause noise in your images. You can shoot in decent light for photo noise reduction, but you can't change your phone's sensor or pixel count. Here are some tips for reducing noise in your photos before and after you take your image.
How to shoot on iPhone in low light without noise
Use a tripod to reduce camera shake and blurry photos. While a tripod won't reduce noise in your photos, it will allow you to take low-light photos without getting blurry shots. A tripod also allows you to change the settings using a third-party camera app, which is important for noise reduction.
Use a manual camera app to lower your ISO before shooting. Camera+ 2 is a great camera app that allows you to choose manual settings before taking a photo. Since a high ISO causes a lot of noise in your photo, the first thing you should do is lower it.
Lower the shutter speed before taking a photo. Using a manual camera app, you can also reduce the shutter speed to allow more light to enter your camera's sensor. Don't forget to mount your iPhone on a tripod before using these manual settings.
Seek the light. Your iPhone automatically raises the ISO to compensate for low-light situations, so one of the easiest ways to avoid noise in your photos is to seek out the light. If you are shooting at night, look for street lights or traffic lights. In a pinch, you can also use your own photography lights to brighten up the scene.
How to fix a grainy photo in a photo editor
What if, even after all of your best efforts, you check the photos from a recent shoot and find them grainy and noisy? What's a photographer to do? Well, you can start by working some photo editing magic to get rid of that noise. You will have to find a balance between noise reduction and detail reduction, however, because reducing noise in a photo often results in a reduction of detail, too.
When you zoom in on your photos, you will tend to see two types of noise. Luminous noise will show up as bright dots or imperfections, while color noise will appear as dots of colored pixels. You can reduce them both using Lightroom. Here's to use Lightroom Mobile to reduce noise in your photos:
Download Lightroom Mobile and open it on your iPhone.
Import the photo you want to edit.
In the editing panel, tap Detail.
Scroll down to the Noise Reduction section below the photo.
Use the Noise Reduction slider to get rid of luminous noise first. Pinch your fingers open across your photo to zoom in so you know when to stop.
If the detail within your photo has been compromised, use the Detail slider to add it back in.
Use the Color Noise Reduction slider to reduce color noise.
When you are happy with the results, tap the share icon and save your photo to your photo library.
Best photo noise reduction apps for iPhone
For most photos, reducing noise using Lightroom or another photo editing app will work quite well. But if the noise is particularly bad — or the photo is really important — you may want to use a dedicated noise reduction app to give you more control. Here are a few we recommend.
1. Noise Reducer Pro
Noise Reducer Pro is a great iOS app that removes noise and smooths out your photos, specifically those that were taken in low light with high ISO settings. There are three levels for removing noise from your photos, and you can adjust the level of noise by sliding the custom slider as required. A comparison panel makes it easy to see the difference between your original image and your reduced noise image. Noise Reducer Pro is available for $.99 on the App Store.
Noise Reduce Pro on the App Store
2. EnhanceFox Photo Enhancer
The goal of EnhanceFox is to use artificial intelligence to repair blur, reduce noise, and get rid of imperfections. Unlike other noise reduction apps, EnhanceFox doesn't have sliders for you to customize the level of noise reduction. Instead, it's a one-tap solution that enhances your photo using basic noise reduction techniques — perfect for people who want results quickly and easily. EhanceFox is free to use, but it does include ads and in-app purchases.
3. Denoise Me
Denoise Me is another simple and innovative noise reduction app that uses a special algorithm to keep the details in your photo sharp while eliminating noise. Simply upload your photo or take one with the built-in camera and tap a button to work the magic. Your photo will be automatically optimized to reduce noise and keep the details. If you are happy with the results, save your newly enhanced photo to your photo library.
As it turns out, a photo with noise isn't the worst thing in the world, especially if you can take a few steps before and after shooting to reduce those noisy imperfections. Now that you know what causes noise and some photo noise reduction techniques, you can feel more confident getting out there with your camera, no matter the lighting situation.