In the world of social media, different photo angles and reflections can mean different things. And while mirror selfies may have started as flash-heavy self-portraits snapped in front of the bathroom mirror, they've taken on a whole new definition in the year 2021. Today, mirror selfies are photos taken with your front-facing camera's "mirror" setting turned on.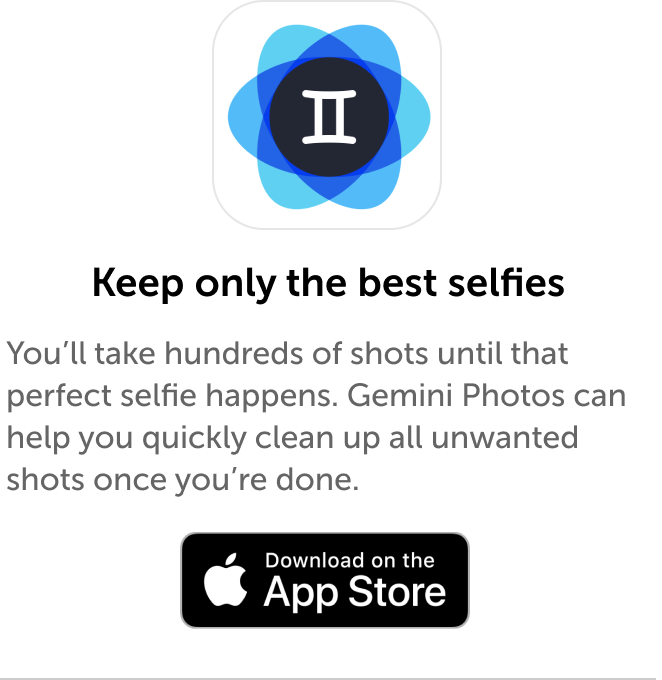 When the mirror setting is enabled, your camera snaps a photo that is your mirror image instead of flipping your image as a camera usually does. Many people believe that mirror selfies are more flattering than regular selfies. You can follow the instructions below to see for yourself:
Open Settings.
Select Camera.
Toggle the Mirror Front Camera option on.
While some people may be referring to the setting above when they say "mirror selfie," other photographers define a mirror selfie in the traditional sense — a photo taken in the reflection of a mirror with your rear-facing camera. Either way, in this article, we've rounded up the top tips and tricks from experts to help you take the perfect mirror selfie.

Step 1. Pick the best light and flash for your mirror selfie
When it comes to taking a great mirror selfie, the most important element to consider is lighting. While there are tons of tools and lighting equipment you can buy online to take high-quality self-portraits, nothing beats natural sunlight.
The hour just after sunrise and the hour just before sunset — both of which are known to photographers as the "golden hour" — are the best times to get the most flattering, natural sunlight for photos. You can shoot your mirror selfies outside or stand in front of a window to capture this temporary lighting magic. However, standing in the shade of a bridge, a building, or a tree can provide good natural lighting at any time of the day.
Even if you don't have time to get outside during these peak hours, you can recreate golden hour conditions through the use of other light sources like lamps or even candles. While some people like the effect of their camera's flash in a selfie, it's best to save your flash for subjects captured at a distance, not up close. And even though iPhone flashes aren't as bright as they used to be, a flash reflected in your mirror could mask your face entirely.
Whether you're using the sun or your iPhone, remember to always face your light source when taking a selfie.
How to take a mirror selfie with flash
If you absolutely have to take a mirror selfie with your camera's flash, follow these tips to make sure it doesn't drown out your reflection:
Position your camera so the flash will hit the side of the photo opposite of where you're posing.
Hold the phone away from your face.
Position the flash near your face and use the light to your advantage for some creative results.
Step 2. Find good poses for your mirror pic
Now that you've got your lighting and your flash down, it's time to decide on your pose. The possibilities are endless when it comes to posing for a mirror pic or a mirror selfie, and while we've included some suggestions here for you to experiment with, the best tip is to pose in the way you feel most comfortable and authentic.
How do you pose in a mirror selfie?
It requires a bit of prep work to find a pose that helps you be more photogenic. First, you need to find a clutter-free background for your selfie. If you're using a mirror to get a reflection photo, it doesn't hurt to clean the glass as well.
Next, find something to do with your hands. Awkward hands equal awkward photos, so rest your hand on a surface, put it on your hip, or play with your hair. You could also find a prop to hold, or you could position your hand out of the frame.
And finally, you need to decide how to position your body and how much of your body will be reflected in the picture. Experiment with standing and seated poses to decide what works best for you. And don't be afraid to take a bunch of photos with different poses, as more movement sometimes leads to more flattering photos.
How do you hold your phone when taking mirror pics?
How you hold your phone in your mirror selfie will depend on your preference, but most people hold it by the side with one hand, either close to one side of their face or just below their chin.
However you hold it, make sure not to stretch out your arms too far, as this could result in your arm taking up most of the frame.
Where should I look in a mirror selfie?
Anywhere you want! While your instinct might be to look directly into the camera via the mirror, some people prefer to look at their reflection, down at the screen, or even off to the side. It's really up to you.
Step 3. Set up your iPhone camera and take that mirror selfie!
Now that you've played around with poses and lighting, it's time to start shooting. Follow these tips to help you capture the perfect selfie.
Select the right aspect ratio
Before you start your selfie photoshoot, you'll want to set your camera to the correct aspect ratio for the platform you plan on uploading to. iPhone cameras have three aspect ratios to choose from: 1:1, 4:3, and 16:9.
The 1:1 ratio is for square photos, which works well for Instagram and Facebook posts. Meanwhile, Instagram stories are 16:9 ratio, and 4:3 will result in high-quality resolution for any landscape-style photo. Here's how to set your aspect ratio:
Open the Camera app.
Press the down arrow button at the top-center of the screen.
Select the 4:3 button.
Choose the aspect ratio you'd like to use.
Lock exposure and focus
Once you have your aspect ratio selected, it's time to lock your camera's exposure and focus. Luckily, all you have to do is use the iPhone's AE/AF Lock option to keep the subject of your selfie (a.k.a. you) throughout your photoshoot.
Here's how to do that:
Open the Camera app.
Tap the area within the camera frame that you want to be the subject of the photo.
Hold that area until the AE/AF Lock banner appears on the screen.
Take the image.
Shoot in Burst mode for more choices
Finally, you'll want to turn on your Camera's Burst mode to help you take a great selfie. Burst mode takes 10 photos per second, which allows you to capture even more options when taking a selfie. Here's how to shoot in Burst mode:
Open Settings.
Press Camera.
Turn the Use Volume Up for Burst option on.
From there, you just need to hold the Volume Up button to take photos in burst mode.
Whether you're snapping your next profile picture in the mirror or shooting a selfie to post on your Instagram Stories, we hope these tips will help you capture your next great selfie.