In today's connected world, privacy and security are paramount concerns. With the rise of smartphone technology, it's easier than ever for someone to track your movements and monitor your online activities. If you're an iPhone user, you might be wondering how you can make your device impossible to track.
In this article, you will read about some of the steps you can take to secure your iPhone and protect your privacy.
12 Tips to help make your iPhone impossible to track
Obviously, using technology that's connected to the internet is always a bit of a give-and-take. For the internet to actually be usable and functional, you'll have to provide it with even the most basic information about yourself. But here are 12 things you can do to make your iPhone more secure.
1. Update your iPhone's software
One of the easiest things you can do to protect your iPhone is to keep its software up to date. Apple regularly releases security updates and bug fixes that can help prevent hackers from gaining access to your device. To update your iPhone, go to Settings > General > Software Update. If a new update is available, follow the on-screen instructions to install it.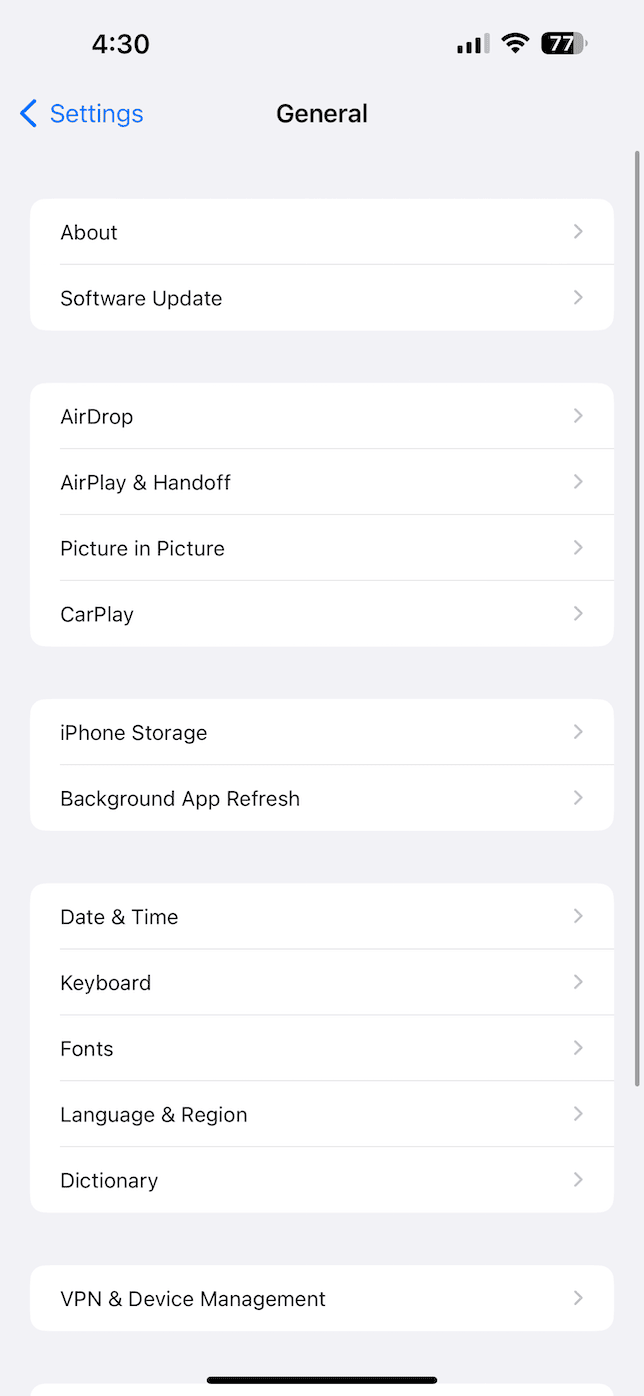 2. Disable Location Services
Your iPhone uses GPS technology to track your location, which can be useful for a variety of apps, such as maps and weather. However, it's also possible for other apps to use this feature to track your movements without your consent. To prevent this, you can disable location services for individual apps or for your entire device. To disable location services, go to Settings > Privacy > Location Services and toggle the switch to off.
3. Turn off Significant Locations
Your iPhone keeps track of the places you visit most frequently using a feature called Significant Locations. This data can be used by apps to provide personalized content or ads. However, it can also be used to track your movements. To turn off Significant Locations, go to Settings > Privacy > Location Services > System Services > Significant Locations and toggle the switch to off.
4. Use a VPN
A Virtual Private Network (VPN) is a tool that can help protect your online privacy by encrypting your internet traffic and routing it through a secure server. This can prevent hackers and other third parties from tracking your online activities. To use a VPN on your iPhone, you'll need to download a VPN app from the App Store and follow the on-screen instructions to set it up.
5. Use strong passwords and two-factor authentication
Using strong passwords and enabling two-factor authentication can help protect your iPhone from unauthorized access. A strong password should be at least 8 characters long and include a combination of letters, numbers, and symbols. Two-factor authentication adds an extra layer of security by requiring you to enter a code sent to your phone or another device in addition to your password. To enable two-factor authentication, go to Settings > Passwords & Accounts > Security and toggle the switch to on.
6. Disable Siri
Siri is a virtual assistant that can help you perform various tasks on your iPhone, such as sending texts and making calls. However, Siri can also be used to access your personal data and track your location. To disable Siri, go to Settings > Siri & Search and toggle the switches to off.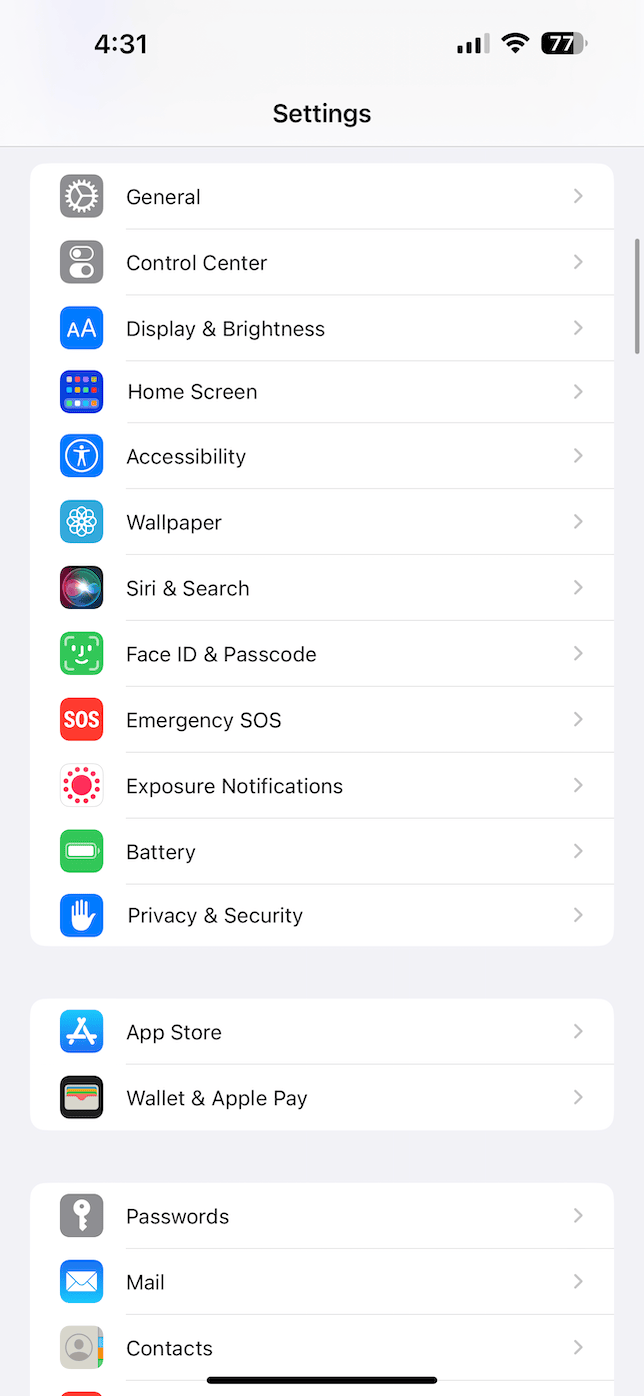 7. Disable Background App Refresh
A feature that is often forgotten about is Background App Refresh. It keeps your apps up-to-date with their content even when they're not in use. While this can be useful, it can also drain your battery as well as use up your data plan. It can also be used to track your online activities. To disable Background App Refresh, go to Settings > General > Background App Refresh and toggle the switch to off.
8. Use private browsing mode
When you browse the web on your iPhone, your device saves your browsing history and other data. This can be useful for quick access to your favorite sites, but it can also be used to track your online activities. To prevent this, you can use private browsing mode, which doesn't save your browsing history or other data. To use private browsing mode, open Safari and tap the icon in the bottom right corner that looks like two squares. Then tap [Number of] Tabs and choose Private > Done.
9. Turn off Wi-Fi and Bluetooth when not in use
Wi-Fi and Bluetooth are two features that can be used to track your location and online activities. To prevent this, you can turn off these features when you're not using them. To turn off Wi-Fi and Bluetooth, go to Control Center and tap the Wi-Fi and Bluetooth icons to toggle them off.
10. Use encrypted messaging apps
Messaging apps like iMessage and WhatsApp can be used to send and receive messages securely. However, they're not always encrypted by default, which means that anyone with access to your device or network could potentially read your messages. To ensure that your messages are encrypted, you can use messaging apps that offer end-to-end encryption, such as Signal or Telegram.
11. Enable Find My iPhone
Although the goal of this article is to make it impossible to track your iPhone, there are times when you might misplace your device. Enabling Find My iPhone can help you locate your device if it's lost or stolen. To enable Find My iPhone, go to Settings > Your Name > Find My > Find My iPhone and toggle the switch to on.
12. Consider using a privacy screen protector
A privacy screen protector is a screen cover that makes it difficult for others to see what's on your phone screen unless they're directly in front of it. This can prevent people from seeing sensitive information on your device, such as passwords and personal messages. There are a variety of privacy screen protectors available for iPhones on the market.
With the advancement of technology, it has become easier for hackers and other third parties to track our every move. By taking the steps outlined in this article, you can significantly reduce the risk of being tracked and keep your personal data safe. From updating your software and disabling location services to using encrypted messaging apps and turning off Wi-Fi when not in use, these steps can provide a strong defense against those who would try to steal your data. So, take action today and make your iPhone as secure and private as possible!