Have you heard the buzz about the iPhone's newest operating system, iOS 17? Wondering if it's time to make the switch? iOS 17 is a solid update with some great new features, and overall, users have been delighted with the results. 
Let's take a deep dive into the world of iOS 17's newest features so that you can decide if now is the time to update your iPhone. Everything you need to know about iOS 17 Apple released recently.
Apple releases new iOS versions every year, usually to coincide with the release of new iPhone models. Each new iOS includes important updates and features, and most iPhone users are excited to give the news system a spin as soon as it comes out.
While I appreciate new features as much as the next person, I almost always wait a few months before updating to a new iOS in case some bugs need to be worked out. In the case of iOS 17, I waited a full month before updating, and while there have been a few reports of bugs and issues with battery life, overall, the feedback has been positive, so I took the leap and updated my iPhone 14 Pro over the weekend.
Here's an overview of iOS 17 for those of you still on the fence about updating.
When is iOS 17 coming out?
iOS 17 was released on September 18, 2023, and there have been a few minor updates since then. If you have an iPhone, iOS 17 can be installed now.
What are the iOS 17 supported devices?
Not all iPhone models are compatible with iPhone 17. You can update to iOS 17 if you are using the following iPhone models:
iPhone SE (2nd Generation)

iPhone SE (3rd Generation)

iPhone XR, XS, XS Max

iPhone 11, 11 Pro, 11 Pro Max

iPhone 12, 12 Mini, 12 Pro, and 12 Pro Max

iPhone 13, 13 Mini, 13 Pro, and 13 Pro Max

iPhone 14, 14 Plus, 14 Pro, 14 Pro Max

iPhone 15, 15 Plus, 15 Pro, 15 Pro Max
Free up space before updating to iOS 17
As with any new operating system, iOS 17 will require quite a bit of space to install. You can be proactive by cleaning up your photo gallery before you update. Gemini Photos allows you to quickly swipe through your photos and delete the ones you no longer need, saving you lots of space in the process.
What are the new features of iOS 17?
New features are what entice people to make an update, and iOS 17 is no exception. While none of these features are earth-shattering, they are certainly welcome. Here's an overview of the most exciting features of iOS 17 for iPhone:
StandBy
StandBy for iOS 17 is a new feature that turns your iPhone into a digital nightstand clock with glanceable information such as the time, date, weather, and battery level.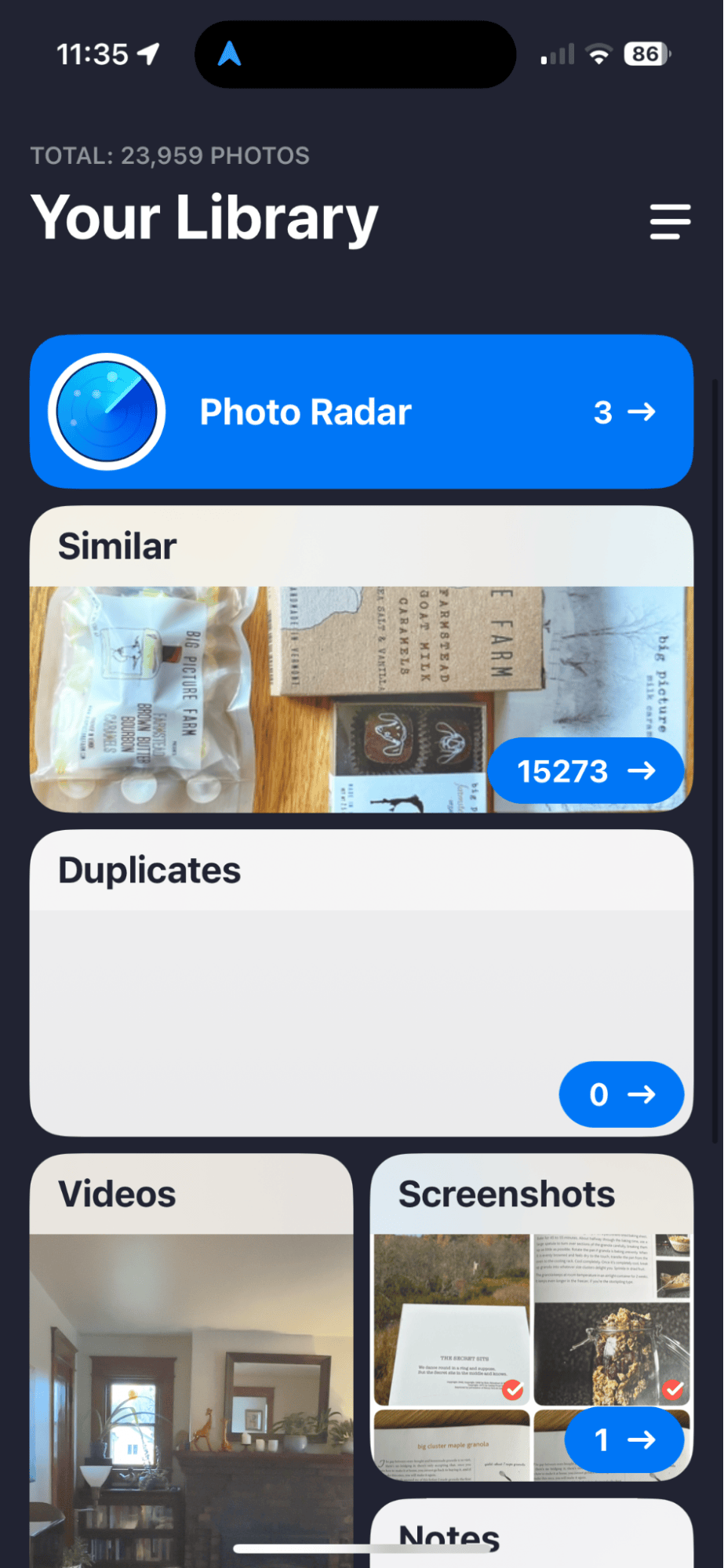 To activate StandBy, simply place your iPhone on an upright charger in landscape mode. The screen will turn on and display the StandBy interface. You can swipe to view different screens, which can include widgets, photos, and other information.
You can customize the StandBy interface by going to Settings > StandBy. Here, you can choose which widgets and information to display. You can also turn on or off notifications.
StandBy is a useful feature for people who like to keep their iPhone on their bedside table or desk. It allows you to quickly check the time, date, and other important information without having to unlock your iPhone.
Live Voicemail
Live Voicemail on iOS 17 is a new feature that allows you to see a real-time transcription of your voicemails as they are being left. You can also pick up the call while the caller is still leaving a message.
To use Live Voicemail, simply make sure that it is turned on in Settings > Phone > Live Voicemail. Once it is turned on, you will receive a notification on your lock screen when someone leaves you a voicemail. Tap on the notification to view the transcription.
You can also view your voicemail transcripts in the Phone app. To do this, open the Phone app and tap on the Voicemail tab. Tap on the voicemail to view the transcript.
Live Voicemail is a useful feature for people who want to quickly screen their voicemails or who have difficulty hearing voicemail transcriptions. It is also a great way to stay on top of your messages, even if you are busy or unable to answer your phone.
Contact Posters
Contact Posters on iOS 17 are a new feature that allows you to customize how you appear on other people's devices when you call them. You can choose a photo or video or create a custom poster with your name, nickname, and emoji.
To create a Contact Poster, open the Contacts app and tap on your name. Then, tap on Contact Photo & Poster. Tap on Edit and then tap on Customize. Tap on Poster and then choose the type of poster you want to create.
If you choose a photo or video, you can crop and resize it to fit your liking. You can also add filters and effects.
If you choose to create a custom poster, you can type in your name and nickname and add an emoji. You can also choose the font, style, and color of the text.
Once you are happy with your Contact Poster, tap ' Done.'
To share your Contact Poster, simply enable the Share My Contact Poster toggle switch. Your Contact Poster will then be shared with the people you call and text.
Contact Posters are a fun and creative way to express yourself when you are communicating with others. They are also a great way to make your calls and texts more memorable.
More iOS 17 improvements
iOS 17 also includes several other improvements, such as enhanced widgets, better battery life, FaceTime message recording, and custom stickers from your photos. 
Collaboration features allow you to control music with friends, share passwords with those you trust, swap contact info with iPhone users nearby, and share your location with a single tap.
Ready to immerse yourself in the interactive world of iOS 17 on your iPhone? Head to Settings > General > Software Update to install iOS 17 on your compatible iPhone today.