Are you ready to have a little fun with your iPhone videos? If you've never tried making a hyperlapse video, we'd like to encourage you to give it a try. This easy technique made waves last year when Instagram created its new Hyperlapse app, and since then, hyperlapse videos have been used to showcase everything from recipe tutorials to virtual travel tours. So let's take a deep dive into the world of hyperlapse to see what all the excitement is about.
What is hyperlapse?
A hyperlapse video is a moving time-lapse that has become popular among videographers. In its simplest form, a hyperlapse video is created by moving the camera a short distance between photographs. These videos can be created using still photos or videos, with the common thread being that the footage is sped up to show the passage of time in a relatively short video.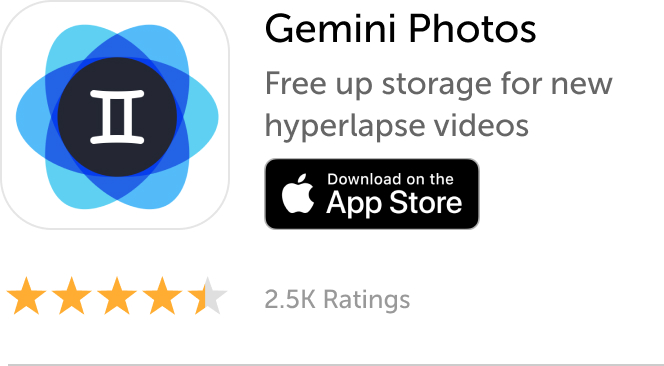 What's the difference between time-lapse and hyperlapse?
While the terms "hyperlapse" and "time-lapse" are often used interchangeably, there is a difference! The main distinction is that a time-lapse is filmed in a single location (for example, with your iPhone secured on a tripod to achieve a seamless video). A hyperlapse, by contrast, is usually created with a moving camera for a more cinematic effect.
How long can a hyperlapse video be?
A hyperlapse video can be as long or as short as you like. Just be aware of the disparity between the amount of footage you shoot and the length of the final product. Because hyperlapse videos are sped up significantly, you can easily adjust the frame rate to make 15- to 30-second videos using up to an hour of filmed footage.
How to shoot a hyperlapse on iPhone
Below, we'll share a couple of different ways to create hyperlapse videos using your iPhone. The first uses the Time-Lapse mode in your iPhone's Camera app. The second uses the Hyperlapse from Instagram app. Experiment with them both to see which one works best for you.
1. Use Time-Lapse mode on iPhone
Time-Lapse mode on your iPhone camera is extremely easy to use. It's simply a matter of tapping the shutter button twice. No matter how long you film for, your finished time-lapse or hyperlapse video will be between 20 and 40 seconds long. For instance, if you record for 10 minutes, the frame capture rate will be 2 frames per second (fps). Once you go over 10 minutes of footage, however, the finished product will be reduced to 1 fps. Here's how to shoot a hyperlapse using Time-Lapse mode on your iPhone:
Open the Camera app on your iPhone and choose Time-Lapse.
When you're ready to shoot your film, tap the shutter button and begin moving.
Tap the shutter button again to finish recording. Your video will be sped up and saved as a video in your photo library.
2. Use the Hyperlapse from Instagram app
With the Hyperlapse from Instagram app, you can film up to 45 minutes of footage and then choose your preferred playback speed, from 1x to 40x original speed. If you speed up your video enough, you'll even get a cool blur effect. Here's how to do it:
Download Hyperlapse from Instagram and open it on your iPhone.
If this is your first time using the app, be sure to give all the necessary permissions.
Tap the shutter button to start filming.
Tap the shutter button again to stop filming.
Your video will automatically play back at the recommended speed. You can scroll through the different playback speeds to find one that works for your video.
When you're happy with the results, tap the green checkmark to save your hyperlapse video to your Camera Roll.
Tips for shooting hyperlapses like a pro
The best way to learn hyperlapse techniques is to experiment with various shooting methods and compositions. If you don't know where to start, we've got a few tips and ideas to help you get started.
1. Shoot for at least 2 minutes
Again, it's important to remember that your video will be much shorter than the footage you create, so aim for at least 2 minutes of shooting time — or longer if possible. You can always edit a video that's too long, but you can't make a short video longer without doing more filming, which isn't always an option.
2. Try a road trip hyperlapse
Here's a fun idea: Secure your iPhone to the dashboard of your vehicle before your next road trip. You can use a dashboard or window mount to keep your phone stable. Before you head out on your trip, frame your shot so that you get a great view out your window. Then use your iPhone's Time-Lapse mode or Hyperlapse from Instagram and tap the shutter as you're driving. When you get to your destination, tap the shutter again to save your road trip masterpiece.
Want to make this project even more interesting? Mount your iPhone on your back window to film where you've been instead of where you're going!
3. Keep your filming slow and steady for a smoother effect
Because everything is faster with hyperlapse, you need to think about what you want people to see in the finished video. If you decide to focus on something specific, you'll need to slow down and spend a few seconds or more filming that point of interest. And if you change directions, do so slowly so that your movement is captured. Keep in mind that moving quickly when filming will make movements in the resulting hyperlapse appear even more drastic, and your viewers may not enjoy the craziness.
4. Capture your next walk or hike with a hyperlapse
The walk you take every day may not be exciting to you, but if you turn it into a hyperlapse, it becomes a lot more interesting. Instead of holding your phone out to film for your entire walk, try attaching it to the strap of a backpack so you can capture your walk or hike hands-free. Then you can simply tap the shutter button and forget about your phone entirely. When you get home, you'll have plenty of footage to create a mini-masterpiece.
Ready to try your hand at creating a hyperlapse video on your iPhone? This is truly one of the easiest techniques to master and one of the most fun too!