For most of us, text messaging is our preferred way of communication. I'm sure you've had the experience where you accidentally deleted a crucial text message on your iPhone and felt lost. Don't worry. Clearly, you're not alone. We've all been there — myself included — and know how frustrating it can be. But guess what? You're not necessarily at a total loss. There still might be a way to get those messages back.
So, you can sit back and take a deep breath. In this article, I'll walk you through the process of finding deleted messages on iPhone. Plus, I've got a few more tips that can help you keep your iPhone clean and decluttered. Let's jump into it!
How to see deleted messages on iPhone
Now, before you dive right into attempting to recover your deleted messages, it's important to keep in mind that there's always a chance that it might not work. Like with any other type of data recovery, there is never a guarantee that you'll be able to retrieve anything.
That being said, the methods you'll read about below will greatly increase your chances of getting back your messages. So, there's definitely no reason to lose hope yet. Let's take a look at a few ways you can find deleted text messages on your iPhone.
How to retrieve deleted text messages on iPhone
Starting with iOS 16, Apple included a built-in method for recovering your recently deleted text messages. It will save deleted messages for up to 30 days before purging them forever. Here's how you can see what messages you've recently removed and restore them:
Open the Messages app.
Press and hold Edit.
Tap Show Recently Deleted.
Select the conversation(s) and then tap Recover.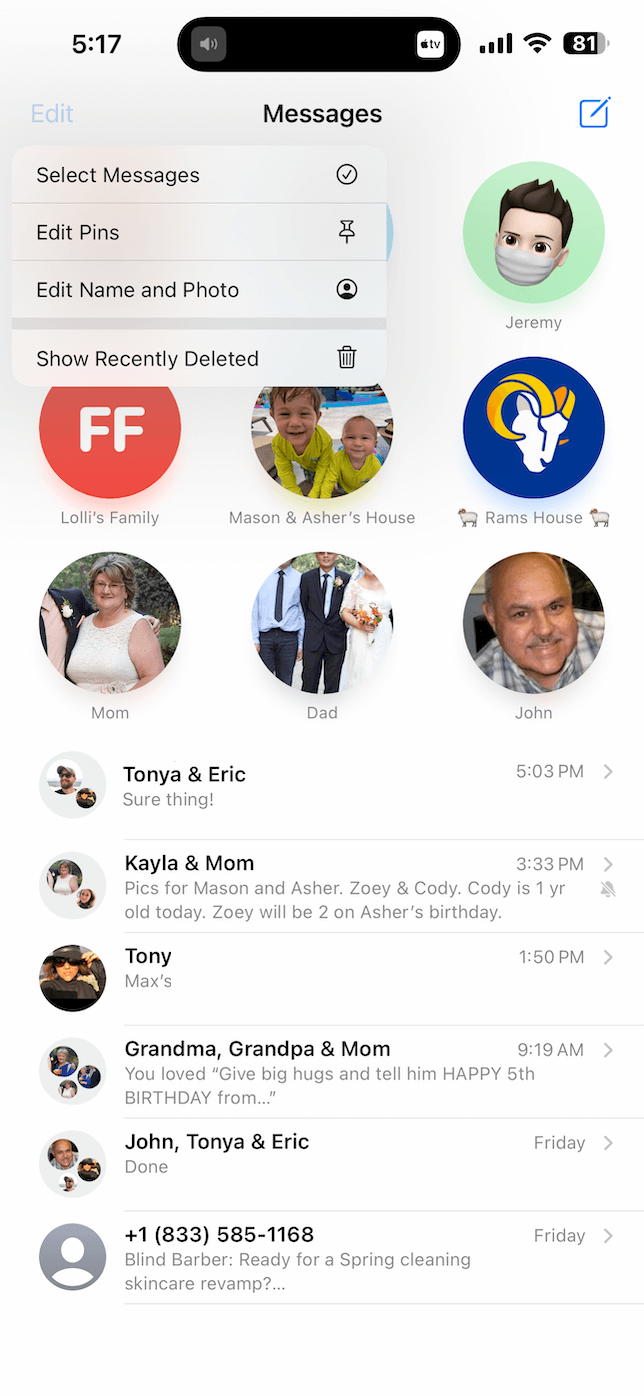 If you're running an operating system older than iOS 16, then there are two main ways to retrieve deleted messages on your iPhone, and they're dependent on whether or not you had a backup of your iPhone. Obviously, regularly backing up to your computer or iCloud can help reclaim files you've deleted. However, there are still tools you can use to get them, even if you haven't been as diligent with backing up.
1. How to recover deleted messages on iPhone with backup
As far as backing up your iPhone, there are two default ways you can do it: using iCloud or your computer. Whichever backup method you prefer, the basic principle is the same. 
The major drawback to recovering messages from any type of backup is that it does require you to restore your entire phone. That means all of your data will be wiped. But theoretically, you'll only lose the data that you've accumulated since your latest backup.
Recover messages from an iCloud backup
Before you try restoring from an iCloud backup, you should check to see when your last backup was performed. The last thing you'd want is to find out you turned off iCloud Backups to save space and now don't have any of your information saved.
You can very easily check your backup status by opening the Settings app and tapping on [your name] > iCloud > iCloud Backup. You'll quickly see whether your backups are turned off or turned on, but if you tap on that field, you'll be able to see when your last successful backup occurred.
If you're happy with when your most recent iCloud backup of your iPhone happened, then you can follow these steps:
On your iPhone, open the Settings app.
Tap General > Transfer or Reset iPhone > Erase All Content and Settings.
Then, follow all of the prompts.
When your phone has finished being erased, follow the setup screens until you get to the App & Data screen.
Select Restore from iCloud Backup and sign into iCloud with your Apple ID.
Choose your most recent backup and wait for the process to complete.
Recover messages from a computer backup
Chances are that if you're backing your iPhone up to your computer, then you already know this information. But if you don't, then Macs running macOS Catalina or later will use the Finder to manage your iPhone, while all other operating systems will use iTunes.
Connect your iPhone to your computer with the USB cable.
Open Finder/iTunes.
Select your iPhone in the sidebar.
In the General tab, click Restore Backup…
Look at the date of each backup and choose the most recent one.
Then, click Restore and wait for it to finish.
Restore text messages without restoring your iPhone
If you're not ready to commit to wiping your phone for your deleted messages, there is another method you can try. It's called iCloud Merge. It's an incredible feature. When it works. And that's the catch. While it doesn't require a complete reset of your iPhone, there are mixed reports online about how successful it is.
Of course, there's also the issue that iCloud doesn't back up your non-iMessages, or SMS messages, in certain territories around the globe. Their reason for not saving these is not known, but it's believed to be an arrangement with specific phone providers.
Either way, it's still worth giving a shot and seeing if it can save you from erasing your phone.
Follow these steps to use iCloud Merge:
Log in to iCloud.com using your Apple ID and password.
Click on Text Messages.
Note: If this isn't listed as an option, then that means your messages haven't been backed up. So, you won't be able to use iCloud Merge.
Search the messages to find the ones you need.
Now, go to your iPhone and choose Settings > [your name] > iCloud.
Turn off Text Messages.
You'll see a pop-up. Select the option to Keep On My iPhone.
Then, turn Text Messages back on.
In the prompt, tap Merge and wait for your deleted messages to sync back to your phone — this can take a few minutes.
Remember, this method's effectiveness may vary, but it's worth trying before resorting to more drastic measures. If iCloud Merge doesn't work for you, consider the other methods we've discussed earlier in this article.
2. How to recover deleted messages on iPhone without backup
Now, if you haven't been backing up your iPhone, then that's when things get a little bit tricky. You'll need to enlist the help of a third-party recovery tool that can help you out. There are several very popular apps that people online have recommended. A few of those apps include:
AnyTrans
EaseUS MobiSaver
PhoneRescue
Keep in mind that your mileage may vary with each of these applications. Additionally, it's always a good idea to back up your phone before attempting any data recovery. Because you are playing with the software, there's always a chance for it to get corrupted and cause even bigger issues for you. Saving a backup will at least allow you to revert your iPhone back to how it is now. So, you won't have your recovered text messages, but you'll have the rest of your data intact.
Bonus tip: How to remove duplicate photos on iPhone
If you accidentally deleted the text messages from your phone because you were trying to clean up the clutter, another great place to declutter is your photos library. It's not uncommon for libraries to be filled with duplicate pictures. Thankfully, though, you can download the app Gemini Photos to help you quickly clean up your images. 
Gemini Photos is so quick and easy to use — once you have it downloaded to your phone, all you have to do is follow these steps:
Open Gemini Photos.
Let it scan your pictures and then tap Duplicates.
The app will automatically select the images it thinks you should delete. Review the suggestions.
Then, tap Delete [x] Duplicates.
There you go! That's all you have to do to let Gemini Photos quickly declutter your photo library. You can even repeat the steps for other categories like Similar images, Screenshots, Notes, and more.
Recover deleted messages from your phone provider
After you've exhausted all of the options you just read about, if you've been unsuccessful, there is still one thing you try. You can reach out to your phone carrier.
Depending on where you live and who your carrier is, they may retain copies of all text messages sent to and from your phone number. That being said, they'll only have records of your texts sent via SMS — meaning the green bubble texts. The blue bubbles, or iMessages, are treated like data, and your phone carrier will not have access to those due to privacy liability.
You'll want to reach out to them using any designated chat support or phone number they provide. Typically, you can find this on their website or in their app.
Although it's not always possible to recover deleted messages on your iPhone, following the steps outlined in this guide can significantly improve your chances. Remember to try third-party recovery tools if you don't have a backup, or use iCloud and iTunes/Finder backups to restore your lost messages.
And don't forget to declutter your photo library using Gemini Photos to remove duplicate images and free up space on your iPhone.
In the future, consider regularly backing up your iPhone to ensure you don't lose valuable data, such as text messages and photos. With a proper backup, you'll have peace of mind knowing that your data is safe, even if you accidentally delete something important.
We hope this article has been helpful and you were successful now that you know how to recover deleted messages on iPhone.