You've undoubtedly heard of VSCO before, and perhaps you've used it before to up your photo game. VSCO is an easy-to-use photo editing app that is especially popular due to its range of unique filters that can drastically (or subtly) change the look of your photos. Whether you're shooting selfies, travel pics, or artsy lifestyle shots, there's a VSCO filter with your name on it.
While VSCO offers 10 free filters for users who download the app, the premium subscription offers more than 200 gorgeous filters to choose from. Here are the best VSCO filters — free and paid alike — for all of your best photos.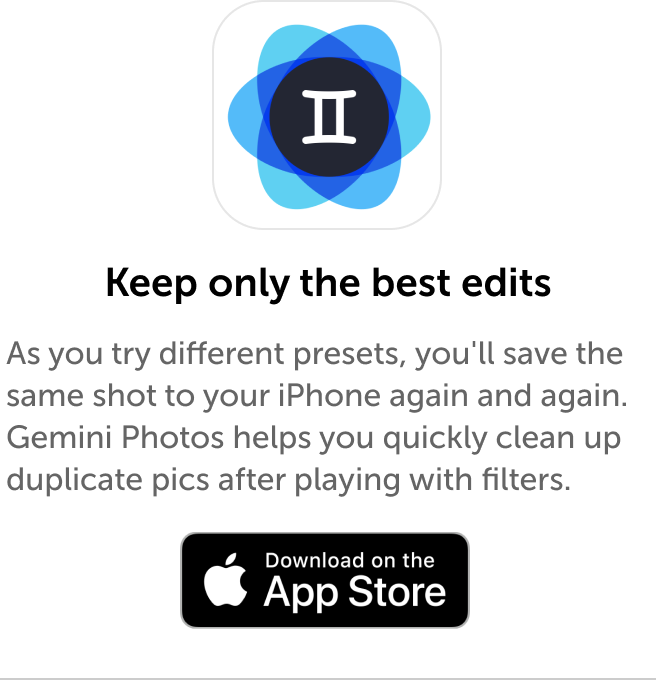 The best VSCO filters for portraits and selfies
Looking for a VSCO filter that will maintain an even skin tone and hold on to detail while still emphasizing the background and color palette? Check out these VSCO presets, which are great for portraits.
1. AV4/Agfa Vista 400: Bring back the look of film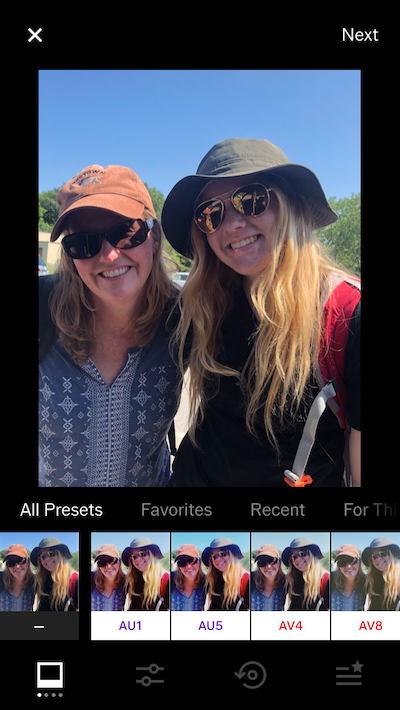 Agfa Vista was a brand of camera film originally created for amateur photographers. In the VSCO app, the Agfa Vista filter ups the blue tones in your photo while highlighting natural tones and colors. Skin tones are a bit brighter, shadows are darker, and the overall feel is vintage with a look that is reminiscent of film.
2. KP5/Kodak Porta 400NC: Another film simulation from VSCO
Kodak Porta film was originally designed to offer a smooth color palette with vivid hues to work well on all skin tones. The VSCO filter KP5 tries to emulate that look with cooler skin tones, lighter blues, and shadows that are just a tad darker than normal. Portraits taken with KP5 are on the dreamy side and are perfect for professional-looking shots indoors and out. 
3. AGA1/Agave: A VSCO preset for outdoor portraits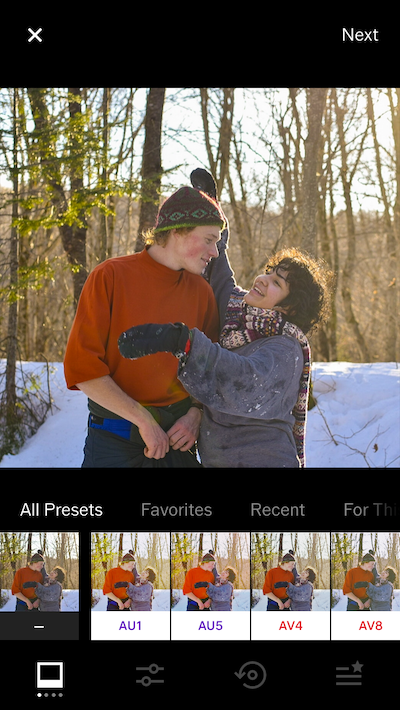 For fabulous-looking outdoor portraits, look no further than AGA1, which features deeper contrast, sharper details, and cooler overtones. AGA1 makes highlights a little brighter to give a pop of color to portraits within the natural landscape. This is a stunning choice for candid shots and photo shoots.
4. AL6/Mixed Boost: A pop of color for portraits and street photography
AL6 ups the saturation while still managing to keep skin tones looking natural. The overall look is cooler but with warm highlights and skin tones. AL6 is a unique filter that is perfect for busy street scenes, festivals, portraits of kids, and even pets. It's worth experimenting with other types of photography, too.
5. J6/Minimalist: A great undersaturated VSCO filter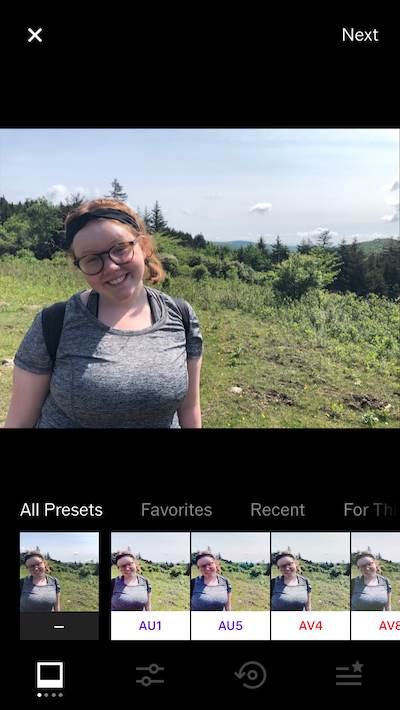 If you are seeking to capture detail in your portraits without saturated color, check out J6, which brings the saturation way down so that you can let the personality of your subject shine through. Shadows are a little deeper, and highlights are a little brighter, but the overall effect is more like a muted wash. 
VSCO filters for landscapes and nature
Editing landscape shots can be tough, especially if you're trying to create a cohesive theme for your Instagram feed or portfolio. Fortunately, these VSCO filters make it easy. You may have to adjust the sliders to reduce the strength for some shots, but for the most part, these presets are fabulous for landscape and nature shots.
6. DOG3/Isle of Dogs: A nice VSCO filter for warm overtones
Want to create a subtle pink sky that says golden hour even in the middle of the day? DOG3 warms up your landscape shots while decreasing shadows. DOG3 is a bit otherworldly, introducing hints of orange and purple while still retaining a natural feel. DOG3 is part of the Isle of Dogs series, based on the film of the same name.
7. L5/Forest: A VSCO preset especially for trees and gardens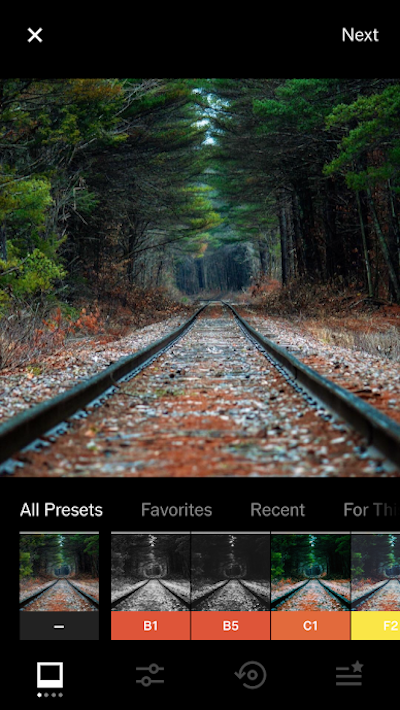 To really bring out the green in your forest shots and highlight leaves and other plant life, check out L5, which is part of the landscape series designed by VSCO. L5 ups the saturation and adds depth to otherwise boring landscapes, and the landscape presets are intuitive and perfect for all of your nature photography. This is a great choice for photographers who love color and aren't afraid to show it.
8. L8/Beach: The perfect VSCO preset for deep contrasts
VSCO's landscape series is designed to work with different types of landscape photos, from mountains and forests to beaches and deserts. Using the L8 VSCO preset will make the darkest parts of your photo really pop while bumping up the saturation and increasing the contrast.
L8 is bright and sunny. This makes it a great filter for all landscape shots but especially attractive when photos have natural blue and green hues.
9. IND2/ Indigo Soft: A VSCO filter for dark and moody shots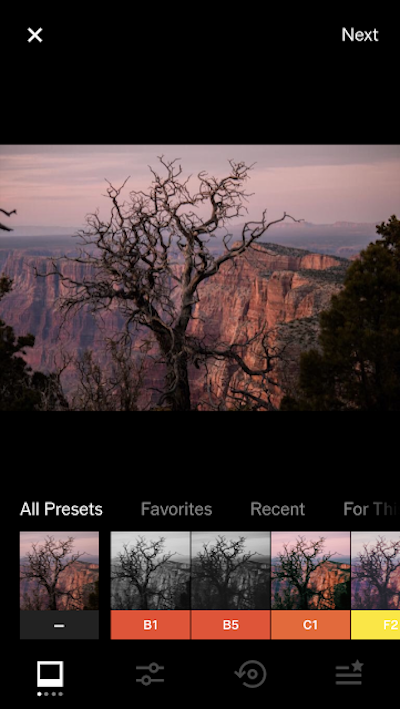 IND2 may not be for everyone, but it's a great VSCO preset for making even the most cheerful landscape shot look like it was plunged into nighttime. IND2 produces cool tones, dark shadows, and muted colors, so it's great for otherwise bright landscape shots without people in them. It's also a fun way to create a bit of mystery.
10. V3/Valence: A VSCO filter for low contrast and added warmth
V3 is a subtle filter, but it's perfect for taking drab, dark scenes and giving them a little added brightness while reducing shadows and highlights. V3 is quite versatile and is perfect for street scenes, landscapes, still-life shots, and even portraits, but we particularly love how it accentuates natural scenes. Use it to accentuate multiple photos for a cohesive Instagram theme.
The best black-and-white VSCO filters
If you've been under the impression that all black-and-white filters look the same, you ought to experiment with some of these VSCO filters. No matter what you're shooting, there's a great black-and-white filter for you.
11. B4/B&W Classic: The top black-and-white filter on VSCO
They don't call it B&W Classic for nothing. This VSCO filter is great at retaining detail, adding contrast, and really making your photos pop. It's great for everything from landscapes and cityscapes to portraits and pet photography. If you want a black-and-white filter that does it all, B4 is the one.
12. X2/B&W Fade: Subtle black-and-white VSCO filter
X2 reduces contrast for muted tones of gray that are reminiscent of old-fashioned black-and-white photography. While X2 may not be great for retaining details in landscapes and buildings, it's lovely for creating a soft mood and capturing macro shots, vintage portraits, and artistic captures.
13. KT32/Kodak T-Max 3200: A warm VSCO filter for black-and-white portraits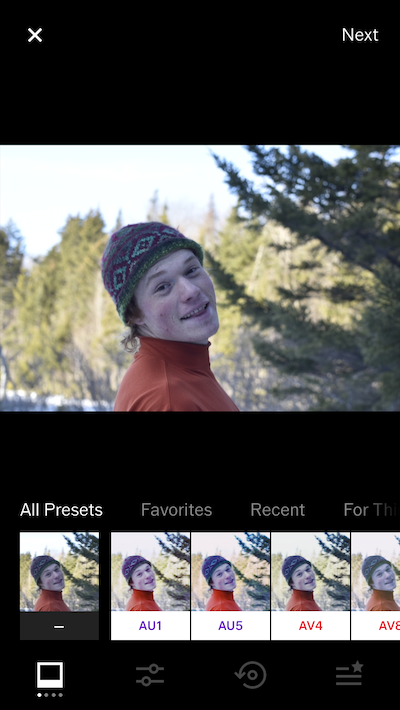 KT32 is a bright black-and-white filter with warm tones and dynamic highlights. It's a great choice for capturing a single subject, such as a portrait without a busy background. The foreground is accentuated, and the background fades away. Shadows are lightened up a bit, too.
14. IHF/Ilford HPF: A fun VSCO filter for winter scenes
The IHF VSCO filter lets you step back in time to an era when photographic details were less important and capturing the essence of a scene was critical. IHF does retain crisp edges, but it does so while minimizing tonal contrast for shots that seem like they were created decades ago. Buildings thrive under the IHF treatment, as do pastoral scenes, still-lifes, and macros.
15. FN16/Fuji Neopan 1600: Great VSCO filter for retaining details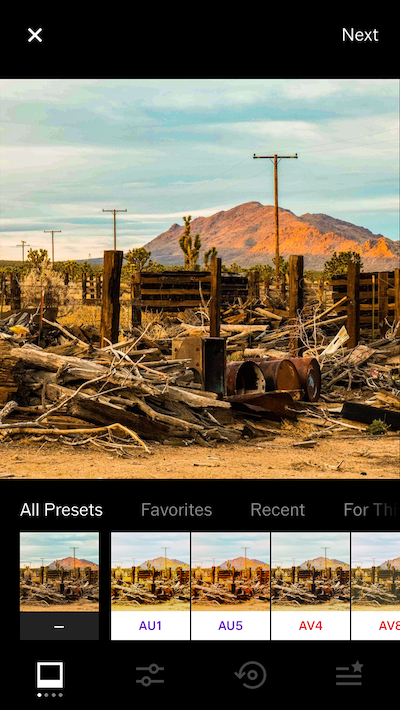 If your photo has a lot going on, you'll want to choose a black-and-white filter that will maintain all those different tones so that the details can be preserved. FN16 does a great job of this and is nice for street scenes and busy landscapes.
If you're looking for ways to easily edit photos with the press of a button, VSCO is a fun and thoroughly addictive choice. There are more than 200 presets to choose from, and you'll no doubt find your own favorites after some time on the app.