Given that social media platforms have been making the shift toward more video content for a few years now, isn't it time you do the same? If you've been procrastinating when it comes to embracing video content, you're not alone. But the fact remains that the medium is growing, and so are the apps available for editing your work. Video is no longer a medium for professionals, and these apps prove it! If you're looking for the best video editing apps for iPhone, we encourage you to start with this list. We've rounded up the best video editing apps free and paid, suitable for all levels of videographers.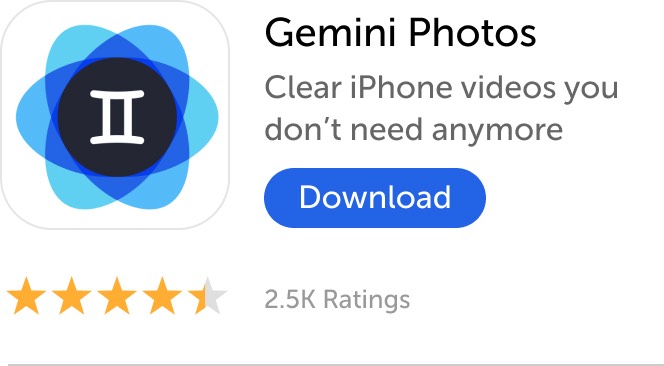 The best free video editing apps for iPhone and iPad
We'll begin with a few free video editing apps. The following apps are great for beginners and anyone who wants to give video a try without making a big investment:
iMovie
Quik
Photos
Magisto
Adobe Spark Video
InShot
FilmoraGo
Videoshop
Hyperlapse
PicPlayPost
1. iMovie: An easy video editing app to get you started
Let's start with the basics, shall we? iMovie includes everything you need to stitch video clips together, cut out bloopers, and add sound effects and music. Not only is iMovie great for basic editing, but you can also create Hollywood-style trailers that your friends and family will love. If you don't want to fuss with details, choose from one of eight ready-to-go themes that include music, transitions, and titles. Sure, there are limitations to what iMovie can do, but you have to start somewhere, right?
2. Quik: The GoPro Editor for iPhone
If you're short on time and want to create stunning videos with just a few taps, check out Quik, designed with GoPro videos in mind. This intuitive app allows you to download your favorite photos and video clips. Then, it chooses the best moments from your footage, adds cool transitions and effects, and even sets your videos to music. Videos can be added directly from a GoPro or from your photo library. Choose from 26 customizable themes or create your own!
3. Photos: A fast fix for trimming and retouching videos
You can't get much more basic than iPhone's native Photos app for editing videos, but if all you need is a quick fix to the most common video issues, sometimes less is more. With Photos, you can quickly trim videos down to size and retouch clips that are too dark or need a bump in contrast. Cropping videos is easy, too! Photos even has filters that you can add with a single tap. You aren't likely to win any awards for your editing in Photos, but you will get it done in time for dinner. No need to download Photos — you've already got it!
4. Magisto: Award-winning video editor
Winner of numerous awards, including Apple's Best of 2019: Discover The Storyteller Within award and Consumer Reports' 2017 #1 Video Editing app award, Magisto makes creating beautiful videos easy and fun. Magisto includes ready-made templates for all kinds of occasions, as well as options to cut, trim, merge, and reorder your clips. The app works seamlessly with your photo library as well as Google Photos, and AI editing technology helps you make intuitive editing choices.
5. Adobe Spark Video: Create and edit short, snappy videos
If you want to create short, visually stunning videos to share on social media, you'll love Spark Video from Adobe. With Spark Video, you can quickly combine photos, videos, and icons into short, catchy videos. Choose from an array of free soundtrack options or use the voiceover feature to narrate your clips. Pre-made themes add cinema-quality effects to your movie for added appeal. Once you've created your masterpiece, you can easily share it across all of your social media accounts.
Adobe Spark Video on the App Store
6. InShot: No-nonsense video editing app with great filters
This is a basic video editing app with a clean user interface that beginners and experts alike will appreciate. It's great for bare-bones editing that allows you to trim, speed up, and merge videos with music or voiceovers. InShot includes a collection of unique video filters that will add flair to your movies. If you enjoy using these, you may want to splurge on InShot Pro for $3.99 a month.
7. FilmoraGo: Powerful video editor for everyone
FilmoraGo is another creative video editor that is easy and fun to use. Choose from a variety of fun templates or make your video from scratch. Features include an intuitive timeline view so you can easily manage multiple timelines, the ability to trim, split, duplicate, and merge video clips, and the ability to playback your clips in reverse. Many of the FilmoraGo features are free to use, but the advanced features will require an annual subscription of $32.
8. Videoshop: Powerful and user-friendly video editing app
This powerful, free video editor includes all the necessary tools required to make professional-quality videos from your iPhone. Features include basic retouching, text overlays, animated titles, music and sound effects, slow-motion effects, and an array of beautiful filters. You can create your video from iPhone clips, photos, or stop animation, and you can resize your finished movie to share it on various social media platforms. If you love the free version of Videoshop, you may want to invest in the Videoshop Pro for an annual fee of $23.99.
9. Hyperlapse: Best video editing app for time-lapse videos
Ready to create amazing time-lapse videos to share? Hyperlapse was developed by Instagram to shoot polished time-lapse videos using in-house stabilization without the need for tripods or other equipment. The footage is instantly stabilized to smooth out any jarring bumps and give your movies a more cinematic feel. With Hyperlapse, you can capture a sunrise in 10 seconds, shoot your point of view as you run a 30-second marathon, and even film the tides going in and out. When you're finished recording, speed your time-lapse video to up to 12x the original speed before seamlessly sharing with your friends.
10. PicPlayPost: Best editor for creating video collages
PicPlayPost is the best video collage maker available, with more than 15 million users. Not only does PicPlayPost provide a full range of advanced editing capabilities for videos up to 30 minutes long, but the video collage feature allows you to merge multiple clips so that they can all play at the same time. Everything you need to build a community with professional content is at your fingertips. Many of the pro-level editing tools and collage makers are free, but you will gain access to even more tools with the premium subscription, which runs $24.99 a year.
The top 10 paid video editing apps for iOS
Can't get enough of shooting and editing videos with your iPhone? You may be ready to invest in a paid app that will take your videos to the next level. The following are the best paid video editors for iPhone and iPad:
LumaFusion
Filmmaker Pro
MovieSpirit
Videoleap Premium
Filto Pro
Video Star
PowerDirector
Splice
Adobe Premiere Rush
KineMaster
11. LumaFusion: Advanced features for pro videographers
LumaFusion offers powerful features and an elegant user interface for the new and experienced videographer alike. The simple-start timeline is helpful for new users, and professionals will find advanced features that will allow them to fine-tune every aspect of their videos. You can do all the basics with LumaFusion that you can do with the free apps. Plus, you can also create projects with more than one aspect ratio, use royalty-free music and video footage, and add up to six additional audio tracks. At $29.99 per year, LumaFusion is the perfect way to level-up your video production.
12. Filmmaker Pro: Video editor with beautiful filters and transitions
Filmmaker Pro excels at providing more options than you'll likely know what to do with. This includes more than 30 beautiful video filters, 39 professional transition options, 79 fonts, and 84 thematic music tracks. Use the pro editing tools to customize to your heart's content or take advantage of ready-to-go effects to create professional movies without a lot of fuss.
Filmmaker Pro on the App Store
13. MovieSpirit: Premium video editing without a subscription
MovieSpirit is a comprehensive video recording and editing tool that gives you lots of flexibility and top-notch features. Instead of a subscription fee, MovieSpirit can be downloaded for a flat rate of $9.99. In addition to standard features like crop, merge, and split, you can also use MovieSpirit to add a creative flair to your movies. For example, you can overlay multiple videos and photos in a single clip, add masks to hide parts of a video, add special effects like snow, rain, and fire, and even draw graffiti directly on your film clips. The possibilities are endless with MovieSpirit.
14. Videoleap Premium: High-end video editing features
The pro version of Videoleap is a pleasure to work with. You have easy access to all the pro-level editing tools you could dream of, as well as a green screen, layer-based editing for creative cinematic compositions, and in-app stock footage. Special effects include text overlays, adjustable film filters, chromatic aberration, and video double exposure tools. The creative possibilities are endless with Videoleap Premium, which is available for $7.99 a month.
Videoleap Premium on the App Store
15. Filto Pro: The best pro editing app for adding video filters
The Filto app is all about adding filters and special effects to your videos. Yes, you can download Filto for free, but the premium version has hundreds of options for creating unique looks and sounds. A few of the creative filter options include video distortion, VHS movie looks, retro film filters, and accented light and shadow overlays. You'll also have access to the Filto music library and unique fonts to make your video stand out.
16. Video Star Pro: The best video editor for music videos
Have you ever wanted to make your own music videos? With Video Star, you have all the tools you need at your fingertips. With it, you can create your own videos from scratch, fan edits, and lip-sync music videos. Dozens of effects are available in the free version of Video Star, but pro access provides you with thousands of effects to color, animate, warp, and enhance your clips.
17. PowerDirector Pro: Great video editing app for vloggers
Whether you're creating cinematic movies, making unique adventure vlogs, or just combining clips to share your most memorable moments, you will enjoy the easy-to-use selection of professional video editing tools available on PowerDirector. The user interface is clean and intuitive, and the editing process is quick and seamless. Like many of the apps we've mentioned, PowerDirector does provide some free tools if you want to try before you buy, but many of the pro-level tools require a premium subscription. PowerDirector includes a massive library of stock footage, photos, and music, plus professional templates that you can customize to meet your needs.
PowerDirector on the App Store
18. Splice: Best video editor for action and adventure
Splice is one of the best all-around video editing apps for beginner and intermediate users, especially for shooting action and adventure films. Cool transitions, hundreds of soundtrack choices, and intense special effects add to the appeal of its easy editing interface. Splice is free to download, but the movie creator and editor features are $9.99 a month.
19. Adobe Premiere Rush: Shoot, edit, and share videos with one premium app
If you enjoy using Adobe Spark (mentioned previously), you will love the next-level editing tools available with Adobe Premiere Rush. Upgrading to the premium version of Premiere Rush will give you access to professional editing tools, as well as hundreds of music tracks, sound effects, loops, animated titles, overlays, and graphics. A built-in camera lets you capture pro-quality videos directly from the app, then quickly add it to your multi-track editing timeline.
Adobe Premiere Rush on the App Store
20. KineMaster Premium: Easy interface for complex video projects
KineMaster is a free video editor that provides the user with powerful features if you are willing to pay the premium subscription fee of $3.99. This subscription includes a huge array of special effects and filters, the ability to work in many different layers, and the option to export your video in high resolution without a watermark.
When it comes to video editor apps for iPhone, you have a lot of options — both free and paid. While we've narrowed down this list to include only our favorites, the best way to discover your own preferred video editor is to try them out for yourself. And if you ever need to turn your video into something more lightweight, try converting the video into a GIF on your iPhone,