The one thing that can make or break any video is the audio. It's one of the most important aspects of any video, and finding the perfect background music can do a lot of the heavy lifting for you.
Music can keep your videos interesting with high energy. Or it can make things feel somber and heartfelt. Either way, finding the right track is everything. This article will list the best places to find music for your videos and show you how to add songs to your video projects.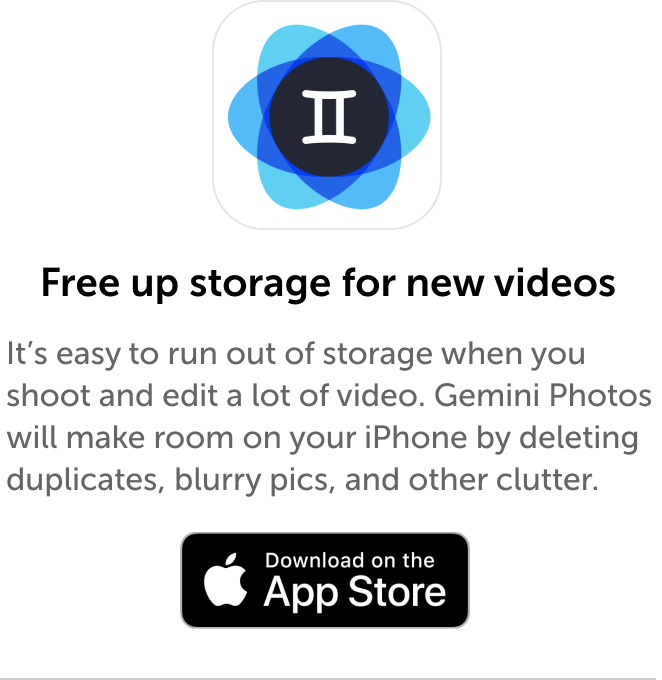 Types of licenses when getting background music for video
When it comes to using music in your videos, there are three types of licenses you need to know about. If you've ever used stock pictures or videos, then these terms might sound familiar:
Royalty-Free: This means you pay a one-time fee, and then you don't have to pay a recurring royalty each time that video is played.
Public Domain: Music with this type of license is no longer protected by the original copyright.
Creative Commons: This is the catch-all for everything else. Typically, if you attribute the original artist and don't profit from the video, then you'll be covered. But make sure you read the fine print before you use this type of license to protect yourself.

Top 10 websites with royalty-free background music
Just to make things easy, we'll only be talking about websites that have royalty-free music. Now, remember that this doesn't mean the music is free to use. It just means that you don't have to pay a royalty every time you show your video. So whether you're just making a short Instagram video or starting a YouTube channel, you can buy that music once and use it in your video without extra charges.
1. Artlist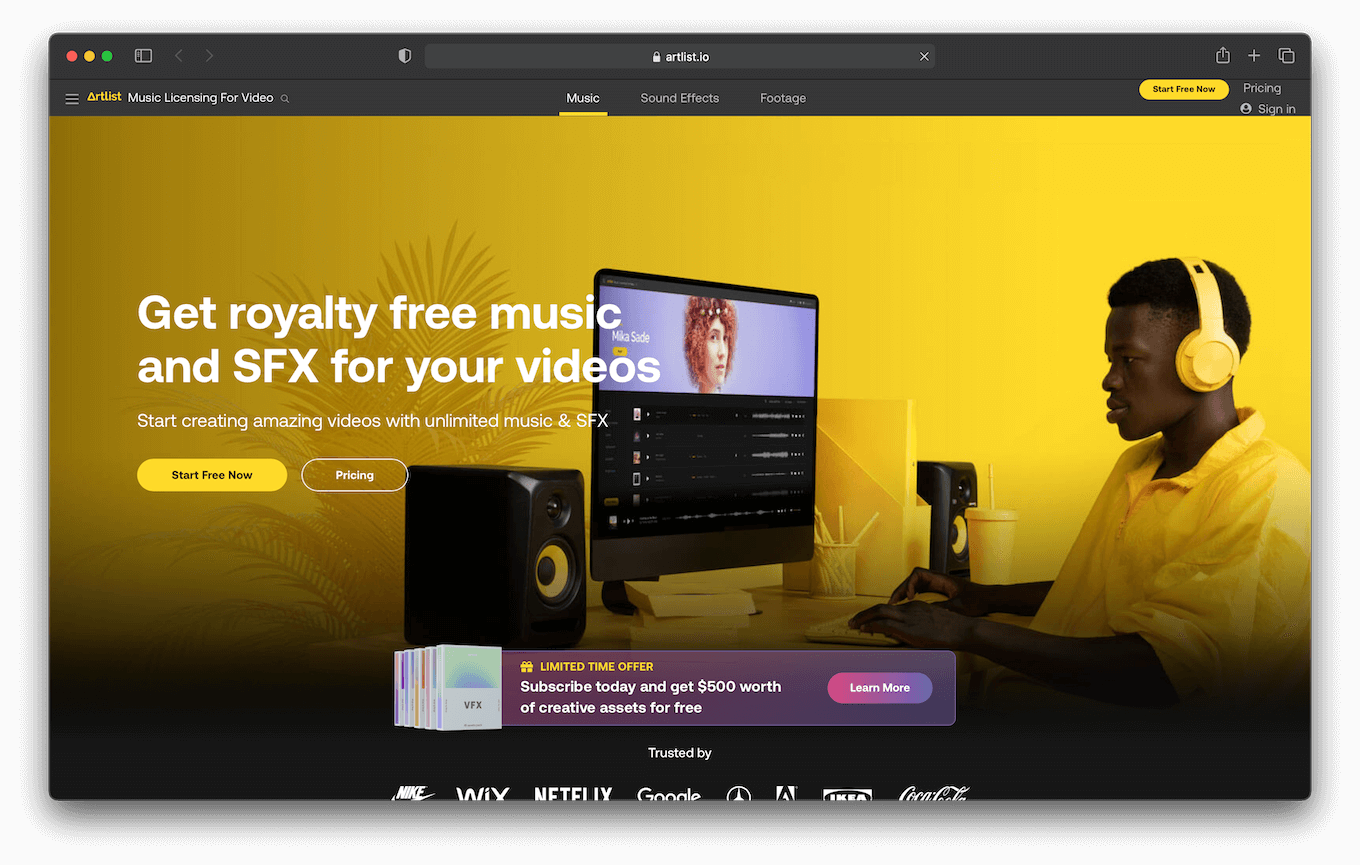 Kicking off the list is none other than Artlist, the easy-to-use, royalty-free stock music library. Not only will you be able to find the perfect song for your video but also pretty much any kind of audio you might need. Artlist also has a huge library of sound effects for whenever you need some extra whooshes or general transitional noises. You'll have a lot of fun searching and discovering all types of audio on Artlist.
2. Bedtracks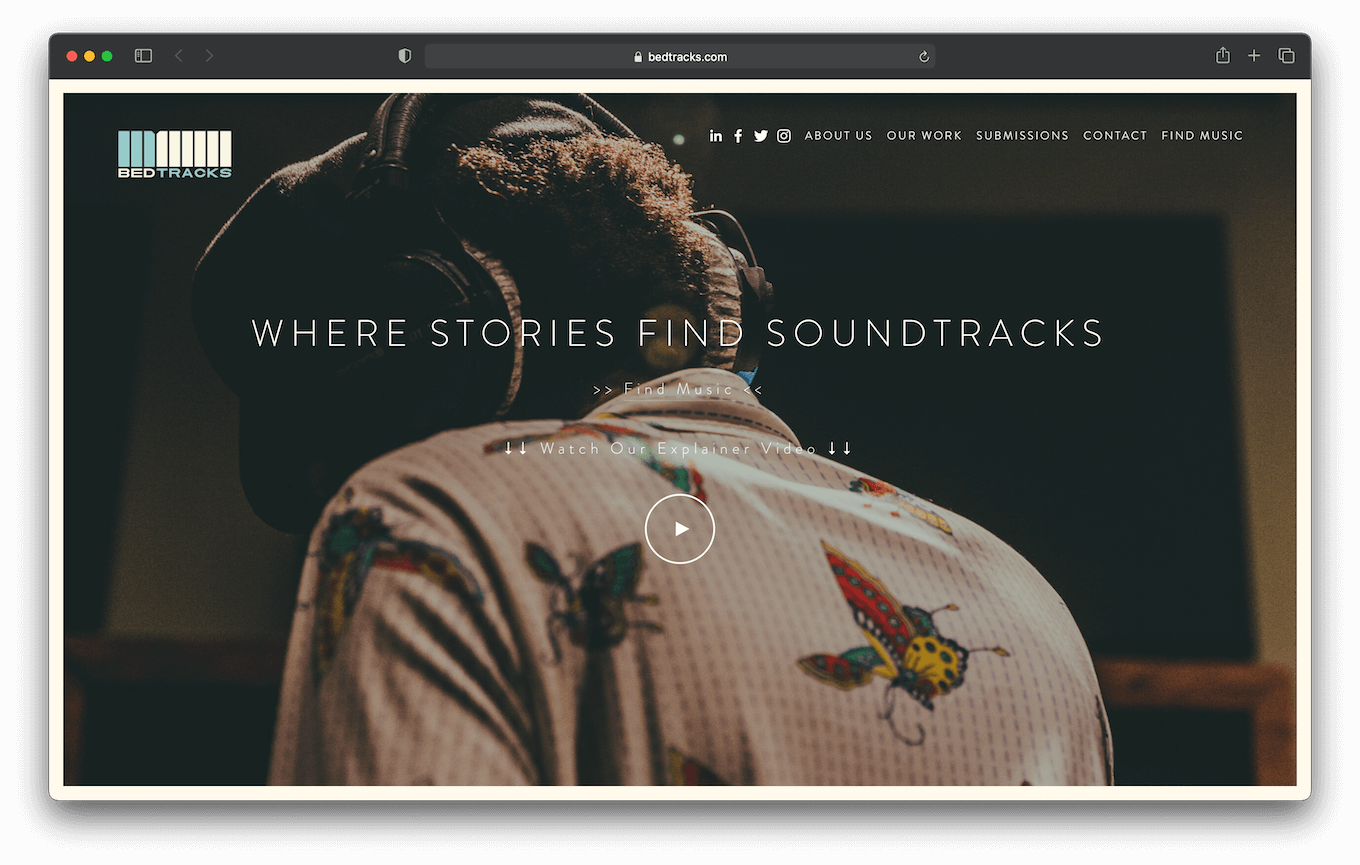 Similar to other online music libraries, Bedtracks lets you search for music using keywords, or you can filter your search based on genre, tempo, or what they refer to as attitude. A big differentiator with Bedtracks is that you can search with a YouTube link. So, if you find a reference track on YouTube, Bedtracks will scan the audio from that video and show the tracks that best match.
3. Epidemic Sound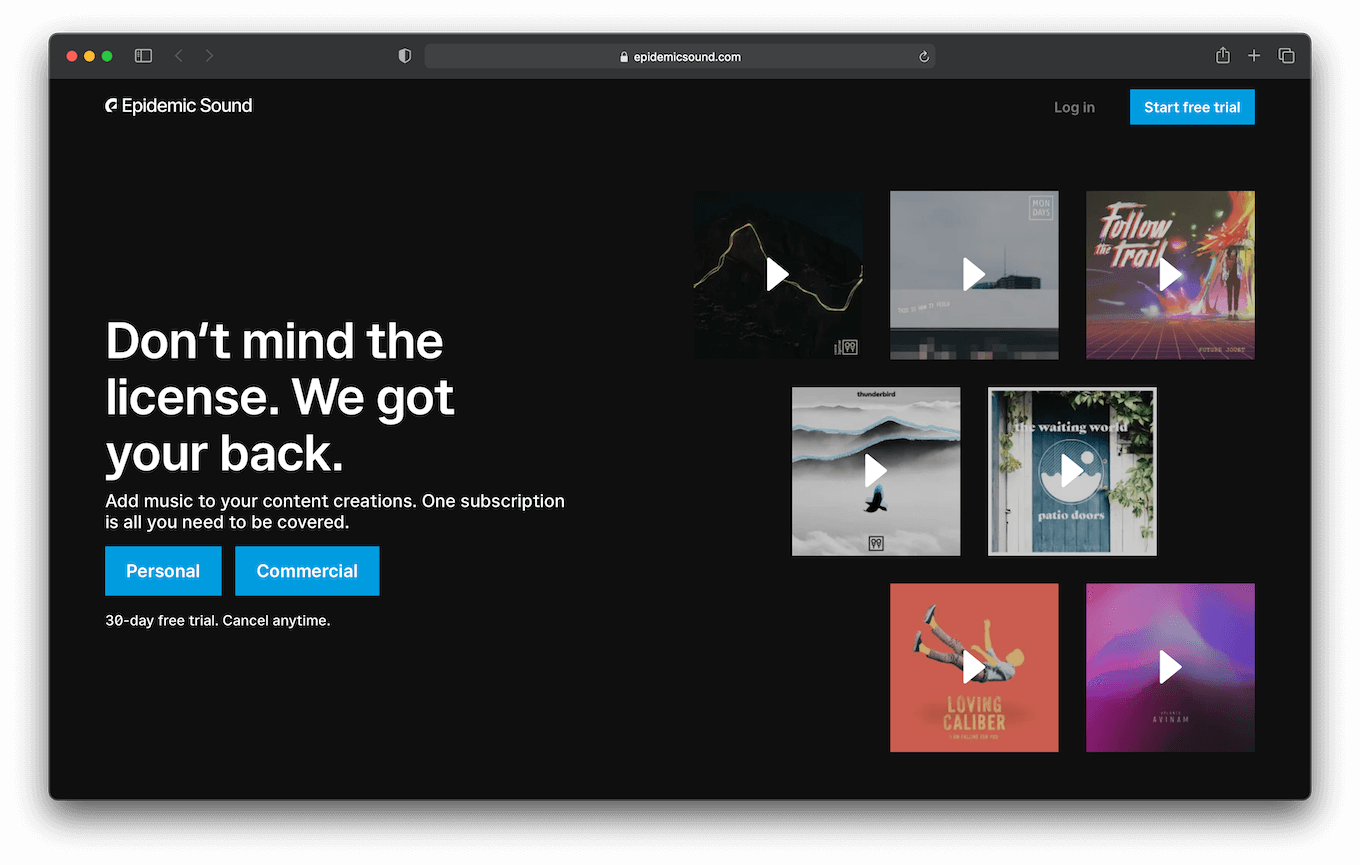 Epidemic Sound is a great site for finding high-quality background music for video. Their search tool is simple and straightforward. You'll be able to find the perfect song for your project in no time.
4. Soundstripe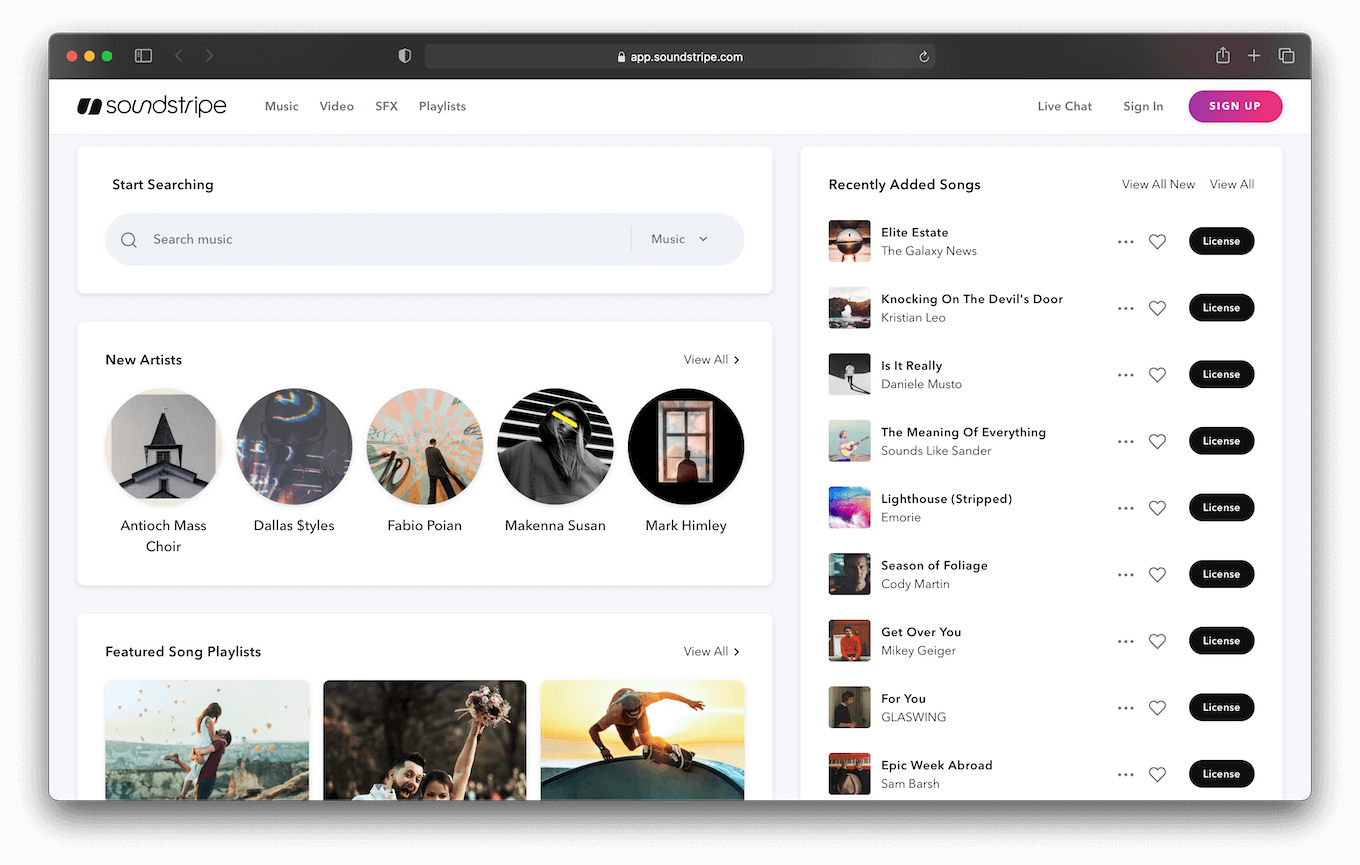 Another great royalty-free music library is Soundstripe. This site has a great search tool, and browsing its library couldn't be any simpler. Tracks are displayed in playlists based on types of occasions and videos. But it's also a very artist-centric platform. Unlike some of the other music libraries on this list, you're able to search for specific artists. So if you find a song that doesn't fit your video but you like the style, you're able to search through every song that the artist has uploaded to find a better match.
5. Jamendo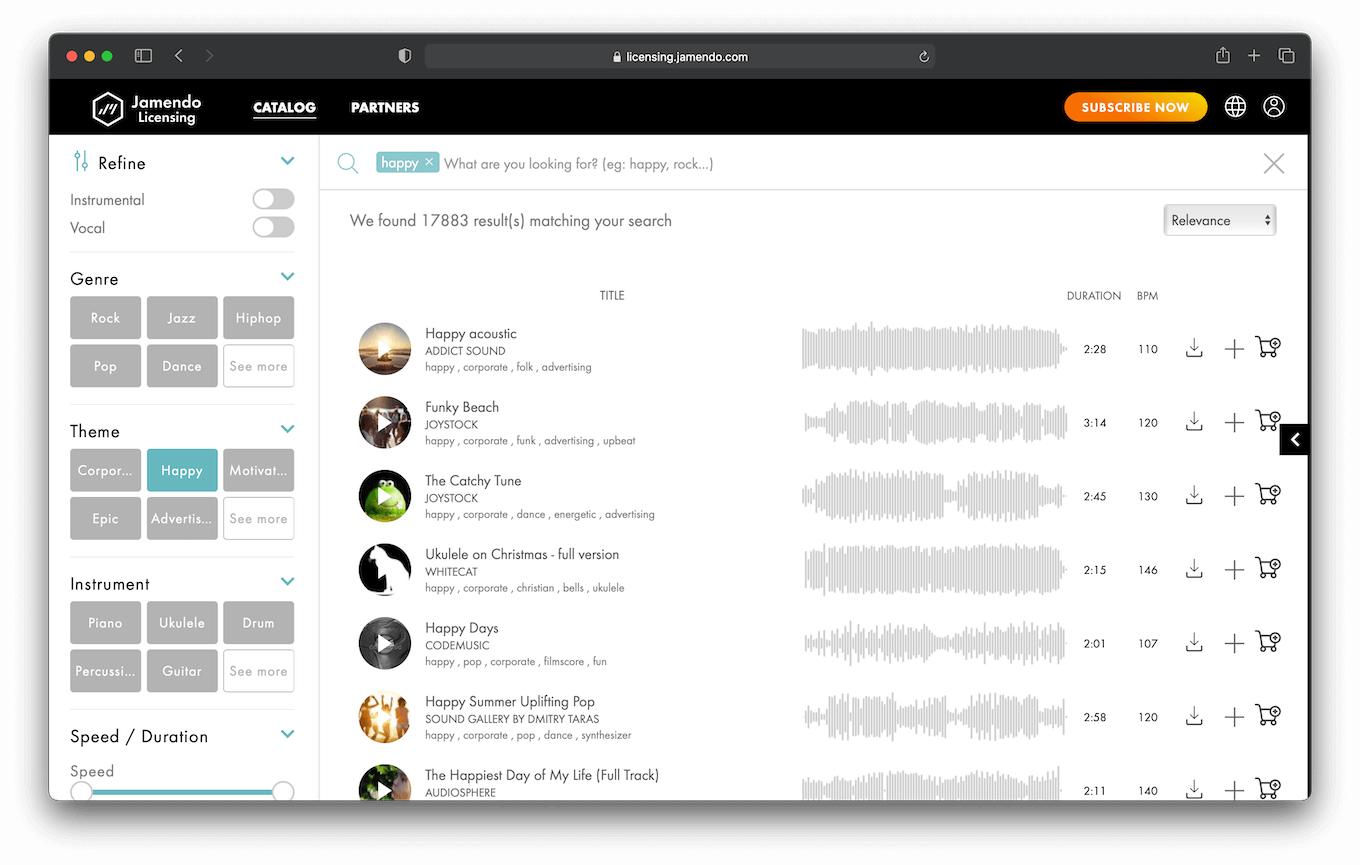 Jamendo has a massive library that is easy to search to find the perfect song for your project. The interface on the website is very straightforward and makes it easy to filter tracks according to instrumental or vocals, theme, or speed.
6. Adobe Stock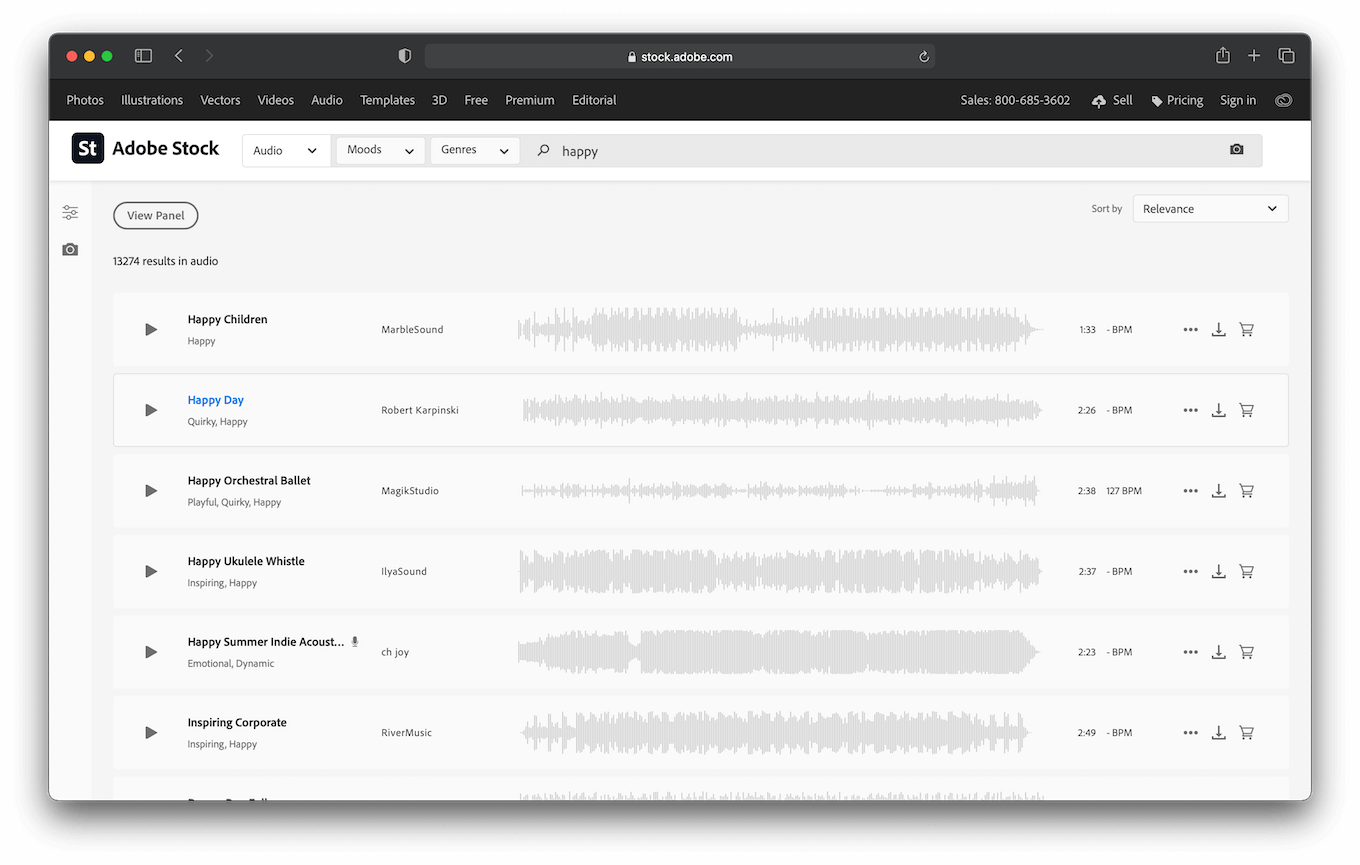 If you use any of Adobe's suite of products, you're probably asking yourself the same thing we were when we first found out about this site: "Adobe does stock music, too?" As the purveyors of many creative-industry-standard apps, Adobe has a pretty great selection of stock music to choose from. One nice feature is that they also showcase, highlight, and partner with other stock music sites like Epidemic and Jamendo.
7. Pixabay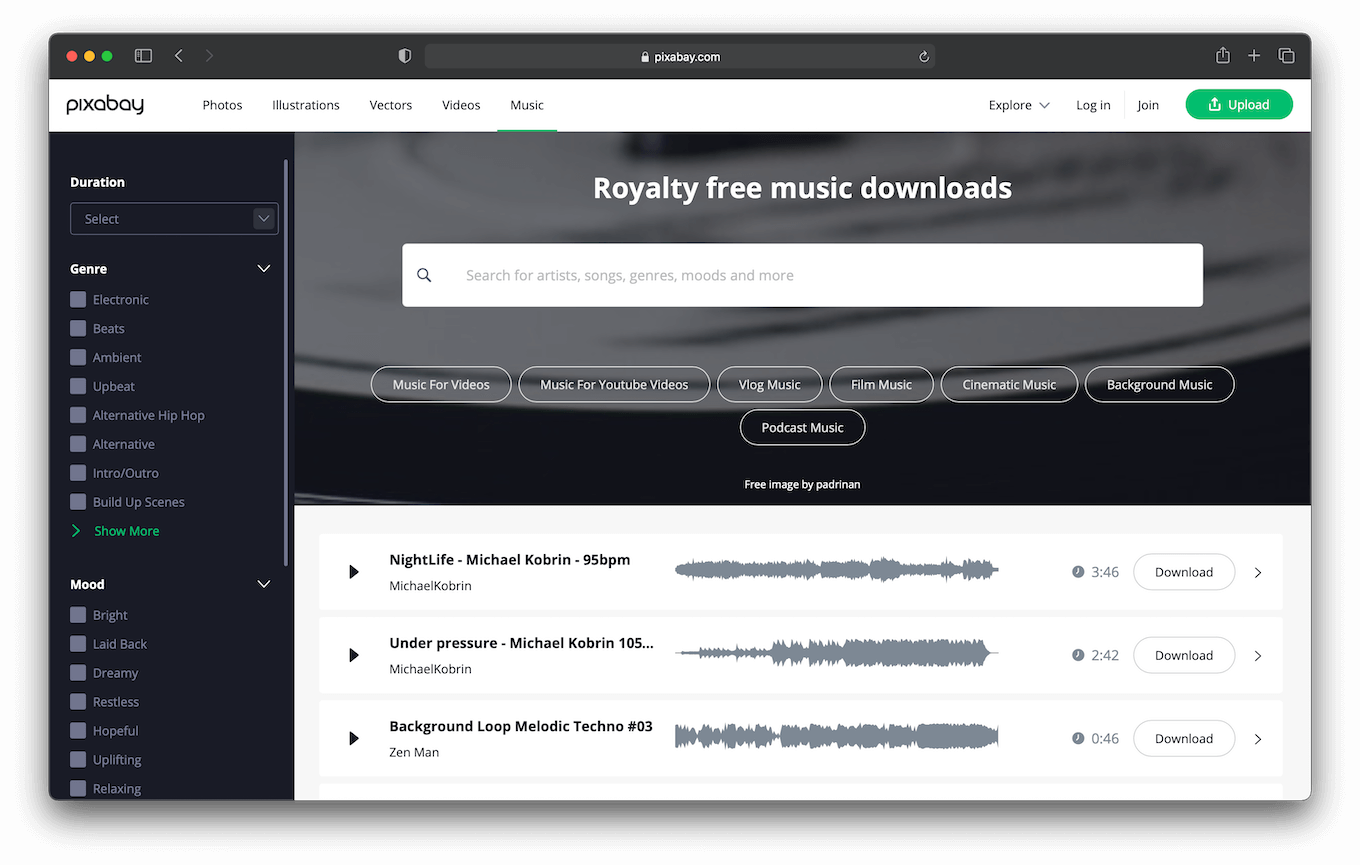 Stock music is only a small portion of what Pixabay offers, but the music offerings are arguably the site's real strong suit. The search function is simple to use, and the filters are incredibly helpful. You can narrow your search by options like the type of project you're working on or the movement and pacing you need your video to have.
8. Amazon Music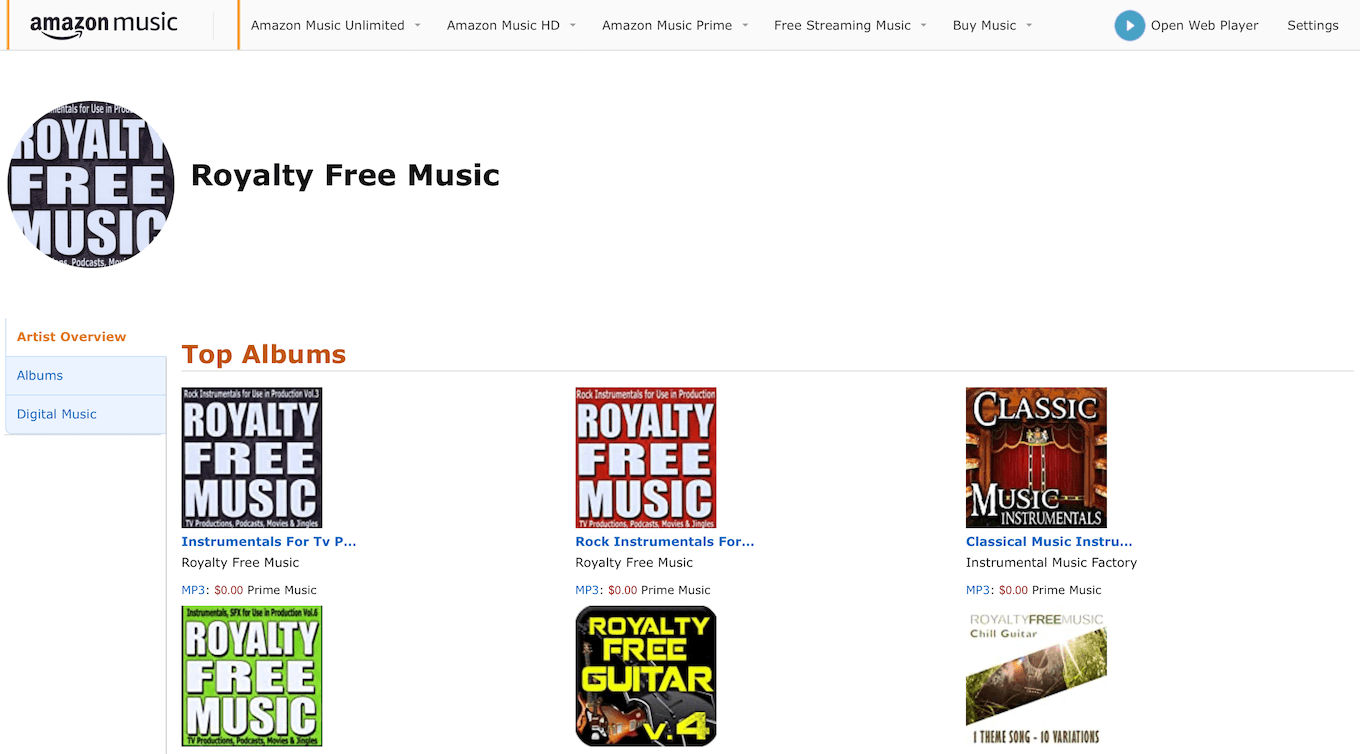 This one might surprise you. At least, it certainly surprised us when we found out that Amazon Music offered royalty-free music. But don't get your hopes too high. There's a reason it's so low on this list. While Amazon Music does have tracks you can download for as little as 99¢ or even free, there is a catch. According to their terms and conditions, you can only use the music for "personal, non-commercial purposes." If that describes your project, you might want to check out what Amazon Music has to offer. Otherwise, you're better off looking elsewhere.
9. Bensound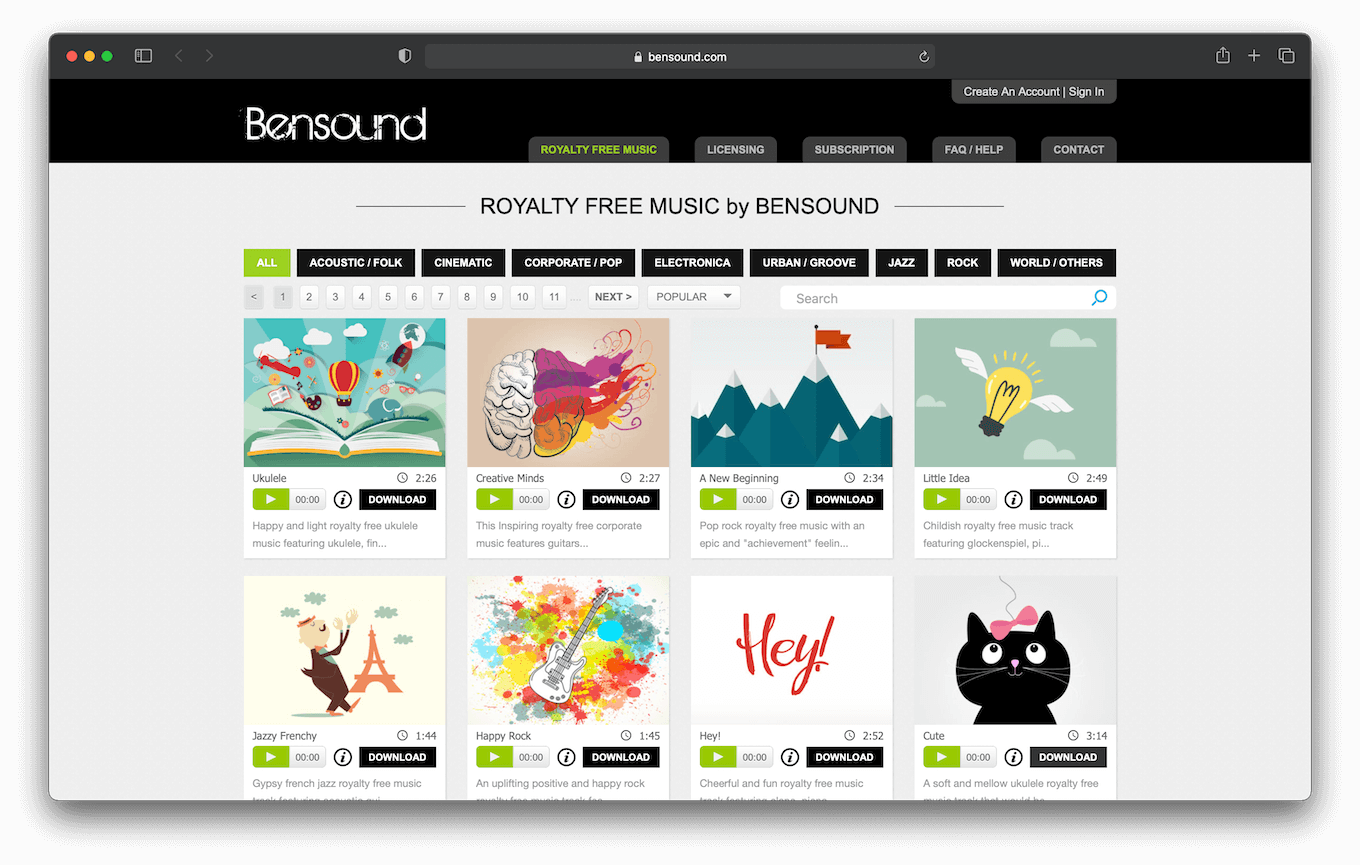 Bensound is a website that artist Benjamin Tissot created. All of the music was created and recorded by Ben, hence the name. Bensound has super easy-to-use search functionality and plenty of music to match whatever project you're working on. As you're browsing his library, you might even start to recognize some of the tracks, as they've been used in countless corporate videos, web content, short films, and commercials.
10. AudioJungle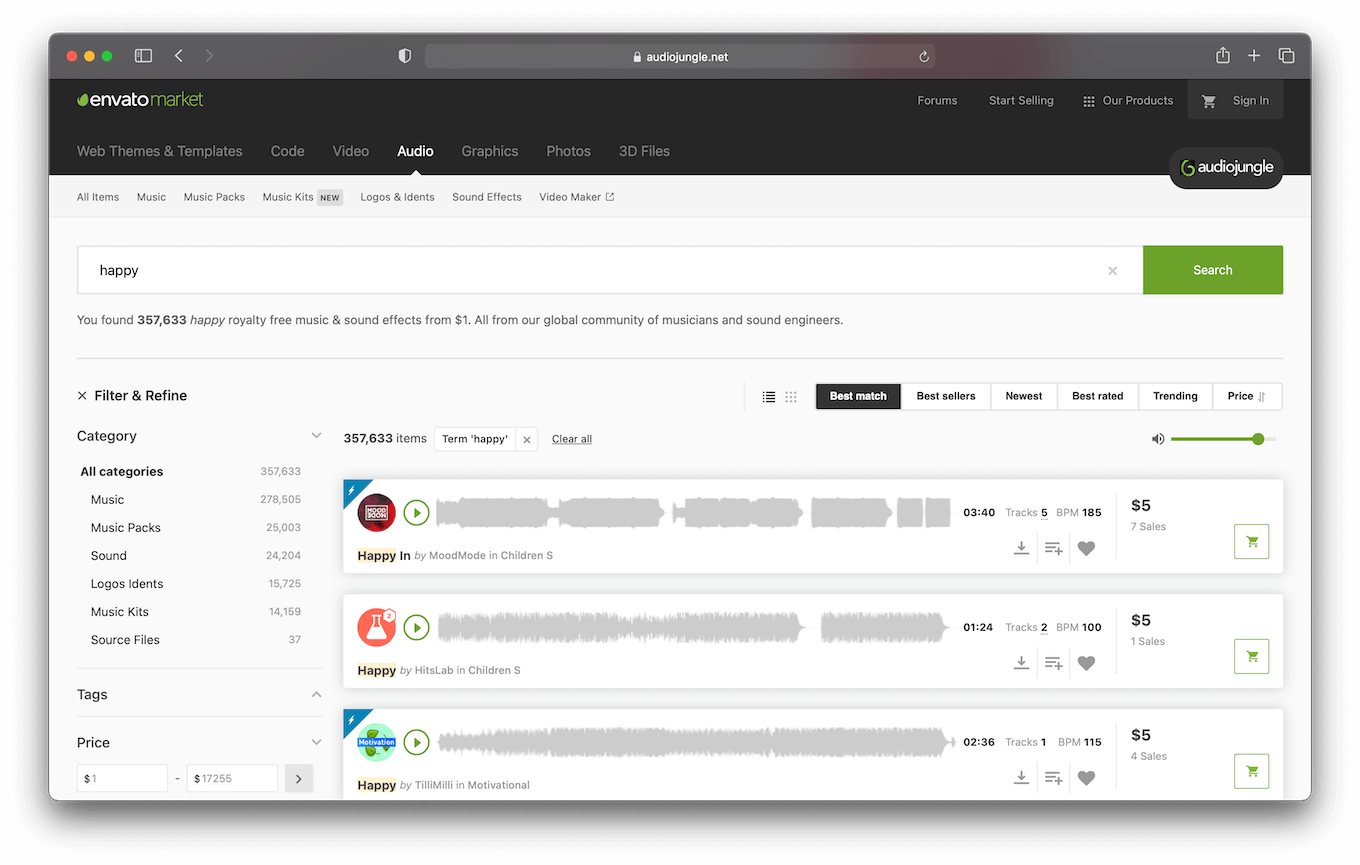 AudioJungle has been offering royalty-free stock music for a long time. They package tracks in music kits and music packs, so you can get various versions of the same song to best fit your project. And the nice thing about AudioJungle is that it's part of a larger stock media company, meaning you can sign up for a subscription that will allow you to download music and pictures, animations, and videos.
Top 5 apps to add background music to a video
Now that you know where to get your background music, it's time to talk about the apps you need to add background music to your videos.
1. iMovie
You can't overlook the default iPhone movie-making app. iMovie actually comes preloaded with a ton of great songs. And adding them to your videos couldn't be easier. The best part is that all of it's free. You can download iMovie for free and use any of the songs in the library.
2. Splice
Splice is a great iOS video editing app that's at the top of many lists. Only recently did Splice release their stock music library. Now, you can add audio that you have saved on your phone or choose from one of the thousands of available songs. Splice is free to download, but after the 7-day trial, you'll have to pay a subscription fee to keep using it.
3. InShot
InShot is an essential addition to this list of easy-to-use iOS video editing apps. You really can just download the app and start using it. Plus, InShot comes with a library of stock music and sound effects that you can use in your videos, and it will also let you use songs you have downloaded to the Music app on your phone.
4. Filmora Go
Filmora Go is a powerful yet user-friendly video editor for your iPhone. It comes with a great selection of stock music for you to choose from. Browsing the library of music couldn't be easier, either. But, of course, if you have a song already on your phone you want to use, you can add that as well.
5. Filmmaker Pro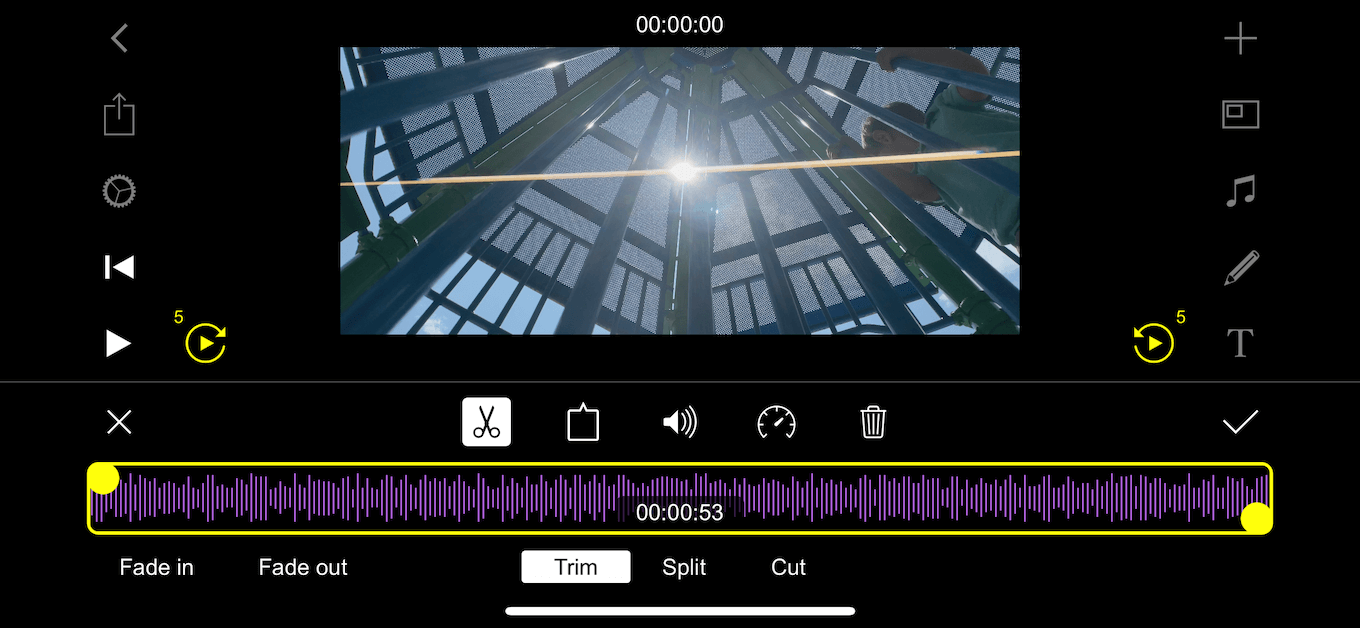 Another excellent video editing app for your iPhone is Filmmaker Pro. This one comes with a fairly extensive music library. So if you want to choose a song from the app, you can. Or you can import a song from one of the other sites mentioned above. The downside is that the app considers music to be a premium feature, so if you want to export it, you'll have to upgrade.
We've definitely covered a lot of information here. But as anyone who's had to search for stock media before will tell you, the more options you have, the better. Hopefully, this article was helpful without being overwhelming. Good luck with getting started on your quest to find the perfect background tracks for your videos.